4 Steps to Design the Perfect Entryway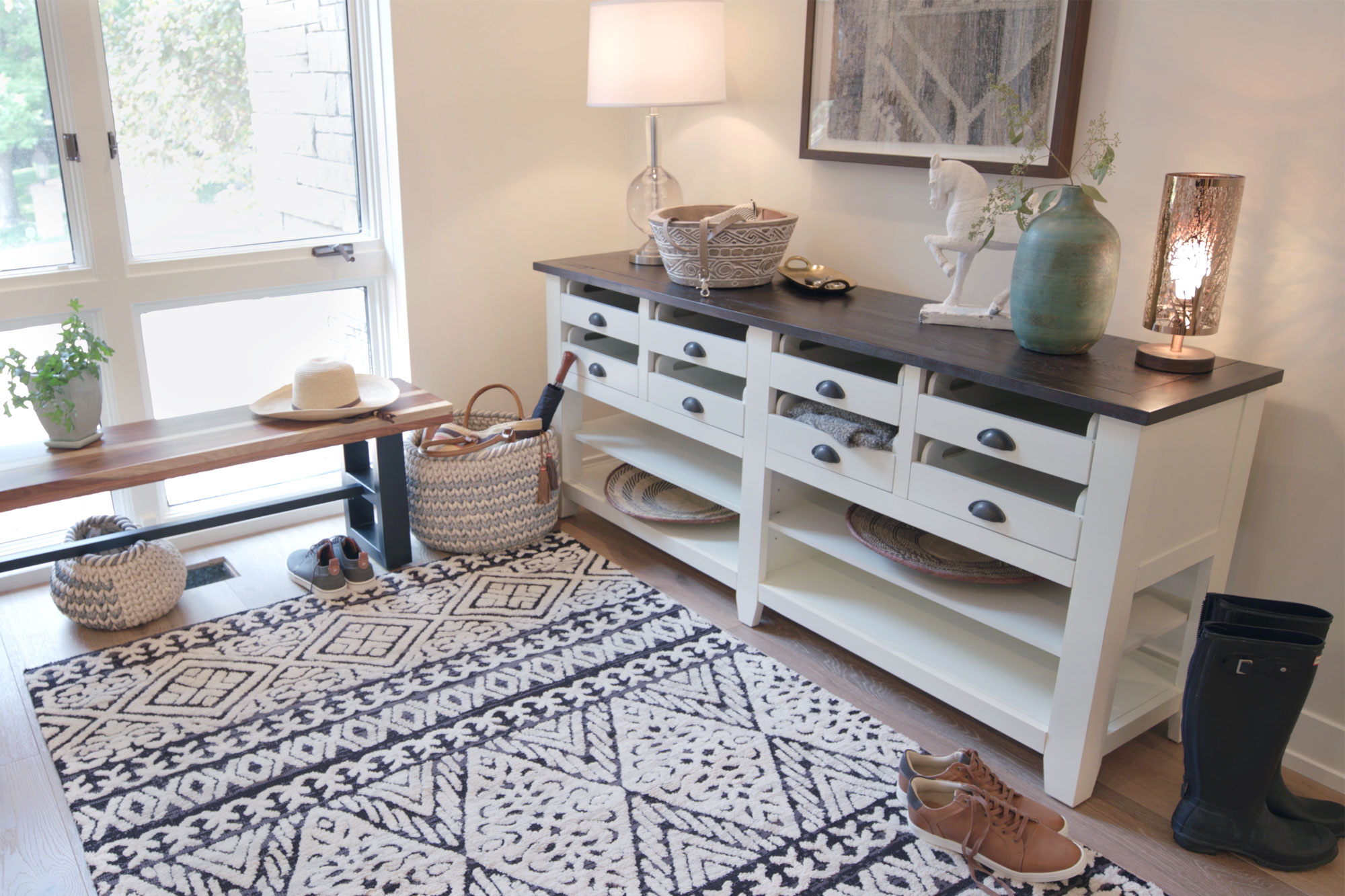 Your entryway is important because it's the first thing people see when coming into your home. A well-designed entryway offers an immediate sense of your unique style and personality to guests entering your home, and it can often set the tone for much of the interactions that follow inviting people inside your space. On top of this, entryways are also highly-functional living spaces that we use to store belongings and put on various types of clothing when entering and exiting our homes.
This dichotomy of needing to be both great-looking and highly-functional places the entryway in a unique position that's often hard to style, especially if you are not an expert. How do you create an entryway that meets all of your needs in terms of day-to-day functionality and that effortlessly introduces guests to your home and way of living? If you've ever found yourself asking this question, then you've come to the right place because we have a few simple pieces of advice that anyone can use to design the perfect entryway.
Entryways from a Designer's Perspective
Interior Designers have a lot of thoughts when it comes to entryways. A quick internet search will return plenty of blog posts and articles on the topic that can be either helpful or overwhelming depending on your viewpoint. Even though designers have a lot of different opinions on the topic, most would agree that a well-designed entryway needs to strike a kind of balance between storage, space, and style. In other words, an entryway needs to have furniture for storing belongings, space enough to freely move into the home, and unique accent pieces that showcase your own unique style.
Thinking of entryway design in terms of storage, space, and style is nice for giving non-experts a fresh perspective to maintain as they restyle their entryways, but it's also helpful because the order of the words provides a kind of system to help get the process started. So what should you do first when designing an entryway that balances storage, space, and style? It's simple: start with storage! 

Shop the look: 1.Mountain Home Credenza | 2.Round Storage Bin | 3. Floor Mirror  | 4. Maya Lamp | 5. Peregrine Garden Painting | 6. Teak Root Bowl | 7. 7' Phoenix Palm in Square Plant Container | 8.Javari Rug
1 - Start with 1 foundational piece of storage-ready furniture that you love
When redesigning our entryways, many of us want to jump straight into creating the most stylish entryway that our friends and family have ever seen, but it's actually best to begin the process by thinking about how you yourself would like to use your entryway on a day-to-day basis. Afterall, most of us don't entertain friends and friends everyday, right? Your entryway is integral to your daily routine, so it should first and foremost be a place that helps keep your near-door belongings organized. 
With this in mind, the first thing you should find for your entryway is a larger piece of furniture that has a horizontal surface and some kind of storage feature that will be useful in your everyday life. You can think of this piece of furniture  as the "foundation" of your entryway because the rest of the room is going to be designed around it. Console tables and sofa tables are perfect foundational entryway furnishings because they have flat tops and usually offer some kind of storage feature like drawers or floor-level shelving , and because their dimensions are well-suited to hallway-like spaces like many entryways. But, there are many different kinds of furniture that can also work great in entryways, such as benches, credenzas, bookshelves, end tables, and even some folding tables - so there are plenty of options to choose from! 
Now, some people out there may be resistant to using any type of traditional entryway furnishings in their home - we're looking at you, minimalist lovers and DIYers. While we fully support those who like to mix it up and think outside the box, we do still recommend trying to find some physical piece of furniture with a flat top in this step of the process because you'll want to have something that can showcase accents and other display items when we get to the final step.
As you search for the right type of furnishings for you, be sure to keep in mind the balance between storage, space, and style that we mentioned above. Your chosen foundational piece of furniture should fit easily within your entryway without making it feel too crowded, and, most importantly, it should be something that you absolutely love! Take time to find a piece of furniture that speaks to your unique style, fills you with joy, and that you're excited to show off to family and friends.
Foundational furnishings to consider:
Console Tables

Sofa Tables

Credenzas

Benches

Bookshelves

End Tables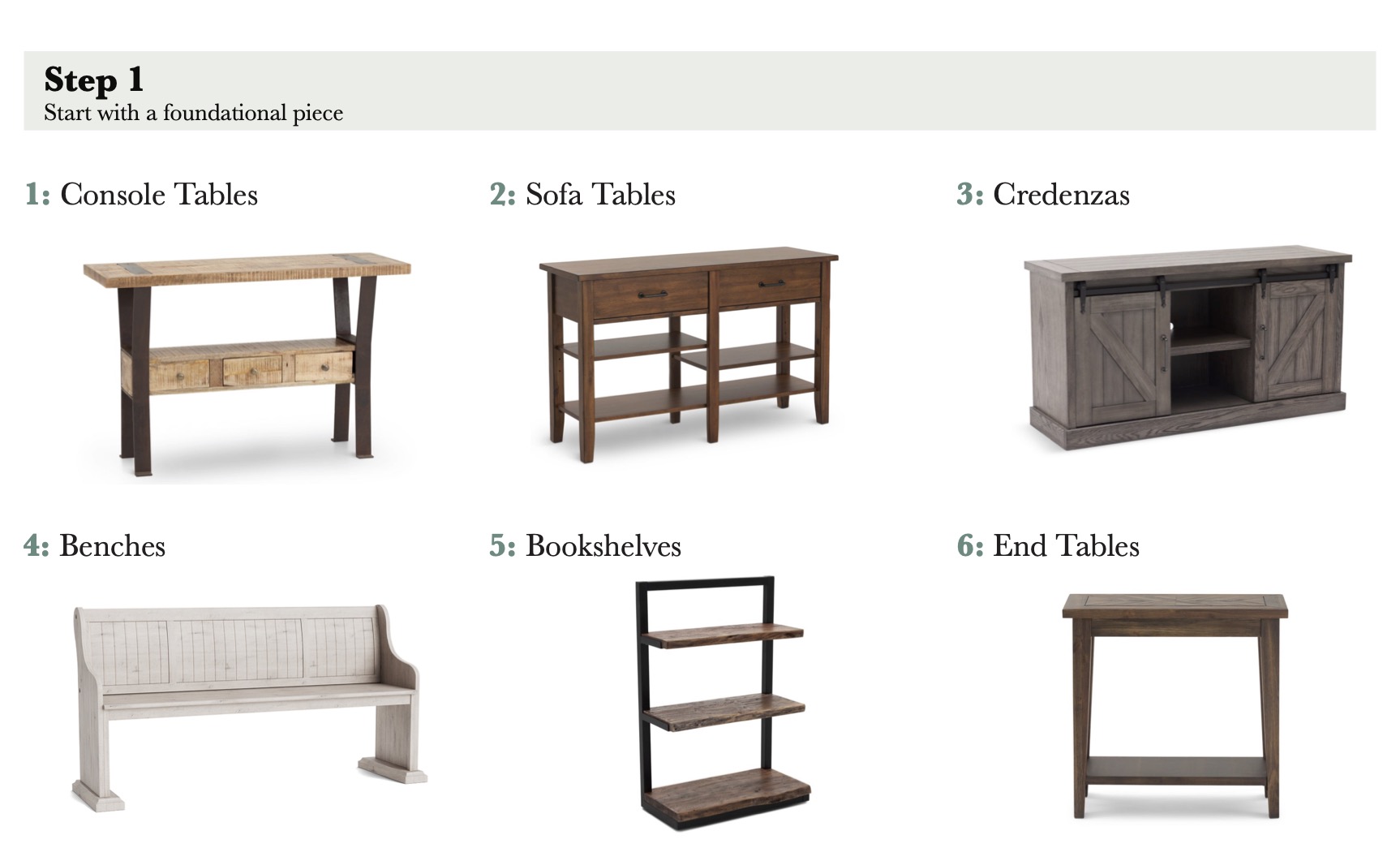 Shop the look: 1.Rowan Iron Console | 2. Kingston Sofa Table | 3. Avondale Credenza | 4. Flagstaff Bench | 5. Knox 3 Shelf Bookcase | 6. Canyon Creek Chairside End Table
2 - Finalize the functional side of your space 
Now that you've decided on the primary piece of furniture in your entryway, it's time to make sure that your other needs will be met in terms of functionality, storage, and organization.  
Storage and organizational needs can vary greatly from person to person and from entryway to entryway. Some of us like to remove and store all of our personal belongings as soon as we get home while others only use their entryways for removing outerwear and hats. Some of us have large entryways that can look bare without additional storage pieces while others are much more compact. Whatever your personal preferences, chances are you'll need at least another item or two to complement your foundational furnishing, so this is your chance to really customize the functionality of your space. 
Here are some helpful questions to consider during this step. Will you or other family members need a place to sit to remove clothes and shoes and other clothes when coming inside? If so, then you might want to consider an accent chair or bench. Do you like to keep your clutch, wallet, or keys by the door? If so, then you'll probably want a bowl or catch-all tray on top of your foundational furnishing. If your entryway doesn't contain a closet, will you need a coat rack or umbrella stand by your door? Would a handy basket by the door solve the needs of your space? These types of questions can help you really think about how you and guests might use the space over the course of a year, so be sure to think things through thoroughly. 
Again, like in every stage of the process, it's a good idea to keep in mind the balance between storage, space, and style during this step. The items you are choosing need to be the right size for your space, and they should complement the style of your foundational furnishing as well as the overall style of your home.
Smaller storage items to consider:
Accent Chairs

Benches

Coat Racks

Umbrella Stands

Catch-all Trays 

Storage baskets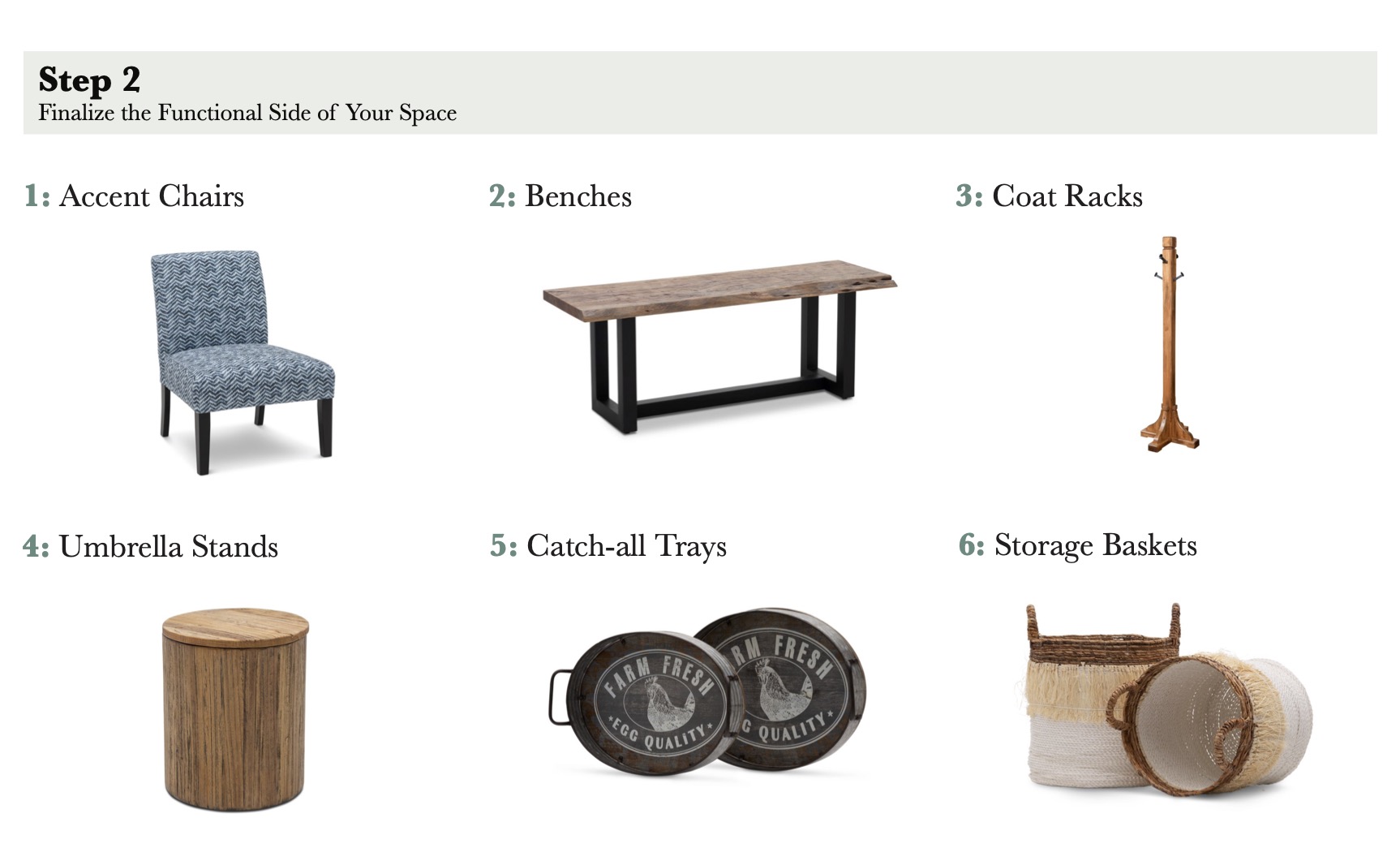 Shop the Look: 1. Sapphire Accent Chair | 2. Knox Live Edge Bench | 3. Royal Oak Coat Rack | 4. Round Storage Bin | 5. Farmhouse Trays | 6. Farmhouse Seagrass Baskets
3 - Shed some light and help facilitate movement
Once you've got the functionality of your entryway figured out, it's time to start thinking about creating an inviting space. Now, don't start pulling out all your favorite accents and family pictures just yet - we're really talking about larger accents like lamps, mirrors, and carpeting at this stage. 
Like we mentioned in the last section, there's no one-size-fits-all rule we can give when it comes to lamps, mirrors, and carpeting because entryways and people's style preferences come in all sorts of shapes and sizes. However, there is a general piece of advice we can give that people often find helpful: the more light and open your entryway is, the more inviting it will feel. If your space feels dark due to a lack of natural or artificial light in your home, then you might want to consider adding either a standing lamp or a table lamp that will look good on your entryway table. If it feels cramped or that it might become cluttered, think about using a landscape mirror or standing mirror to open up the space (especially if the mirror will help bring in more natural light from other parts of the home).
Some entryways open directly into a living room, others are more like a glorified hallway, and still others are more like foyers that give guests multiple options of movement into the home.  As you think about the light and space of your home's entryway, it's a good idea to also think about carpeting. Long rectangular carpets, or "runners'', are perfect for most entryways because they can serve as a sort of runway that lets incoming guests know which way to go. Plus, they have the added benefit of adding comfort showcasing an aesthetically pleasing design. For compact entryways, a round carpet or simple welcome mat may do, but if your entryway has any ambiguity or length to it, then a runner is often the perfect accessory piece that can add style and comfort while helping to facilitate movement into the home.
Products to consider:
Standing Lamps

Table Lamps

Standing Mirrors

Landscape Mirrors

Welcome Mats

Round Rugs

Runners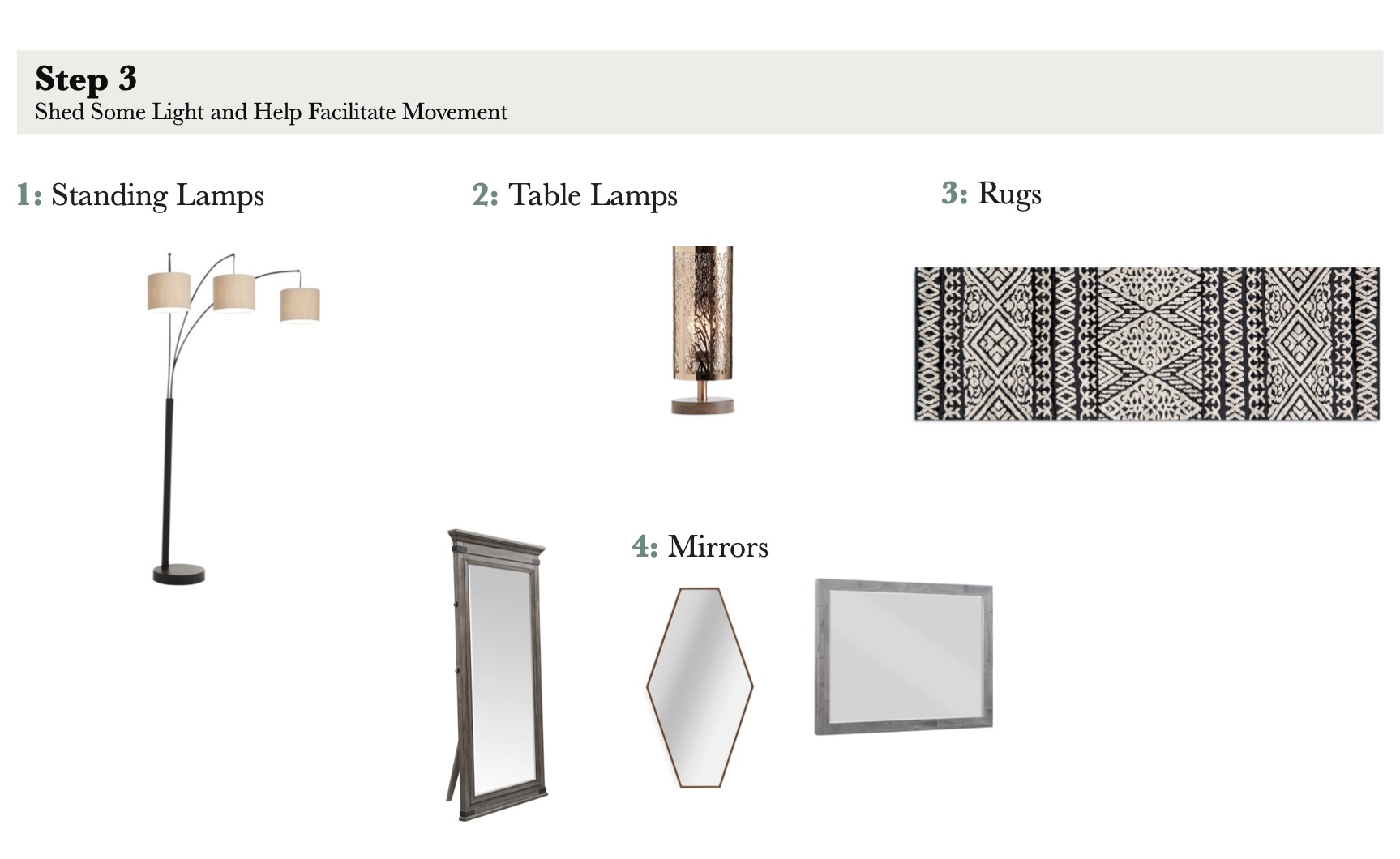 Shop the Look: 1. Draper 3 Arm Arc Lamp | 2. Retreat Copper Pipe Table Lamp | 3. Magnolia Home Lotus Black Rug | 4. Haines Hexagon Mirror, Fordyce Floor Mirror , Mystic Mirror
4 - Add accents that speak to YOU
Now that all of the groundwork has been laid, it's time to add in your personal accents. Keeping in mind the balance between storage, space, and style, it's worth remembering that just about every interior designer agrees that well-designed entryways should never feel cluttered. With that being said, we highly recommend a less-is-more approach when selecting accents in your entryway. If you're choosing between a bunch of small accent pieces or only a handful of larger display items, it's usually best to go with the handful of larger items. Too many small decor items will quickly make the space feel busy and cluttered. 
Look through your personal items and select a few things that you'd love people to see when they enter your home. Maybe you have professional photos of family that you'd like to place front-and-center on your console table, or maybe you have an eye-catching accent that would look great on the wall at the end of your entry hallway. This is your chance to showcase those select pieces of decor that really speak to who you are and how you like to live your life. 
If you're struggling to come up with ideas, we recommend decorating with a hanging art piece, a living plant or two, and a few other decor items with sentimental value, such as pictures of family, smaller personal heirlooms, or unique objects obtained from travels abroad. Use decor items sparingly, but make sure there are enough items placed throughout the space to avoid it feeling bare or austere. 
Now you have all the information you need to create the entryway of your dreams, so what are you waiting for? Find some of your favorite accents, place them on and around your foundational furnishings in a way that leaves your space feeling open and uncluttered, and soon you'll be standing within an effortlessly-stylish entryway that's perfect for your home.
Accents to consider:
Hanging Art

Living Plants

Family Pictures 

Unique Decor Items

Objects from Travel & Childhood

Family Heirlooms

Books