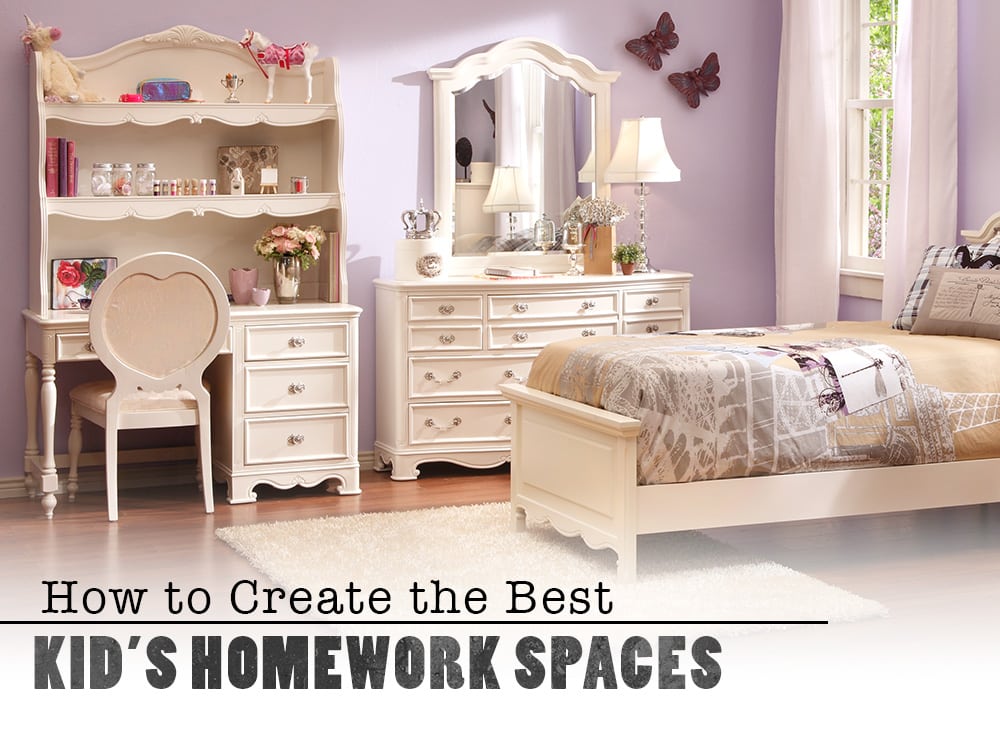 How to Create the Best Kid's Homework Space
Back-to-school means that after three months of play and virtually no responsibilities, it's time for your kids to get back into a routine and hit the books. These days, most students from kindergarten to college are assigned homework, and sometimes, children will drag their feet to complete their tasks. By creating a fun and friendly homework space for them to work at, your family's afternoons and nights will be much more productive, and [insert sigh of relief] peaceful.
Appeal to Your Kid's Specific Interests
When designing a workspace for your little one, appeal to his or her specific interests. By customizing the area to fit your child's likes, they will take ownership of the space and are more likely to want to be in that space. For instance, if your kid takes dance lessons, consider making the space feel like a mini ballet studio by adding pink accessories, a mirror, and special "homework" slippers. If playing instruments is more up their alley, combine black and white furnishings and bring a music note motif into the scheme. Below, we've created the perfect homework space for the soccer star of the future, that is, if he passes all of his classes first.
---
SHOP THE LOOK: 
---
Pick the Perfect Spot
While some kids prefer to be around the rest of the family while they study, other children would rather have a private homework space. There are plenty of areas around the home to set up their perfect spot. If you already have a home office, you can create a special area for your student to work. You can make their play area dual functioning by adding a desk and supplies. Nooks and crannies around the house can also be used as a homework space. If your little one prefers to sit at the kitchen counter or table, create a portable homework station on a tray or in a basket, so they can have all of their pencils, paper, calculator, and other school-related items in one spot, creating a sense of consistency. An additional way to incorporate a homework space into your home is by utilizing your kid's bedroom. Many furniture companies sell matching desks with kids bedroom sets like the one below, so incorporating study space is made easy. Wherever you decide to station up your hard little worker, be sure the area is well lit. There are many lighting options and lamps to choose from.
---
SHOP THE LOOK: Cecilia Table Lamp
---
Help to Keep the Space Organized
Help your little one stay on track with their schoolwork by keeping their homework space organized. It will be much easier for them to complete their tasks if their supplies are consistently in the same spot and they have access to all of the items they need. Use canisters such as the fun owl ones below to store ample pencils, crayons, markets, or other things your kid may need. Sometimes you can even find desks with built-in pencil holders. For the homework space below we incorporated our favorite, a retro-inspired piece that comes in three fun colors. You can also ensure that your child's completed homework gets to school by having a designated place to store it. Whether it's a locker in a mudroom, a drawer in a dresser, or a shelf on a bookcase, having a "home" for homework is extremely helpful.
---
SHOP THE LOOK: Nickel Arc Floor Lamp 
---
Let your Child Have Input
Overall, when creating your kid's homework space be sure to listen to their wants and needs. Ask your student how they learn best, and let them be part of the creative process. As years pass, the space (or spaces) will probably change as they get older and have more complicated schoolwork to bring home. We've put together a more mature homework space below, ideal for a preteen or teenager.
---
SHOP THE LOOK: 
---
Back to school homework doesn't have to be difficult when you create the best homework space for your kid. By following these guidelines, you and your child will be sure to each get an A+!