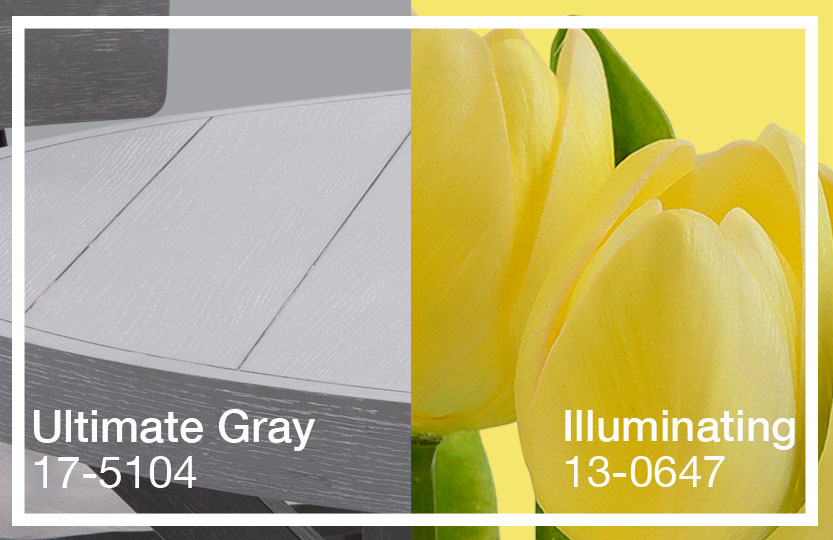 Home Decor with Pantone's 2021 Color of the Year
It's that time of year again, time for the announcement of the Pantone Color of the Year award! This year there are two colors sharing the spotlight, and they're meant to highlight how different elements can come together to support one another. The 2021 Pantone Colors of the Year are: Ultimate Gray (17-5104) and Illuminating (13-0647). 
Over the last 20 years, Pantone's Color of the Year has become a celebrated and impactful annual event which greatly influences the furniture, fashion, and graphic design industries, along with many others. The Color of the Year is meant to set the tone (pun intended) for the upcoming new year, and the selection process requires thoughtful consideration and in-depth trend analysis from the color experts at Pantone. The selection process is influenced by sources all over the world, including the entertainment industry, art collections, lifestyles, technologies, socio-economic conditions, and materials that capture worldwide attention. Sometimes, the color is selected in direct response to a particular event or some purveying global sentiment. For example, "Greenery" was selected as the 2017 Color of the Year to help inspire people to relax and find peace after a contentious election year. 
It's no surprise, then, that the 2021 Colors of the Year are meant to help us find a positive state of mind as we continue to grapple with the COVID-19 pandemic. 
A Message of Happiness Supported by Fortitude
It's safe to say that almost everyone is eagerly welcoming the end of the now-infamous year 2020. But why did Pantone's color experts choose Ultimate Gray (17-5104) and  Illuminating (13-0647) to help guide us into 2021?
In their announcement of the 2021 Color of the Year, Pantone states that, "the union of PANTONE 17-5104 Ultimate Gray + PANTONE 13-0647 Illuminating is one of strength and positivity. It is a story of color that encapsulates deeper feelings of thoughtfulness with the promise of something sunny and friendly." 
A closer examination of the colors sheds light on this powerful sentiment. Ultimate Gray is reflective of pebbles on the beach and natural stone elements that, though weathered, have stood the test of time. Illuminating is a warm, bright, and cheerful yellow that's suggestive of sunlight and sparkling with vivacity.
The combination of these two colors is the marriage of the steady and practical with the warm and optimistic. Ultimate Gray is reassuring, offering resilience and poise while Illuminating is resplendent and joyful, giving us the belief in a better tomorrow. As the Executive Director of the Pantone Color Institute, Leatrice Eiseman, puts it, "A message of happiness supported by fortitude, the combination of PANTONE 17-5104 Ultimate Gray + PANTONE 13-0647 Illuminating is aspirational and gives us hope. We need to feel that everything is going to get brighter – this is essential to the human spirit." 
Decorating with Ultimate Gray and Illuminating
Although these colors occupy very different places on the color and emotional spectrums, decorating with the two feels natural, especially when considering some popular trends in the world of interior design. Gray has been king of the contemporary neutral palette for years, and there is no shortage of bright, vivacious colors like Illuminating in today's fashion-forward fabrics and decor. With that in mind, we believe the practical and reassuring Ultimate Gray is an ideal choice for larger foundational pieces while the lively Illuminating is best displayed through smaller furnishings and home accents for pops of color. Luckily for you, the design experts at Furniture Row have curated a selection of products that showcase each of these impactful colors.
We carry furniture with Ultimate Gray-colored finishes for every room of the home. If you're wanting to update your living room with this reassuring tone, we recommend the Nikki 2 Pc. Sleeper Sectional which offers a clean-lined contemporary silhouette along with the convenience of a pull-out sleeper mattress. For lovers of the traditional aesthetic, look no further than the Hampton II Sofa which showcases rolled arms, timeless button tufting, and chic silver nailhead trim. Need gray-hued inspiration for your dining room? We suggest the rustic lake house appeal of the Sea Side 5 Pc. Dining Room Set, or try the Sea Side 5 Pc. Counter Height Dining Set if you need to refresh a counter height dining space. For the bedroom, the casual-and-captivating Blake Upholstered Bed offers a fashionable upholstered headboard which is sure to please both classic and contemporary tastes alike. Want to use Ultimate Gray as a foundation, but don't want to buy a large piece of furniture? Don't worry, we've got you covered there as well! The Barely There Comforter Set is available in either an 8 Piece Queen Size Set or as a 9 Piece King Size Set so you can cover every comforter and pillow with this fortifying shade.
Illuminating was selected to evoke feelings of optimism and sparks of joy. The Quill Accent Chair not only features stunning yellow upholstery, but its distinctive mid-century modern silhouette and affordable price tag are sure to bring out a smile. Available in yellow with a lighthearted sunburst print, the Rex Storage Ottoman contains a roomy storage space beneath its button-tufted top. The Yellow Tulips with 4 Glass Jars in Square Wire Holder look great in any setting, making it easy to add this bold color into existing interior aesthetics. Finally, the Bay Golden Glow Print offers an artistic interpretation of Illuminating yellow atop a moody blue-gray background. 
Now that you know the basics, you're ready to style your home with Pantone's Color of the Year for 2021. From all of your friends here at Furniture Row, we wish you and your family a strong, positive, and happy new year.