How to Create a Home Office that Works for You!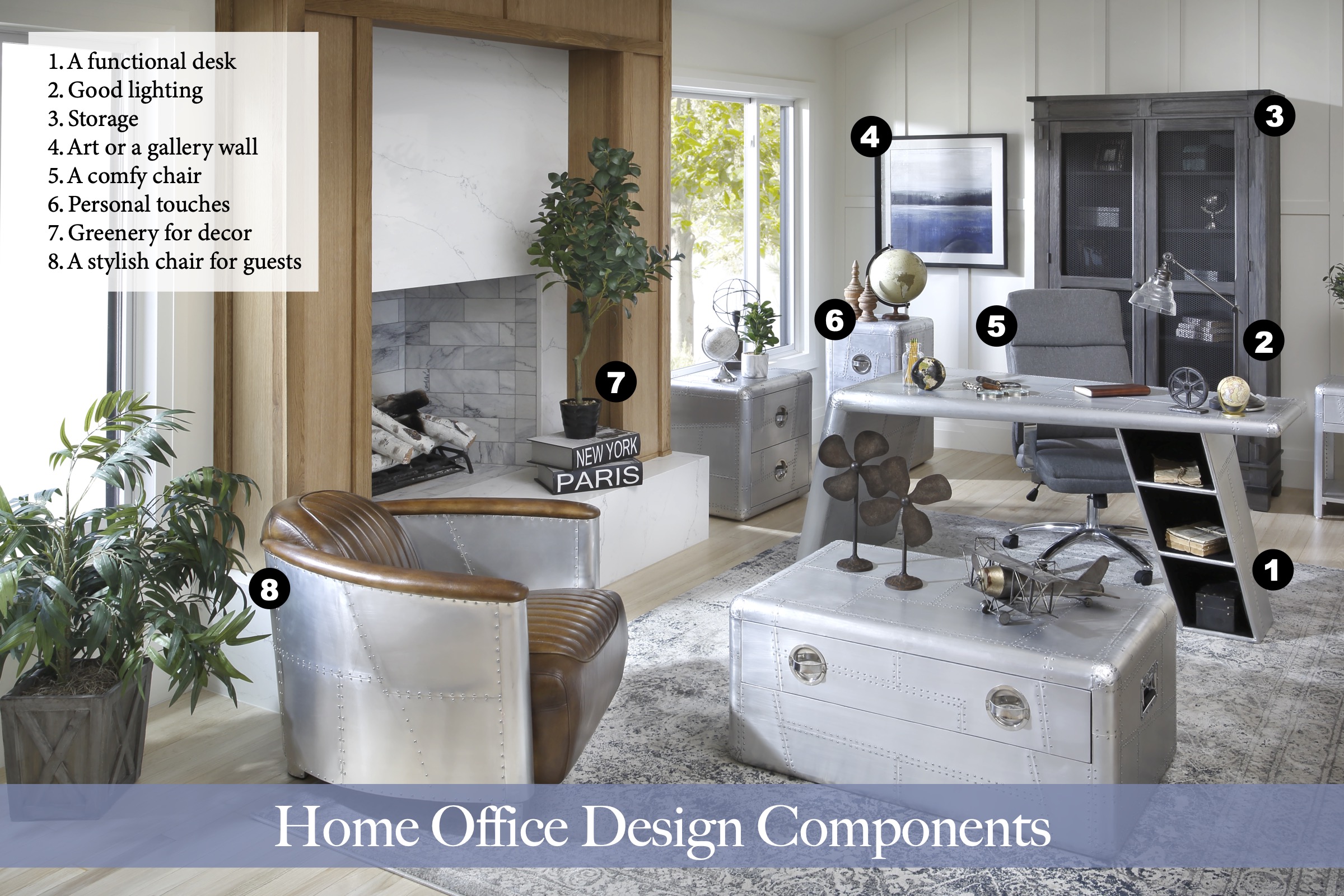 For many of us, our home office has become an essential space where we spend a significant portion of our days, whether working from home or using it for personal tasks such as paying bills, managing schedules, or pursuing hobbies. As home offices become more and more commonplace in today's homes, our designers have seen a dramatic increase in clients asking how to properly set-up this unique space. 
If you've ever tried working from home in a make-shift home office or an impromptu workspace like atop a couch or bed, then you know how difficult it can be to focus and be productive in a poorly set-up home office. A well-designed home office, on the other hand, dramatically increases your productivity and comfort, and it has the added benefit of being a unique space to reflect your personality and tastes. This is why it's so crucial to put some time and effort into designing a home office that truly works for both your professional needs and your sense of style.
A Designer's Perspective on Home Offices
As we discovered in our previous blog post, 4 Steps to Design the Perfect Entryway, it's helpful to learn a bit more about how design experts approach styling a home office before we dive in ourselves.  
If you've ever looked at professionally-designed home offices on the internet, then you'll know that there is practically no end to the ways one can style their in-home workspace. Despite all of the different approaches they take, most designers would agree that a successful home office should be a happy marriage between functionality, ergonomics, and aesthetics. A functional home office is one that contains everything you need to be productive, laid out in a sensible and organized manner. Ergonomic office furnishings are those that are not only comfortable, but supportive of things related to your physical well being like your posture and eyesight. And, when it comes to aesthetics, the primary goal is of course to create a beautiful space that you actually want to spend time in.
Thinking of home office design in terms of functionality, ergonomics, and aesthetics can help you prioritize your requirements and make informed decisions. So, what should you do first when creating a functional and stylish home office? Let's start with the basics:
Location, Location, Location
The first step in creating the perfect home office is to choose the right location. 
If you have a spare room or a dedicated office space, that's great! However, if you don't have that luxury, don't worry. It's possible to create a functional and comfortable workspace in just about any room of your home, even in small spaces like bedrooms and hallways. That being said, you don't want to settle for an area that's too cramped. At the minimum, you'll want to be able to move around comfortably and have room for all of your essential office equipment.
Another thing to consider when establishing your home office location is the lighting. We highly recommend opting for an area with plenty of natural lighting whenever possible. Studies have shown that natural light can help increase productivity, reduce eye strain, and it also helps improve your mood and energy levels.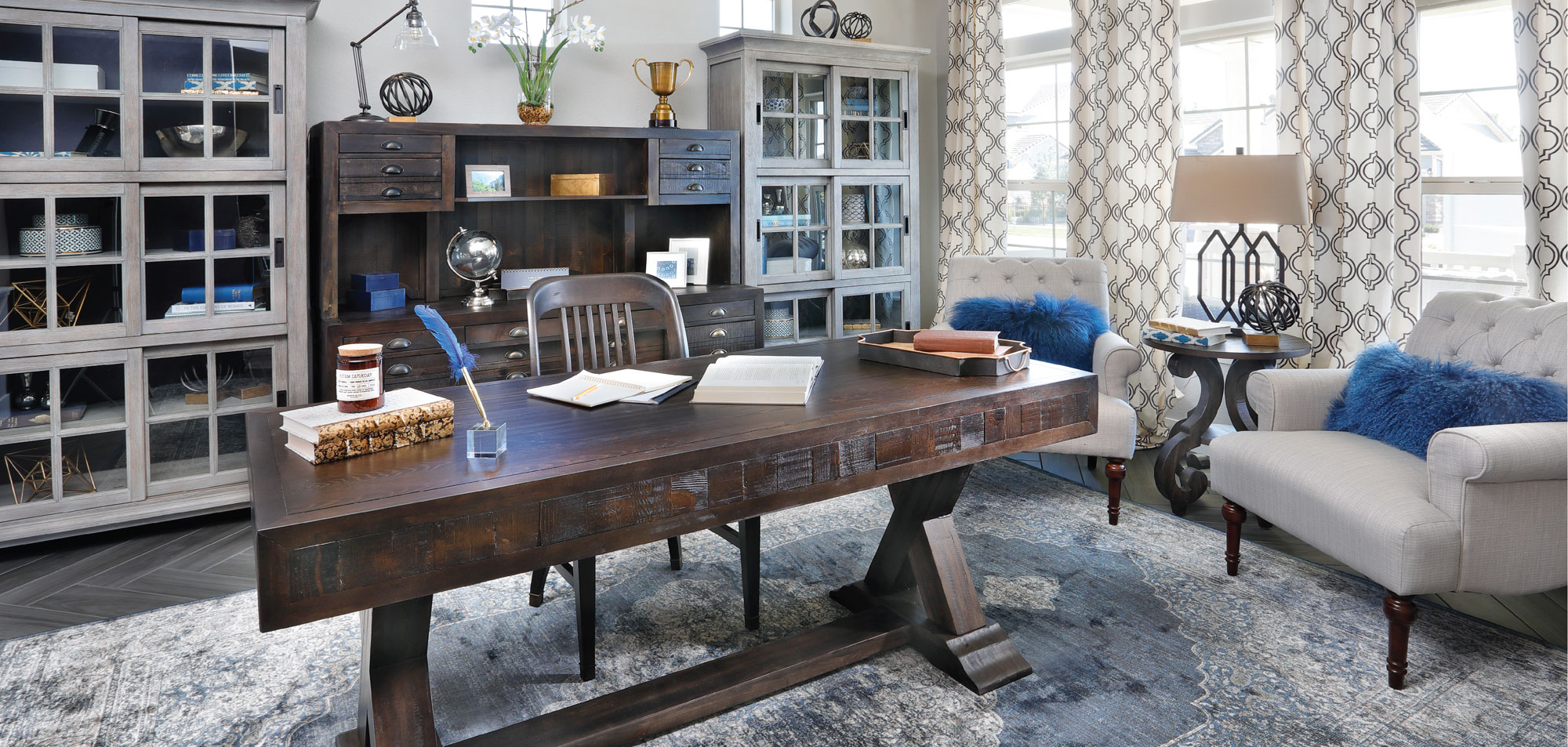 It's also important to find a space that's relatively secluded, or away from distractions. A home office should be a place where you can focus and be productive, so try to avoid high-traffic areas or places with a lot of noise.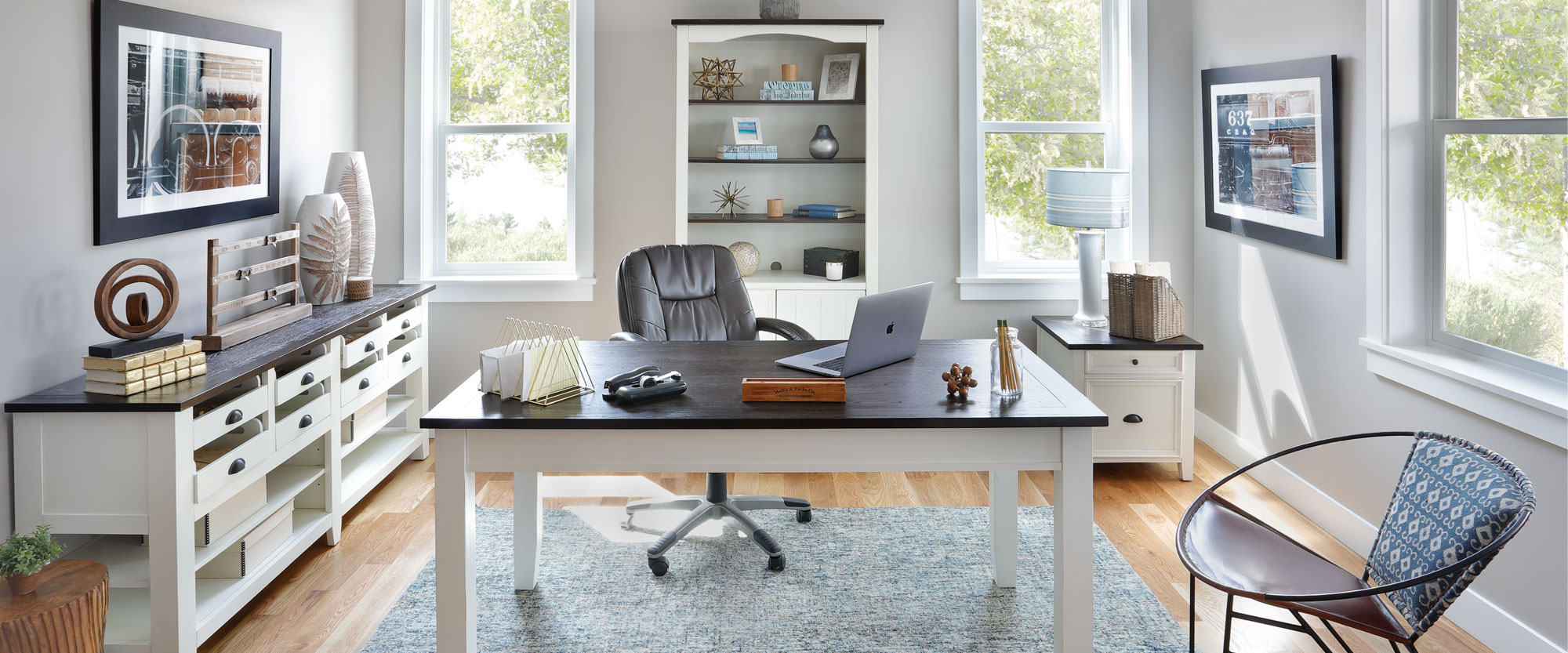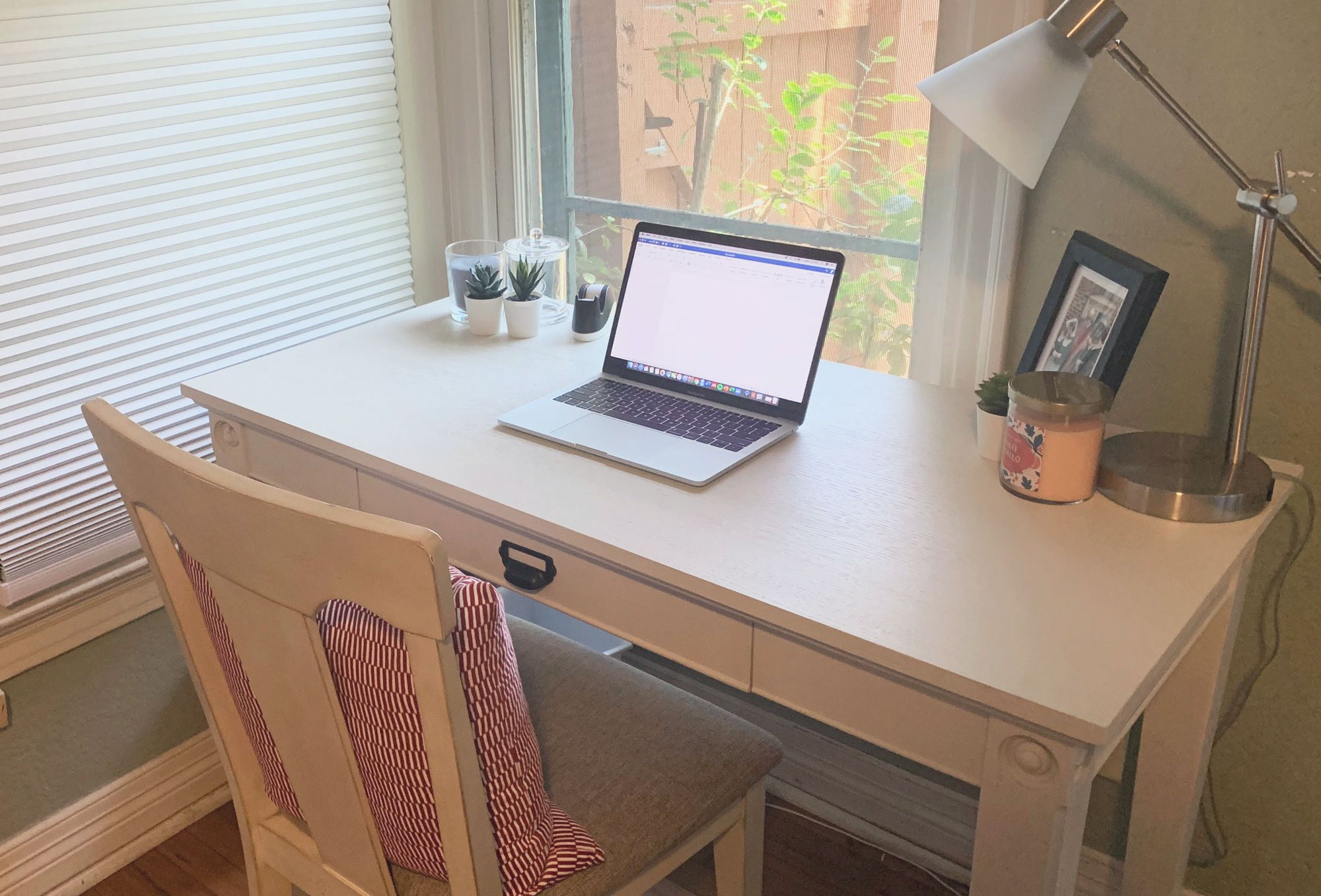 Furnishing the Space
Once you've found your perfect workspace location, it's time to furnish it! But, before you go running off to spend the day testing out the latest luxury office furniture, let's keep in mind the designer advice we talked about previously. 
As you decide on which office furniture you want to include in your space, you should always be thinking of functionality, ergonomics, and aesthetics. As mentioned, a home office only works if it's a space you want to use, especially if you are going to be using it long-term - so it's important that it contains everything you need, and that it's comfortable and inviting. 
There's one more thing to consider as we start the furnishing process that can be a little different for everyone, and that is the type of home office space that you want for yourself. In other words, what is the general kind of office layout that you think will be most conducive to both the needs of your profession and your work-from-home mindset?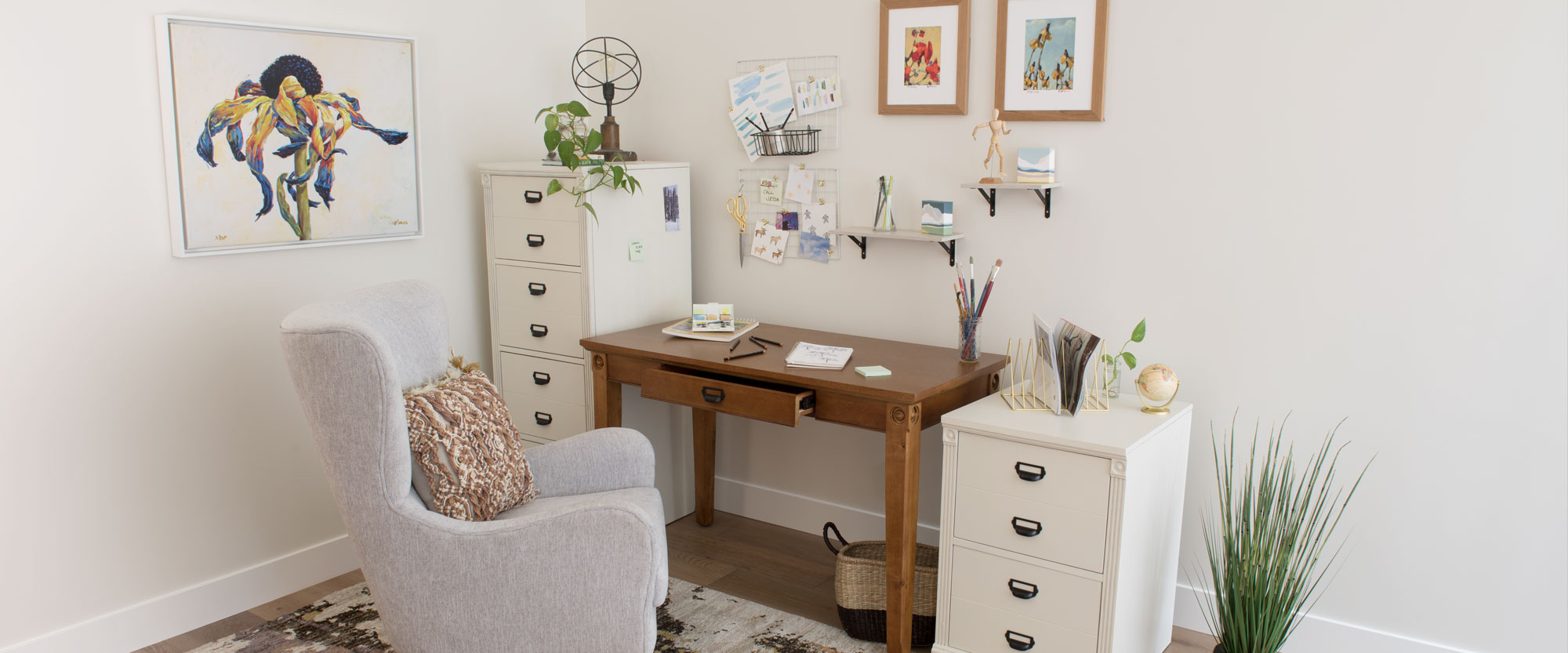 Some of you may want to design a traditionally-styled home workspace with an impressive desk, comfy chair, and bookcases full of reference material to recreate the office aesthetic you're used to, or perhaps because you plan on working with clientele on-site. Some may need a home office with plenty of surface area to spread out sketches and other creative endeavors, ample storage space to organize artistic supplies, but only a padded stool because you rarely sit for long periods of time. Others may focus on making sure their compact, minimalist space has plenty of storage to remain clutter-free, and others still might stove to create a unique and incredibly stylish workspace to ensure they feel inspired to get on the grind day after day. 
Deciding on the general home office layout you're after is helpful because it gives you another focus as you begin setting things up. Whatever your needs, here are some general tips that everyone can use to choose the right home office furniture and decor:
Desks
Your desk is arguably the most important piece of furniture in your home office. It's the  centerpiece of the space, the place where you perform most of your tasks, from typing emails to drafting designs. Because it plays such a central role, many people start the furnishing process by looking for a large, sturdy desk with plenty of storage drawers and a heavy dose of sophisticated character. Although this isn't necessarily a bad decision, it could be one that ends up not quite working out. After all, just because something is important, doesn't mean it has to be big and expensive. 
Your desk should be spacious enough to accommodate your computer, monitor, keyboard, papers, and other office essentials, but it should also be the right size and height for your body, and for the room it inhabits.
Before you start looking for any specific desk, you should first consider the size and shape of your workspace, as well as the type of work you'll be doing. If you need a lot of space for paperwork or multiple monitors, then a larger desk is probably your best bet. If you have a hard time sitting down all day at home or want to focus on your health, then you may want to invest in a standing desk. If you're short on office space, a compact desk with plenty of storage is probably the best option for you. (Speaking of storage, it's entirely possible to work from a desk with no storage features in today's increasingly-paperless world, though even one small pull-out drawer can be surprisingly useful for things like keyboards and spare pens.) 
We suggest taking out some measuring tape at this stage, and jotting down the measurements of your chosen location. Then, imagine the approximate size and shape of a desk that would suit your needs, and use the measuring tape to come up with some dimensions of hypothetical desks that could work well within the space. Getting specific with the physical dimensions like this can really help you envision exactly what you need, plus it also stops you from purchasing the wrong size furnishings later on. 
Once you have a good idea of what size and shape your desk should be, you can start seeing what your favorite furniture retailers have to offer. To help make the process not feel too difficult or overwhelming, we recommend limiting your search to desks that offer the same general style and color palette as the surrounding furnishings in your chosen location, or the general style of your home if you have a designated home office room. If you start setting up your home office with pieces that look natural or "at home" in your space, then you're more likely to be satisfied with the final result. Of course you can try to incorporate a different style if you really want to try and mix things up and go for an eclectic look, but our recommendation for most people is to make things simple by lookig for pieces that complement the existing aesthetic in their home. 
And remember, traditional desks don't have to be your only option if you're having a hard time finding something that works for your space. There are plenty of beautiful, highly-functional home offices that are centered around dining tables, sofa tables, or even wall-mounted folding desks. You can turn almost anything into a functional workspace, just so long as it's the appropriate size and style, that is.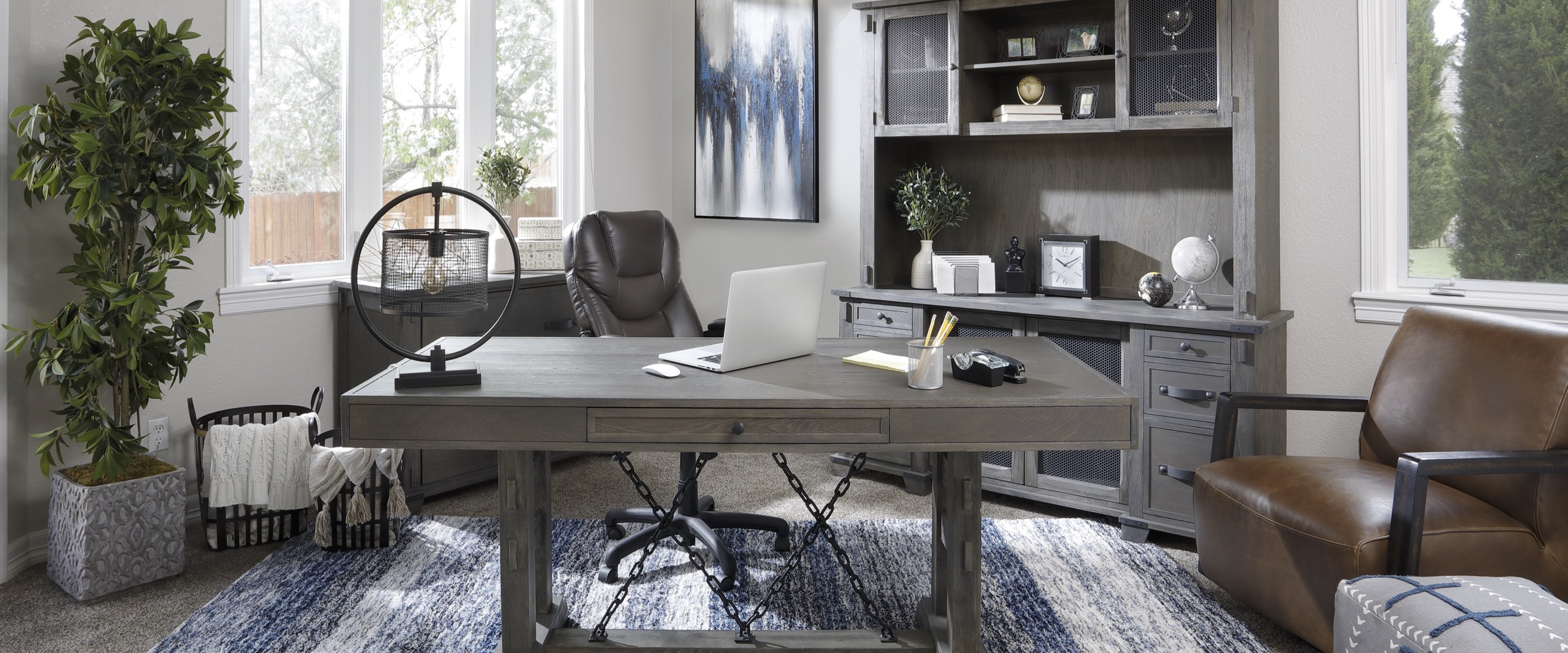 Seating
Your office chair is just as important as your desk when it comes to furnishing a comfortable and ergonomic workspace. You'll be sitting in your office chair for hours on end, so choosing the right one can have a huge impact on your posture, comfort, and health.
Because most Americans live relatively sedentary work lives, we recommend looking for a chair that's adjustable, has good lumbar support, and is comfortable enough to sit in for extended periods of time. Chairs that can swivel and tilt as you move have been shown to support proper posture, and a base with wheels can also be helpful if you need to move around your workspace frequently. 
When it comes to style, today's desk chairs come in a wide variety of shapes and colors, so they can actually be amazing tools for adding a sense of personality to your workspace. As mentioned in the last section, our designers recommend sticking to something that will complement the color palette and style of your desk and surrounding decor, but there's a bit more wiggle room here when it comes to chairs specifically. In fact, many successful modern home office designs pair clean-lined, minimalist desks with eye-catching office chairs to stunning effect.
The last and perhaps most important thing of all to do when shopping for your new chair is to make sure that it will fit comfortably under your desk. Add the measurements of your desk and the measurements of the surrounding area, and cross check them with the dimensions of whatever chair you are thinking about buying. Trust us, there's nothing worse than waiting on your new office chair to arrive only to discover that it's about two inches too tall and you have to send it back. 
Aside from your primary chair, you can also consider a second seating option in your home office, provided you have the extra room. Alternative seats like comfy accent chairs, daybeds, and chaise lounges are great for when you want to work on a more-creative project, or if you just need a change of pace for the day. They're also a smart decision if there's a possibility of a colleague stopping by or if your partner also works from home. For those who love fitness, exercise balls are also popular alternative seats that you yourself can use for a couple of hours to get your blood flowing and strengthen your core. The options for alternative seats are virtually endless, so take your time exploring and only commit to something if you're certain of it.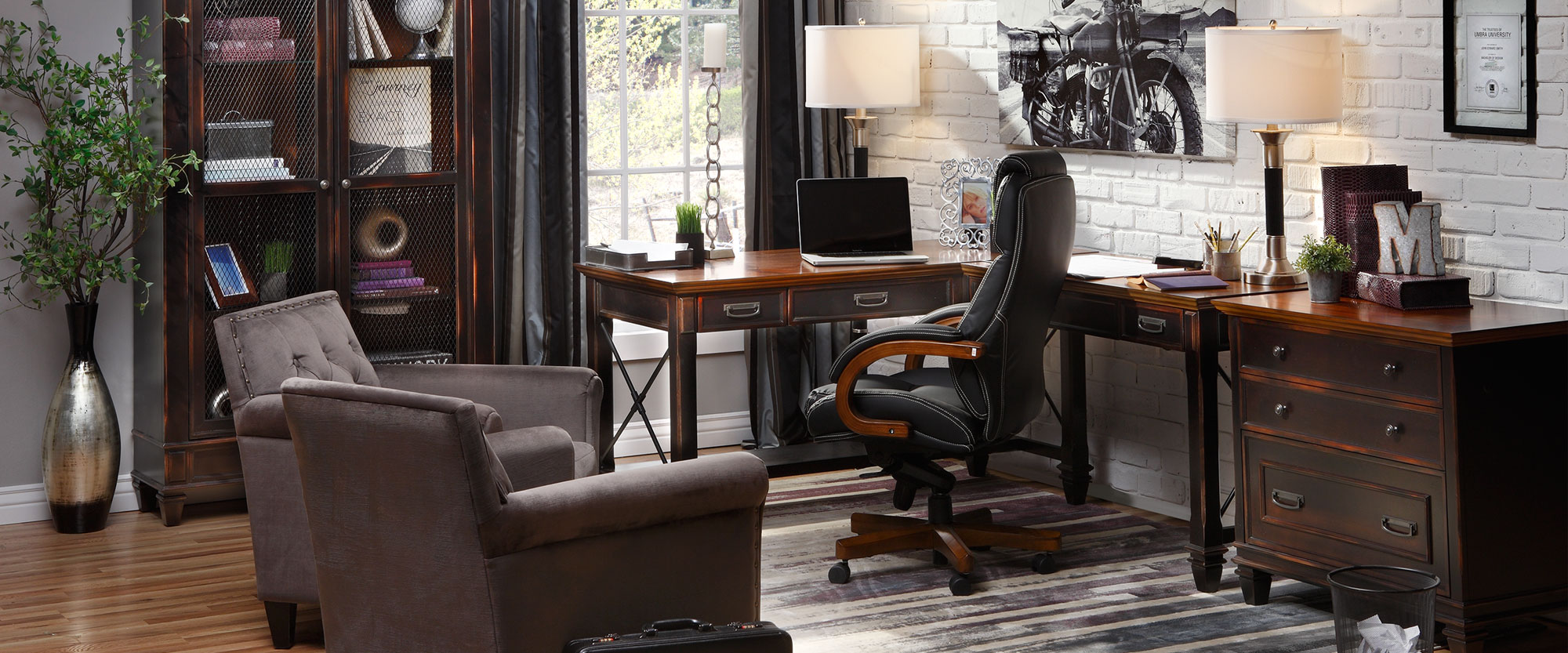 Storage
Storage pieces are essential for any home office, whether it's for paperwork, supplies, or other personal items, but it can be a little tricky to find something that fits your space and suits your needs perfectly. In fact, many people end up finishing their home office designs with big, unnecessary storage pieces that they never really end up using effectively. 
The best advice we can give that works for people in all professions is to first make a list of all the items you need to have on-hand everyday as you work. Then, take a look at your desk and its storage features, decide which items are going to live there, and cross them off your list. Now, rather than looking for an all-purpose storage product that may or may not fit your space, you can instead get more specific and find the right kind of piece for the leftover items on your list.
As usual, we recommend looking for storage pieces that complement your desk, chair, and surrounding decor. Typical office accessories like filing cabinets are an easy choice for many home office set-ups, and larger items like bookshelves, credenzas, and storage ottomans are often essential if your home office is a room unto itself. 
For those who are establishing a home office within an existing room, we highly recommend going with a less-is-more approach when it comes to additional storage pieces. Many desks on the market today boast a bevy of storage features to suit most people's needs, so it's often best to start there if working within an existing room. If you've found the right desk but are still short on space, many home office aficionados turn to their nearby walls to add additional storage space in the form of floating shelving, hanging wire basket organizers, and some have even put up hooks and pegboard to hang their extra supplies.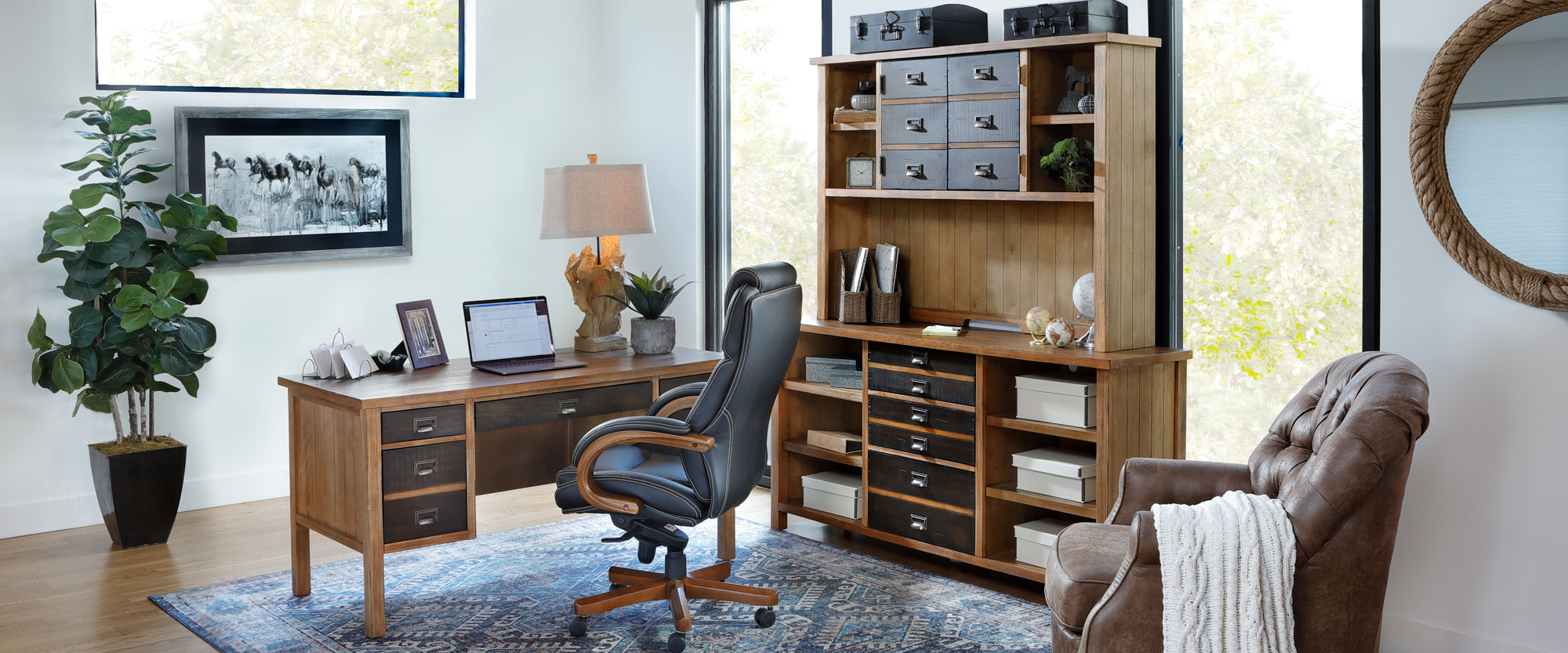 Lighting
We talked about the importance of selecting a workspace with natural light already, but it's also a good idea to make sure your home office is outfitted with lamps and other types of lighting too. Create a well-lit workspace with overhead lighting and task lighting, such as a stylish desk lamp. You can also add a touch of ambiance with a floor lamp or string lights, but try to avoid harsh fluorescent lighting, as it can cause eye strain and headaches.
Adding some extra lights will ensure the space is bright and beautiful in any weather, and it's also a smart idea because it will help you look more professional for any virtual meetings you might have. After all, nobody wants to look like they're joining their weekly Zoom meeting from a dark unfinished basement or a cave in the wilderness. 
Decor and Accessories
Once you have the main furniture pieces, it's time to add some flair to your home office with décor and accessories that reflect your style and interests. This can include anything from hanging artwork and display accents to family pictures and professional certifications. At this stage, you're free to choose your favorite accents and decor, but you should really be looking for those few items that not only enhance the aesthetics of your workspace but also boost your mood and creativity.  Along with traditional accents, don't forget to consider things like area rugs and throw pillows - these easy additions can do wonders for making your home office feel more cozy and inviting. 
Your home office should be a reflection of your personality and style, but be careful not to overdo it with too many mementos as a cluttered workspace can distract you and reduce your productivity. On the other hand, if you're of the minimalist mindset and like your space as clean and uncluttered as possible, we do recommend decorating with at least one living plant rather than skipping accents and decor altogether. Living plants are any designer's go-to decor item because they instantly instill a finished look, they look great alongside just about any color palette or interior style, and they've been shown to improve air quality, reduce stress, and increase productivity.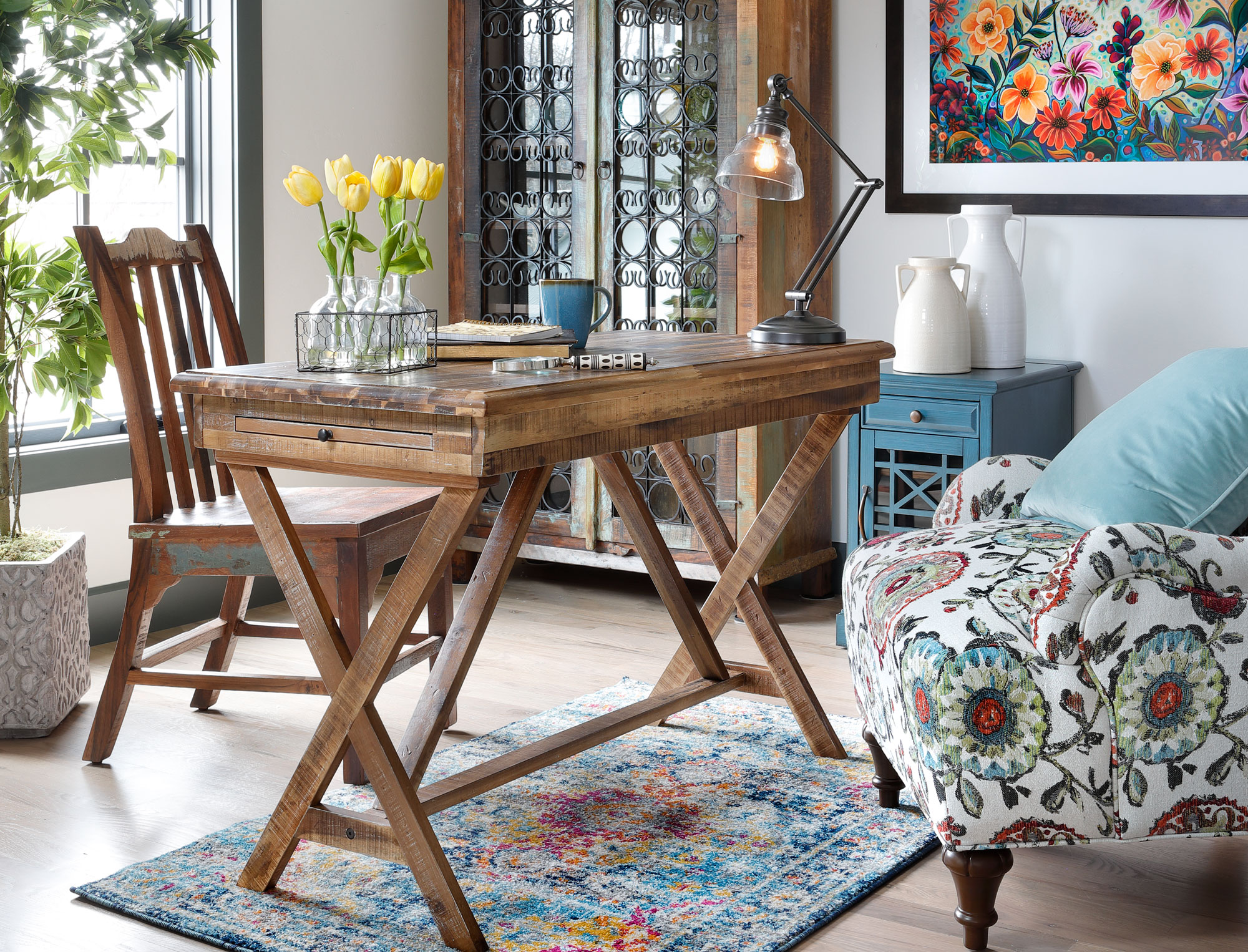 Closing thoughts
Now that you know how to set-up your home office, the last thing to do is to create a consistent working-from-home routine and minimize distractions. Plan your weekly work schedule, set boundaries with family members or roommates, and let them know when you're working and shouldn't be disturbed. Once this is squared away and you've had a chance to enjoy your new expertly-styled home office, the only thing left to do is….get to work! Happy decorating!