How to Create the Perfect Space to Watch Football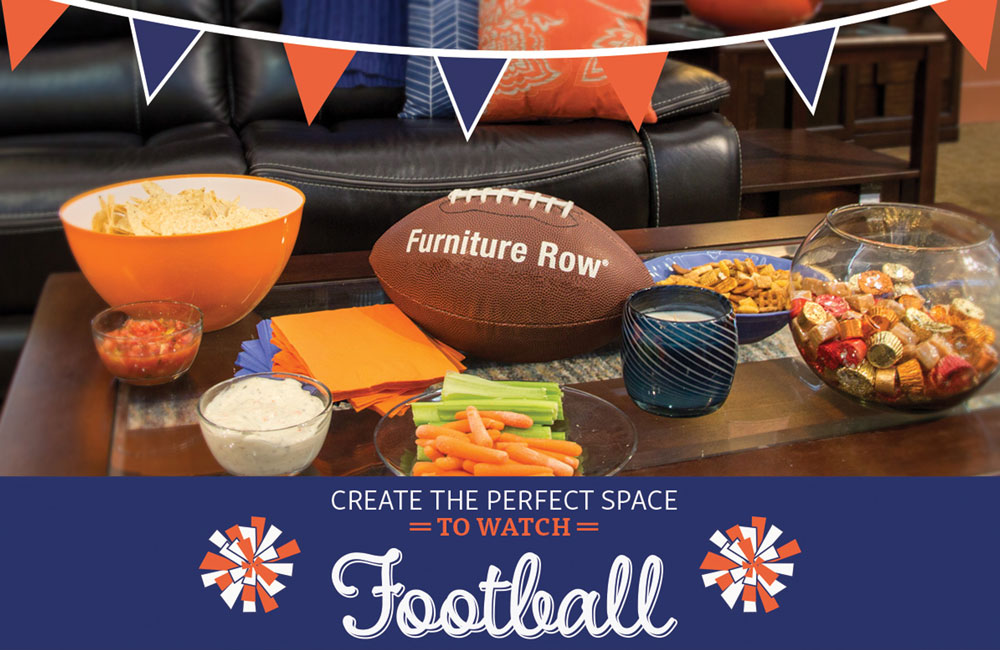 Football season is upon us, and it's time prepare for the big game! If you don't have season tickets, but still want to support your favorite team, your living or family room is your go-to party space for guests to gather around and watch that winning touchdown, so it needs to be ready! While your entertainment room might seem small or not very guest-friendly, here are some simple tips to make any space the perfect place for large crowds and celebrations.
Comfortable Seating is Key
Finding the perfect amount of plush to plop into as you click the remote is definitely the first thing you need to focus on when creating your ideal space to watch football. Kick back and unwind in a comfortable recliner for you or your guests that features foam cushioning and easy-to-clean, breathable fabric in a neutral color that won't highlight stains such as gray, black, or brown. Many recliners also feature center consoles with USB ports and stainless steel cup-holders so your guests won't have to fight over wall outlets or leave a drink lying on the floor. Keep it casual and choose a couch set or sectional that's versatile and goes well with anything. The more seats, the better, so incorporate many chairs, beanbags, or side chairs, so that everyone has a place to sit and be comfy! Ottomans are also great seats and sometimes feature convenient storage that's great for hiding belongings you don't want in the way. Pieces in your team's colors are always a great way to show team spirit without being too flashy, so don't be afraid to add an accent chair in a bold hue that will get your crowd excited about game time. For comfortable seating, check out Furniture Row's variety of lounging options under the Sofas and Seating section.
Go Big or Go Home
Without your television, there is no party, so make sure everyone can see it! No matter what size your TV is, there is a stand or entertainment wall that will accommodate it perfectly. Smaller televisions look great on a simple stand with electronic storage underneath, but if you've got a great big screen with surround sound, show it off by placing it inside a home theater wall that has ample amounts of storage for cords, remotes, speakers, and other media accessories. Your TV should be ready for that touchdown! For an entertainment theater, check out our collection of pieces you can bring together into a theater wall. 
Get More Surface Space
If everyone has chips and soda, they're going to need a place to set it down! Nobody wants to eat off the floor or risk ruining your lovely sofa by snacking too close to the couch. Placing a slice of pizza on your glass-top coffee table or nearby end table is a whole lot better than figuring out how to get rid of tomato sauce stains out of your ottoman. Keep the clutter at bay with more tabletops! Small tables such as sofa tables, end tables, and coffee tables with shelves underneath are perfect for adding surface space without being too bulky and wooden pieces with marble, glass, or stone tops are a great substitution if you run out of coasters or koozies. Furniture Row has a great selection of small sides tables to create your perfect setup.
Clean and Simple Goes a Long Way
Just like your couch, you want furniture with fabric that can withstand a few spills since accidents do happen. The floor is definitely going to take a bit of a beating, so don't stress everyone out about ruining your lovely all-white shag rug! Rugs that are made of wool or other durable, heavier materials in neutral tones are perfect for a little wear and tear and will keep your beautiful hardwood floors happy! Flat rugs that are easy to vacuum are also great for cleaning up crumbs. For a good game day rug, check out the Torino Ombre Rug.
Keep the Excess to a Minimum
As much as you want to decorate your living space with art and home accessories that will impress your friends and family, breakable things should be kept at bay from the rowdy fans! Instead, opt for soft things like accent pillows or throw blankets that are perfect for adding your team colors and making the room more comfortable. Floor lamps that can hide in corners are also great as opposed to breakable table lamps that can be easily knocked over. A canvas is also a fun way to personalize your wall without taking up floor or table space. Pick out a print of your favorite team or choose an image of your team's mascot, for even more team spirit. Browse a selection of home accents to best fit your game day space.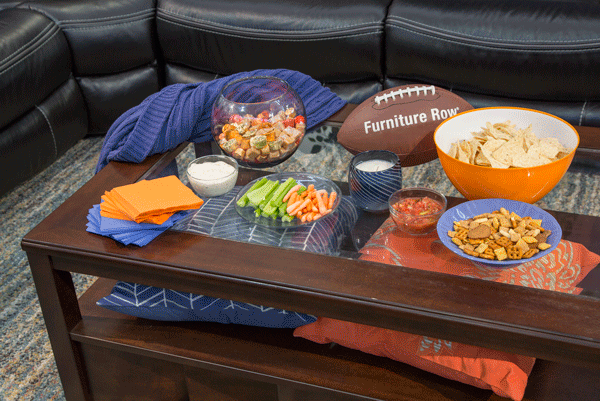 Bring on the food and drinks!
Last but not least, get ready for the food and drinks! All your game day guests will want to eat chicken wings with their beer if it's available, so prepare by incorporating trays or coolers nearby so your kitchen or dining room doesn't get crowded. A kitchen cart is also a great way to store drinks and eating utensils that can stay out of the way until needed. They also make for a unique piece of furniture! Don't stress about spills or space, let there be food! No matter what team you pull for, there is a way to get your crowd going wild! Win or lose, your party-ready entertainment space will certainly be a success when you know what to expect!