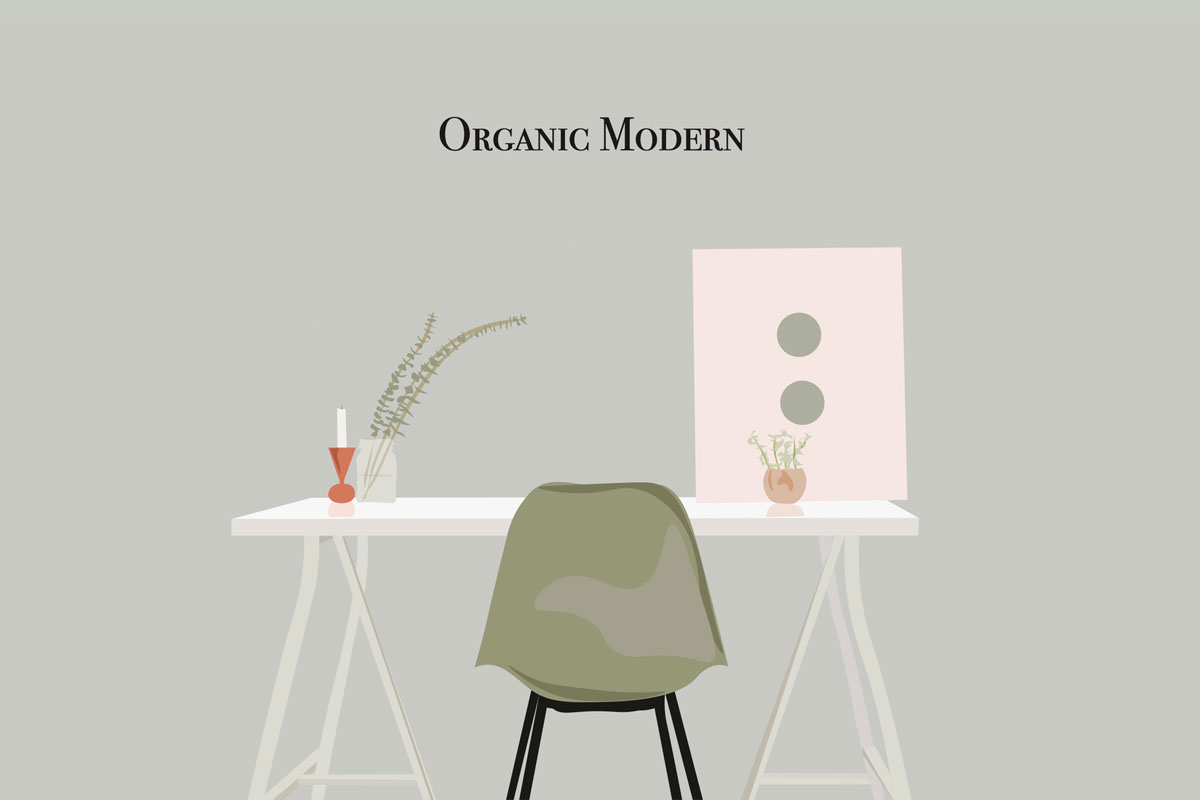 How to Decorate: Organic Modern Style
The Organic Modern look has been growing in popularity over the past few years, and it's not hard to see why. Clean, refreshing, and undeniably inviting, this burgeoning style can turn any space into a designer-inspired masterpiece.
What is Organic Modern?
So what exactly does Organic Modern mean, and, more importantly, how can we incorporate this fashion-forward aesthetic into our own living spaces? Well, if you're like most people you have a pretty good idea of what modern furniture looks like, so let's start there. 
Although the definition can be fairly flexible, the modern look is all about straight lines, simple geometric shapes, and smooth surfaces. Modern furniture design is rooted in minimalism, and it often fuses sleek silhouettes with new-age materials to create pieces that are beautiful, functional, and sophisticated. 
The problem with the modern aesthetic is that it focuses so much on the cool, uncluttered look that it can often leave an interior feeling more like a museum than an actual home. Almost everyone can appreciate the crisp appeal of modern furniture, but there are only a select few who want their home to be furnished with 100% modern pieces.
Organic Modern solves this problem by incorporating natural elements, soft textiles, and light neutral tones to instill a sense of comfort and warmth into modern interiors. 
It keeps the larger, contemporary furnishings found in modern homes, but it replaces the new-age materials with soft organic fabrics, such as linen, cotton, bamboo, and woven grasses. These welcoming textures are then paired with natural hard surfaces like wood and glass, stone and metal. 
This blending of modern and rugged adds a greater depth of shape and character to the design, and it also has the added benefit of warming the overall color palette. Instead of the cool grays and dark colors of typical modern designs, Organic Modern offers bright whites, light neutrals colors, natural wooden finishes, and rich earthy tones.
In short, Organic Modern brings the austere, out-of-touch aspects of modern design back to reality. It keeps the crisp, clean lines and minimalist silhouettes, but it balances them by bringing in natural materials and a refreshing palette. The resulting look is sophisticated and down-to-Earth. It's clean-lined and it's comfortable. Most importantly, Organic Modern is laid-back, livable and breathtakingly beautiful.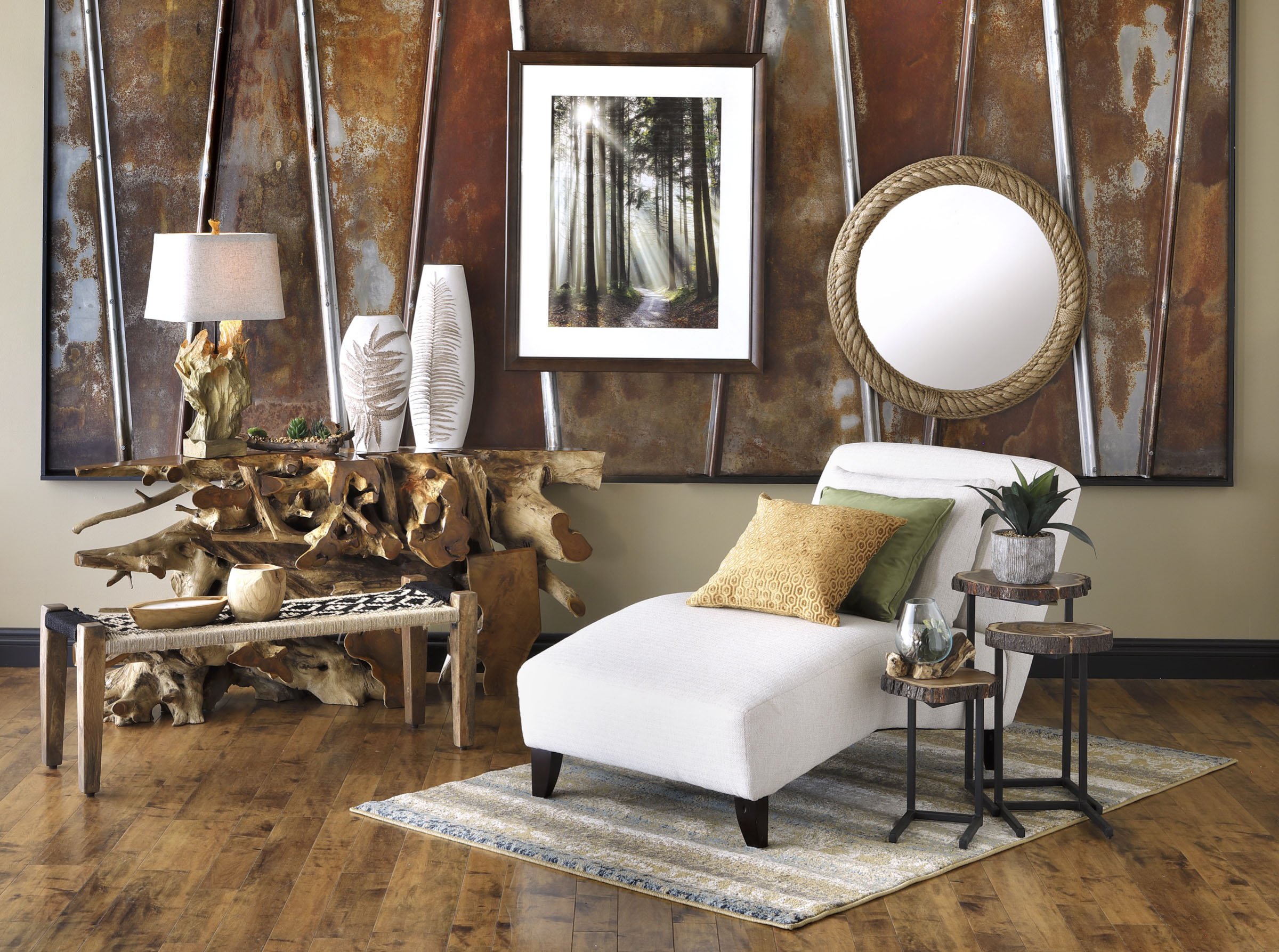 How to design an Organic Modern living room.
Now that we understand the basics, let's go through a step-by-step guide to design an Organic Modern living room.
To bring the Organic Modern look into your home, start with a clean-lined, low-profile sofa or sectional that's upholstered in a light, neutral-colored fabric. The preference is primarily white or off-white, but you can also incorporate light grays, taupe, and even earth-toned fabrics for the color enthusiasts out there. Think of sofas like the Pia II Estate Sofa and Fulton Sofa in white, or even something like the Palmer 2 Pc. Sectional.  
 


Next, find contemporary occasional tables that showcase wood in all its natural beauty, and then consider an area rug with a soft, hand-woven look. Examples of the tables we have in mind are the Canto Coffee Table or the New Aspen Rectangle Coffee Table. If you're designing a smaller room, you could even think along the lines of the Recycled Water Bottle Ottoman and the Multiple Shelf End Table. 
 



Next, anchor your larger furnishings with an inviting area rug. There are a lot of rug styles available to the Organic Modern look, so just remember to shoot for uplifting neutral colors and try to incorporate soft, natural materials. Need examples? You could opt for a hand-woven rug, or you could try a white shag rug like the Bella Vista Buff Shag Rug. Additionally, your rug could incorporate a floral print like the Sonic Keomah Rug, or you could go for a more-traditional look like the Ankara Atalan Rug. 
 



Now that we've created a foundation of contemporary lines and natural materials, it's time to dive a bit more into the organic side of Organic Modern. For decor, try to take advantage of green plants and natural accents as much as possible. Products like the Teak Root Bowl and Flat Iron Fern in Glass Bowl with Seagrass Netting would work nicely in any home. Finally, top it all off with a collection of pillows and throws that showcase a hand-woven look like the Hand Woven Pillow, Dov3973 Throw Blanket, Recycled Water Bottle Pillow, and Recycled Water Bottle Throw.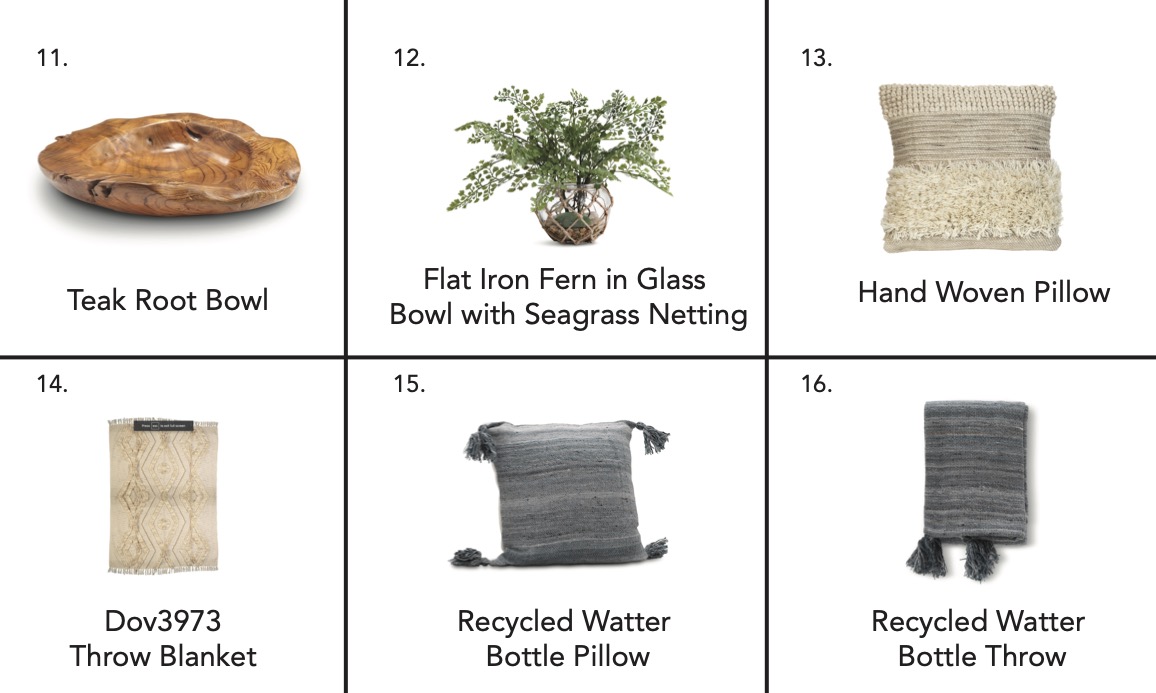 The rest depends on the layout of your living room, but usually you won't need much more than the essentials mentioned above. Remember, Organic Modern embraces the minimalist side of modern design in both the furnishings and use of decor, so don't be afraid of negative space!
Now that you know how to style your home with the Organic Modern look, you're ready to turn your home into an oasis of organic comfort and style. Happy decorating!