How to Decorate Your Dining Room for Fall
As the leaves change color and the air turns crisper, it's time to invite the beauty of fall into your home. One of the best places to start is your dining room, where friends and family gather to share hearty meals and create lasting memories. By incorporating natural elements and foliage, you can create a warm and inviting space that celebrates the essence of autumn. In this blog post, we'll guide you through some inspiring ideas to transform your dining room into a cozy haven for the fall season.
Key Elements of Fall Decor
Warm Color Palette:
Begin by setting the foundation with a warm color palette inspired by nature's autumnal hues. Consider using deep oranges, rich browns, earthy greens, and muted yellows as the primary colors for your dining room decor. These colors evoke a sense of warmth and comfort, creating an inviting atmosphere for your guests.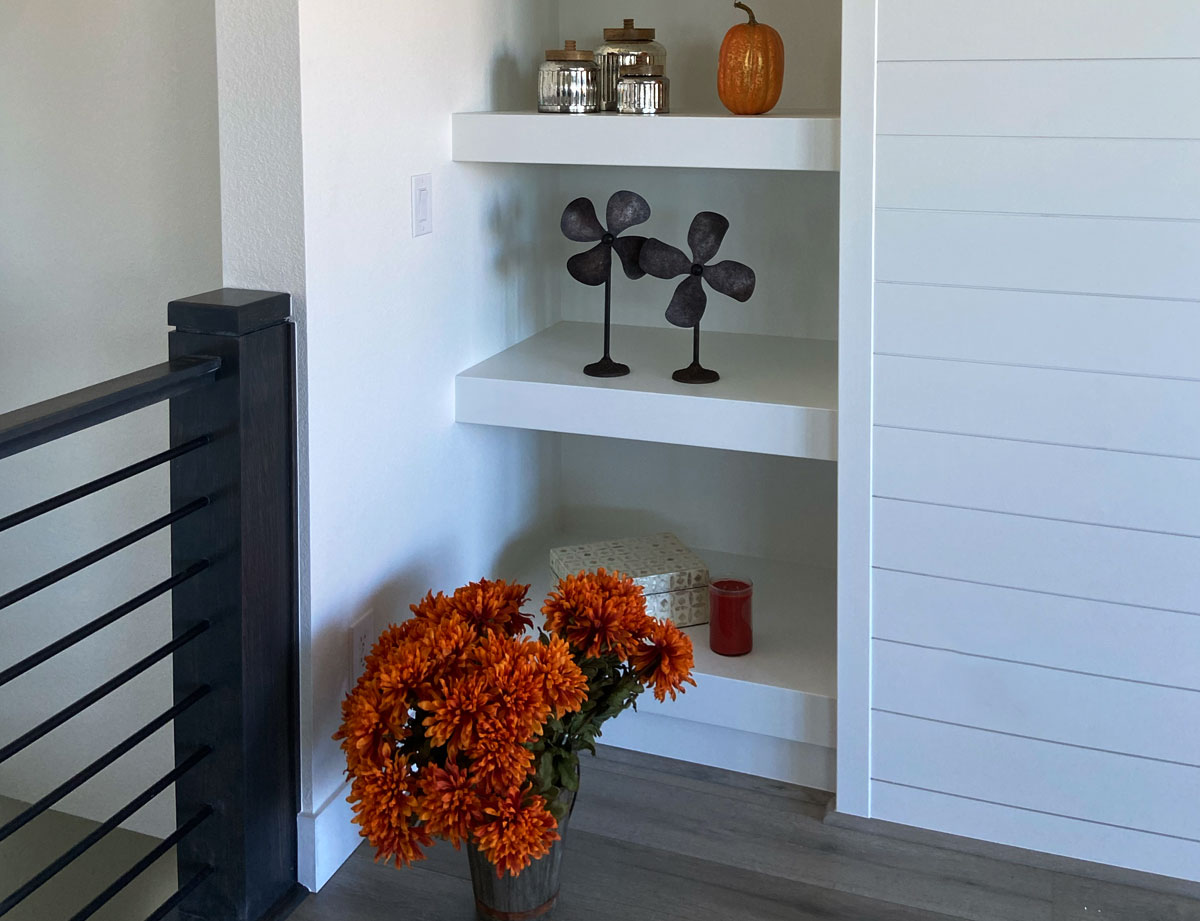 Foliage-Adorned Accents:
A stunning centerpiece is the focal point of any dining room. For a fall-inspired setup, opt for a lush arrangement of seasonal foliage. Gather leaves, branches, and even small pumpkins or gourds to create a visually appealing centerpiece. Place them in a rustic vase or a wooden crate to add a touch of natural elegance to your dining room.
 
Rustic Table Settings:
Choose tableware and accessories that complement the natural theme. Consider using rustic or wooden chargers, complemented by earth-toned plates and flatware. Linen napkins in warm, autumnal colors like deep burgundy or mustard can add a touch of sophistication to your table settings.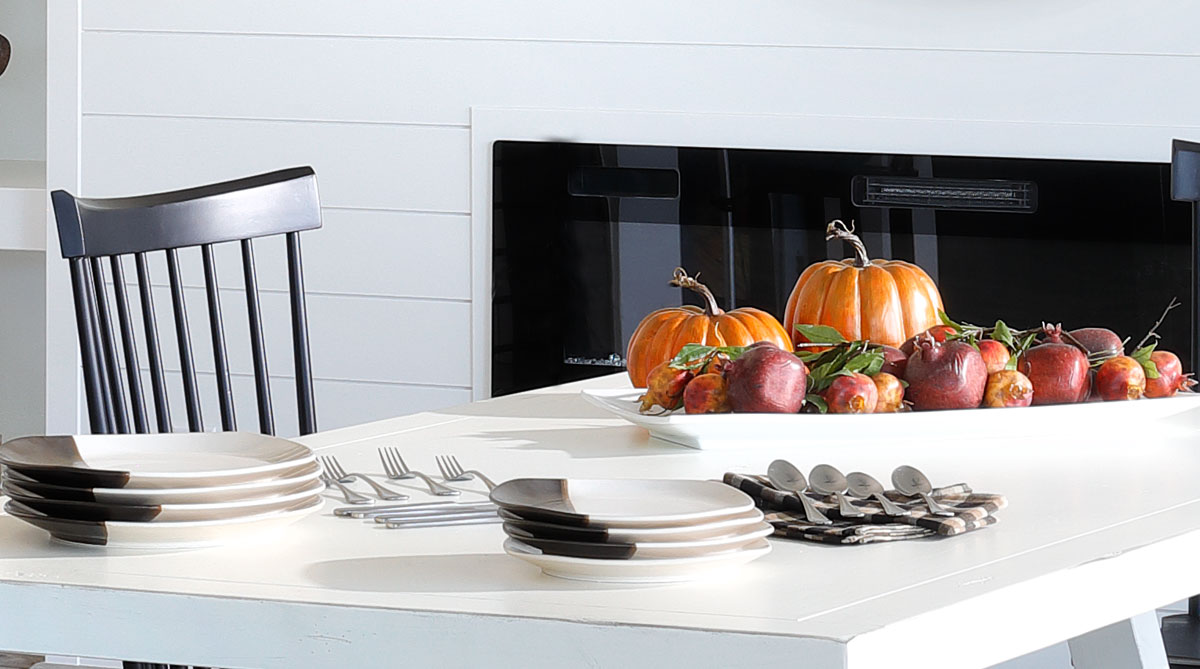 Candlelit Ambiance:
Enhance the cozy atmosphere by incorporating candlelight into your decor. Place pillar candles or taper candles in various sizes along the center of the table or use candle holders with autumnal motifs. The soft, flickering glow of candles will create a warm and intimate ambiance that encourages conversation and connection.
Harvest-Inspired Decor:
Incorporate elements that celebrate the harvest season. Decorative cornucopias, woven baskets filled with gourds and apples, and even dried corn husks can be strategically placed around the dining room to evoke a sense of abundance and gratitude.
Leafy Accents:
Use autumn leaves creatively to infuse natural beauty into your dining room. Scatter them across the table as a charming runner, or attach them to string lights to create a whimsical garland. You can also press and frame some leaves to add an artistic touch to the walls.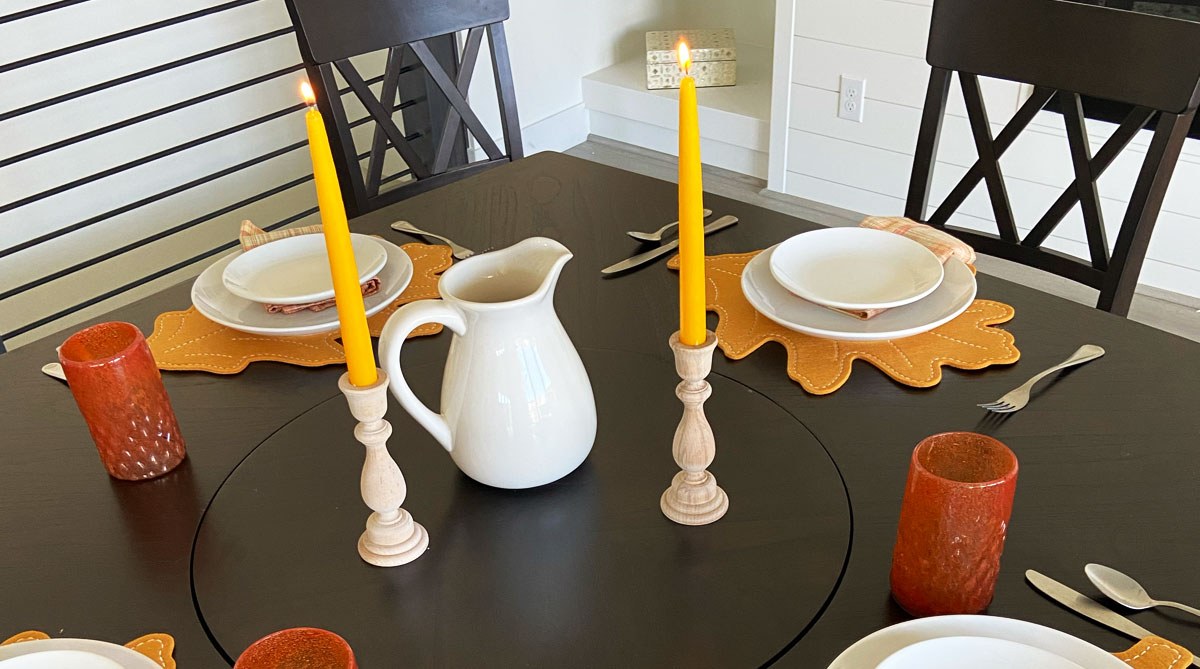 Consider incorporating artwork that showcases the beauty of nature. Paintings or prints of fall landscapes, botanical illustrations, or photographs of autumnal scenes can bring a touch of the outdoors inside, further enhancing the seasonal ambiance.
Cozy Textiles:
Introduce soft, textured textiles to make your dining room feel warm and inviting. Consider adding throw blankets over chairs or benches, and place plush cushions for extra comfort. Opt for fabrics in warm, natural tones like wool, flannel, or faux fur.
---
Decorating with the Autumn 5 Pc. Dining Set 
The Autumn 5 Pc.Dining Set, true to its name, effortlessly embraces the essence of Fall in its design. A charming touch is the versatile lazy-susan at its center, inviting moments of shared delight. To infuse warmth and comfort into the space, we adorned this set with placemats in a gentle, golden felt, each delicately shaped like a leaf. Natural, wooden taper candle holders complemented the tableau, while the candles themselves radiated a soft, orange hue, harmonizing with the overall arrangement. The glasses, a vivid orange, echoed the vibrant transformation of autumnal leaves, and we selected a rustic-inspired farmhouse pitcher to complete the harvest motif. A clever choice was to showcase pumpkins on the table's base, allowing them to grace the setting without encroaching on precious dining space. Given the compact footprint of the Autumn Tabletop, we meticulously considered every inch, ensuring ample room for all essential dining elements.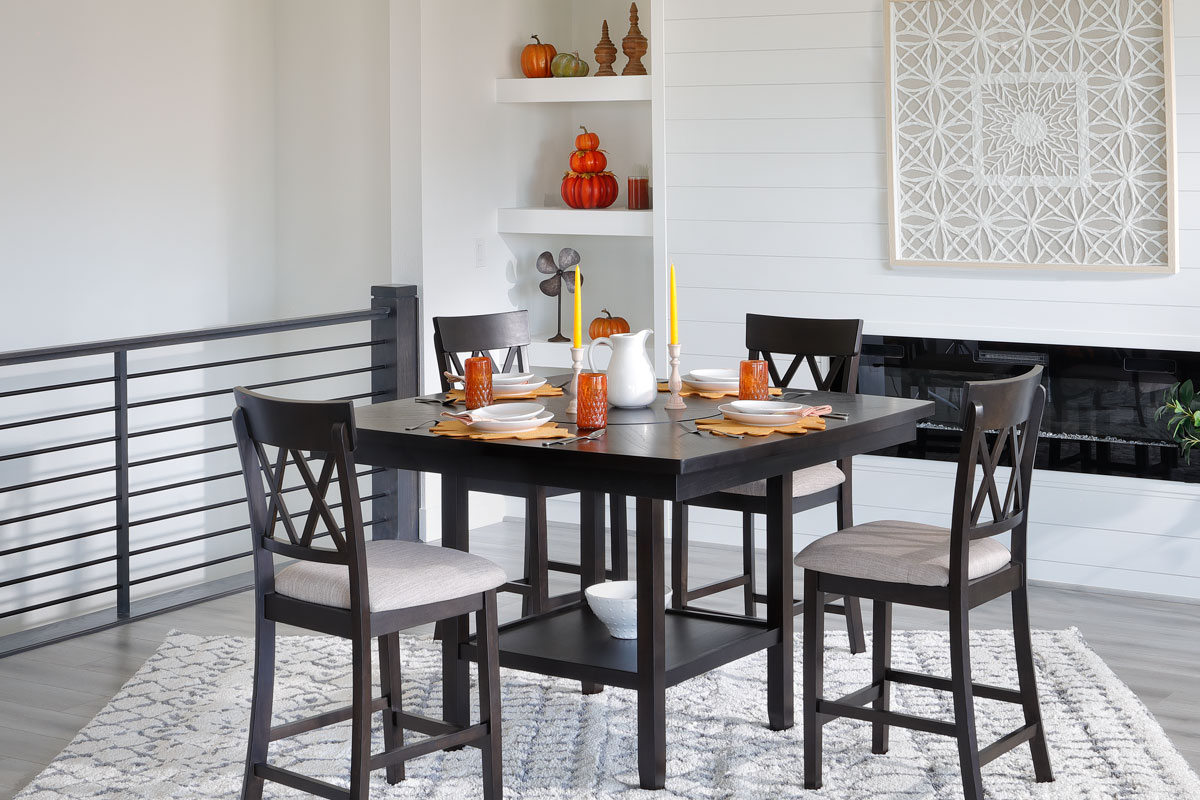 Decorating with the La Paz 5 Pc. Dining Set
The La Paz 5 Pc. Dining Set embodies the essence of modern farmhouse decor, and for this Fall, we've carefully curated its adornment to exude a warm and inviting ambiance. This versatile piece effortlessly harmonizes with a plethora of seasonal and timeless design themes. Our approach to embellishing the La Paz table involved embracing earthy textures, such as the use of artisanal clay dinnerware. Incorporating plaid napkins in wooden and charcoal tones not only infuses natural hues but also imparts a rustic charm reminiscent of the bountiful harvest season. In the center, a striking pomegranate arrangement serves as a functional yet artistic centerpiece. It can be appreciated not only for its visual splendor but also for the promise of countless autumnal recipes. To anchor our guests in the season, we introduced pumpkins as a focal point, adding a touch of autumnal enchantment to the setting.
---
Bringing it Home
By embracing natural elements and foliage, you can transform your dining room into a warm and inviting space that captures the essence of the fall season. With warm color palettes, foliage-adorned centerpieces, rustic table settings, candlelit ambiance, harvest-inspired decor, leafy accents, nature-inspired artwork, and cozy textiles, you'll create a haven where friends and family can gather to celebrate the beauty of autumn. Embrace the season, and let your dining room become a reflection of nature's exquisite transformation. Happy decorating!