Interior Designer Eden Cohen: How to Refresh your Space with Seasonal Decor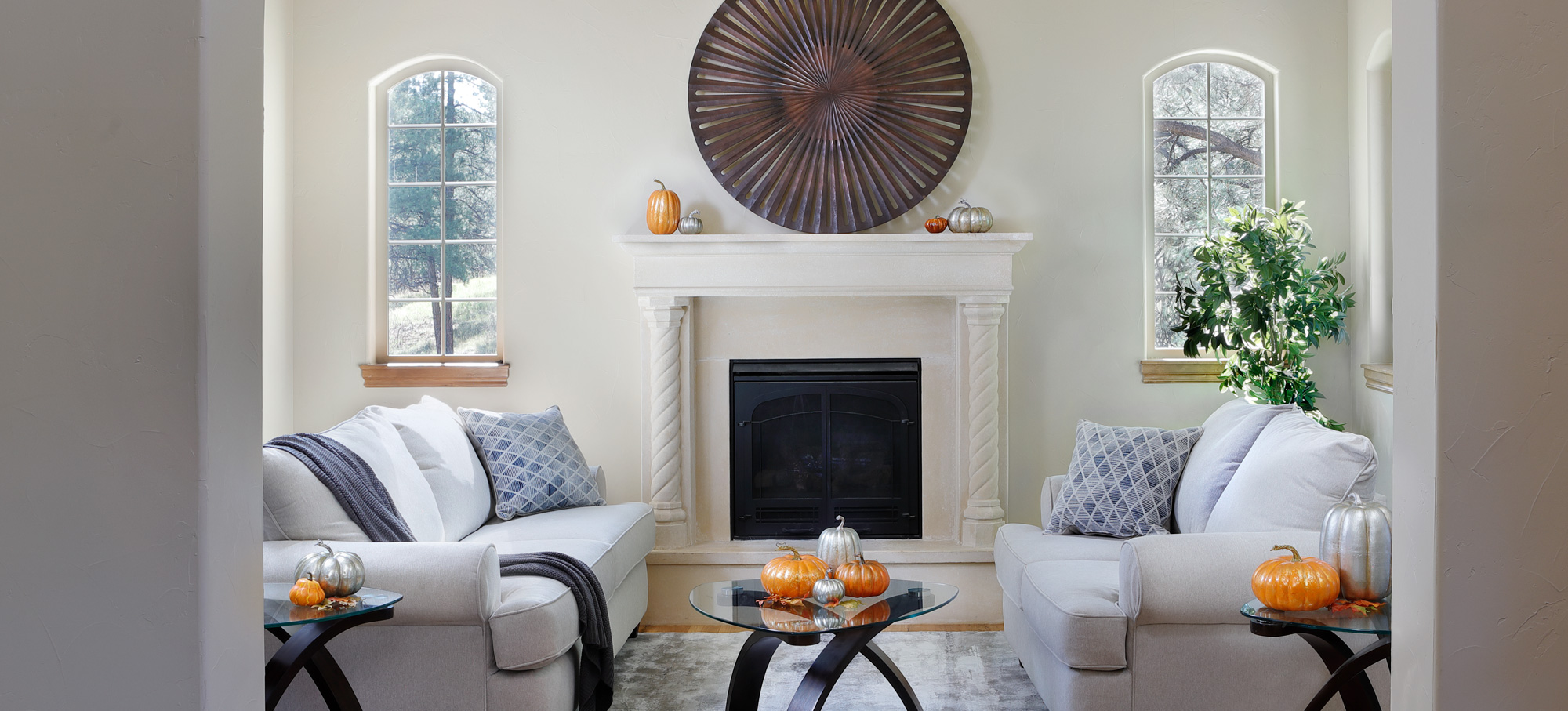 Are you feeling tired of your home decor? Well, you're certainly not alone! It's extremely common for people to become bored of their home's interior style as time passes. Thankfully, I know of an easy way to refresh the style in any room that doesn't require putting in a ton of effort or spending a lot of money: it's called seasonal decorating! 
Seasonal decorating is all about making relatively minor decor changes in your home in order to complement each passing season. It's a simple, fun way to breathe new life into your living space on a regular basis, and I'm going to show you, step by step, how to master this designer-approved technique.
Find your foundation
The first thing you need to do to get any room ready for seasonal decorating is to decide which foundational pieces in your room are going to stay in place year-round. In the interior design world, foundational furnishings are the large-scale pieces in a room, like sofas, chairs, and tables, that usually reflect the overall style of your home. Along with the foundational furniture, you should also decide on which pieces of artwork and decor you'll want to stay season after season. For this, I recommend choosing larger art pieces, decor items with sentimental value, or other pieces that really show off your personal taste. 
Once you know which pieces in the room are remaining in place, you can now identify which smaller accents you could swap out as the seasons turn. Remember, seasonal decorating is all about making small-but-impactful changes that can be done quickly and easily, so you typically only need to swap out a handful of items. After all, no one wants to be lugging out heavy chairs and paintings every few months, right? 
Now that you know which of your decor items can be replaced, it's time to start looking for new accents that can evoke the look and feel of whichever season you're about to be experiencing. 
Things to think about as you search
Now, don't go running off to scour the internet and order all the cute seasonal products that you see just yet. We first need to talk about the types of decor you should consider to help narrow down your search and ensure a designer-inspired look.
Color palette
Having a cohesive color palette is vital to achieving a beautiful home aesthetic, and colors are one of the first things professional designers think about whenever they restyle a space. So, when looking for new decor items, do as the designers do: decide on a seasonal color palette beforehand and find products in those colors. *Once you decide on the color palette, you can search for items showcasing specific those specific colors, rather than wasting time scrolling through endless pages of seasonal-themed products. 
When it comes to styling with seasonal colors, the main thing you want to understand is that they are almost always reflective of what's happening in nature during that time of year. For example, leaves turn red, yellow, and orange in fall so your fall color palette could be full of reds and oranges. There are a ton of online resources that go into more detail on seasonal colors, but this table covers the basics to help get you started: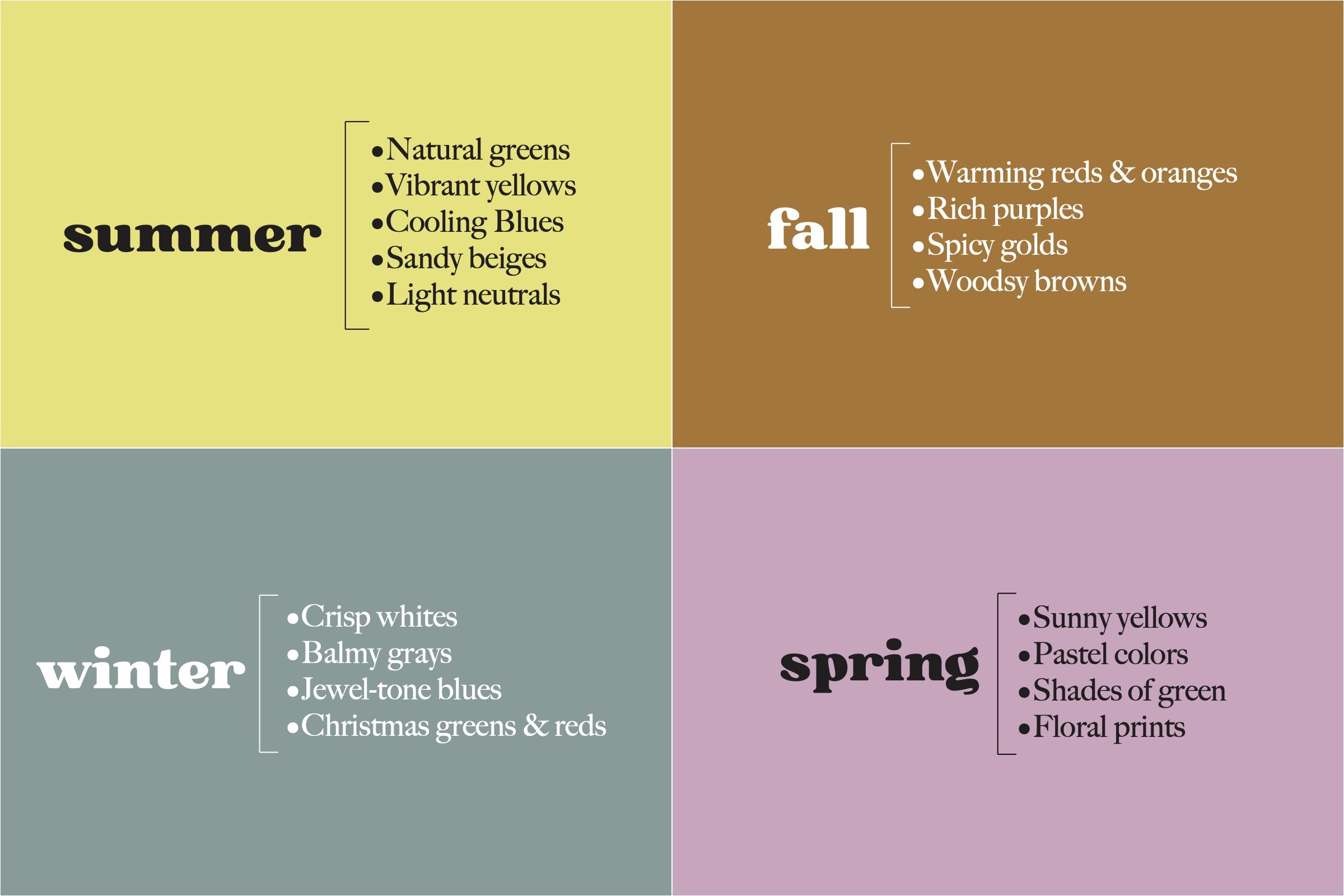 Floral Arrangements
After colors, floral arrangements and other natural accents are your best friends when seasonal decorating. Decor plucked from the great outdoors makes an instant impression, especially if it's strongly associated with a particular season; and it has the added benefit of bringing in an organic element to your room, which is always welcome when trying to refresh any space. Here are some types of flowers and other natural accents to think about for every season: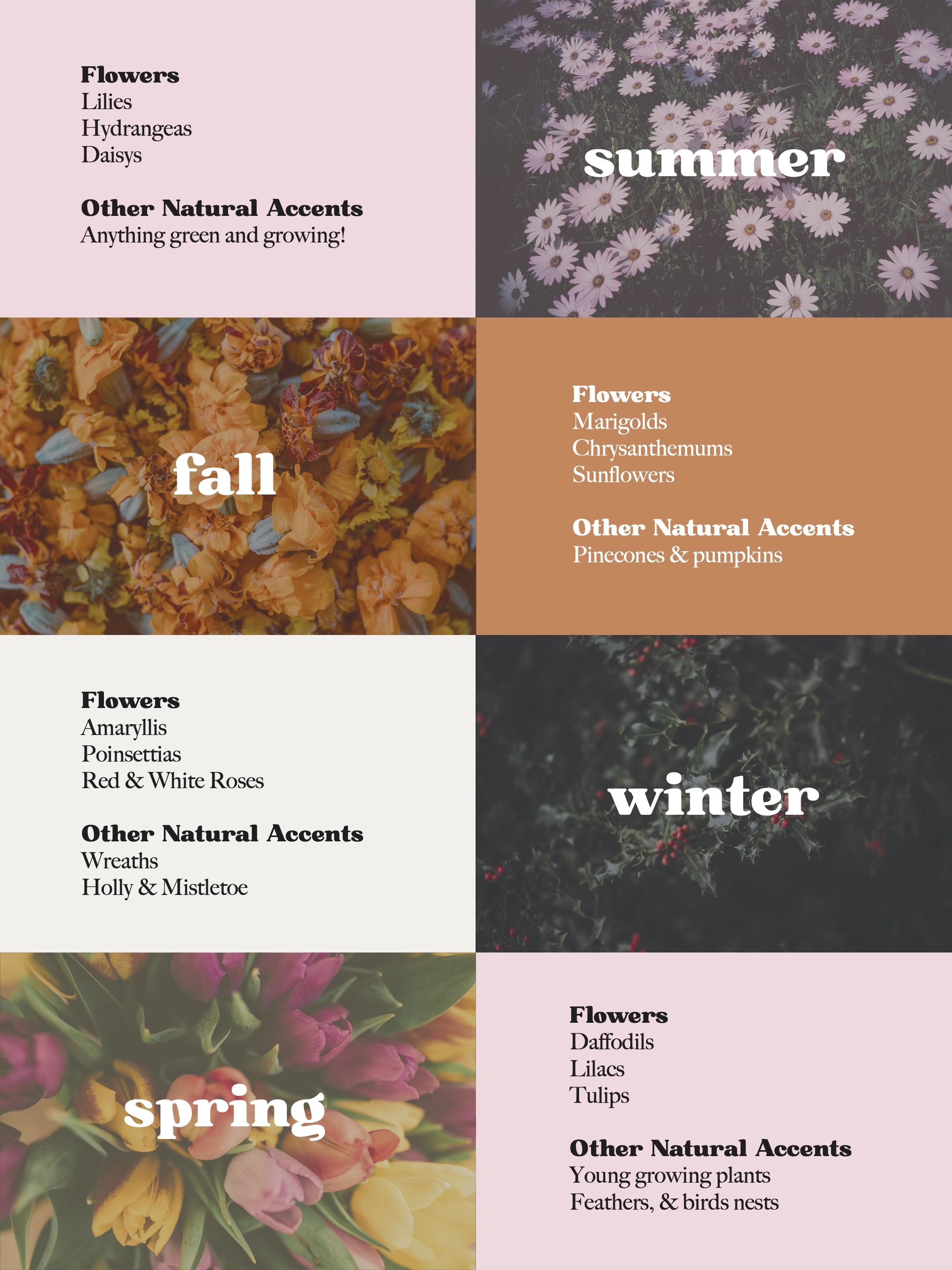 Artwork
The last thing to think about when seasonal decorating is artwork. As mentioned, I don't recommend switching out all of the artwork in a particular room every season. That can be expensive and time consuming, so, instead, choose only one or two pieces that you'll want to replace with artwork or photography that speaks directly to the season. 
When it comes to what the art depicts, don't get too bogged down in finding the perfect piece - it can really be anything that relates to the season in some way, so you have freedom to use what you love! Green and sunny landscapes work in summertime, images of leaves and produce speak of fall, holiday themed artwork is perfect for wintertime, and, for spring, anything that represents flowers or new growth will do just fine. 
Finally, whatever seasonal décor additions you choose, they should reflect your overall design style. If you like traditional, then they should be traditional! Lovers of contemporary, keep your accessories contemporary! If you lean towards glam, then glam it up! 
Examples of Rooms I've Decorated According to the Season 
Need to see some seasonally decorated rooms to help get you started? Here are examples of three rooms I've styled through the changing of the seasons from fall to winter. 
Room 1: A Casual-Contemporary Living Space
The first room we're going to look at offers a casual-contemporary look that's very common in homes across the U.S.
Let's start by looking at what I considered the foundational pieces of the room. Both the Accolade 6 Pc.Power Reclining Sectional in Pearl and the Lily Swivel Rocker Recliner are roomy seating pieces that deliver premium comfort and set the stage for the room's contemporary aesthetic, so they were definitely going to stay. 
The other large foundational pieces in the room are the rustic-leaning Harbor Occasional Tables, which I included to open the design up to a variety of styles rather than the strictly-contemporary, and a large area rug with a modern, multi-color print. Next up are the non-foundational accents that I thought should stick around from season to season.
The two eccentric Seville Table Lamps are perfect for contemporary spaces, and I thought that the light blue throw pillows also worked very well in the space. I chose numerous contemporary accents to complete the everyday look of the room when I first styled it, but I decided that many of them could be swapped out to refresh the style seasonally
Decorating for Fall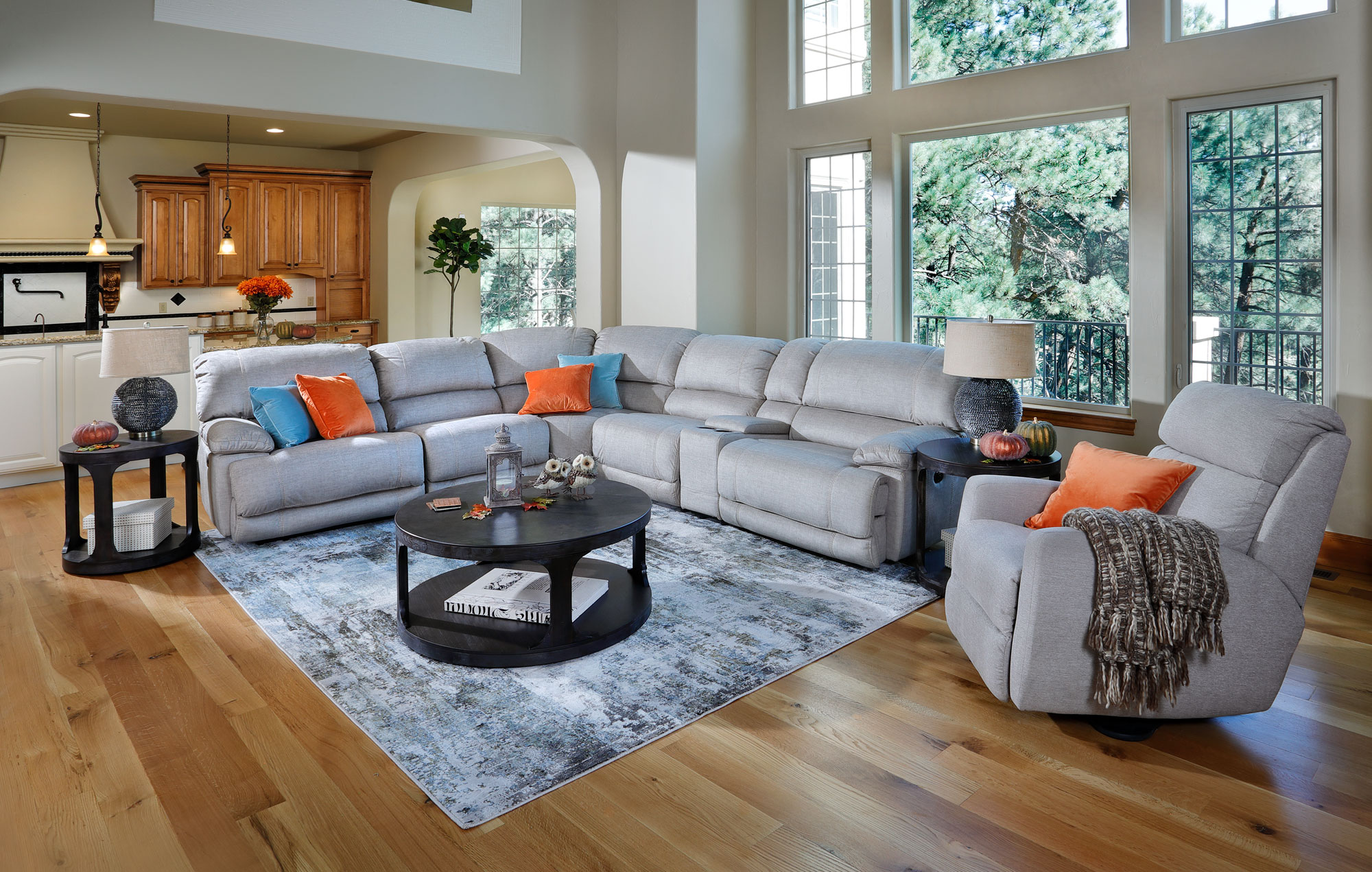 To instill a fun fall vibe, I placed some modern owl accents and a rustic lantern on top of the coffee table, and I traded the bright flowers on the kitchen table for an  orangey-red mum floral arrangement. 
While I kept some of the light blue pillows of the original design, I replaced some of the darker jewel tone pillows with bright orange accent pillows to add in some fall-themed colors. Finally, I placed modern pumpkin accents throughout the room to add an additional layer of seasonal fun, and I draped a heavy woven throw across the rocking chair in a nod to cooler days to come. 
Decorating for Winter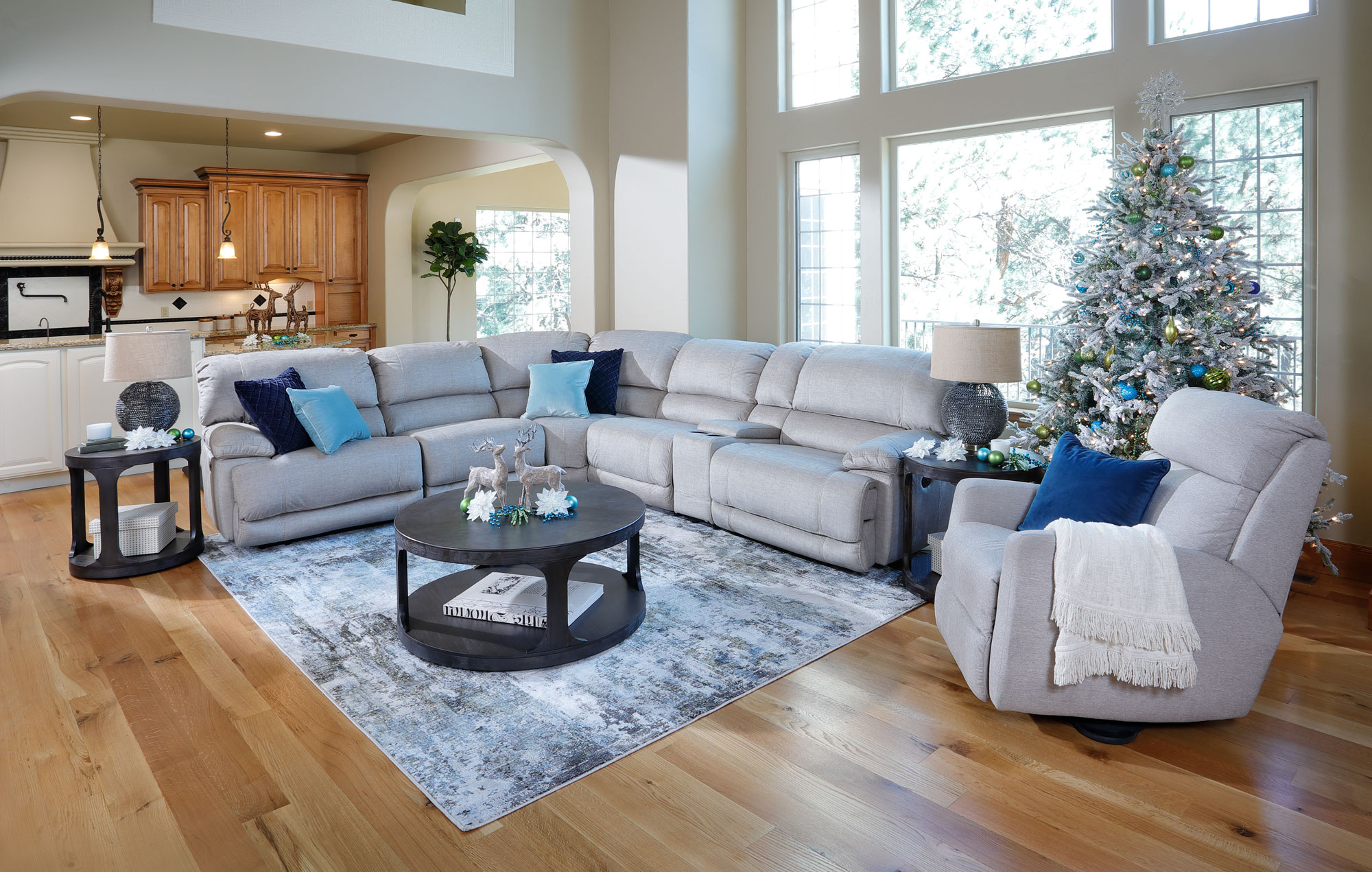 When winter came, I wanted to try to go for a Christmas look with plenty of contemporary flair. I brought in an impressive Christmas tree and decorated it with the same jewel tones found in the original design, and then I looked for other items with a wintery color palette. 
I found beautiful white poinsettias to top the occasional tables, and I added dark blue accent pillows to the sectional to complement the existing light, frosty-blue ones. Lastly, I draped  a cozy white woven throw over the Lily Rocker, and I placed some modern-looking reindeer atop the coffee table. 
Room 2: A traditional living room with rustic appeal
The overall style of this room is traditional with subtle hints of rustic influences. For everyday living, I paired the large foundational pieces with simple accessories that reflect the classic aesthetic.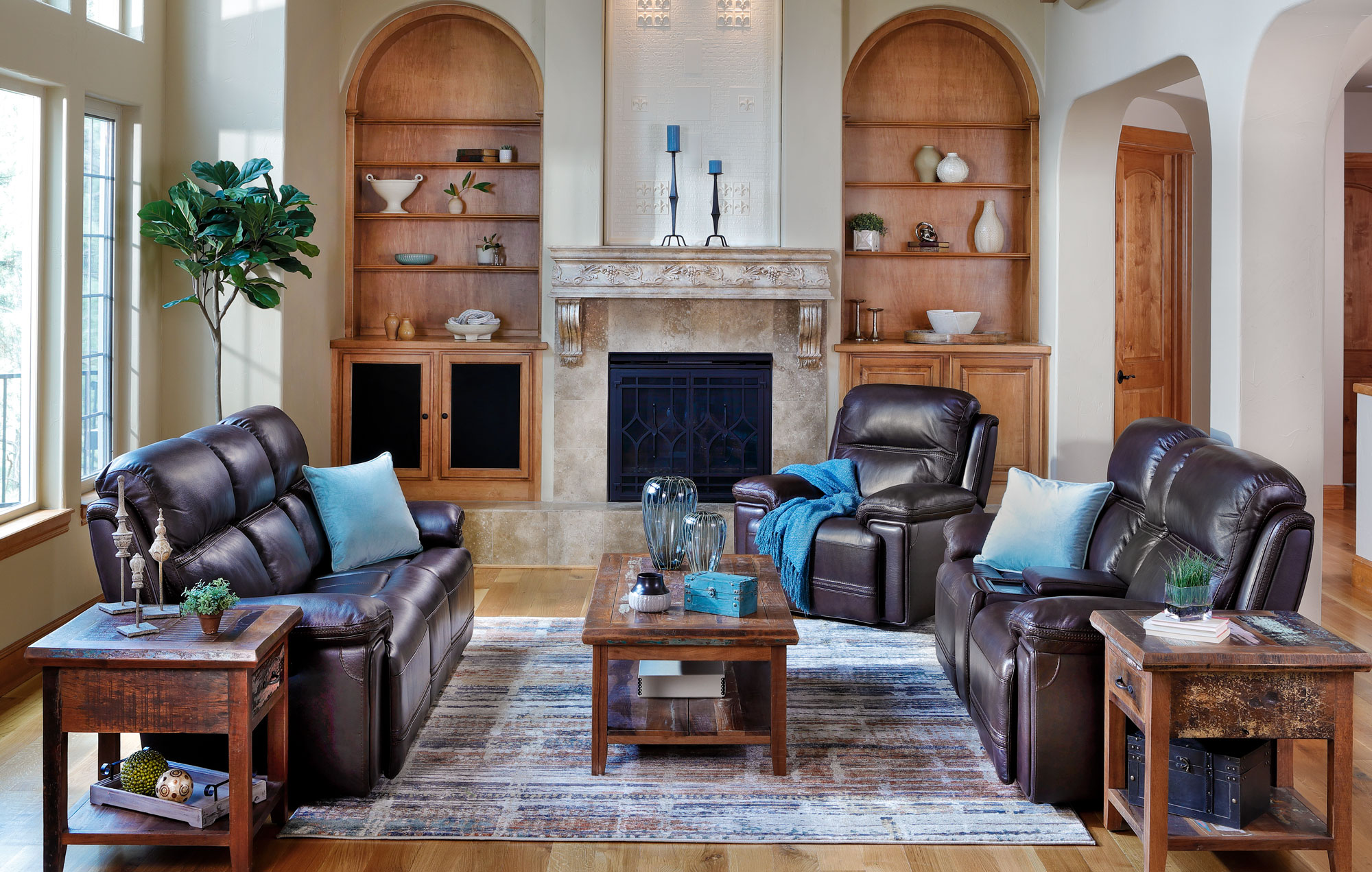 The biggest foundational pieces of the room come from the Reliance Power Reclining Sofa Group, which offers plenty of classic comfort and timeless leather-bound style. The rustic-yet-refined occasional tables, of the from the Antiqua Collection, are also foundational to this room, as is the large area rug that ties them all together. When deciding which non-foundational accents to keep, I thought that I would designate the various accents in the book shelves as sentimental items that needed to stay, but any of the other accents could be replaced. 
Decorating for Fall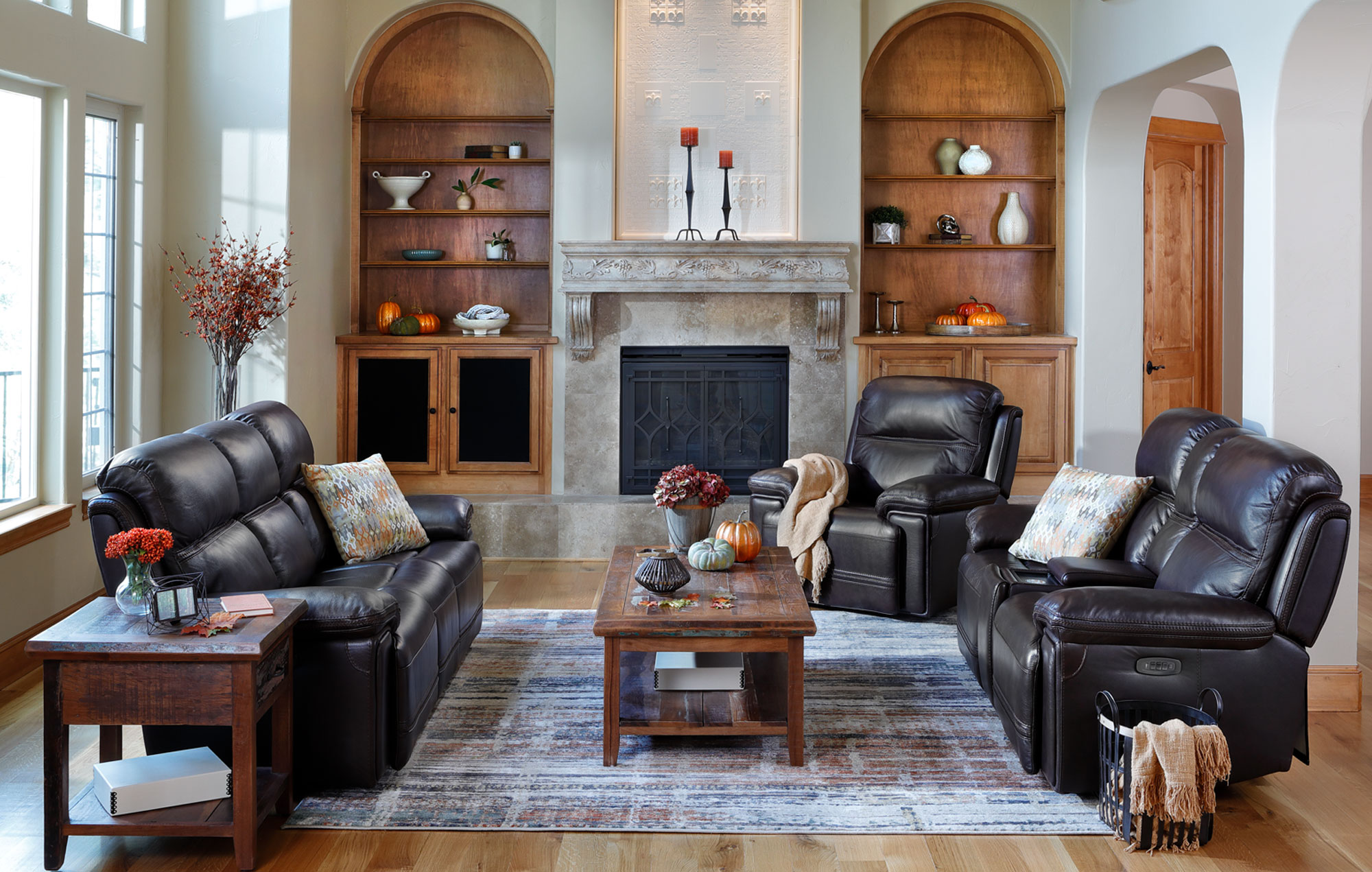 Once fall arrived, I removed the simple, timeless accessories and started looking for items that reflect a fall color palette and other themes of the season. First, I found some nice faux-pumpkins and a red floral arrangement that were a perfect fit atop the Antigua Coffee Table. Then, because I was feeling strong that day, I removed one of the Antigua End Tables and replaced it with a rustic fall basket containing a hand-woven throw.
 I also swapped out the small tree near the fireplace with a festive arrangement that practically screams fall. Lastly, I used candles, new throw pillows, and other fall-themed decor items to really nail down the fall look. 
Decorating for Winter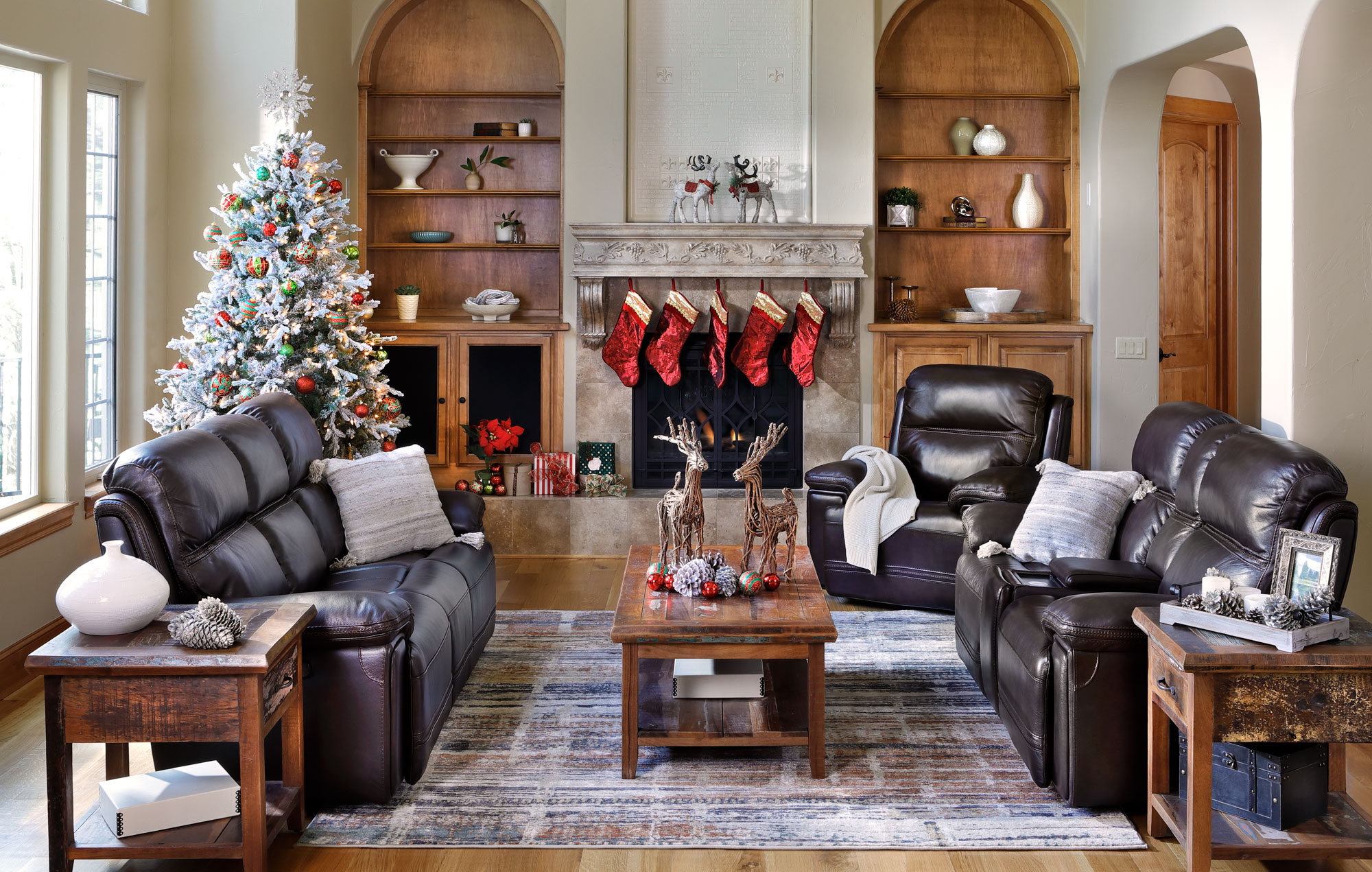 When Christmastime approached, it was time for another seasonal update. In this room, I wanted to have a large Christmas tree filled with traditional decorations as the main focal point. I wanted to replace the old fall color palette with whites and bright neutrals as well as the traditional Christmas colors of red and green. 
Crimson red stockings added a nice splash of red to the room, whimsical wooden reindeer added another l touch of Christmas cheer, and frosted pinecones added an element of fresh organic texture. Finally, I was ready to round out the seasonal look with a white vase, white accent pillows, and a soft white throw. 
Room 3: A Sophisticated sitting room with touches of timeless glamor
The last room we are going to look at offers a unique blend of transitional style and high-end glamor. To keep with the sophisticated theme, I was more reserved when it came to the seasonal changes, but even small changes were effective.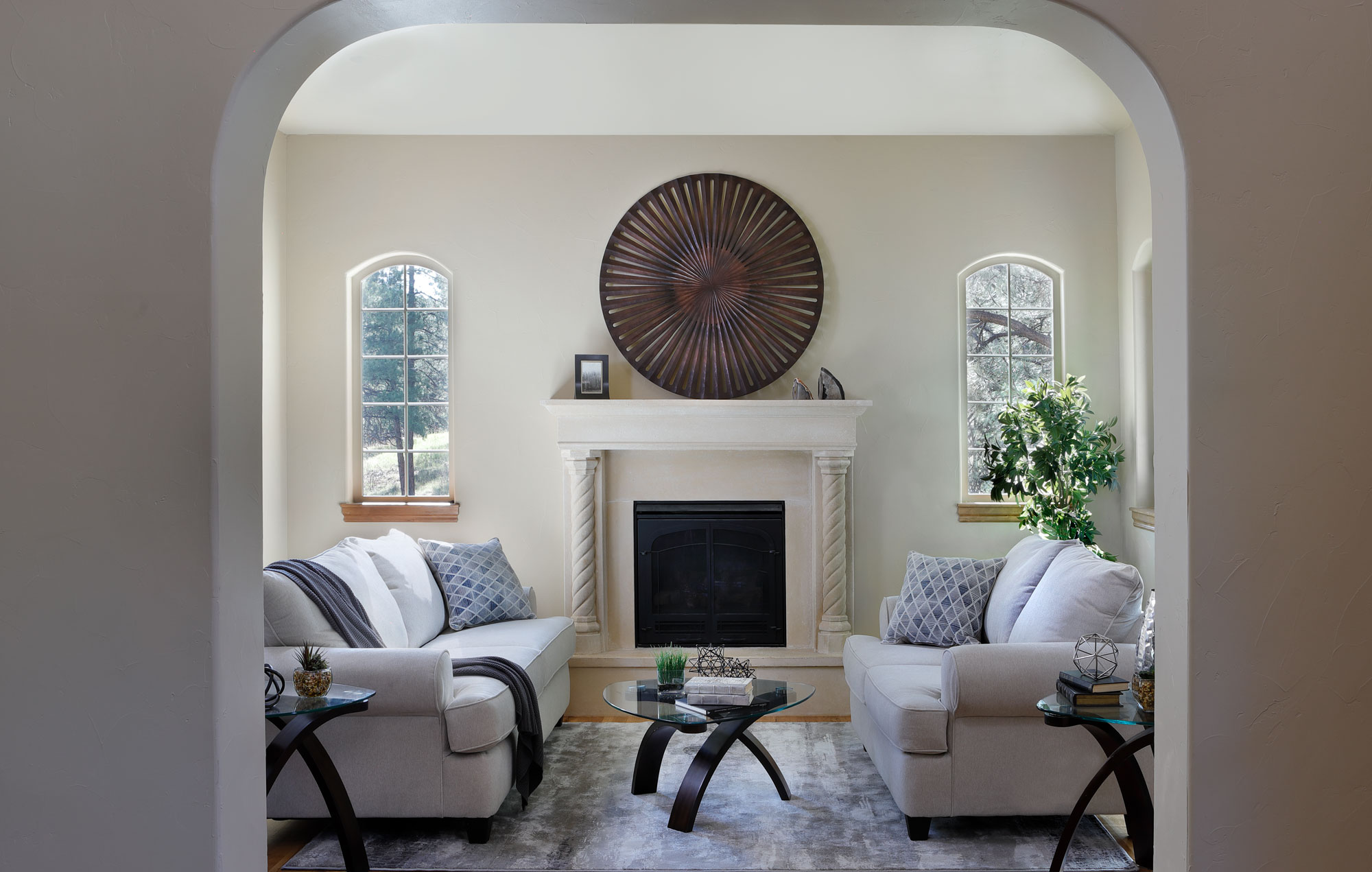 When styling this room, I started with the Madison Sofas in Sand and the Allure Occasional Tables because, to me, they give an instant sense of old-school glamor, and they just so happen to be a perfect complement to the existing half-moon windows and the Grecian columns beneath the mantle. Then, I finished the space with an eye-catching sculpted accent atop the mantle, and I added in a variety of accessories showcasing silver and gemstones to play into the glam factor.
Decorating for Fall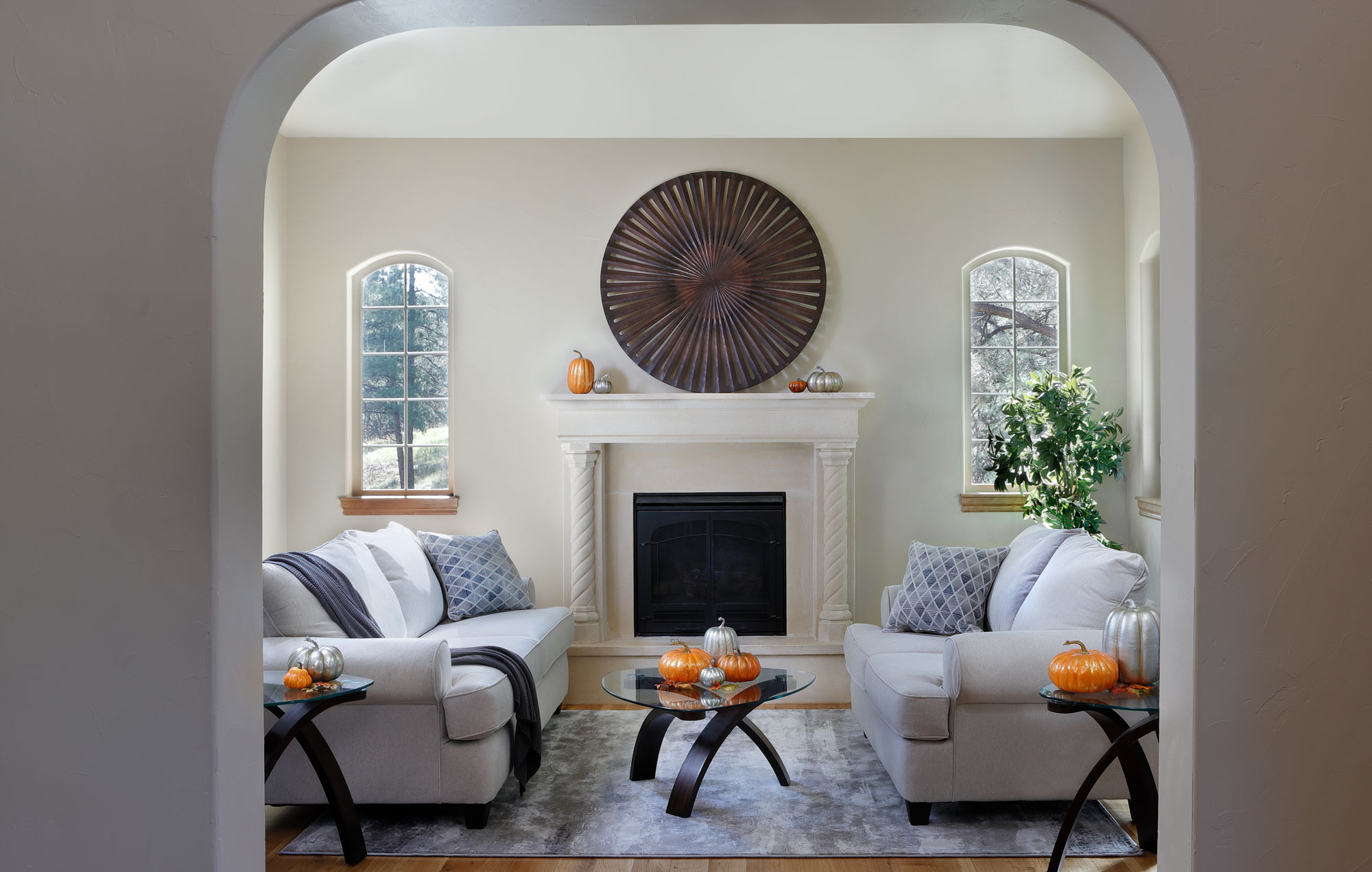 When fall rolled around, I wanted the room to acknowledge the autumnal season, but in a way that didn't distract from the original aesthetic. Instead of trying to find a wide variety of fall-themed decor, I decided to add only simple orange and fashionable silver pumpkins to keep with the glamor and elegance of the room.
Decorating for Winter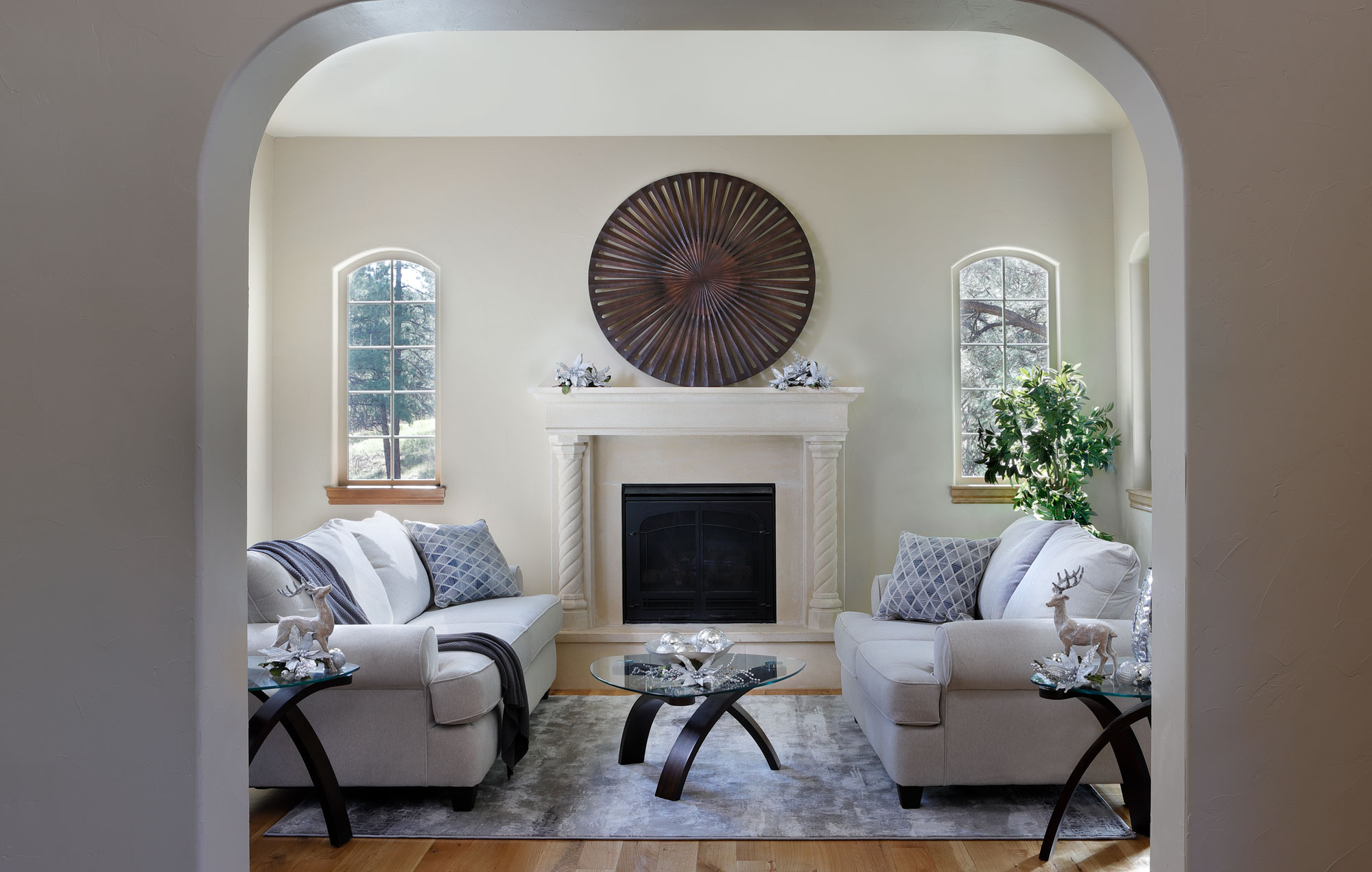 Once the winter began, I wanted to do something similar as I did in the fall. After removing the pumpkins, I found dazzling silver poinsettias and paired them with some frosted reindeer figurines, both of which were perfect for keeping the same sense of style and class.
That does it for this introduction to seasonally decorating! Remember, no matter how much or how little you choose to decorate your home for each season, if you stick to the basics of seasonal decorating, your home will surely become the inviting, expertly-styled space you've always dreamed of! Happy restyling!
About Eden Cohen:
Eden Cohen is a Denver-based Interior Designer & Set Stylist. Following a career in corporate communications, public relations and event planning, Eden decided to return to school to pursue her true passion of interior design. Today she can be found putting her Interior Design degree to work in multiple ways: creating plans and restyling the homes of her interior design clients, and designing sets for print advertising, television commercials, and motion pictures. Outside of work, Eden enjoys spending time with her family and friends; exploring cultural events, art, music and food scenes; spending time in the great outdoors; and traveling for both life experience and design inspiration.