The Reclaimed Aesthetic: Perfect for Today's Contemporary Trends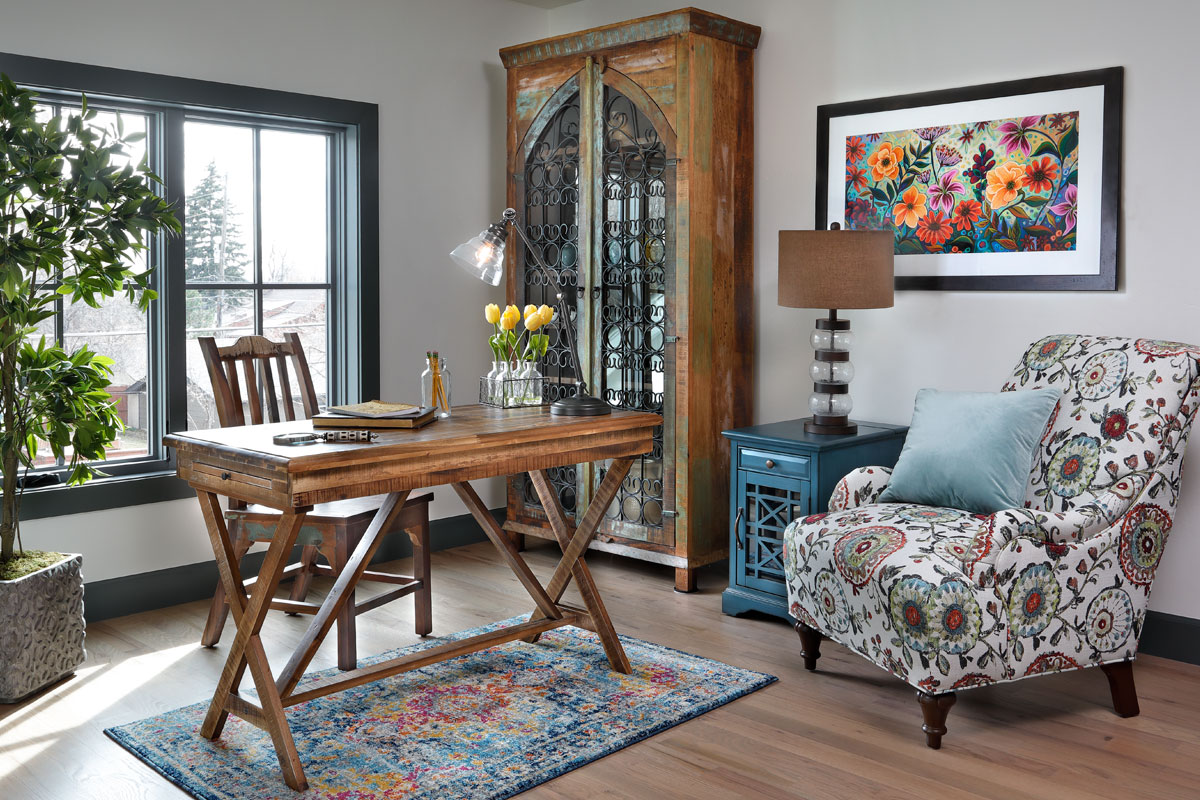 If you keep up with what's happening in the world of Interior Design, then you know that the contemporary look has been going through some significant changes in recent years. Gone are the days when contemporary interiors were limited to only clean-lined minimalist furnishings and light neutral color schemes. Today's contemporary style is changing; it's expanding to incorporate more color, more interesting materials, and more influences from the past. 
Three themes emerging in the new contemporary look
Yes, today's contemporary look is expanding to accommodate new ideas, but don't worry about making drastic changes - so far these changes are happening relatively slowly. Most contemporary interiors are still designed around neutral-colored walls and large, straight-lined foundational furnishings. So far, the major changes are primarily taking place in the innovative use of unusual accent pieces that make a statement and serve as conversation pieces.
While there is plenty of experimentation with these new unusual accents in contemporary spaces, there are some general themes emerging as to what types of products seem most popular:
Natural
Perhaps the most common trend today is finding accents pieces that are inspired by nature. These would include products that showcase elements like live edges, those that make a statement with natural materials like unfinished wood, stone, and organic textiles.
Vintage
Another hot trend we are seeing in contemporary settings is the use of vintage accent pieces. These pieces make a statement because they are almost in direct opposition to today's straight-lined, minimalist furnishings.
Vibrant
The final major theme we are seeing is related to vibrancy. Many people are seeking to mix up the contemporary look by finding pieces that showcase bold colors and exotic motifs. 
Accents with these themes are becoming more and more prevalent, and many of you might be wondering how you can find something similar to improve your home's style. Well, lucky for you, we are here to tell you that there's actually a type of furnishing that seamlessly pulls from each of these three trends! What could it be? Why, reclaimed furniture, of course! 
Reclaimed furniture is on-trend with today's tastes
What is reclaimed furniture? Simply put, a reclaimed piece of furniture has within it some element of the past that, instead of being discarded, has been reincorporated or repurposed as an integral part of a new design. This past element is often made of wood, although it can be made of metal, stone, or fabric; and there are even some reclaimed furnishings that are made using entire objects like bicycles and antique machinery!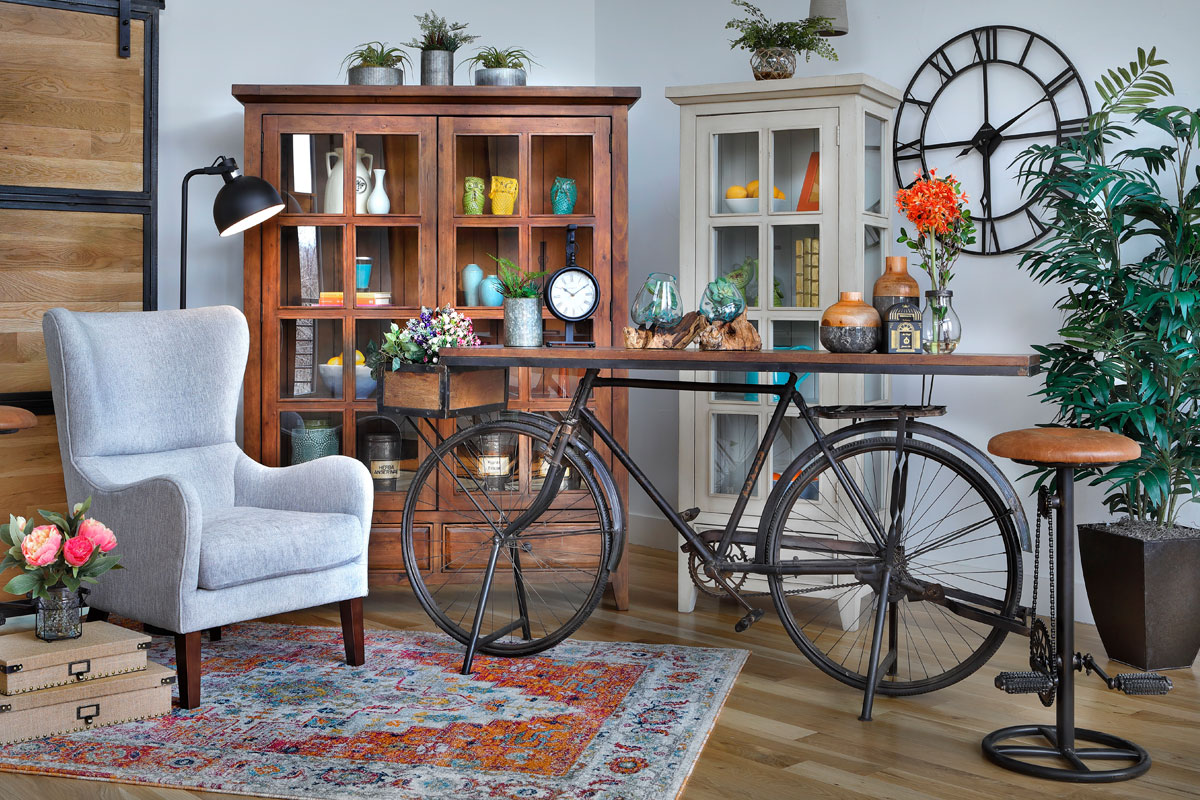 So what makes reclaimed furniture or furniture with the reclaimed look so perfect for today? It's because they truly do tick all the boxes for the trends we mentioned earlier. Here are three traits most reclaimed pieces share that relate directly to what's trending in contemporary settings.
Unfinished wood -  Unfinished wood has been becoming increasingly popular in contemporary furniture because it automatically lends a natural feel to any space. Most reclaimed pieces on the market today showcase unfinished wood in some fashion, and many feature authentic reclaimed wood where the previous finish has been sanded down. The Rajasthan 2 Drawer/2 Door Cabinet and the Kashmir 3 Door Console are both great examples of products with reclaimed character that use unfinished wood to instill a natural feel.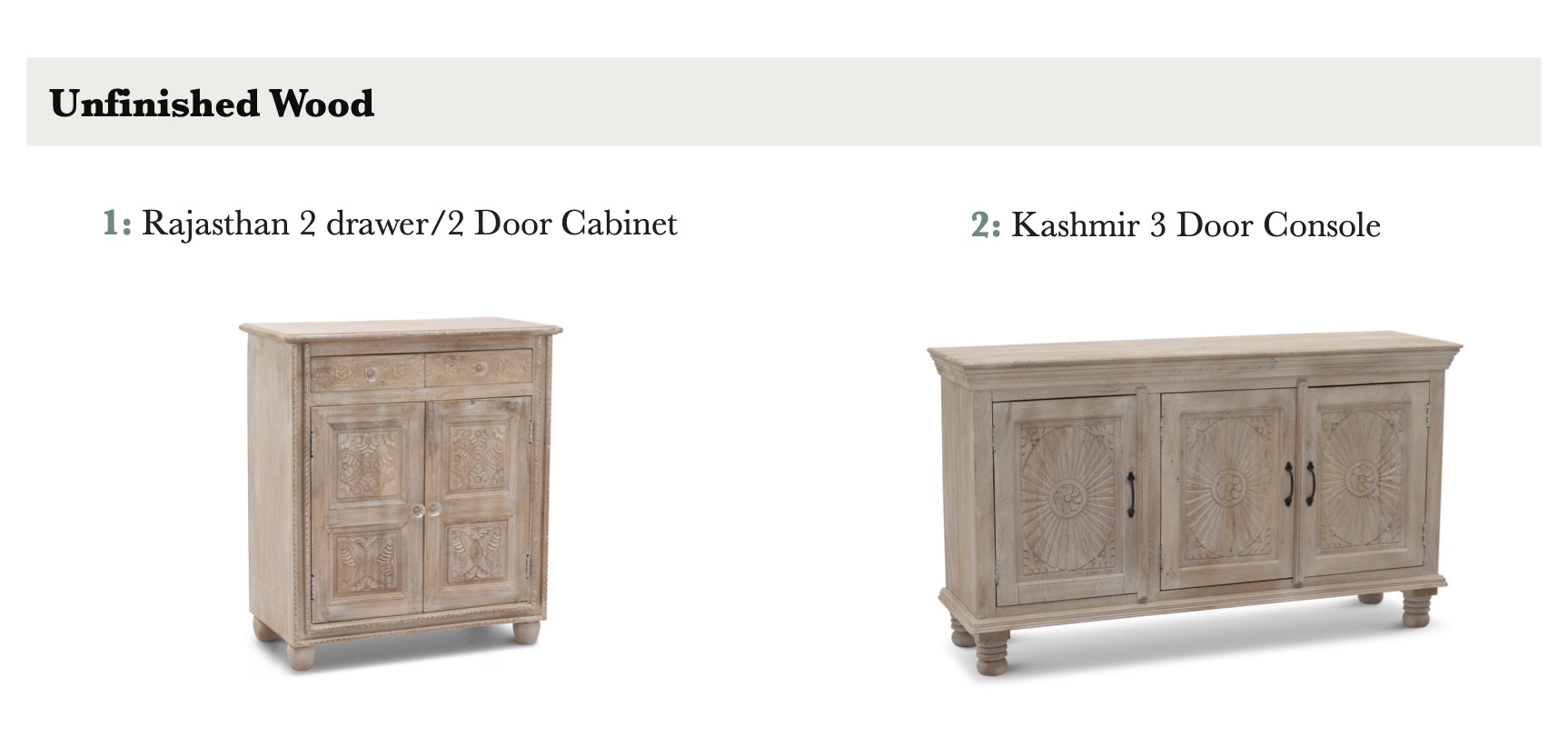 Old-world appeal - Another hallmark of reclaimed furnishings is that they tend to have a heavy emphasis on retro design elements. Not only are these pieces made from salvaged materials, the design of the reclaimed product itself is often modeled after traditional furnishings from past eras. Many reclaimed products offer a great contrast to clean-lined modern furnishings, which is exactly what designers are looking for when attempting to mix-up the contemporary look. The Gandhi Old Door Cabinet and the Butan 2 Drawer/ 2 Door Cabinet  are both great examples of products with reclaimed character and old-world appeal.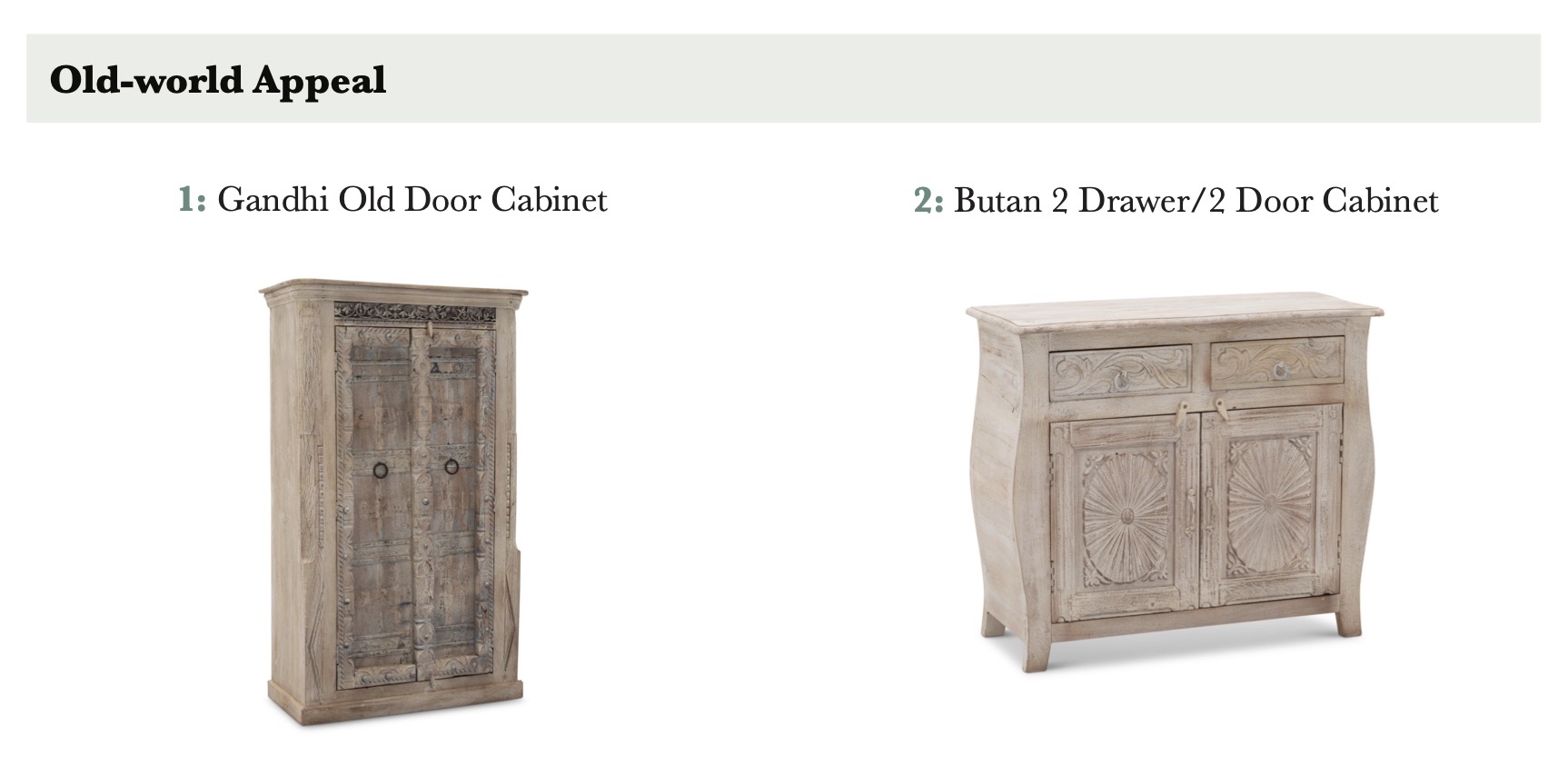 Distinctive colors and designs

- Last but not least, many reclaimed products showcase interesting color palettes and exotic motifs. Pieces like the

Antiqua TV Stand

and the Garda Sideboard

are made with planks of reclaimed wood that still contain some of their original color, resulting in a bold multi-colored look that's perfect for today. Like with some of the items already mentioned, many of today's pieces with the reclaimed look are inspired by antiques from other cultures. The Kashmir Screen

and the

Mahatma Carved Console

are both modeled after traditional Indian antiques, and they're both sure to leave a lasting impression thanks to their exquisite hand-carved detailing.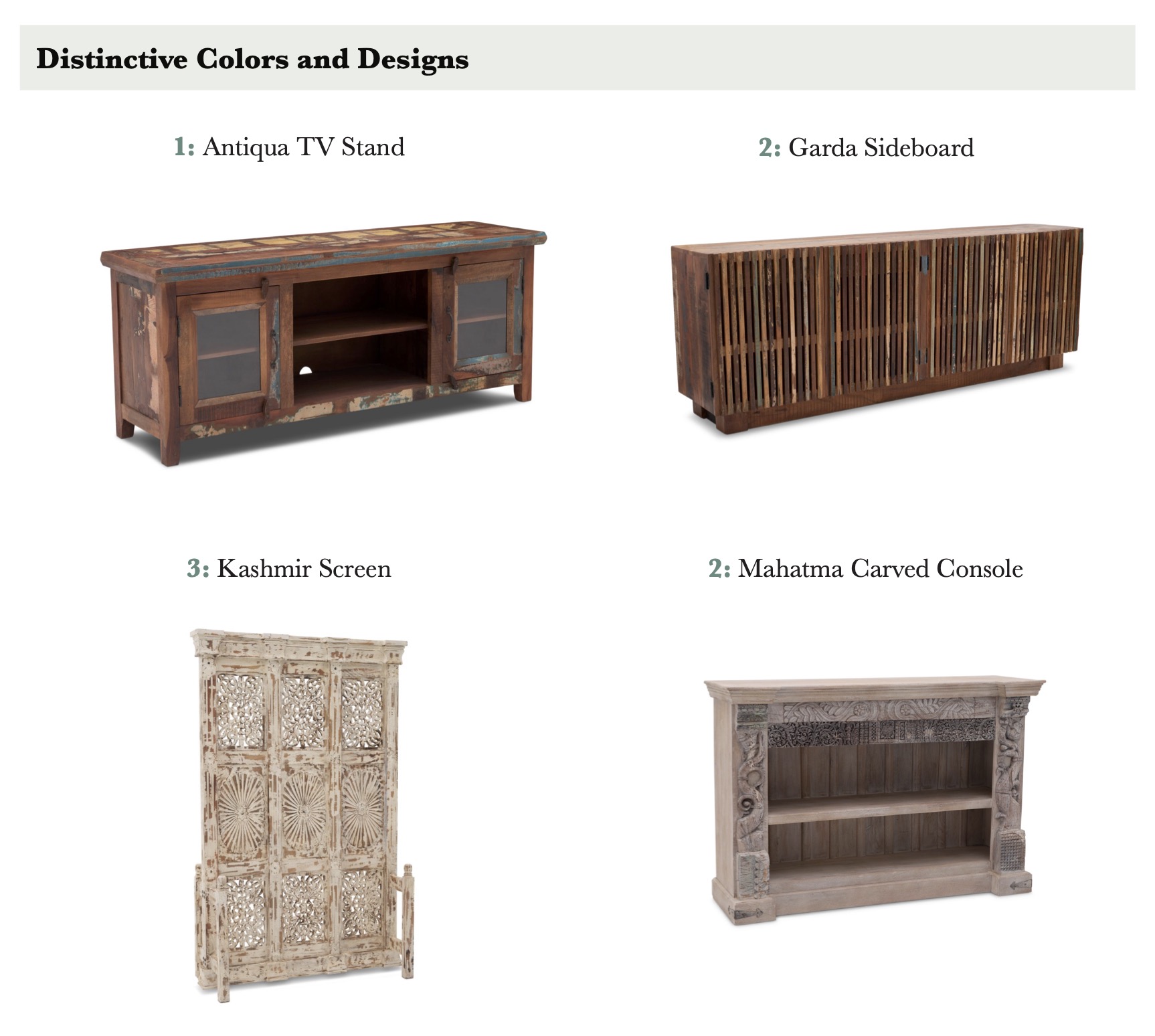 How do you decorate with reclaimed furniture?
Now remember, incorporating a piece of reclaimed furniture into your home is actually quite easy because we aren't talking about a full-room makeover. You only need one statement-making reclaimed item in any given room! To give your space an updated feel using something with the reclaimed look, simply find an accent in your home that has served its purpose and shop for a reclaimed product that could replace it. It's that easy! So what are you waiting for? Get out there and find that perfect reclaimed piece to elevate the look of your home today!