The St. Jude Dream Home Giveaway is Back!
It's an amazing feeling knowing that you are doing something to help take care of a child with a life-threatening illness. But what if we told you that you could help take care of a child with a life-threatening illness AND be entered in a contest where you could win substantial prizes including a brand new home? It might sound too good to be true, but that's exactly what you're doing when you take part in the St. Jude Dream Home Giveaway! With a total of five major prizes including a brand-new, spacious Dream Home, the St. Jude Dream Home Giveaway is more than just a win-win. It's a win-win-win-win-win-win!
A truly impressive track-record and a truly impressive home 
Now celebrating its 30th year and spanning over 40 states, the St. Jude Dream Home Giveaway is a community service project that benefits one of the world's premier pediatric cancer research centers, St. Jude Children's Research Hospital. Here's how it works: Each year a brand new Dream Home is donated as a prize in a raffle ticket contest. For months, tickets for the raffle are sold to all those who wish to participate, and on the day of the final drawing, the home is given away to one lucky winner. The best part? 100% of the ticket sales from the Dream Home Giveaway are used to make sure the patients and families at St. Jude never receive a bill for treatment, travel, housing, or food. 
This year's St. Jude Dream Home is located in Banning Lewis Ranch in Colorado Springs, CO. Presented by Covington Homes, the 3,200 square foot house is a HERS® Rated Energy Efficient Home with an estimated value of $650,000. It contains 4 bedrooms and 3 bathrooms, and it features a gourmet kitchen with stainless steel appliances, a 3 car garage, a finished basement with a wet bar, and a fully landscaped yard with a fence. 
Like last year, this year's Dream Home is presented virtually
For the past eight years, local businesses have been teaming up to make this incredible event a reality in Colorado Springs, and Furniture Row has proudly been the House Staging Sponsor each and every year. In past Giveaways, once the Colorado Springs Dream Home was completed and furnished with beautiful furniture, it was then opened to the public for a few months of weekend open houses before being given away to the lucky winner. 
Last year, the onset of COVID-19 disrupted much of the process. The Dream Home was unable to be opened for open houses, and Furniture Row's Designer, Barbara Chandler, was unable to enter the home and "stage" it with her stylish furniture finds. Despite those setbacks, Barbara and her team were able to stage the home virtually, and last year's Dream Home Giveaway was a huge success with over 9,250 tickets sold.
Because of ongoing safety concerns related to COVID-19, this year's Dream Home will also be closed to the public and staged virtually. Although difficult to accomplish at a distance, Barbara has reached deep into her Interior Designer skill set to come up with stylish looks for six rooms of the home: the living room, dining room, master bedroom, kids bedroom, and home office, along with an additional room in the basement which has been dedicated in memory of beloved Colorado Springs news anchor, Don Ward, who passed away last year. In each room you'll find pieces showcasing complementary materials as well as a cohesive color scheme that ties each room together. Barbara's inspiration for this year's Dream Home was to create a comfortable, livable design that could be adapted to a variety of interiors. As she puts it,  
"For this year's Dream Home, I wanted to keep the look casual, relaxed, and of course comfortable. The overall look is transitional, and the color palette is warm whites and greys with occasional pops of color in some of the rugs, art, and accent pieces. I chose a neutral base because it's easy to build upon. If you feel inspired to include some of the larger products in your home but want more color, you could easily switch out some of the smaller items with your own decor or new more vibrant pieces."
Below you'll find digital collages of Barbara's designs for each of the five rooms along with her personal thoughts about each one. Think of it as a guided tour with the designer herself, one where she offers insights into her thought process and suggestions in case you feel motivated to do a little re-styling of your own. 
Living Room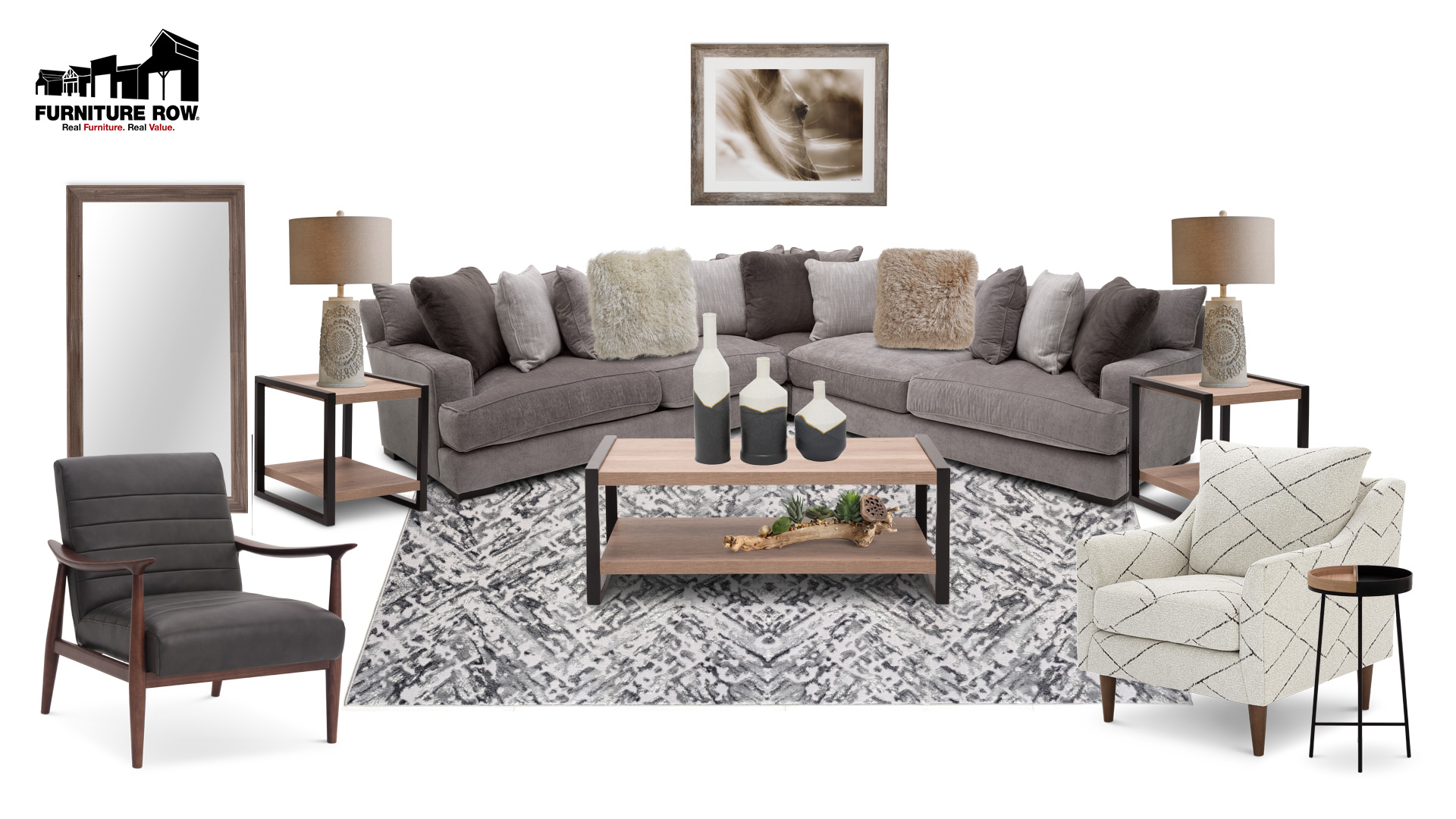 "The two chairs in the living room are new at Furniture Row, and they're super comfortable.I love the two chair styles mixed in with the Mateo sectional. Additionally, the wood finish on the leather chair is stunning and mixes well with the Davion Tables!  The Black and white vases have a modern edge to them, and I especially like how the vases play off the fabric pattern on the Dara chair."
–Barbara Chandler, Furniture Row Designer
SHOP THE LOOK: Mateo 3 Pc. Sectional | Davion Table Pack | Blakely Chair | Dara Club Chair | Metal Wood Side Table | Luka Table Lamp | Abington Gray Rug | Kibbe Leaner Mirror | My Eyes Adored You Framed Print | Black and White Vases Set of 2 | Succulent, Echeveria, and Mini Dracaena in Wood Log | Sparkle Shag Pillow
Home Office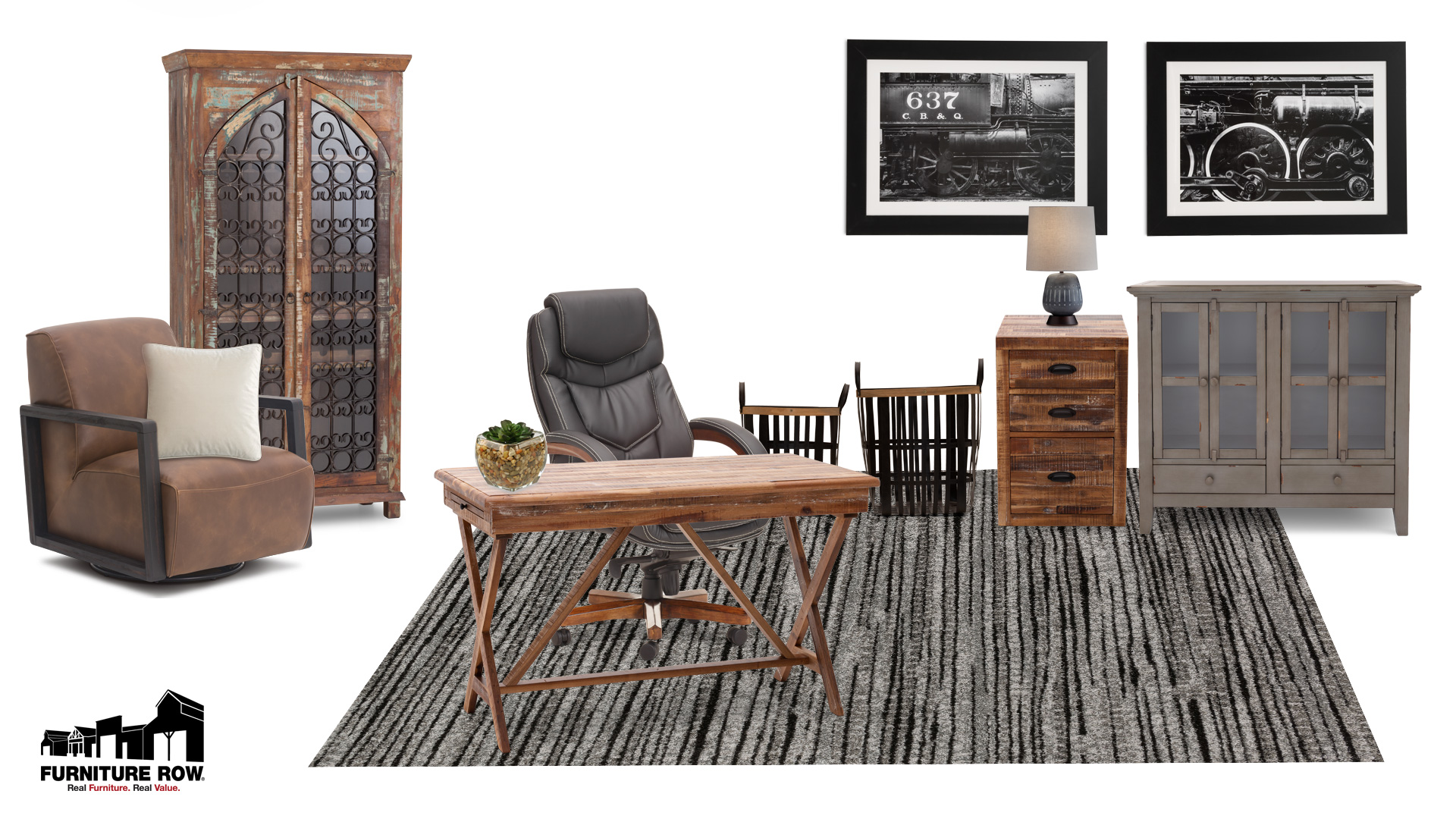 "I felt it was important to show a home office for this Dream Home. So many of us are working from home, so why not have a home office that you love and is a reflection of your style. For this home office I thought it would be neat to show some pieces that someone could use for a home office, then move to another area if the home office is no longer needed. The Henley Swivel Accent Chair can work in a variety of seating arrangements, and both the Rainforest Tall Wine Cabinet and the Atwater Cabinet are designed to be used in just about any room of the home."
–Barbara Chandler, Furniture Row Designer
SHOP THE LOOK: Java Writing Desk  | Java File Cabinet | Rainforest Tall Wine Cabinet | Atwater Cabinet | Cordillera Office Chair | Henley Swivel Accent Chair | Emory Grey Rug | Luke Dark Grey Antique Table Lamp | Small Echeveria in Glass Cube | Bamboo Metal Basket Set of 2 | Wood and Metal Round Baskets Set of 2 | Micro Velvet Pillow
Dining Room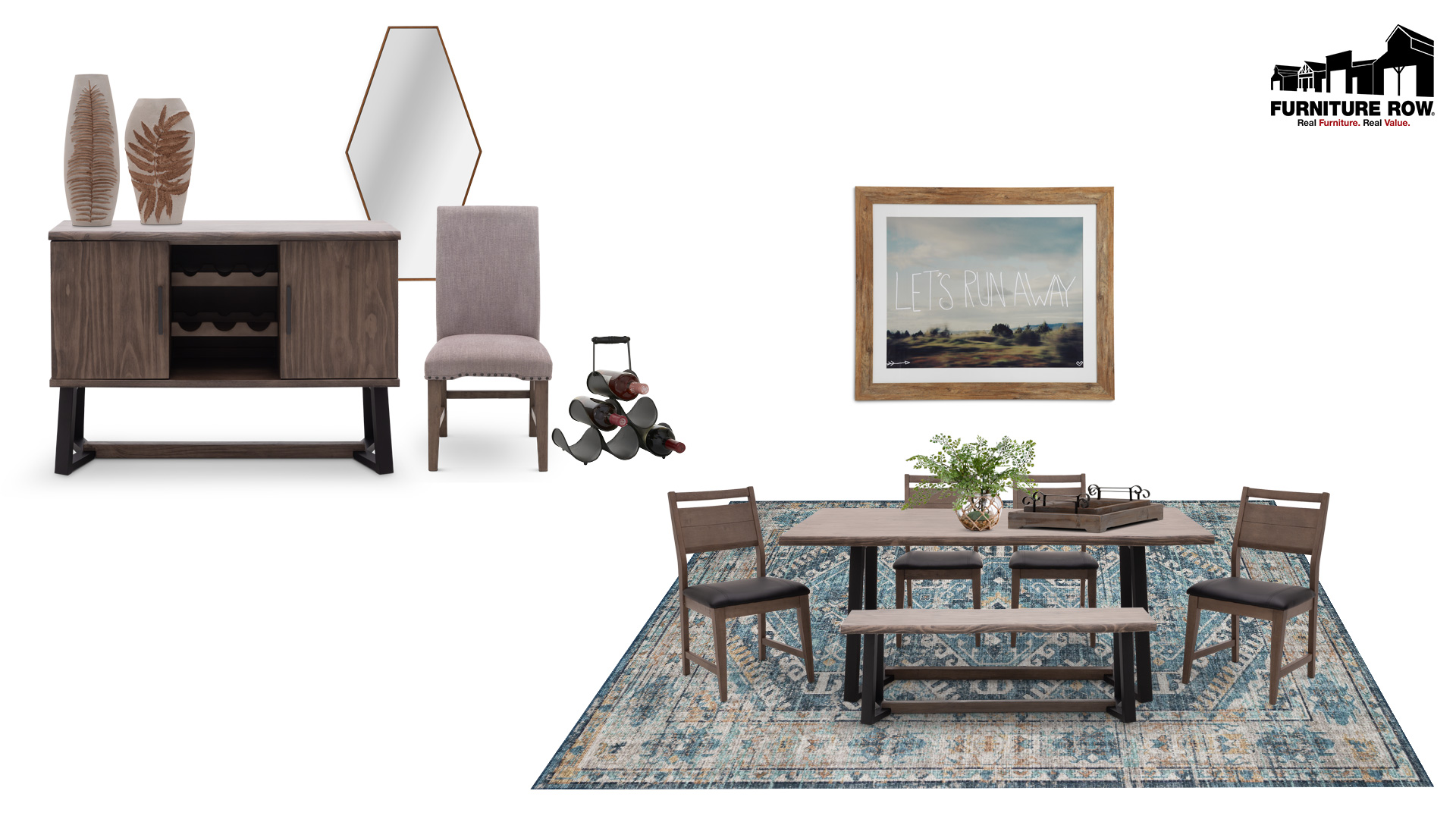 "The dining room has an element of boho chic. First off, how amazing is the Edge dining table? This is one of my favorite dining tables because the combination of metal and wood is fantastic, and you could use it in either a dining room or home office. New to Furniture Row, the Sky Denim Rug works perfectly with the edge dining table, and the Haines Hexagon mirror adds sparkle to the space. Finally, the Let's Run Away art print is back just in time for summer, and it seemed like a natural fit to complete this dreamy dining room."
–Barbara Chandler, Furniture Row Designer 
SHOP THE LOOK: The Edge Dining Room Table | The Edge Server | The Edge Bench | The Edge Side Chair | The Edge Parsons Side Chair | Haines Hexagon Mirror | Skye Denim Rug | Flat Iron Ferm in Glass Bowl with Seagrass Netting | Metal Wine Holder | Metal Wood Tray Set of 2 | Leaf Vases | Let's Run Away Hanging Art Print
Master Bedroom
"The Hensley Upholstered Bed in the Master Bedroom is stunning and super cozy! I love using a tufted headboard because they are really nice to prop a pillow against when reading. The Hensley Nightstand feels modern and casual, and its two drawers and open shelf are super funcional.The Cameron lamps bring in additional texture and add a natural element to the space, and its metallic frame mixes well with the sleek metal pulls on the Hensley Nightstands.

If you have the space in your bedroom for an accent chair, a bench or chaise lounge is a nice little luxury that could fit the same space. The Dune Chaise Lounge is elegant and mixes well into most styles, and the Harvey nesting tables easily nestle alongside it, perfect for a drink or snack. And finally, the Emory Graphite Rug is super soft with a gentle pattern, perfection underfoot."
–Barbara Chandler, Furniture Row Designer
SHOP THE LOOK: Hensley Upholstered Bed | Hensley Dresser | Hensley 2 Drawer Nightstand | Hensley Mirror | Imani Cotton Ivory 3 Pc. Comforter Set | Dune Chaise Lounge | Emory Graphite/Ivory Rug | Cameron Table Lamp | Harvey Nesting Table | Red and Green Agave Plant in Ceramic Planter | Stone Vase Print | GLS Bronze Candle Holder Set of 2



Kids Bedroom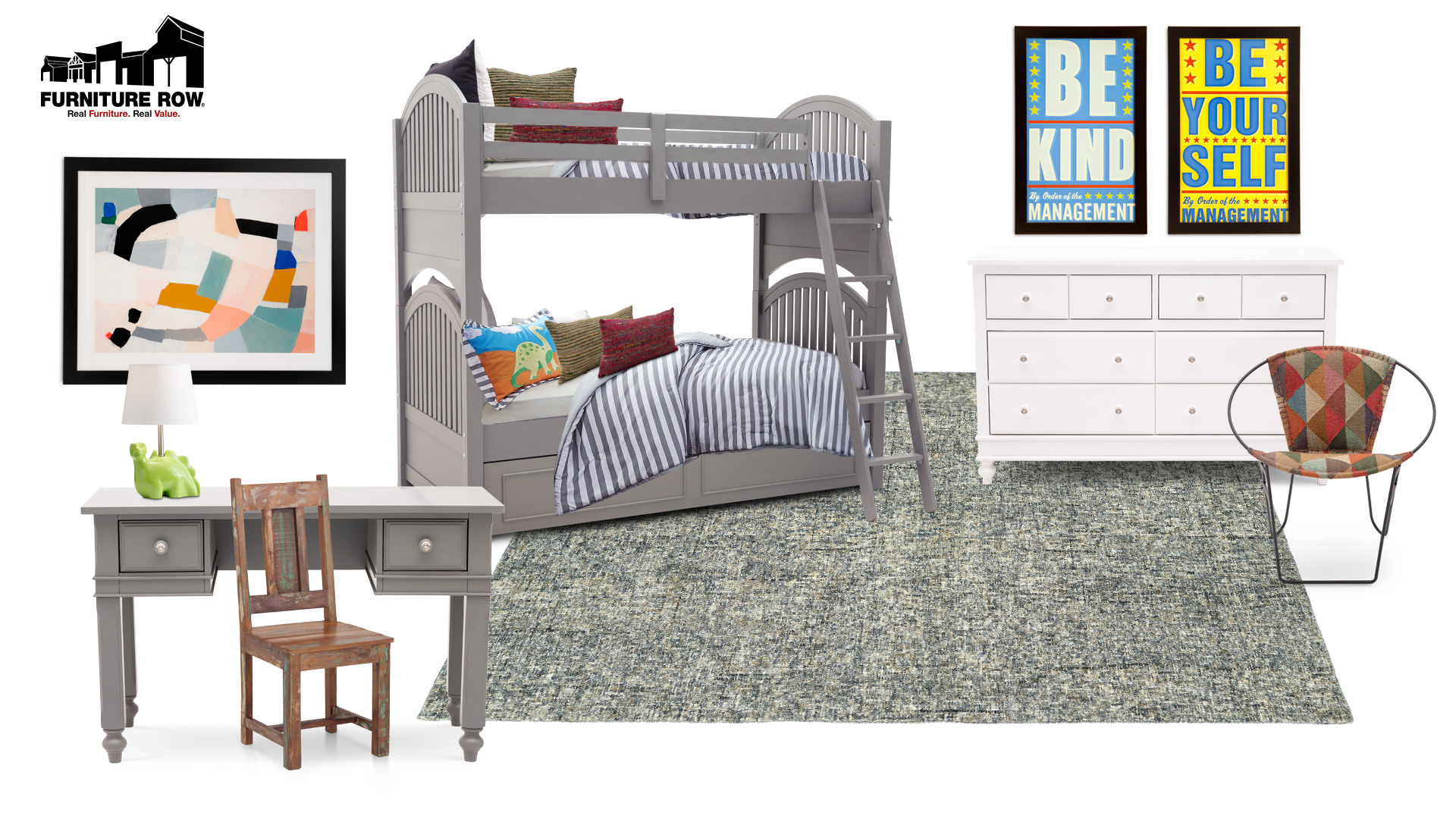 "I just love all of the pieces in the kids room. The Lakehouse bunk bed is darling, and the grey color is also transitional. The Lakehouse desk is a nice functional piece for homework or for remote learning, and the pairing of the Rainforest Chair with the Lakehouse desk is a bit unexpected, but in a fun way. The Lakehouse kids room collection is available in white and in grey. I choose to mix-and-match both colors for this room, however all grey or all white would have been fine too. I pulled in a pop of color with the fun new Overhead Art Print, the new Kilim Hoop Chair, and the adorable Dinosaur Green Table Lamp. The Calisa rug grounds the mix of pieces without overpowering the room. The Be Yourself and Be Kind art are wonderful positive messages. I'm actually thinking of the Be Kind art for my own home office...."
–Barbara Chandler, Furniture Row Designer
SHOP THE LOOK: Lake House Bunk Bed | Lake House Writing Desk | Lake House Dresser | Lake House Nightstand | Rainforest Side Chair | Kilim Hoop Chair | Dinosaur Green Table Lamp | Dinosaur Dreams 3 Pc. Twin Comforter Set | Calisa Lake View Rug | Overhead Print | Sari Square Pillow | Sari Kidney Pillow | Be Yourself Print | Be Kind Print
Don Ward Room
Located in the basement of the Dream Home, the Don Ward Room has been staged with products and decor inspired by the interests of the accomplished KKTV news anchor. Don was a pillar in the Colorado Springs community and, along with being an advocate for the Dream Home Giveaway, he was passionate about musical theatre, rock music, hiking, and the great outdoors. Don passed away in August, 2020 due to a heart attack he suffered while hiking near the summit of Mt. Cameron.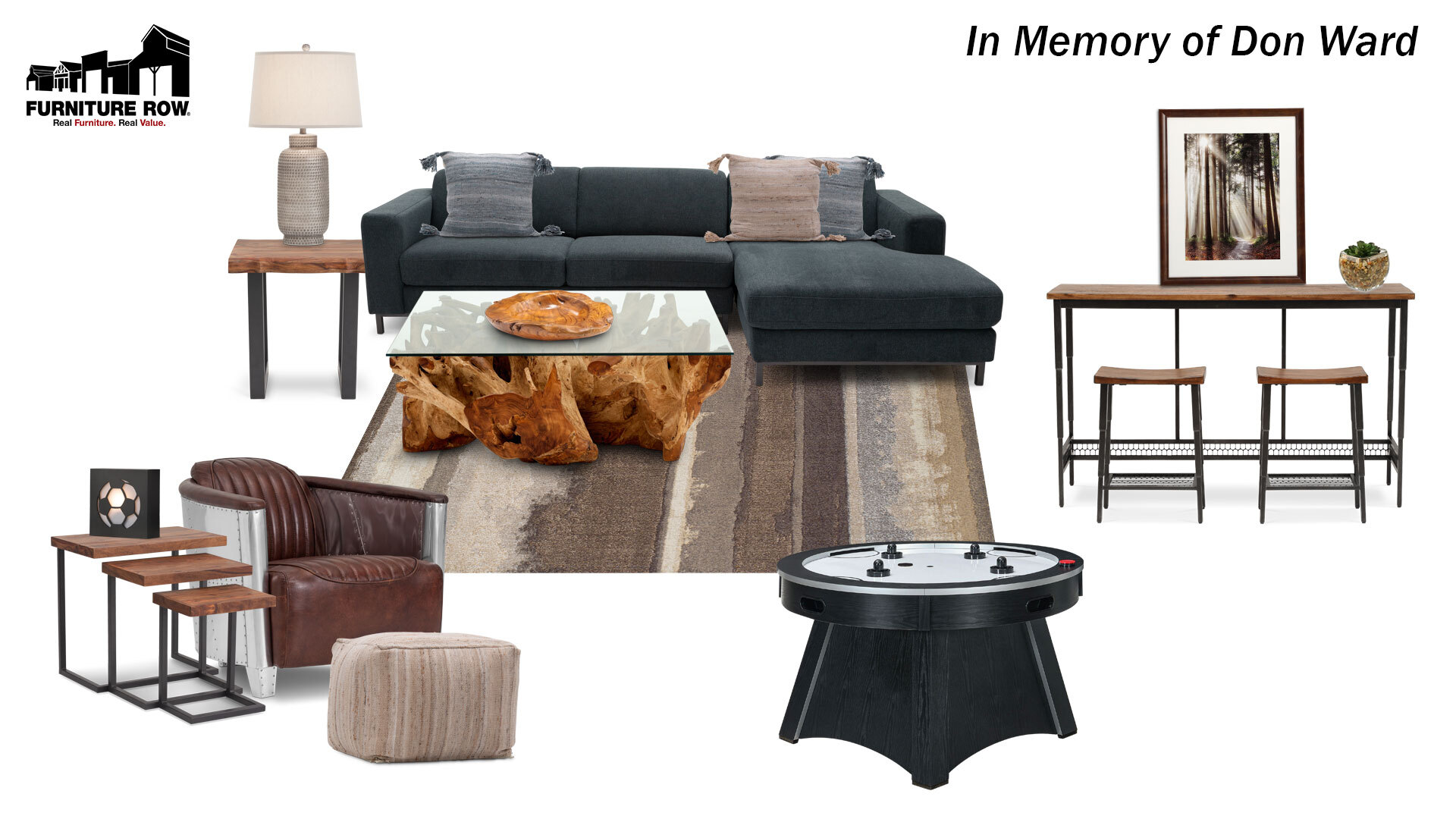 The room I put together is a nod to Don's love of the outdoors; this is reflected in many of the pieces selected for the room. The Montana Cocktail Table has the most beautiful rustic tree root base to serve as a foundation for a natural, outdoor aesthetic. The Adderly Live Edge Wood End Table and Adderly Nesting Tables nicely complement the Montana, and I placed the Teak Root Bowl, a perfect bowl for the remote control, directly on its glass top. I just love the Palmer 2 Pc. Sectional. The color reminds me of a deep green-blue lake, and it's a comfortable piece to lounge and watch a movie. I added the 3 Pc. Wade Pub Set behind the Palmer for drinks and snacks, plus the barstools add extra seating that can easily be tucked under the table when not in use. The Aviation Club Chair is really comfortable and an interesting conversation piece, and the Recycled Water Bottle Throw Pillows and Ottoman add another cozy, eco-friendly layer to the room. Finally, the Turning Left Framed Art Print is really peaceful, the light shining through the trees is just stunning. 
I hope that this room is a space that Don would have loved.
–Barbara Chandler, Furniture Row Designer
SHOP THE LOOK: Palmer 2 Pc. Sectional | Wade 3 Pc. Pub Table Set | Aviation Leather Club Chair | Adderly Live Edge 3 Pack Nesting Tables | Adderly Live Edge End Table | Montana Coffee Table | Oberon Hockey Table | Antigua Mocha Rug | Recycled Water Bottle Ottoman | Recycled Water Bottle Pillow | Rochester Table Lamp | Soccer Night Box Lamp | Teak Root Bowl | Small Echeveria in Glass Cube | Turning Left Framed Print 
Contest specifics and how to enter! 
Tickets for the 2021 St. Jude Dream Home Giveaway in Colorado Springs are available for purchase from April 22, 2021, until the final drawing on June 24th, 2021, OR until all 10,000 are sold. The tickets are $100 each, and they can be purchased at dreamhome.org or by calling (800) 379-5217. Tickets sold out earlier than ever last year, so make sure you get yours before it is too late!
Eager to do everything they could to make this year's contest even better, local Colorado Springs businesses have pitched in to offer a total of four impressive bonus prizes which will be raffled off on various dates leading up to the final drawing. 
For one $100 raffle ticket, you will be eligible to win the Dream Home and all four of the substantial bonus prizes, as long as your ticket was purchased before the drawing date of the prize in question. The dates and specifics for each of the bonus prize drawings can be found below:
 
Remember, 100% of all ticket sales will help to make sure patients and families can focus on treatment and recovery without having to worry about bills from St. Jude for treatment, travel, housing, or food. If you are unable to purchase a ticket now, or if tickets sell out, it is always possible to donate to St. Jude Children's Research Hospital year-round. Although only one person can win the house, everybody wins with the St. Jude Dream Home Giveaway!