Why is Furniture so Expensive in 2022?
If you've been shopping for furniture recently, then you may have noticed that prices are higher than they were only a few short years ago. For most of us, this is not too surprising considering that we have all been paying more for just about every good or service on the market since the onset of the COVID-19 pandemic.
Even though inflation has become commonplace, we understand that it can still be a frustrating experience to spend more money on a basic home need like furniture, especially if it isn't clear why prices are so high in the first place. So, in the spirit of transparency, this article will provide a brief overview of why furniture has been getting so expensive over the past few years in an attempt to help alleviate some of this frustration.
There are many factors involved in the increased furniture prices we see today, but the biggest culprit is the impact of COVID-19 on global supply chains. 
The Furniture Industry + Global Supply Chains

Global supply chains are worldwide networks of interconnected businesses that transport goods between countries. They primarily consist of players in the maritime shipping industry, the ground shipping industry, and businesses in various other industries that facilitate the shipping process, such as those who offer arrangement services or operate storage warehouses. It's no secret that COVID-19 wreaked havoc on global supply chains, creating unprecedented congestion at ports across the world and causing workforce shortages which haven't been fully restored even to this day. For a more thorough explanation of how COVID-19 affected the international shipping industry, be sure to check out our previous article on the topic.
Due to how the furniture industry has developed over the past century, almost every major furniture retailer today sources their products from countries all over the world, which means functioning global supply chains are an essential part of their business. When COVID-19 started to spread in 2020 and shipping containers began piling up at every major port, the businesses that are a part of the global supply chain network started to raise their prices. 
Unfortunately, furniture retailers are very dependent on global supply chains, and these rate increases within the various international shipping communities are the primary culprit behind the increased furniture prices we are seeing today. But, before we get into why players in global supply chains raised their prices, let's first examine just how massive these price increases were.
Maritime Shipping 
To truly understand how expensive it has become to ship products overseas, we need to examine the cost of shipping a 40ft container on an ocean carrier before any of us had ever heard of COVID-19 (Ahh, memories).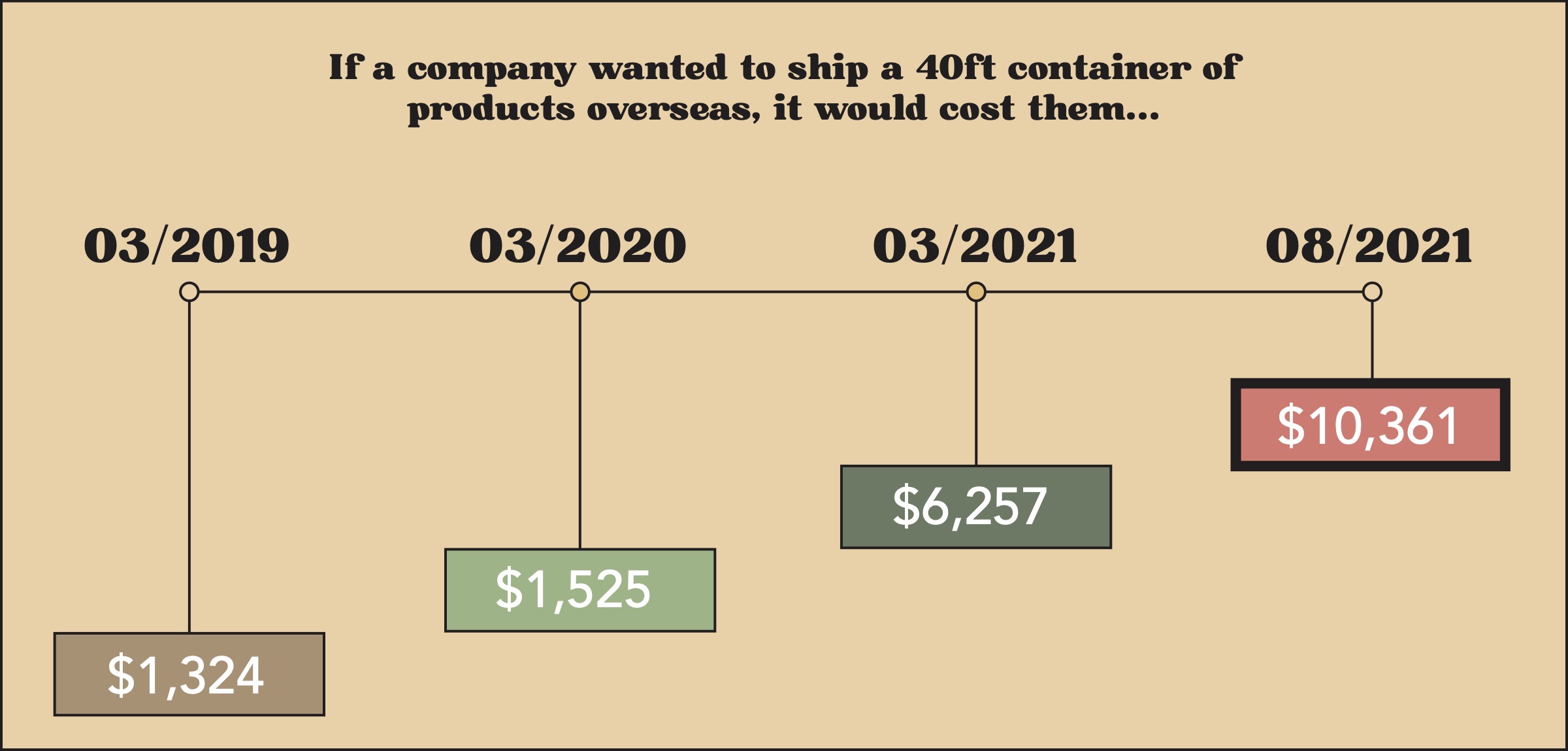 In March of 2019, if a company wanted to ship a 40

ft

container of products overseas, it would cost them about $1,324 on average.  


 

In March of 2020 at the onset of the COVID-19 pandemic in the USA, the shipping industry was only just beginning to feel the strain that COVID-19 would soon cause, and the price of shipping a 40ft container was $1,525.


 

 By March 2021, after COVID effectively brought the shipping industry to its knees, the average price to ship a container jumped to a whopping $6,257. 


 

By September of 2021, the average price to ship a 40

ft

container was a staggering $10,361, which is an increase of about 780% compared to the price in 2019.
Ground Shipping 
Like the maritime shipping industry, COVID-19 caused widespread problems throughout the ground shipping industry, though not with such drastic price increases. 
The domestic shipping rates for transporting goods by road and rail in the U.S. have risen up by about 23% from what they were before the pandemic, but some of the biggest challenges with using the ground shipping industry are related to shortages within the workforce.



 
Support Services
Booking passage on a cargo ship is a surprisingly complicated endeavor. In fact, an independent entity can't even book passage on a cargo ship themselves, they must instead go through a secondary arrangement company called a "freight forwarder" who deals with the ocean carriers directly. Additionally, once a container arrives at any given port, the goods inside must be removed and transported to their final destinations, which usually entails hiring 3rd party ground shipping companies or renting space in storage warehouses. 
Just like the other industries, freight forwarders and businesses who offer warehouse space have also raised their prices.


 

In January 2022, freight forwarders had raised their prices by a record 83.6% when compared to what they were before the pandemic, while the prices for warehouse storage services were up an unprecedented 17.4%.
How Congestion Leads to Higher Rates

Now that we know how much shipping rates have risen over the past few years, it's time to talk about why businesses within global supply chains raised their prices in the first place. In other words, why is it that COVID-related congestion at our ports has lead to higher shipping costs for businesses and consumers? The answer to these questions is surprisingly simple because it really all comes down to the basic economic principle of supply and demand.
More than 80% of the world's traded goods are shipped overseas which effectively makes maritime shipping the most important link of any global supply chain. As discussed in our previous article, the maritime shipping industry is an incredibly complex network which functions on constant trade and communication. When the COVID-19 pandemic began, many large ports in countries across the world were forced to shut down in order to stop the spread of the virus, and, simply put, the shipping industry wasn't built to handle these types of sudden shutdowns. 
Things were very quickly thrown into disarray as ports across the world were unable to unload all of their incoming containers. Most major ports began "stacking" unloaded containers in their freight yards, and many incoming ships were forced to wait multiple days for a chance to dock. The congestion and container stacking situation got so bad that, in the fall of 2021, there were an estimated 500,000 stranded shipping containers stacked in the port of Los Angeles alone. 
The main thing to understand, here, is that this extreme congestion in the maritime shipping industry created a two-sided problem. Obviously it caused delay-related headaches for businesses and customers alike, but, more importantly, it also placed a kind of artificial limit on the world's "supply" of available shipping space. Because many large cargo ships were forced to wait outside of multiple international ports for days on end, and because every major international port was also dealing with a backlog of stacked containers, the companies within the maritime shipping industry were simply not able transport the same amount of goods as they once could. Their supply of available shipping space became limited.
In 2020, many people expected that the demand for shipped goods would lessen as people went under lockdown and began to experience greater job insecurity. But, that didn't happen. In fact, many people started to buy more as they spruced up their living spaces to suit a newly-quarantined lifestyle.
As the demand for imported goods and services increased and the supply of available shipping space also became limited, the companies that comprise the maritime shipping industry did what many businesses who control a particular industry would do: they raised their prices to maximize profits. It's a similar situation for each of the other industries who comprise our global supply chains. Once their own supply became limited due to COVID-related congestion, businesses within ground and shipping-support industries also started charging more for their services.
As mentioned earlier, today's furniture industry is entirely reliant on well-functioning global supply chains. Because of this reliance, every major furniture retailer has simply had to pay the higher shipping rates in order to keep their doors open, which has often resulted in raising the prices within their own stores. 
A Light at the End of the Tunnel

While the past few years have certainly been difficult for many of us, there are signs that the situation is starting to get better, at least as far as high furniture prices and inflation are concerned. Since the highest point in September of 2021, the price of shipping containers has been slowly but steadily declining. In March of 2022 the average price of shipping a 40ft container overseas was $8,152, and, as of July ,the average price was down to $6,159.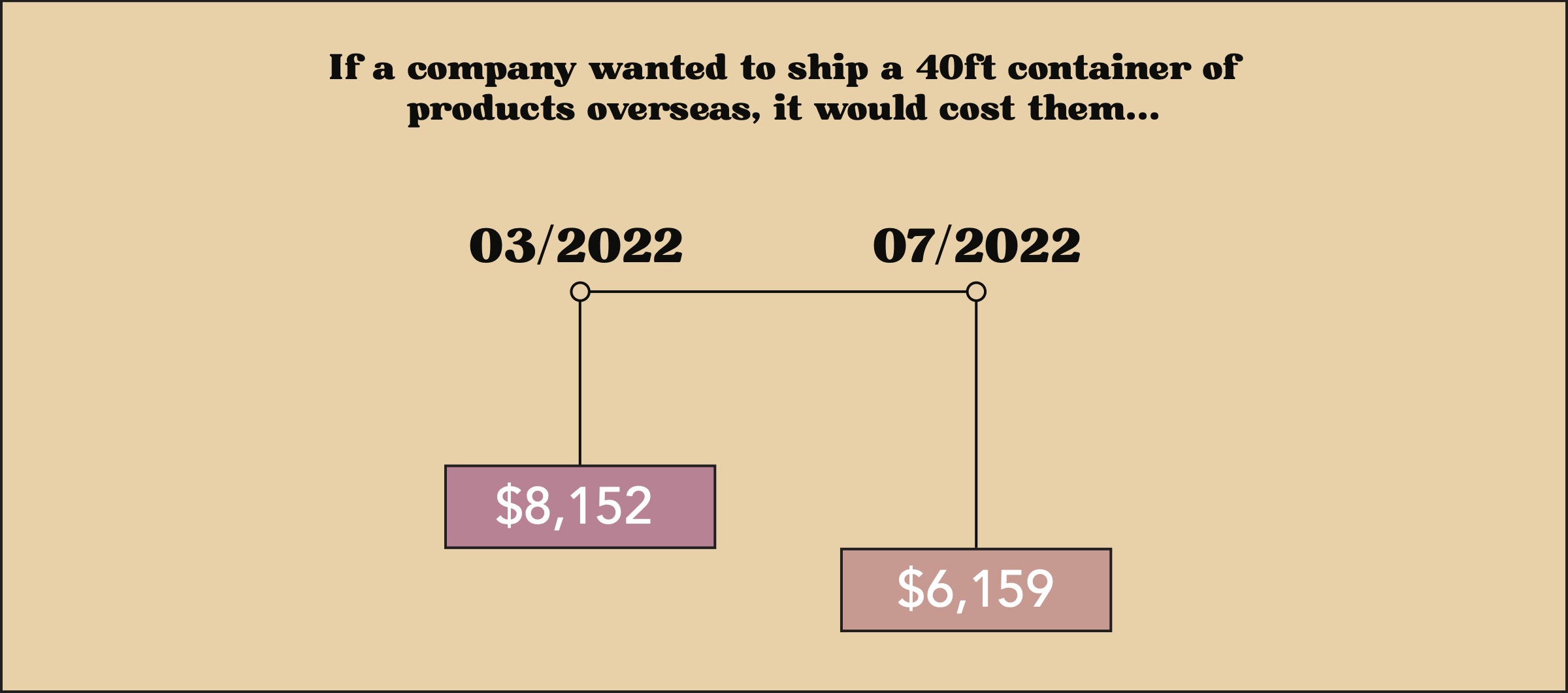 The maritime shipping industry is the lynchpin of all international trade, so much of the economic pressure furniture retailers are experiencing should ease if shipping prices and congestion continue to normalize. While we can't speak for other furniture retailers, we can say with certainty that everyone here at Furniture Row is looking forward to a brighter future without unexpected delays and exorbitant prices.