4 Easy Steps to Create a Homework Space They'll Love
Summer is coming to an end and it's almost time for the back-to-school season! During this time of year, it's common for kids to wish the summer would never end, and it's equally common for parents to start frantically looking for ways to get their kids excited for the upcoming school year. If this frantic search sounds familiar to you, then you're in luck because we have a solution that families of all shapes and sizes can get behind! Children often feel more engaged in their learning when they have their own special space to complete assignments or read books at home, so one of the best things any parent can do to spark interest is to create a fun, productive homework station that their child will love. 
If you've ever researched how to set up a homework space on Instagram or Pinterest, then you know there are roughly a bajillion examples of expertly-manicured schoolwork spaces on the internet that some parent magically created in an unexpected place using all manner of cleverly-repurposed products. Like you, we appreciate those examples, but we also realize that not everyone is ready to create a painstakingly-perfect work area with furniture they have to repurpose themselves. With that in mind, we wanted to give our readers some more down-to-earth advice that focuses on creating a more-traditional homework space in a kid's bedroom using standard furnishings and accessories that you can find anywhere.
The best part? Our advice can be applied to any room of the home if you're limited on bedroom space, and it can be boiled down to four easy steps:
Create a designated space

Put everything within reach

Make it something they love

Establish a routine
1. Create a designated space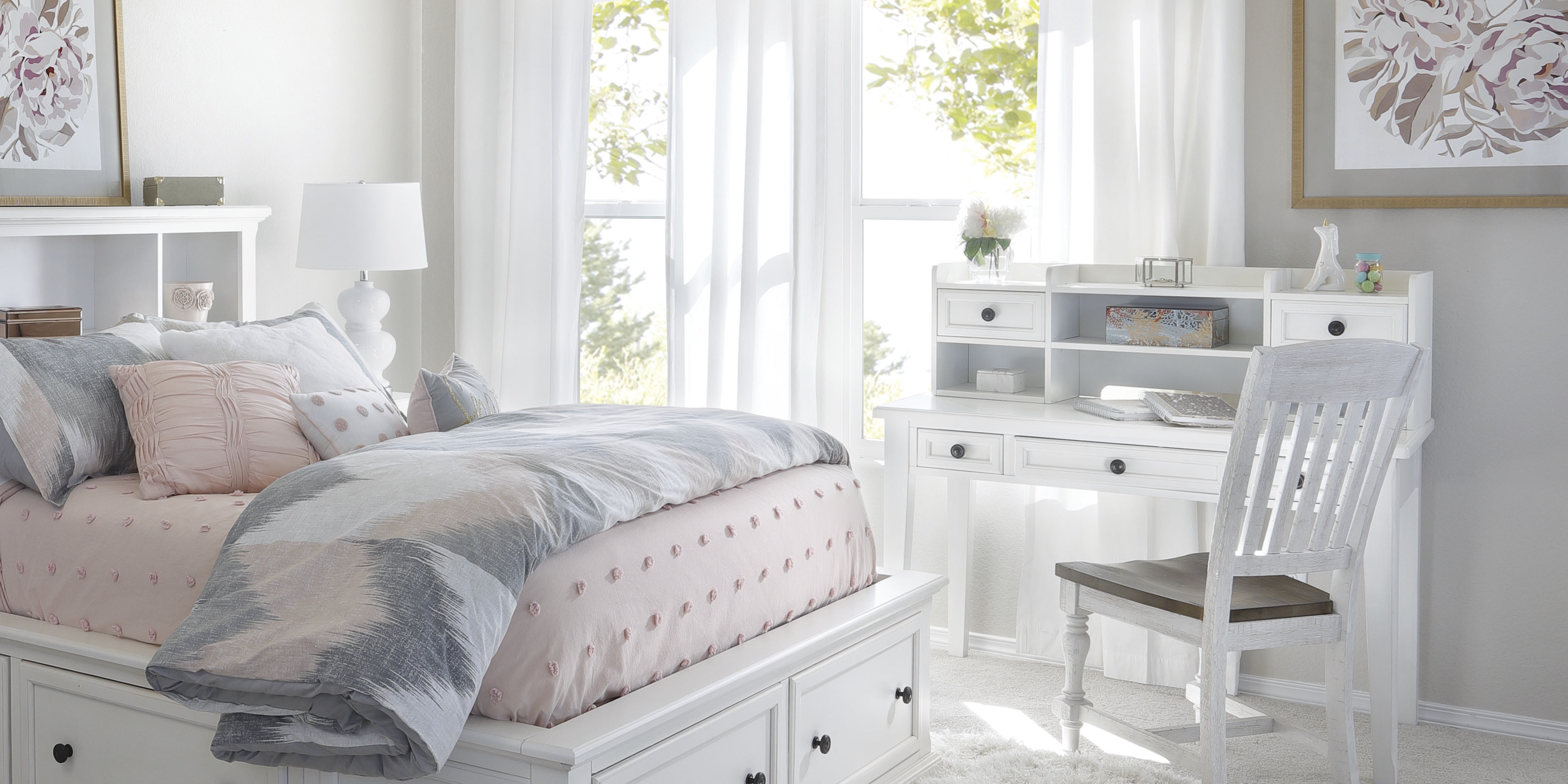 When deciding where to establish a new homework space in your kid's bedroom, the first thing to do is look for an area that is (or could become) quiet, uncluttered, and distraction-free. One thing that any expert will tell you when starting this endeavor is to involve your child in the process as much as possible, which makes a lot of sense when you think about it. If your child is involved in making decisions and has some control over the final product, then they'll be much more likely to actually want to use it. 
To start, simply tell your child that you need help creating a new homework space in their room, and then brainstorm with them on which areas might work best. To make the space feel truly special, you'll most likely need to invest in some new pieces of furniture, or at least rearrange the room's current layout if you don't want to buy anything new. 
One of our favorite ways to create a homework station-ready space in a child's room is with a lofted bed. Lofted beds are great because not only do kids love to sleep in them, but they also naturally provide a sheltered area beneath the mattress that's perfect desks and other accessories. Many lofted beds even come with desks and even bookcases attached to their frame, so sometimes finding the right lofted bed also means finding the right desk and bookcase.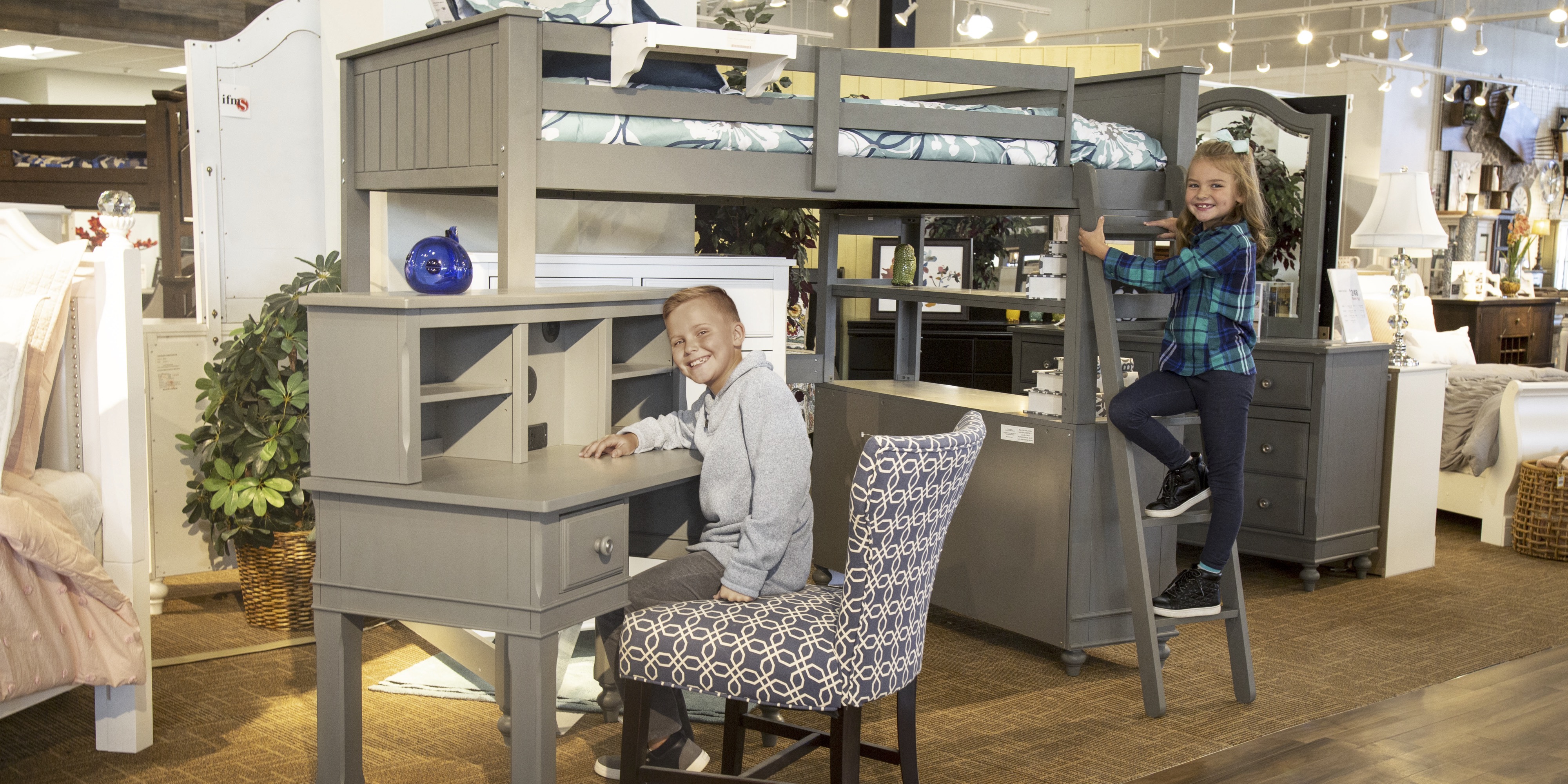 If you aren't planning on buying a new bed, that's okay too! Just take a good look at the physical layout of their room, and try to envision a place where they could be happy and productive. We suggest finding a corner or wall that is relatively isolated from their toys, bed, or other belongings that could be distracting. As mentioned, having to rearrange their existing furniture to create this space is usually a good thing (despite the added work for parents) because it will instantly feel fresh and new once it's finished.
Regardless of the bed you use, you want their new workspace space to feel clean instead of cluttered, cozy instead of cramped, and calm instead of…well, crazy. You may want to outline the area with masking or painter's tape to make sure it will be the right size for your needs. You don't want it crammed between a corner and a closet door, and you want to be able to fit a desk comfortably with room to spare for a chair and any other accessories you might need to help organize all their at-home school supplies. This brings us to our next step.
2. Put everything within reach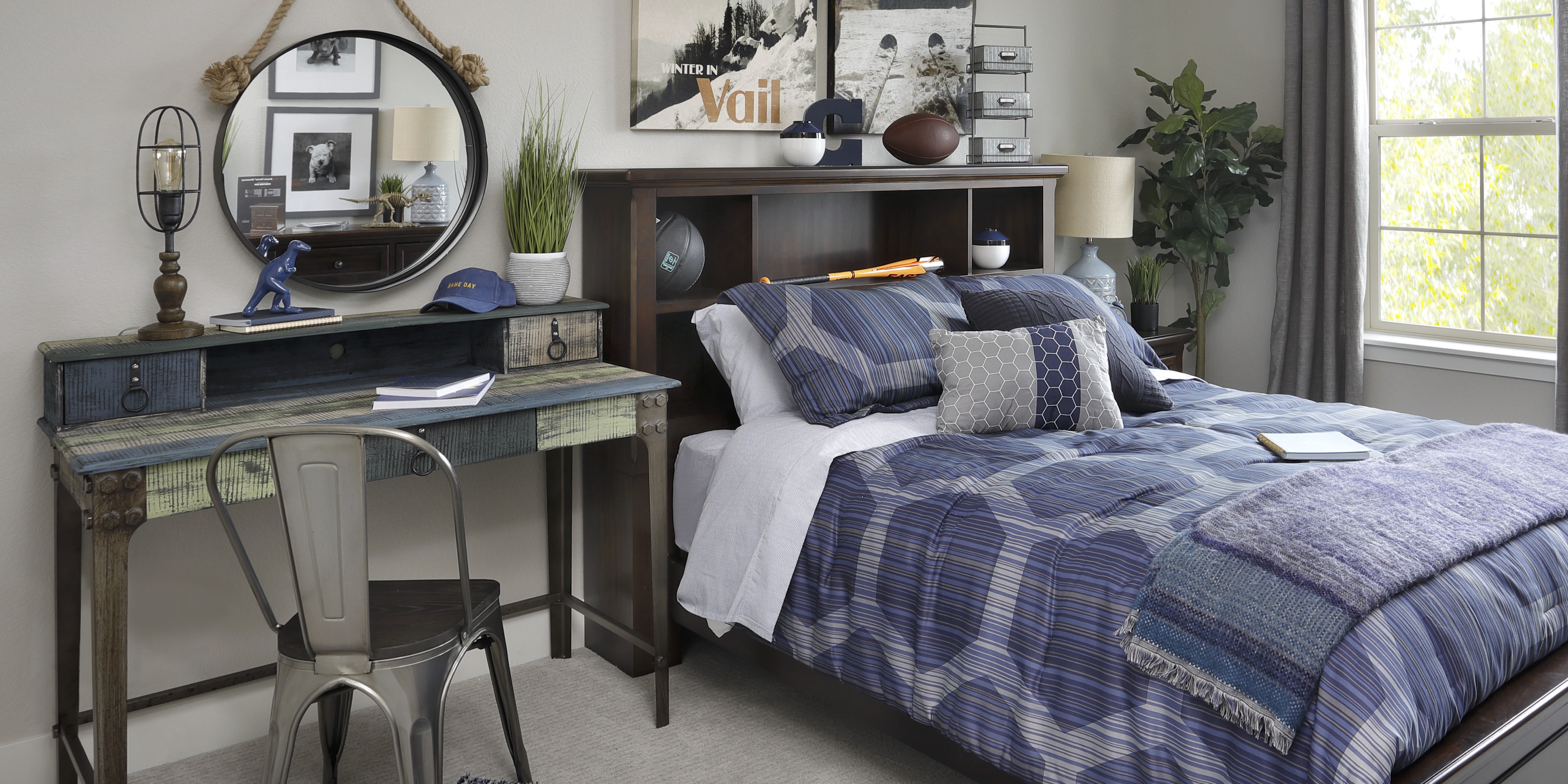 Once you and your child have decided on a location for their new homework station, the next thing to consider is their desk and at-home materials. You want to think about how much surface area their desk should offer, and you want to start to envision exactly where all of their at-home supplies are going to reside.
It's usually best to start this part by looking through their school supply list so you have a good idea of what items you'll need to help them store at home. If you don't have their list yet, that's no problem. Often they will be required to have the same amount of materials as they did during the previous year, plus a few things extra. For reference, elementary-aged students usually need things like pencils, glue, scissors, colored pencils, crayons, markers, a ruler, and plenty of paper at home, while older kids typically use pencils, pens, highlighters, lined paper, graph paper, index cards, binders, and, of course, those expensive graphing calculators that we all love so much. 
Once you know what supplies the school requires, don't forget to ask your child what kinds of things they think they need in their new homework station. Schools often don't include at-home items like pencil sharpeners, and your child might just surprise you with an insightful suggestion you would have overlooked. Once you have a good idea of all the materials the space will hold, it's time to decide on their desk.
Choosing the right desk is essential when creating a well-organized homework space. It needs to function well in the space, and it needs to be something they like. Talk to them about what they want in a desk, and also explain to them the kinds of things the desk needs to help store all of their belongings. If your child already has a desk that you plan on keeping, do a quick double check of how much surface area it offers and how many supplies can fit in its drawers. If you're purchasing a new desk, then make sure you look closely at its dimensions and consider how much storage space it offers. Luckily, many desks on the market today are highly-functional with plenty of convenient storage features, so finding something that works shouldn't be too hard. 
Most desks won't be able to hold all of their supplies without becoming cluttered, so you also need to think about what accessory pieces are needed to accommodate their supplies. Don't worry, though, because plenty of common bedroom accessories can be used for this purpose. Larger items like bookcases, side tables, and hutches can be turned into convenient supply-holders without very much effort on your part, and there are tons of portable desktop accessories on the market that can hold smaller supplies, such as caddies, bins, and desktop organizers.
Now that you know what desk and accessory pieces you want to use, it's a good idea to write down all of their dimensions and reexamine the physical space you've chosen. Is the area going to be large enough for their needs? Will it still feel roomy and welcoming enough once it's furnished? Once you are confident with what you have so far, then it's time for the fun part.
3. Make it something they love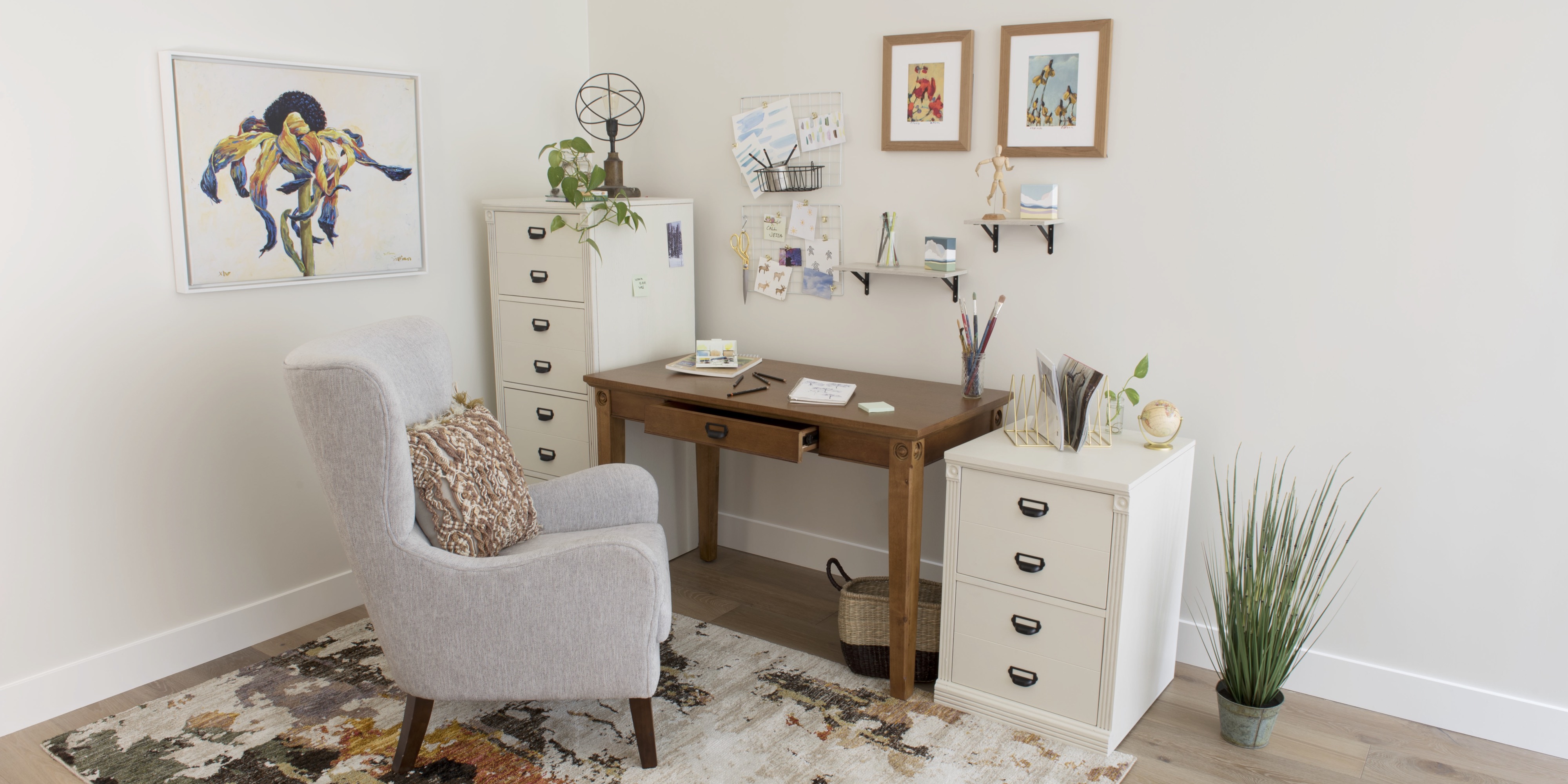 No one wants to work in a drab, uncomfortable space, least of all children. When creating your child's new workspace, it's important to make sure that it's productive and organized, but it's also just as important to ensure that it's cool, comfortable, and inviting.
Comfort is easy because much of it comes down to how much physical room there is around the desk and what type of chair they will use. You've already ensured the space isn't too compact, so the next step is to talk to your child about what kind of chair they want to use. Most kids will want the most comfortable, fully-loaded chair that they can find, so you may need to explain to them that the right chair for a homework station is comfortable, but it's also one that will best support them as they do work. The chair shouldn't be so deep that it's difficult to sit upright, and it shouldn't be so cushioned that they'll mistake it for a bed. On the other hand, most kids won't want to sit on an austere flat wooden seat for any length of time regardless of all the healthy benefits it might provide, so you'll have to find something in the middle that works best for your child's needs.
When it comes to selecting color palettes, artwork, and decor, the goal is to have the space be fun and enjoyable without becoming distracting or cluttered. As you and your child peruse desks, accessories, and chairs, don't shy away from vibrant colors just because they don't match the room or aren't necessarily what you would choose. Kids usually enjoy vibrant colors and fun artwork, so go ahead and indulge them if you come across a brightly-colored something something that really lights up their eyes.
You want to find things that your kid enjoys looking at and that appeal to their interests. Remember, though, to explain to them that too many individual decor items often makes the space feel too cluttered or busy. You're going for quality over quantity, so it's a good idea to give them specific a number of decor items to choose from, and to help them find the ones that truly speak to them,
Speaking of lighting up their eyes, one of the most important things to think about at this stage is light itself! A bright, well-lit space is much more inviting than a dark, dreary corner, so the right lamp can really make or break the space. Find a fun table lamp or standing lamp that they love, make sure it will fit on or beside the desk, and be sure that it is relatively easy to operate so that they can turn on it themselves. 
The last thing to talk about here is electronics. We all know that kids love screen time, but unless their school work requires a computer, it's a good idea to make their new work area a screen-free zone. We recommend explicitly talking to them about this. As you finish styling the space, remind your child that you're doing it to make school work more enjoyable. You both put a lot of work into this workspace and it's important for them to use it in the right way. This leads us to our final section.
4. Establish a Routine
In order to make your new stylish, kid-friendly study space as successful as it can be, you need to make homework or reading time part of their daily routine. Even if they have the perfect workspace, most kids still won't choose to work there every school day without a little nudge in the right direction. 
The amount of homework kids have can vary wildly from school to school and grade to grade, so there is no clear length of time that works for everyone. Some kids will have 30 minutes to an hour of homework every day, some will only have 20 minutes every other day, and some might just be asked to read daily instead of completing traditional homework assignments. Assess your child's workload and decide how many days they will need to use it and what time of day works best for their schedule, then come up with a weekly homework plan with them and help get them started on homework days until it becomes a habit.
Once your child starts completing assignments in a peaceful, organized, and comfortable homework space that they helped create themselves, you'll soon see them become more engaged with their schoolwork and more confident in their learning. And, what parent could ask for more than that?