Creating a Stylish and Functional Living Room: A Guide to Sectionals, Sofas, TV Stands, and More!
Living rooms are an essential part of any home, and they tend to serve a wide range of purposes. They are the place where many of us relax and seek peace after a long day's work, but they're also one of the primary places where we entertain friends and family. They are a space we want to feel comfortable and relaxed, but they should also show off our home's style most effectively. 
Because living rooms often need to serve a wide range of functions, it can be hard to know exactly how to go about styling them. But, don't worry, we're here to help! Whether you need help on where to place your foundational pieces like sectionals, sofas, futons, recliners, and TV stands; or if you're wondering how to best show off your accent pieces and decor, we've come this comprehensive guide can help anyone learn how to set up their ideal living room.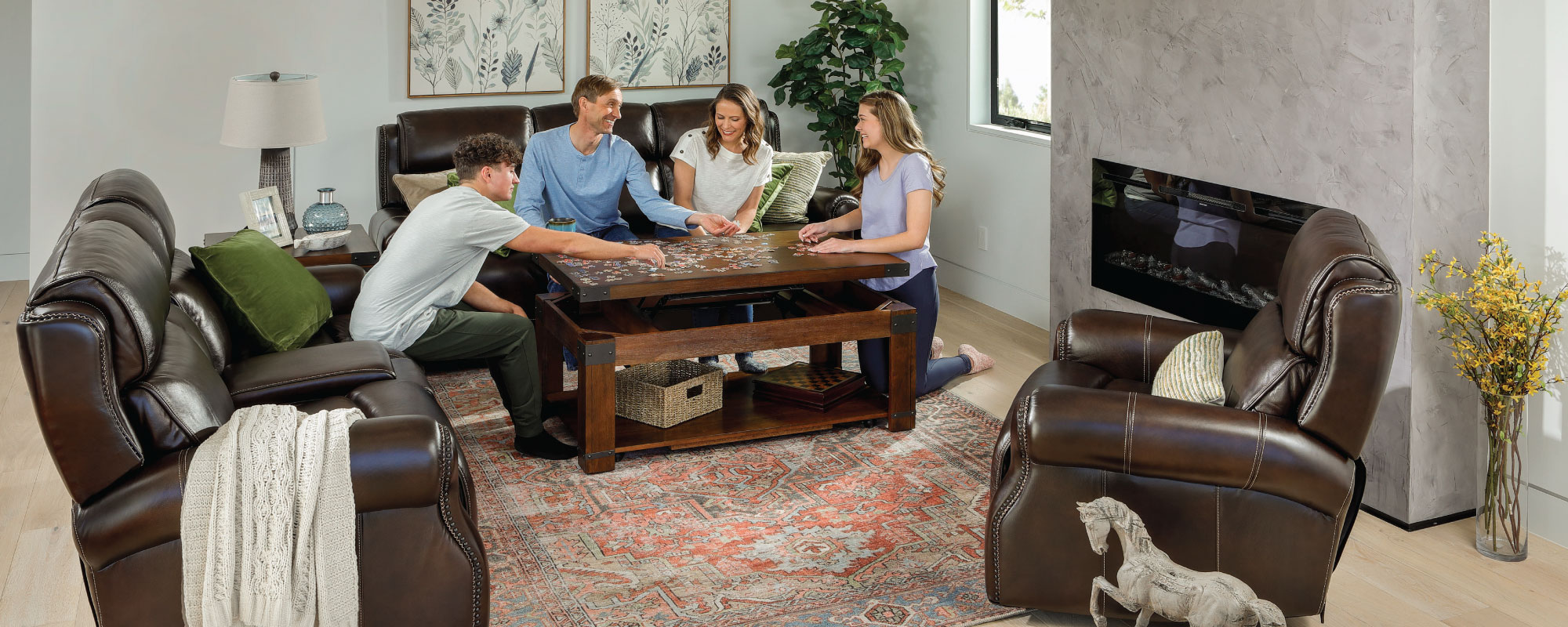 Space Planning and Layout
The first thing to do when designing any room is to get comfortable with its dimensions. Begin by measuring the perimeter of your living room and recording them so you can have them handy. Doing this will make it easy for you to determine whether or not any new piece of furniture will fit comfortably within the space.
Next, think about the kind of space you want to create. We all like to live our lives differently, so it makes sense that not everyone's living room will function the same. Most people tend to organize their living room furniture with the goal of creating either an "entertainment zone" or a "conversational area". Here's a quick breakdown of each type:
Entertainment Zone - Many people today tend to arrange their living room seating around a TV in a comfy entertainment zone. To do this, you start by knowing where your TV stand is going to go, then you ensure that all seating within the zone is oriented towards the TV for easy viewing. Consider the distance between the TV and seating to maintain a comfortable experience.

Conversation Area - Those who don't want their living space centered around a TV usually use their living room furnishings to create a lively conversation area. To do this, you start by knowing where you want your largest living room product to go, usually a sofa or sectional, and then you arrange your other seating pieces in a configuration facing each other to encourage interaction.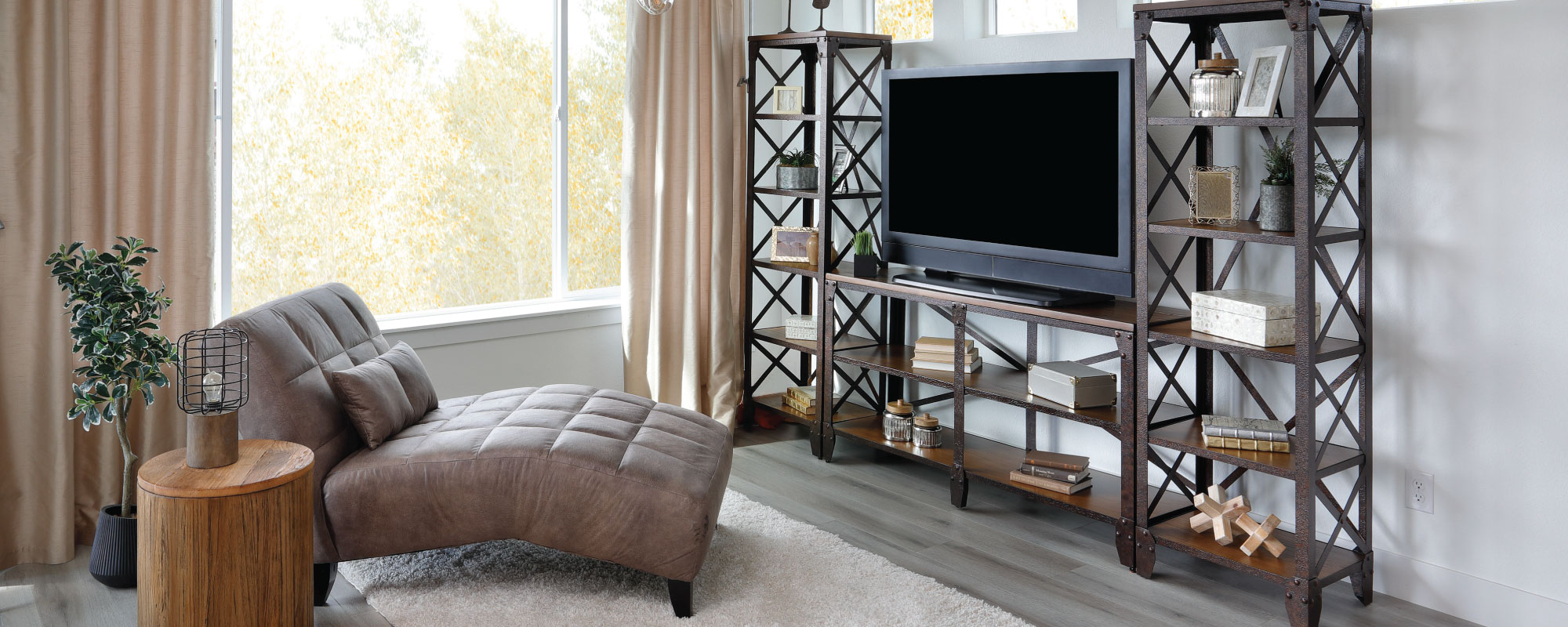 Choosing the Right Foundational Furnishings
Sectionals - Sectionals are versatile and work well in larger spaces because they can be configured to fit your room's layout, all while providing ample seating and a cohesive look. Sectionals also usually offer a wide variety of different storage and comfort features. Today, you can choose anything from sophisticated power reclining sectionals with plenty of storage to modular, minimalist sectionals that are perfect for facilitating conversation and movement. 
Placement: Choose a sectional that complements your needs and decor, then use it as one of the anchor pieces in your room. If you're creating an entertainment zone, you should focus on placing your sectional an appropriate distance away from your TV stand, either along a wall or in a central location, depending on the size of the room. If you're thinking about a conversation area, you don't need to consider the TV stand, so just use your sectional as an anchor and place it where it best fits and has enough space around it to place your other seating options. 
 
Sofas - Sofas are the classic choice for living rooms. Like with sectionals, you should start by figuring out a size and shape that will best suit your space. Then, you should narrow down your options by thinking about what kinds of features you want it to have. For example, if you think you'll primarily be using your living room for personal relaxation, then maybe it's time to consider a power reclining sofa. If you don't watch much TV and use your living room for entertaining friends, then maybe a smaller sofa with undeniable style is more your vibe. Opt for a design that complements your decor and provides the right kind of comfortable seating for your needs. 
Placement: For sofas, follow the same placement advice given above for sectionals. 
TV Stands & Home Theater Walls - Start by choosing a TV Stand or home theater wall that can both fit within your designated entertainment space and accommodate your television.  TV stands and home theater walls are built to offer storage for media devices, game consoles, and other accessories; so use your best judgment when deciding on which piece will best suit your needs. 
Placement: TV stands and home theater walls are almost always placed along the walls of living rooms. Modern homes are designed with television in mind with cable access points located along the walls of the living room, and placing your TV stand close to these outlets makes the most sense to keep any wiring hidden from view. 
Coffee Tables - Coffee tables are not only functional pieces of furniture, but they also serve as another focal point in your living room. When choosing a coffee table, consider the size and shape that will best complement your seating arrangement. If you have a large sectional or sofa, opt for a coffee table that is proportional in size, allowing enough space for movement around it. Again, you should also be thinking about the style and material of your coffee table. If you have a modern or contemporary living room, a sleek glass or metal coffee table can add a touch of sophistication. For a more traditional or rustic look, consider a wooden coffee table with intricate details or a distressed finish. 
Placement: The placement of your coffee table should be centered in front of your seating arrangement, within reach of all seating options for easy access to drinks, snacks, or books. Leave enough space between furnishings to allow for easy movement around the room. Additionally, consider the height of the coffee table in relation to the height of your seating. Ideally, the coffee table should be at a similar height to the seat cushions or slightly lower, creating a comfortable and visually pleasing arrangement.
Lounge Chairs & Recliners - Lounge chairs and recliners are great for ensuring your living room is extra comfy for both you and your guests. Today's lounge chairs range from the ultra-indulgent modern power recliners to streamlined accent chairs with a focus on style. You should first decide on which type of lounge chair or recliner is best for your home - if you plan on using your living room for personal entertainment, then you may want to think about options with sophisticated comfort features, while those who want to create a conversation area might want to focus on aesthetics. Consider chairs with built-in features like cup holders and USB charging ports for added convenience and comfort.
Placement: Lounge chairs usually work best in living rooms when they are used as additional seating options in your entertainment zone or conversation area, so it's usually best to place them near your sofa or sectional. That said, you can also use them as stand-alone pieces in a cozy corner to create the ultimate reading nook or rest area!
Futons & Daybeds - futons and daybeds are the ideal pieces to use if you want more sleeping options in your home. These furnishings are designed to function as both comfy seats and as beds for overnight guests, so they can transform any living room into a guest bedroom with ease. In general, futons tend to have a casual-contemporary look while daybeds often have a more timeless or classic aesthetic, so make sure you take style into consideration when purchasing your own. 
Placement: Futons are great for smaller homes, or for secondary living rooms in bigger homes, because they can often take the place of a traditional sofa in these spaces. Daybeds often function best as accessory pieces, and should usually be placed along a wall, away from your primary entertainment zone or conversation area.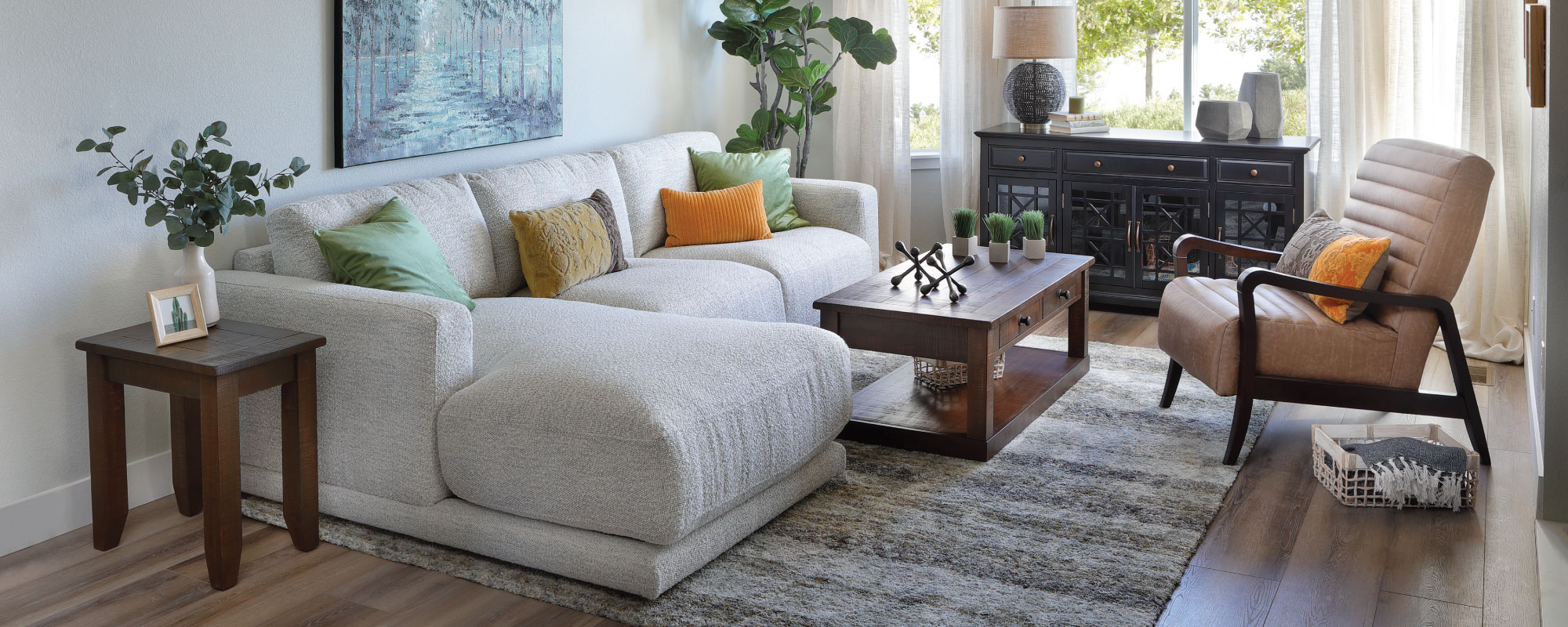 Styling and Decor




Now that we've covered the important foundational pieces of your living room, let's quickly talk about some other style-related elements you should keep in mind during this process. Remember that they key to a successful living room setip is finding a balance between style, functionality, and comfort.
Color Palette - For any piece of furniture you're thinking of buying, you should always be looking for a color palette that will complement your existing decor. Pieces that showcase neutral tones are versatile and can be used in traditional and contemporary environments, while colorful furnishings are great for creating a vibrant and exciting atmosphere. Consider the existing colors in your room and how they will coordinate with any new furniture that you buy.
Accent Pieces - Incorporate accents like sofa tables, end tables, and other decorative accent furnishings to showcase your personal taste, and to provide additional surface area for drinks and other personal items. Choose pieces that complement your furniture and deliver on both functionality and style, and make sure each seat in your living room has access to a nearby horizontal surface. 
Textiles & Rugs - Consider using throw pillows, throw blankets, and area rugs to introduce more comfort, texture, and personality. Along with being comfortable, interior designers love using throw pillows and blankets because they are a great way to mix and match textures and patterns to add visual interest to the room. Create a designer look by using pillows and throws with different colors and textures than your foundational pieces.  Area rugs also increase the comfort level and warmth of any space, and they can be used to anchor the different zones within the living room. Look for rugs that not only complement the overall color scheme and style of the room, but are also the appropriate size for the seating arrangement you're creating. Each seating area should have a rug to anchor it within the room.
Art & Decor - Use hanging artwork, mirrors, or other wall decor to enhance your living room's aesthetic. Keep scale in mind, here – larger pieces usually work best on larger walls, and you can usually save smaller pieces for more intimate spaces. Consider the placement and arrangement of your decor to create a balanced and visually appealing display.

Lamps - Floor lamps and table lamps should be placed strategically throughout the room to provide both ambient and task lighting. Consider the height and placement of your lamps compared to the surrounding furnishings to ensure they provide adequate illumination.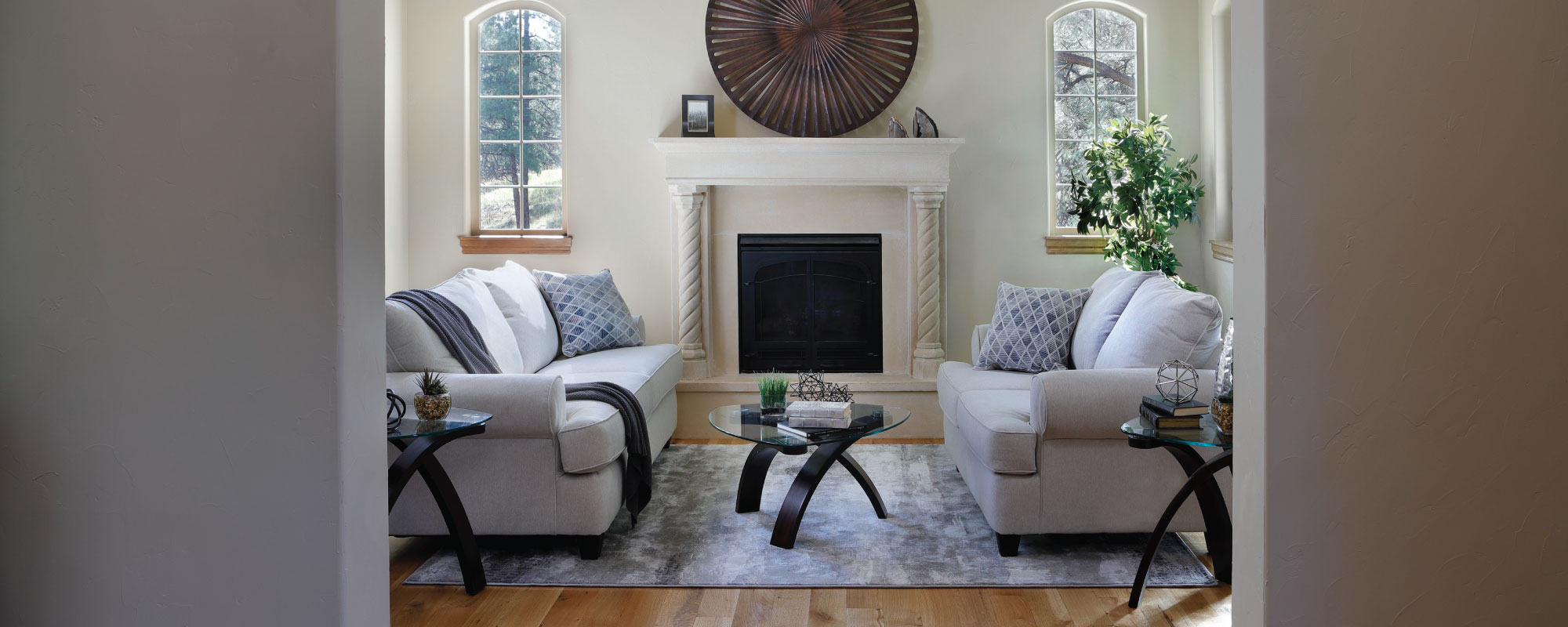 It's hard to overstate just how much of an impact a well-designed living room can have on both your personal life and in your experiences with family and friends. With that in mind, don't be afraid to experiment with different arrangements when restyling your space! Ultimately, your living room should be a reflection of your lifestyle and preferences, and a welcoming atmosphere for both you and your guests. No one knows how your living room should function better than yourself, and, now that you know the basics, the only thing left to do is to start creating a room that works for you!