Elevate Your Dining Experience: The Benefits of Counter Height Dining Tables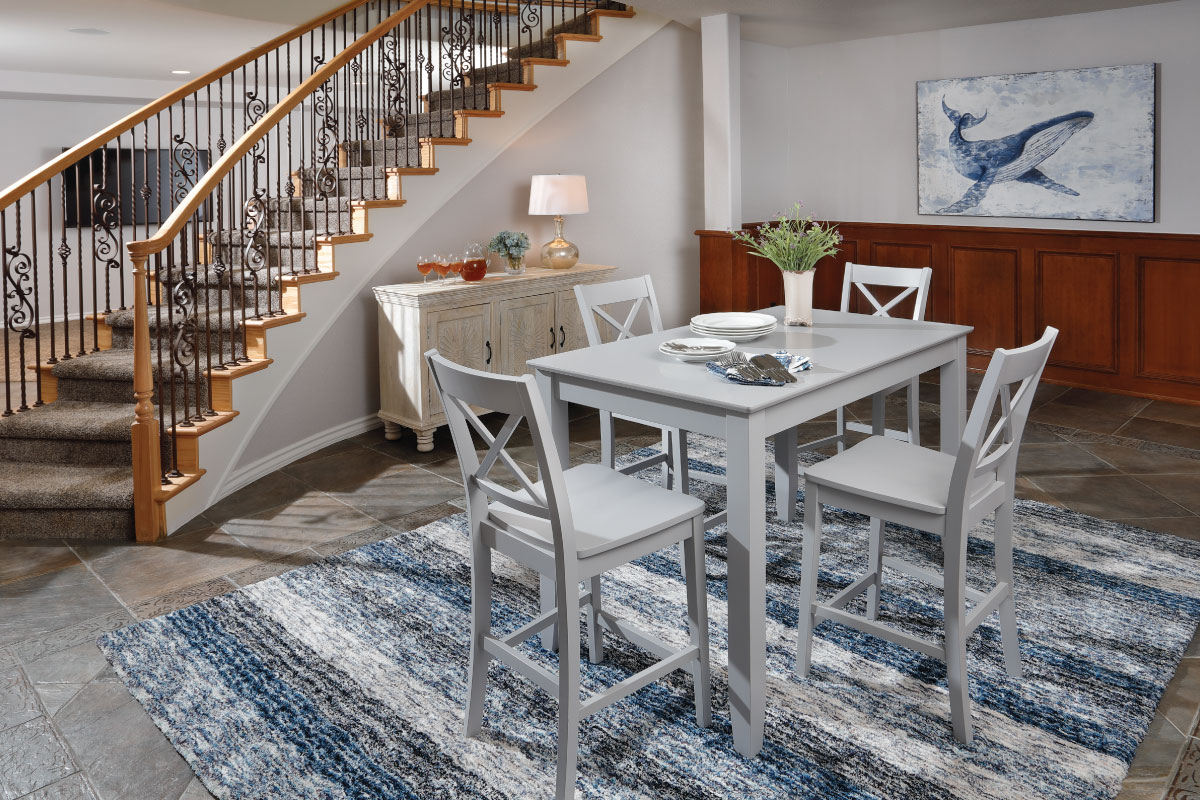 The dining room is where cherished memories are made, conversations flow, and meals are savored. So, obviously it's important to choose dining room furniture that will enhance your dining experience, right?  Many people choose to furnish their dining area with a classic rectangular dining table or charming round dining table because they think that's the best way to create an inviting and sophisticated space - but what about the often-overlooked counter height table?
Counter height tables are a contemporary convention that are growing in popularity, and they can significantly enhance your dining experience! In this guide, we will examine the process of shopping for dining furniture with a focus on the versatility and appeal of counter height tables in particular.  
Understanding Dining Furniture
Dining furniture encompasses a variety of pieces, including dining tables, side chairs, benches, servers, and more. The key is to create a cohesive and functional ensemble that complements your space and lifestyle. Whether your style leans towards traditional, modern, rustic, or eclectic, there are dining furniture options to suit every taste.
Exploring Counter Height Tables
Counter height tables have gained popularity in recent years for their unique blend of style and functionality. These tables are taller than standard dining tables, typically measuring around 34 to 36 inches in height, as opposed to the traditional 30-inch height. This elevated height makes counter height tables perfect for non-conventional dining spaces like kitchens and patios, and it allows them to lend a more casual and modern vibe to traditional dining rooms as well - making them perfect for both formal dinners and relaxed gatherings!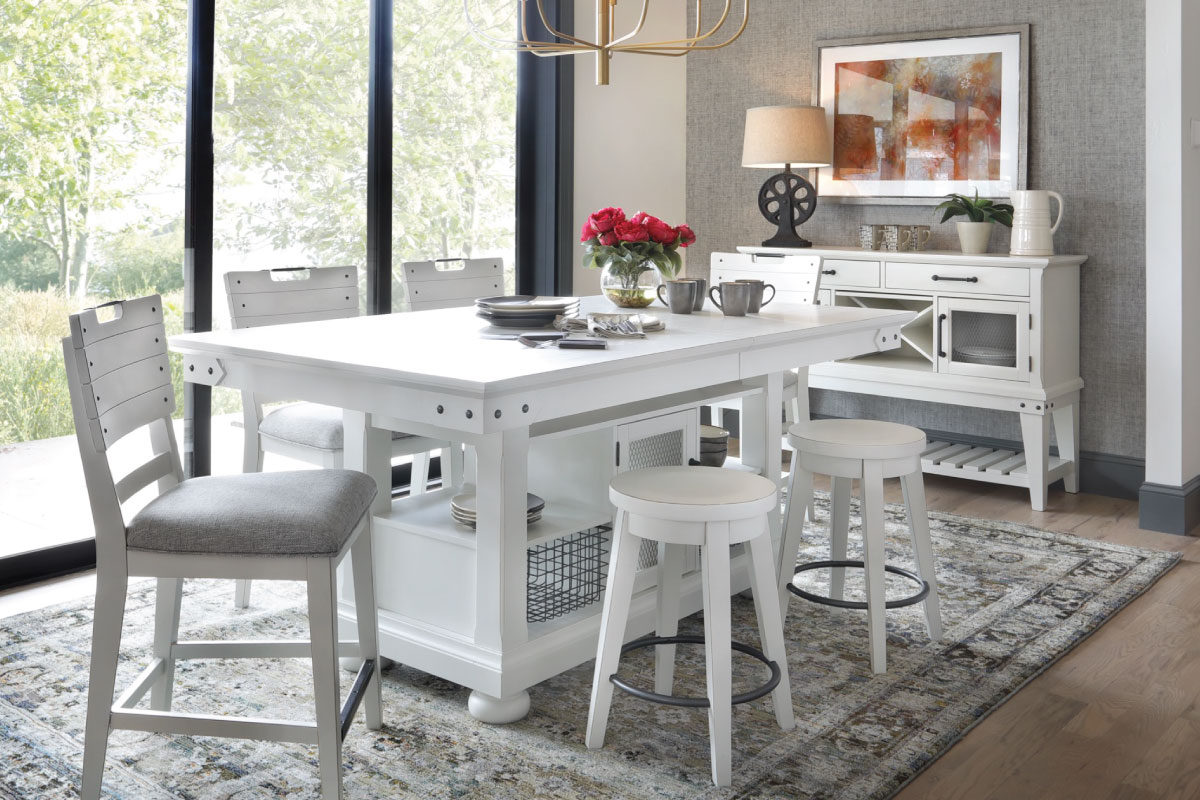 1.      Casual Elegance: Counter height tables bridge the gap between the traditional dining setting and the relaxed bar or pub table setting. Counter height tables are often elegant and sophisticated, but they do naturally maintain a more informal and casual atmosphere.
2.      Optimal Seating: Counter height tables are particularly advantageous for smaller or unconventional dining spaces. Their taller height allows for comfortable seating with more legroom, making them great for contemporary homes or homes where space is a consideration.
3.      Open Concept Areas: In open-concept living spaces, counter height tables serve as great visual dividers between the kitchen and dining areas. Traditional dining tables are often similar in height to living room furniture, so counter height pieces are perfect for creating separation without obstructing sight-lines.
4.      Entertainment Hub: Counter height tables are fantastic for hosting game nights, casual brunches, or even serving as an additional workspace. This is why they are so often featured in basements, game rooms, and other entertainment spaces!
Choosing the Right Counter Height Table
We definitely recommend giving counter height tables a second chance, but don't just go out and buy the first one you see. Like any furniture purchase, there are a few important things to consider before making your purchase.
1.      Size Matters: Measure your dining area to ensure the table fits comfortably. Consider leaving about 36 inches of clearance between the table edge and the wall or any furniture.
2.      Material and Style: Counter height tables come in a range of materials, including wood, metal, and glass. Choose a material that complements your existing decor. Likewise, opt for a style that resonates with your personal taste.
3.      Seating Options: Pair your counter height table with barstools or chairs designed for taller tables. Make sure the seating height is properly aligned with the table's height for maximum comfort.
4.      Extendable Options: If you occasionally host larger gatherings, consider an extendable counter height table. These tables come with leaves that can be added or removed to accommodate more guests.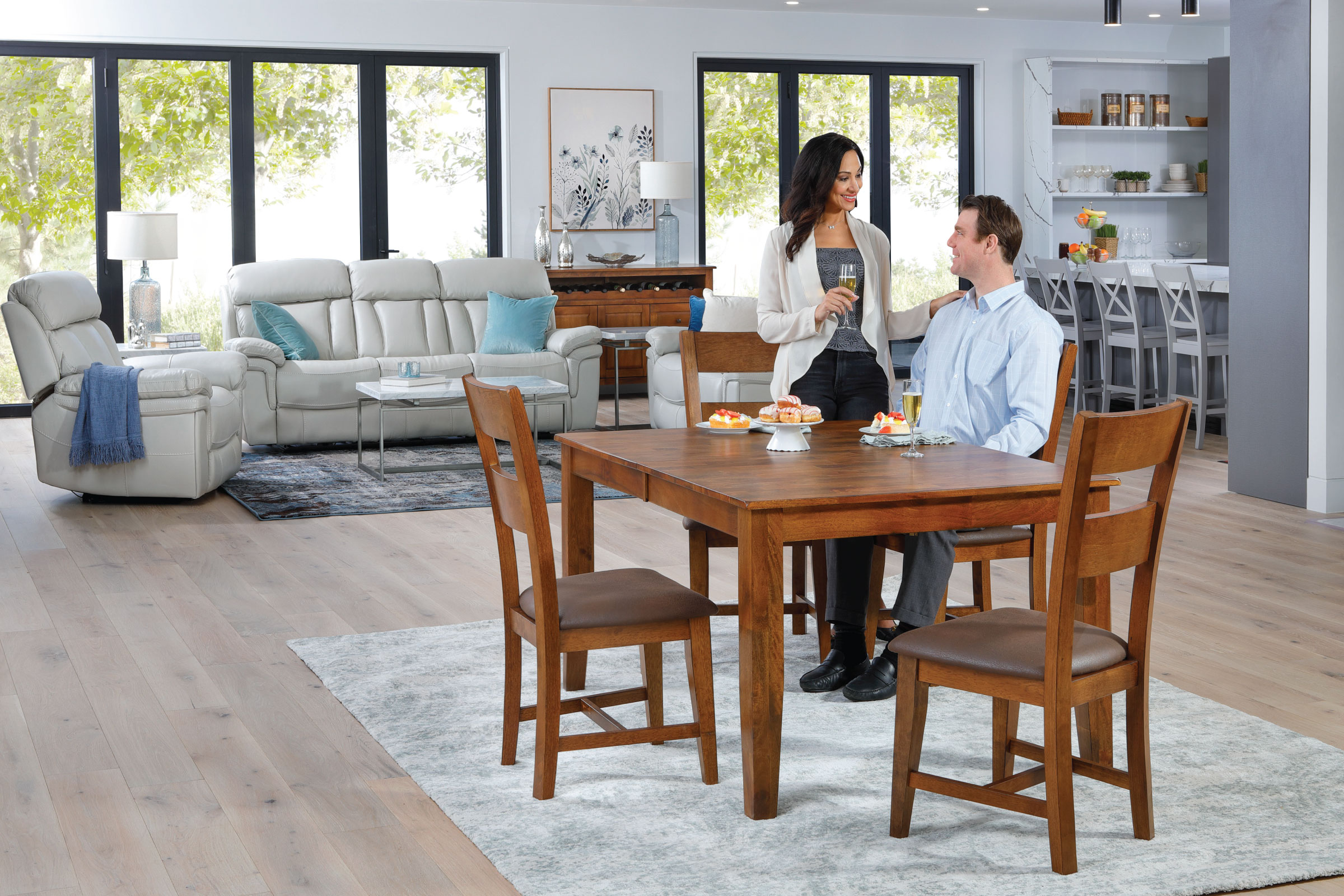 Where to Shop for Dining Furniture
1.      Furniture Stores: Local furniture stores offer the advantage of seeing and feeling the pieces firsthand. You can also seek assistance from knowledgeable staff who can guide you through the selection process. We recommend visiting the closest Furniture Row in your area to see our dining room collections firsthand.
2.      Online Retailers: Online platforms provide a wide range of options, allowing you to compare styles, prices, and customer reviews. Look for retailers that offer detailed product descriptions and images, and don't forget to review the dining furniture category on www.FurnitureRow.com.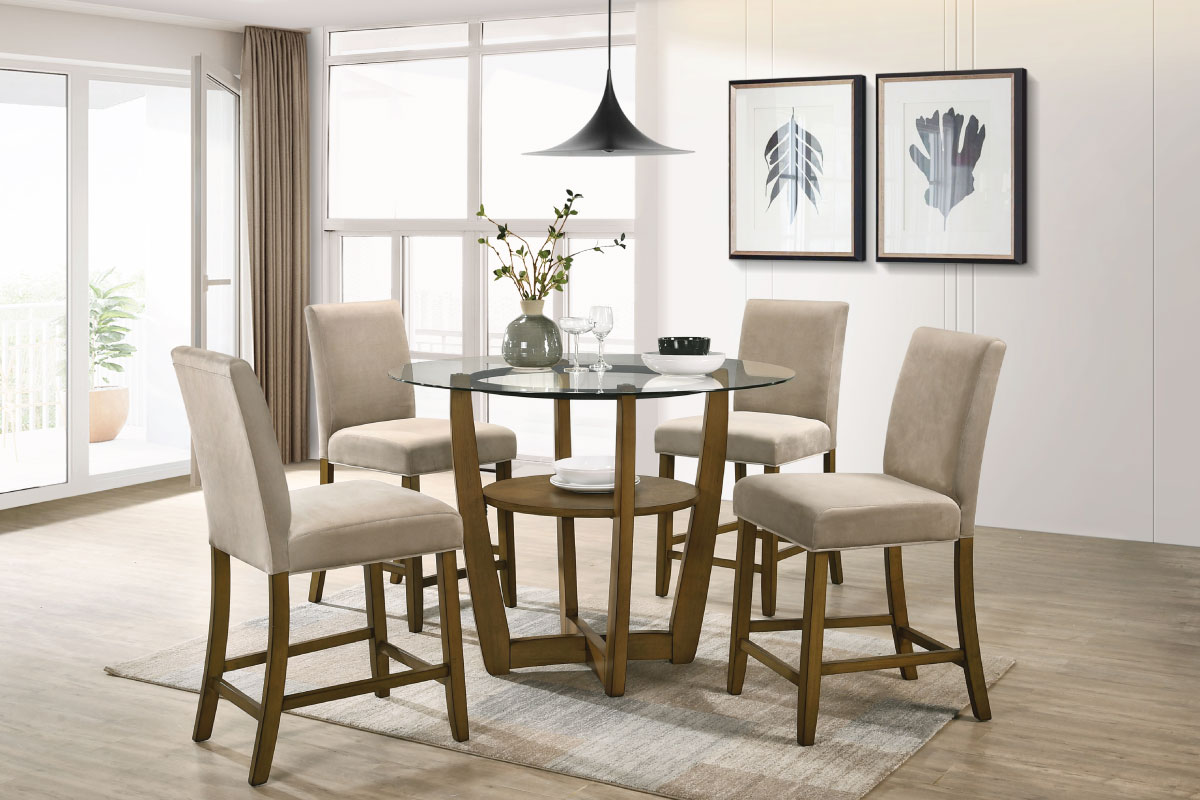 Selecting the right dining furniture, including the versatile counter height tables, is a journey that involves considering your space, lifestyle, and personal style. Counter height tables offer a fresh perspective on dining, combining casual elegance with functional design. With careful consideration and exploration of various options, you can create a dining space that not only meets your practical needs but also elevates your dining experiences for years to come.