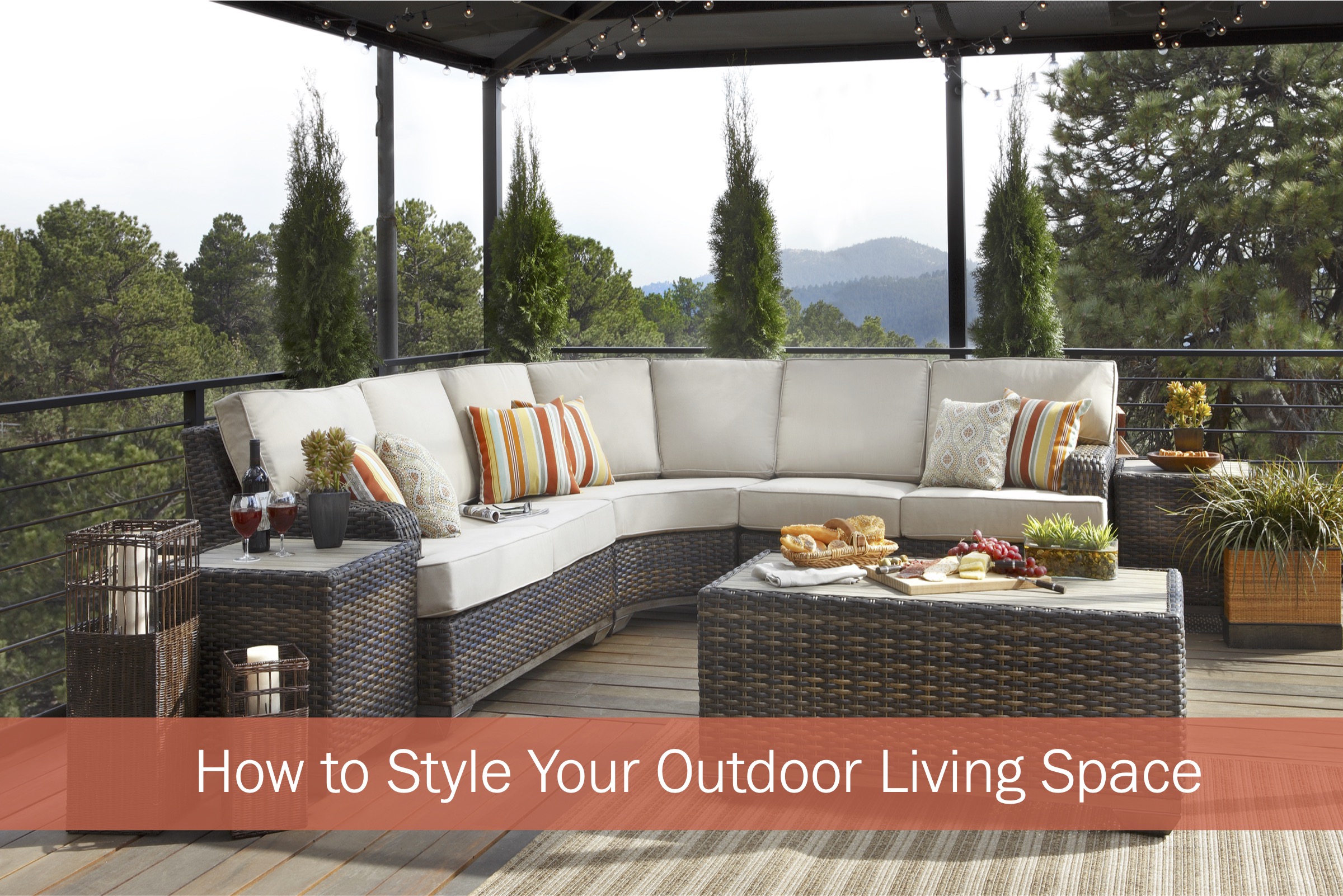 How to Style Your Outdoor Living Space
Are you thinking of redesigning your patio, deck, porch, or other outdoor space? Well, you're certainly not alone! The designers at Furniture Row have been noticing a trend that's been steadily growing over the past few years: people are rushing to spruce up their open-air areas like never before. 
The next generation of outdoor furniture
According to our in-house designers, people are starting to put more time and energy into perfecting their patios because of the groundbreaking improvements in long-lasting outdoor furniture materials, finishes, and, most notably, weather-resistant fabrics. 
In the past, porches, patios, and the like were last on most people's list when it came to styling because outdoor spaces are subjected to sunlight, rain, and changing temperatures - some of furniture's greatest natural enemies (aside from sharp metals and fire, of course). For that reason, it was hard to justify spending a lot of money on furniture that's just going to break down due to prolonged exposure to the elements.
Within the last decade, a wide variety of producers have started to implement novel materials like synthetic woods, ultra-durable finishes, and sophisticated, fade-proof fabrics that can truly withstand life in the great outdoors. It's now possible to create a stylish outdoor space full of comfortable upholstered furnishings, gorgeous wooden tones, as well as vibrant colors and expect years of use without significant fading, breakdown, warping, or cracking.  
Now more than ever, patios, decks, and other outdoor spaces can be treated like an extension of the home. For many of us who've neglected our open-air areas, or who've treated our porch as something like a breezy storage unit, it's like being told we have an extra room in our home that we never knew about. 
So, how should we go about styling our sunny outdoor spaces now that we are able to treat our exteriors more like interiors?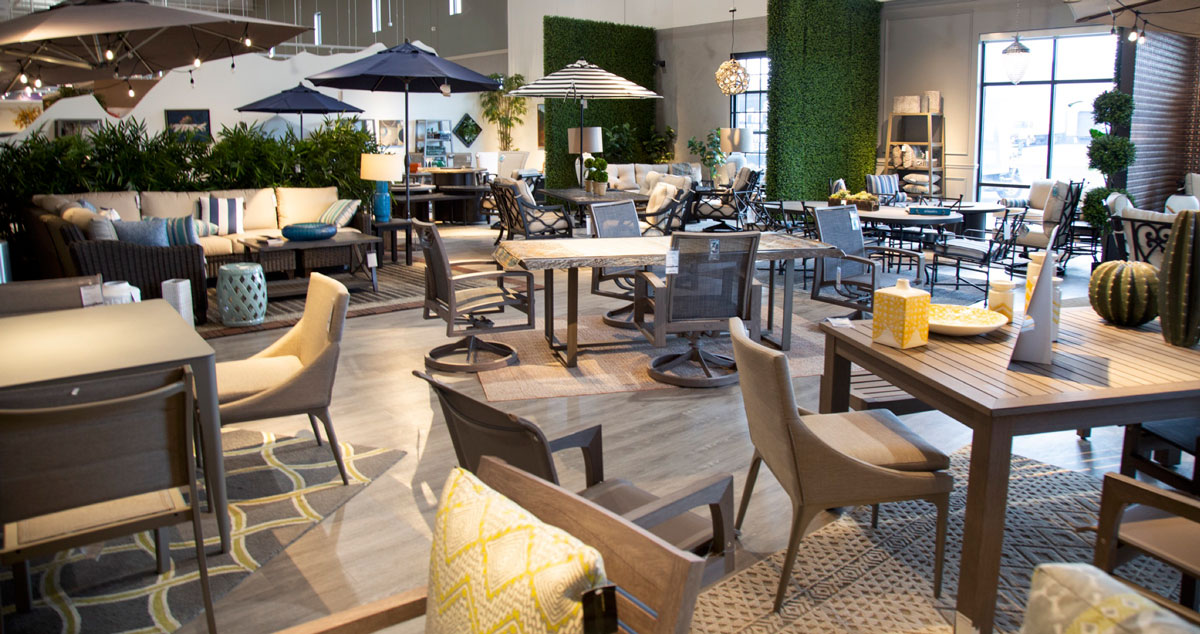 How to set up the perfect patio
Professional designers make it look almost effortless to create an impeccably designed patio, but the reality is that it's not actually that easy for the average person.
Between shopping online and finding a brick-and-mortar store that's right for you, it's easy to feel overwhelmed. If you want to shop online, it's hard to know where to start because there are literally hundreds of online furniture companies to choose from. If you want to go to a store, there are relatively few that are nearby or in your price range, and you often end up settling because there are surprisingly few products that work for your space. Sound familiar?
To make things easier, we've asked the designers at Furniture Row for some professional advice to help clear away the confusion and give you a few concrete things to think about before you start shopping.

Remember, outdoor spaces come in all shapes and sizes, and they are all uniquely suited to be an expression of their owners' personalities. With that in mind, our designers agree that it would be more impactful to offer a few solid, overarching principles to help people get started so that they can create something that works for their space and unique tastes. If you're looking for a more detailed guide to assist you with the precise physical layout of your patio, be sure to check out our Patio Layout Guide for even more helpful advice.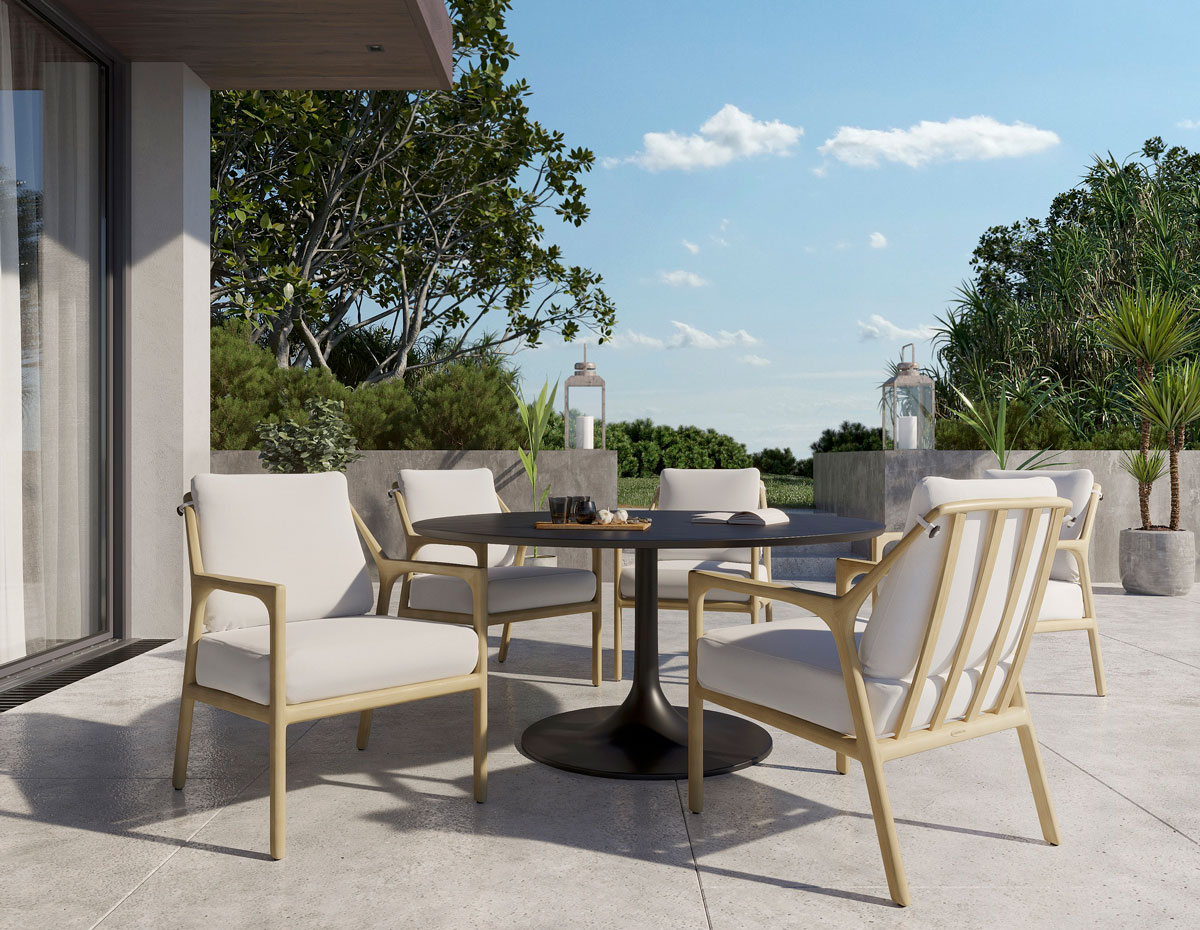 The what and the where
The first thing you need to do is to get into the specifics. Consider the size of your space, and then envision what you really want to use it for. Don't be afraid to bust out your measuring tape when you get started, and make sure that you are being honest with yourself about how your space is actually going to be used. It's easy to get carried away when you begin, and you don't want to be stuck with a cramped outdoor dining area, nor do you want to create a gorgeous outdoor reading nook if you only pick up a book at bedtime. Write down the measurements of your space and come up with a list of the types of larger, foundational items that you want to include.
Additionally, you need to consider the where of where you live. We're talking about climate here, people. Although many of today's new outdoor products can stand up to a wide variety of climates, that doesn't mean that everything in your outdoor space can say the same. Additionally, there are some places in the world whose climates preclude certain products. Do you experience regular high winds? More than 150 days of rain? If you're thinking about a 9 pc. upholstered sofa set for your patio in Portland, you may want to reconsider. 
Once you are able to envision the approximate layout of your design, you're ready for the next step. 
Complement your home's exterior style
The next thing to think about as you start looking for those larger foundational pieces is finding styles that complement the style of your home's exterior. It may sound obvious to experienced designers, but it's always a good idea to take a step back and really examine the exterior of your home before you drive to your nearest furniture store or start to look online. 
For some, it may be a daunting thought to try and figure out your home's exterior style and then find the exact right furniture to match. But, don't worry, this examination doesn't have to be too intense. There's a lot of flexibility in designing an outdoor space, so it doesn't have to be matchy-matchy with your home, you just don't really want sleek, modern outdoor furniture in the courtyard of your 18th Century Victorian home.
In other words, the general style of your outdoor furniture should complement the general style of your home's exterior. While you may tailor the inside of your home to a very specific niche style, you don't have to give your patio the same treatment. You really just need to understand the basics. Is your home a clean-lined modern home, or is it something more traditional? Is it an eclectic design with international influences, or is it a transitional home from the middle of the 20th century? With this knowledge, it's much easier to begin your search for complementary styles. 
Make it a space that you LOVE
Once you have the style and layout of your space figured out, it's time to create a space that speaks to you and draws you outside through accessory pieces, accents, and decor. As the outdoor trend continues to grow, there's been a veritable deluge of new and exciting outdoor-minded accessories. 

Our designers can't stress enough, here, that outdoor spaces really are the perfect place to express your personality and think outside the box. Don't get stuck in the traditional "picnic table" mindset and don't be afraid to be bold. It's hard to give specific advice when it comes to decor because it truly is a personal decision and there are just so many products to consider these days, but our designers recommend focusing on comfort, functionality, and beauty.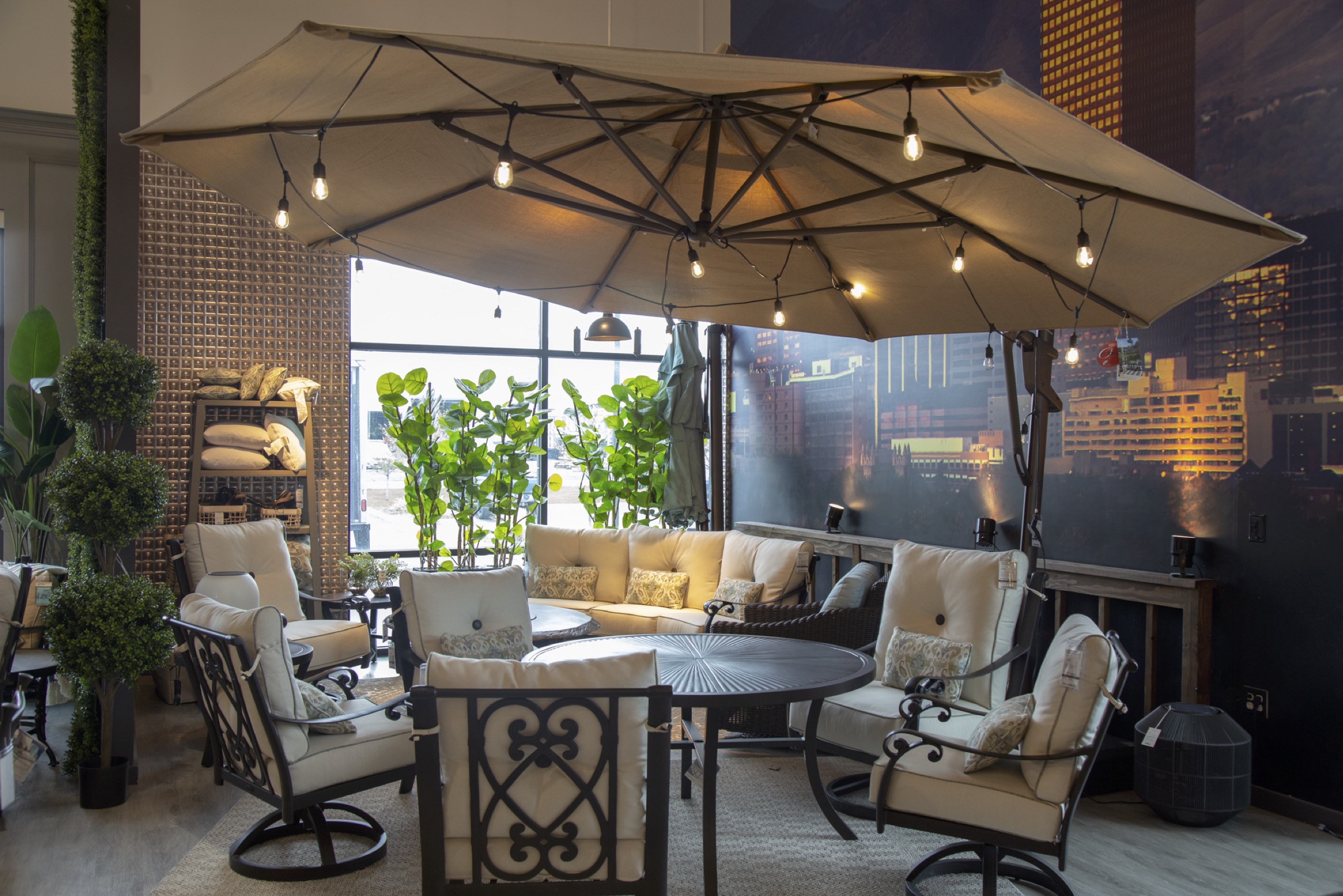 Below are some ideas for each of these three aspects:
For comfort, take full advantage of today's innovative outdoor fabrics. Dress your sofa with a bevy of stylish outdoor throw pillows or treat your feet to a luxurious outdoor rug. With today's new outdoor options, it's even possible to add large floor pillows and plush poufs to almost any open-air design.

 Some of us feel most comfortable knowing our spaces are secluded. If that rings true, you may want to consider a stylish wooden partition or silky screen. Worried about too much fun in the sun? Take home a lightweight outdoor umbrella, or install some breezy outdoor curtains for extra shade

and 

privacy. 

Whichever comforting touches speak to you, the important thing to remind yourself is that you want to make your outdoor living space as comfortable as your indoor ones. When you do this, you not only make your design more inviting for guests, you also make it more attractive for yourself. A comfortable patio is a used patio.
 

You can make your patio more practical, and therefore more enjoyable, with multi-functional furniture. Consider things like storage ottomans, multi-purpose coffee tables, and pub tables with stored barstools to create a gathering space that can suit any occasion. 

Make your space more functional by enabling it to function both day and night. There's virtually no end to the list of new outdoor products that shine some light on outside spaces. Our designers recommend adding stylish string lights, hanging lanterns, or even a portable outdoor fire pit to outdoor spaces of all sizes. 

Love gathering with friends? Want your deck to function as an outdoor gathering area for every occasion? An outdoor bar or a bar cart on wheels can add style and substance to any event. 
Furniture Row's Outdoor section has a variety of tasteful ottomans, coffee tables, fire pits, and bars; so be sure to check it out if you need some expertly-crafted examples of highly-functional outdoor furniture. 
Finally, bring in extra visual appeal to your open-air design with fresh greenery, fun accents, and vibrant colors.

 

Our designers will be the first to tell you that outdoor spaces look best when accompanied by a variety of fresh green plants and flowers. Potted plants, hanging plants, and even free standing plant walls; there's pretty much no limit to how many plants you can fit into your open-air design, so don't be afraid to let loose when it comes to incorporating gorgeous greenery. Although, like before, be sure to consider your specific climate, and your personal penchant for planting, before making any serious purchases. 

When it comes to other accents for your outside area, accessories showcasing natural materials never go out of style. Whether you're looking for larger pieces like occasional tables and accent chairs, or for smaller more-artistic accessories, try and find items that incorporate wood, glass, metal, stone, and rattan. 

With the organic greens and browns of nature as your background, you can feel empowered to make a statement with an aesthetic that showcases bright bursts of color. Discover upholstered pieces, throw pillows, and outdoor rugs that display vibrant floral motifs, bright stripes, and dazzling geometric prints. Find fun accents that showcase jewel tones or bright colors that complement your home's exterior Whatever you decide, our designers recommend keeping things light, bright, and beautiful.
Now that you have a designer's viewpoint on the fundamentals of outdoor furniture design, you're ready to create a space that you'll love season after season. So what are you waiting for? Get outside and start decorating!