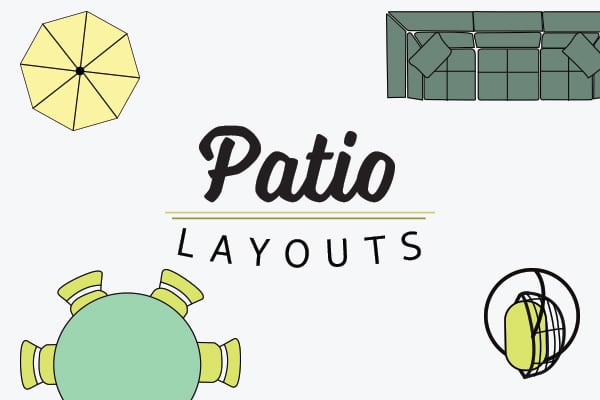 Patio Layout Guide
Warmer months are for relaxing out on the patio and enjoying the beautiful weather. Think ahead when creating a patio layout this summer. What will your space mainly be used for? Creating an outdoor furniture layout not only helps you stay on a budget, but it also helps maximize your patio's square footage. The main elements of creating an enjoyable outdoor space are seating, tables, and functional furniture. We've created four patio layouts for the most common spaces.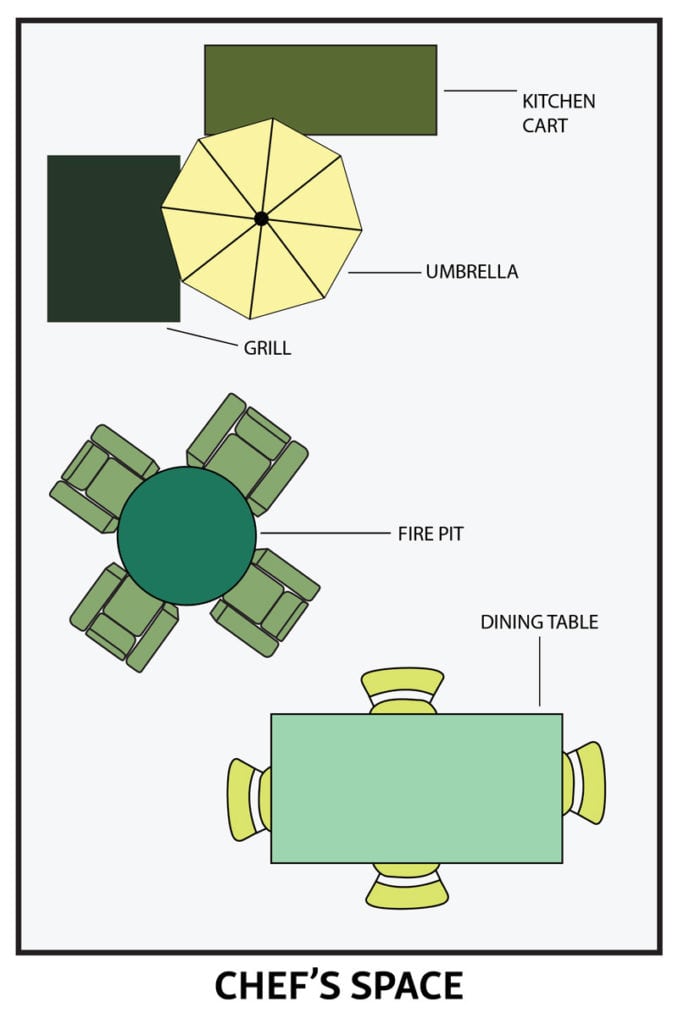 Chef's Space Patio
If you're planning on having lots of outdoor meals with family or guests, designing a patio layout with food service in mind is the way to go. Make sure to choose a grill that leaves enough room for moving around, prepping, and of course, serving your guests. Additional prep space can be created by adding a kitchen cart such as The Sonoma Island. Top off your food prep oasis with the Trasimeno Umbrella near the grill so that raindrops don't threaten your barbecue cravings and sunburns can be prevented. Next, is the dining table and seating. In a patio made for dining outdoors, a large dining table with plenty of room for dishes and drinks is a must. The Trasimeno Rectulanger Dining Set is a good option as it's large enough for a family and is made to last the test of time. Allow your guests to hang out near the grill master by adding a fire pit and a small seating area to the mix.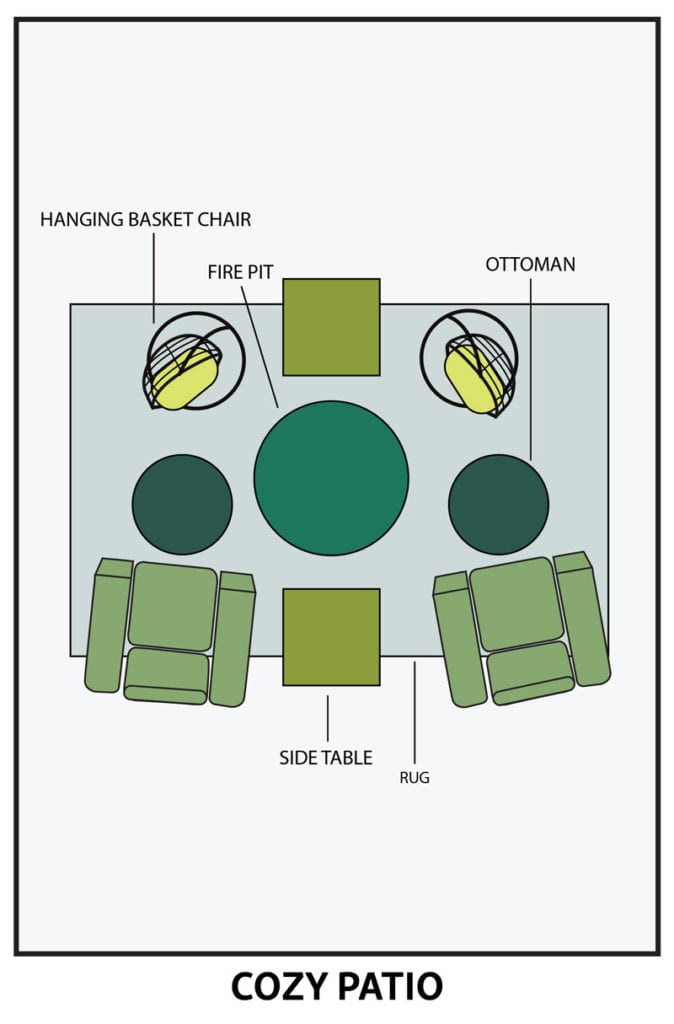 Comfy Cozy Patio
Create a cozy haven in your outdoor space with the cozy patio layout above.  This style is based on comfort and tailored towards a smaller outdoor living space. Large plush seating like the Brookstone Chair will help you fall back and relax on those gorgeous summer nights. Pair the chairs with the Brookstone Ottoman to kick up your feet for ultimate leisure. If you're looking for something to add a peaceful vibe, take a relaxing swing in the San Martino Basket Chair. Consider adding a fire pit that doubles as a coffee table to add flexibility and comfort. Fire pits are a great way to create a tranquil atmosphere.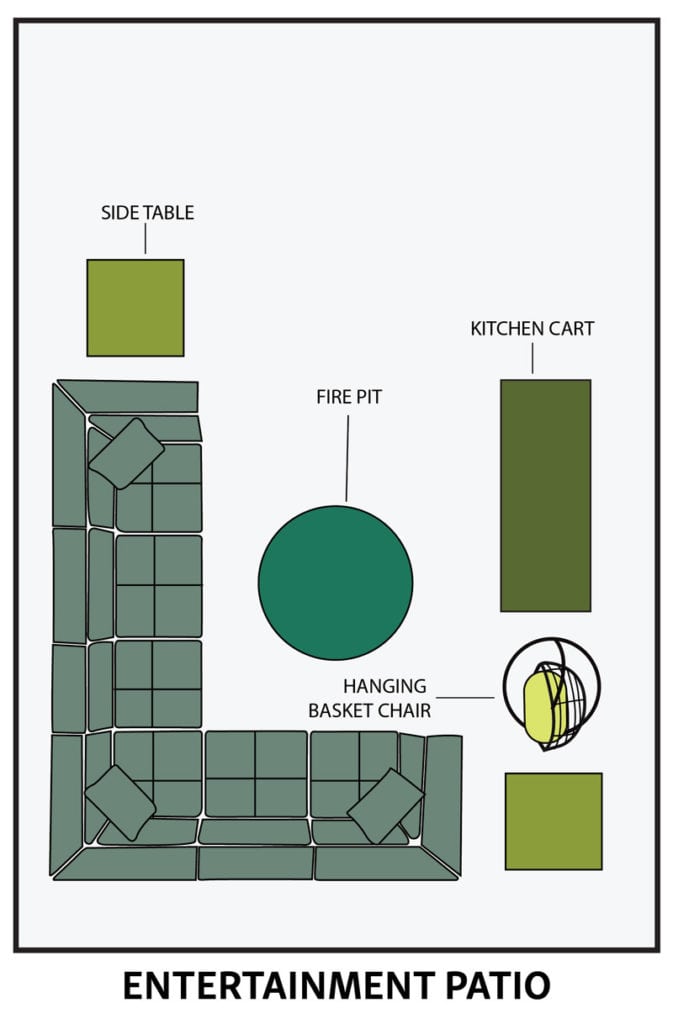 Entertainment Patio
Create an open space patio equipped with everything you need for summer entertaining. Choose a large sectional for everyone to lounge together. A fire pit table allows the kids (or adults) to roast marshmallows all summer long on those cool summer nights. Add a few side tables for holding snacks and drinks on either side of your large outdoor sectional. Another clever addition to your entertainment patio is a bar cart like the Casa Viejo for easy maneuvering around a game of charades.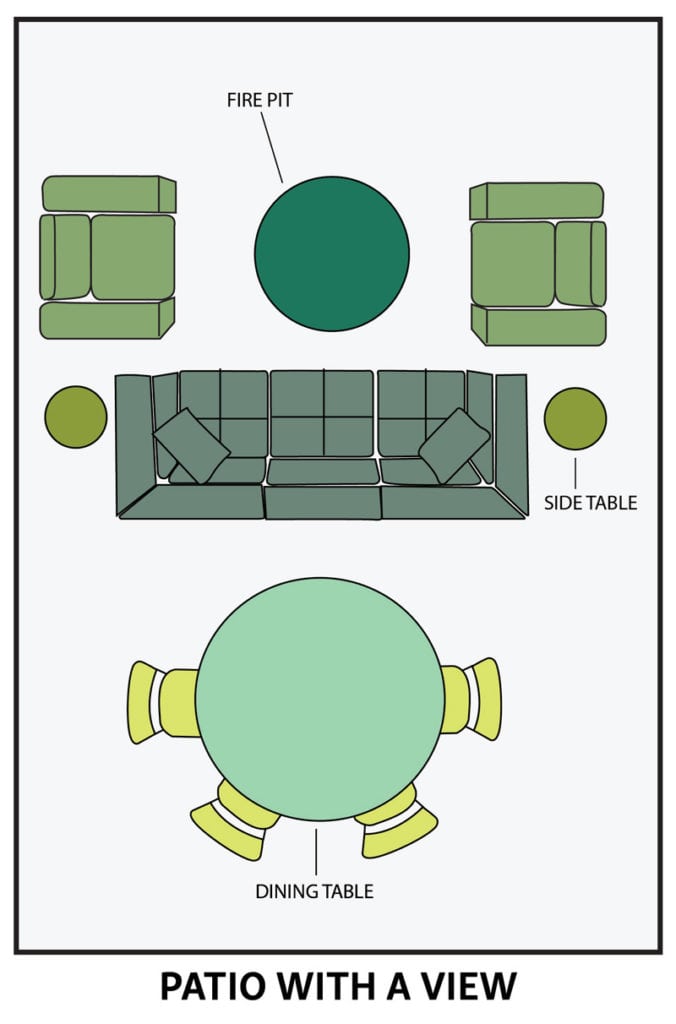 Patio with a View
If you're lucky enough to have a patio with a view, create your layout with scenic gazing in mind. Layer your design with the sofa in front of the dining area, so everyone has a seat of the beautiful sights. A set like the Brookstone is perfect as it's available to pair with matching side tables and a coffee table. A round dining table with swivel chairs like the Geneva Swivel Club Chair is also ideal so no one misses the sunset.
Shop all Outdoor Furniture here.
More Layouts Be sure to check out the rest of our Layout Guides for even more inspiration!
Living Room Layout Guide Dining Room Layout Guide Bedroom Layout Guide Studio Apartment Layout Guide Football Game Day Layout Guide 3 Nursery Layouts