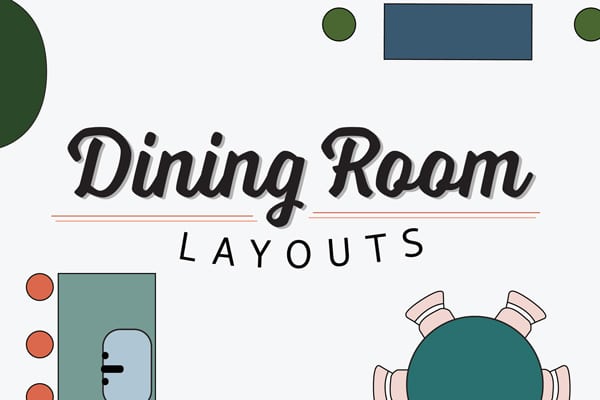 Dining Room Layout Guide
When arranging your dining room furniture, you should not only think about what is visually pleasing but also the most functional use of the space. Whether your home layout is traditional, open, large or small this guide will help you create a dining space from which you and your family can get the utmost enjoyment.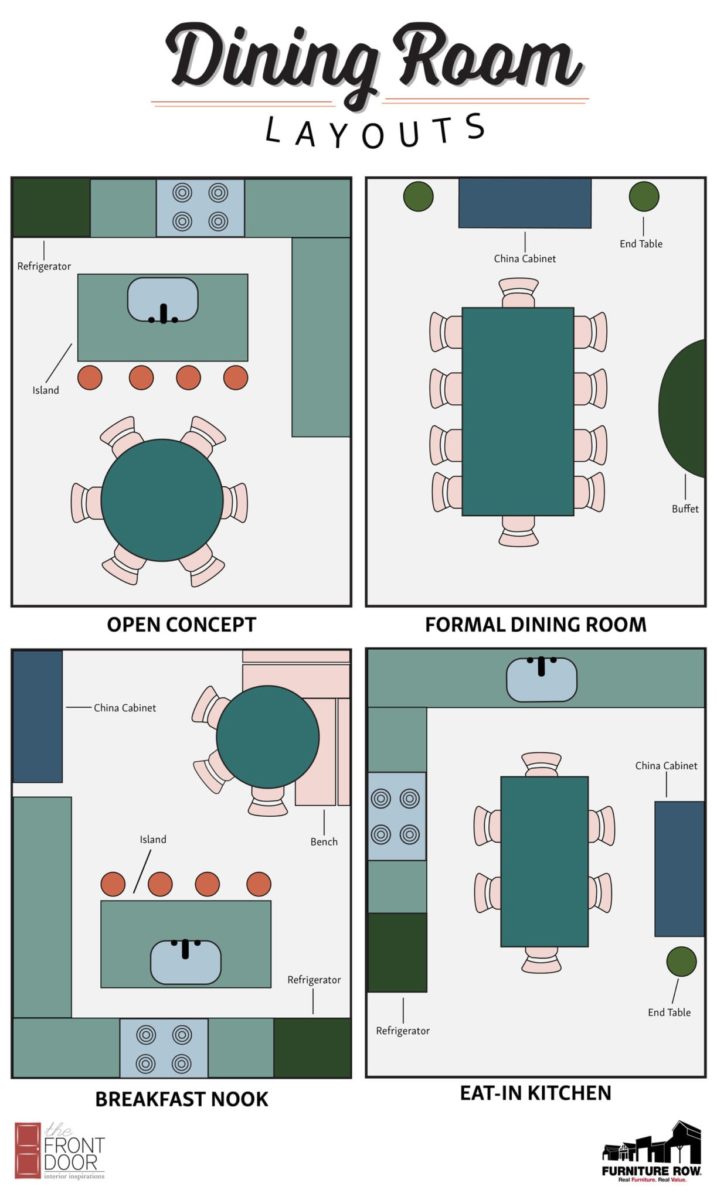 Open Concept
In the case of newer, modern homes, an open concept kitchen is not all that unusual. Open concepts are designed to provide a practical space for entertaining all the while supplying a cohesive flow between the kitchen, dining and living room. In an open concept home, your dining room layout should flow between the kitchen and the living room serving as an integrated space to gather.  In this dining room layout, we have combined a round table joined with six dining chairs just at the edge of the kitchen. The simplicity of a round table between the kitchen and living room allows a practical connection of rooms without sacrificing functionality and space. In addition to your dining table, try adding barstools to your kitchen island to continue the flow of social space. This dining room layout is perfect for work, rest, and play.
Formal
If you desire a sit-down meal with the family without interruptions, a formal dining room layout is the arrangement for you. There is just something about the romance of a room devoted to eating and entertaining that we are quite fond of. While in the process of choosing the right furniture for this dining room layout we suggest choosing a table large enough to fit your family and friends. To boost the formal atmosphere, choose a sophisticated table with intricate detailing such as the Interlude or the Sedona.
Breakfast Nook
If you don't have the space for a formal dining room or want something whimsical to sip your morning coffee, a breakfast nook is the perfect dining room layout. Don't let this fool you, it's not hard to achieve! Transform your kitchen from drab to fab by simply adding a couple of benches to a corner, paired with a small dining table and two or three chairs. Voila, you've created a cozy corner that will make mornings much easier.
Eat-In Kitchen
Don't let dinner time be exhausting, allow it to be quality time spent with the family. This dining room layout is the ideal model if you desire to keep prep, dining, and cleanup in one convenient area. If you have a large enough kitchen, place your dining table in the center of the room. This allows the table to double as an island during meal preparations. The eat-in kitchen dining room layout creates a central place for family to gather, thus allowing you to catch up in today's busy lifestyle. This layout might take some creative shifting of your kitchen space, but you won't regret the benefits it has to offer.

With these great dining room layouts, you can update your dining room with confidence. These layouts are a starting point, but we know that not all homes are made the same. Don't hesitate to make adjustments and customize your dining space to fit your lifestyle. Happy arranging!
Shop all dining room furniture here.
More Layouts Be sure to check out the rest of our Layout Guides for even more inspiration!
Football Game Day Layout Guide