How We Styled the 2022 St. Jude Dream Home in Denver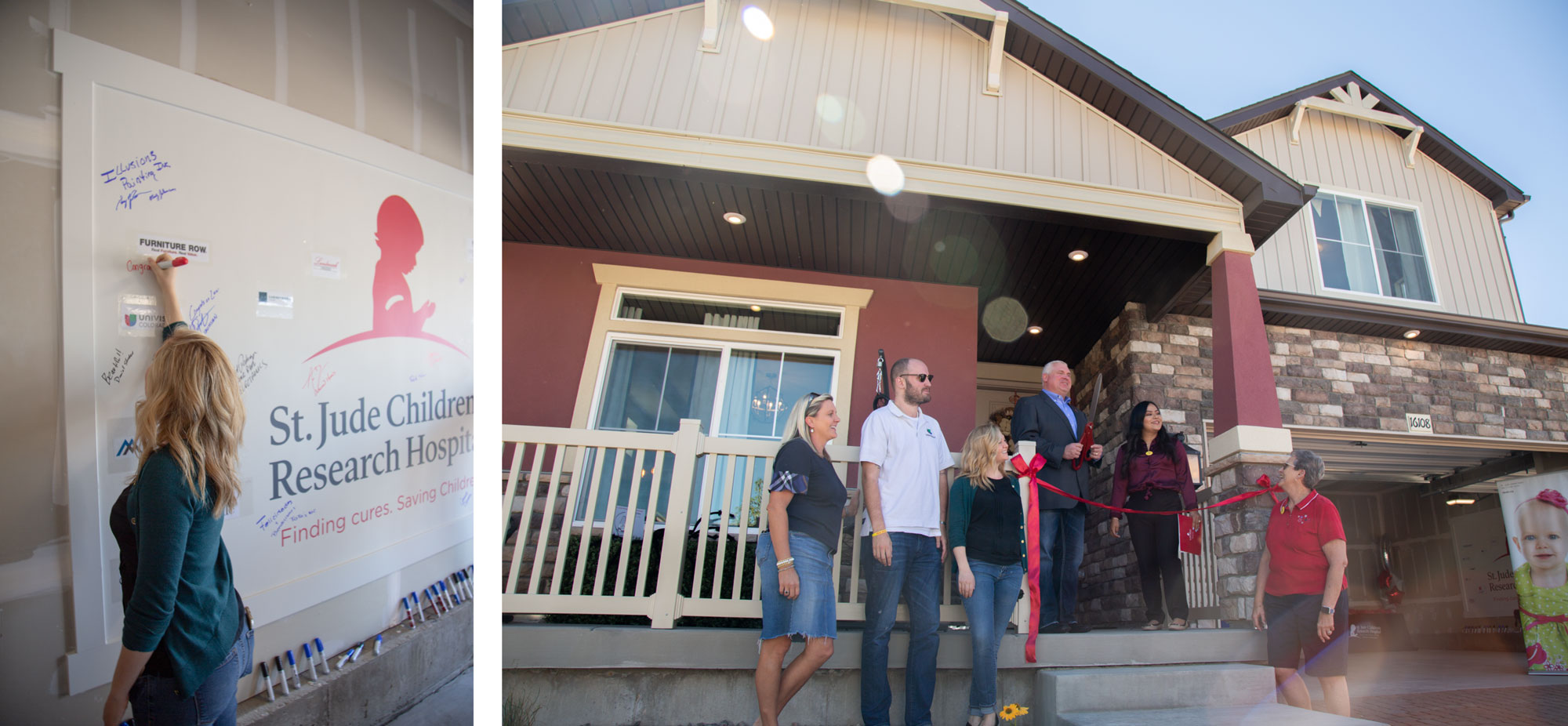 With over 20,000 tickets sold, the 2022 St. Jude Dream Home Giveaway in Denver has been a huge success! As in years past, Furniture Row played a part in this incredible contest by furnishing and styling the interior of the Dream Home, and to celebrate its completion, we're offering a detailed glimpse into how exactly the unique style of this year's home came to be.
The impeccable style of the 2022 Dream Home
The interior of this year's Dream Home showcases a beautiful yet somewhat-unexpected marriage of rustic and contemporary design elements. 
As any interior designer can tell you, creating a cohesive home aesthetic is more than just coming up with the right configuration of beautiful furniture. A truly well-designed home showcases a specific style within an inviting and livable interior; and every element, from the home's semi-permanent fixtures and finishes to the furnishings and decor found in each room, complement each other to make a lasting impression. 
To help us get a better understanding of the unique style of the 2022 Denver Dream Home, we interviewed the two people who had a direct role in its creation: Hannah McKenner, the Interior Designer at Oakwood Homes, and our very own Furniture Row designer, Barb Chandler.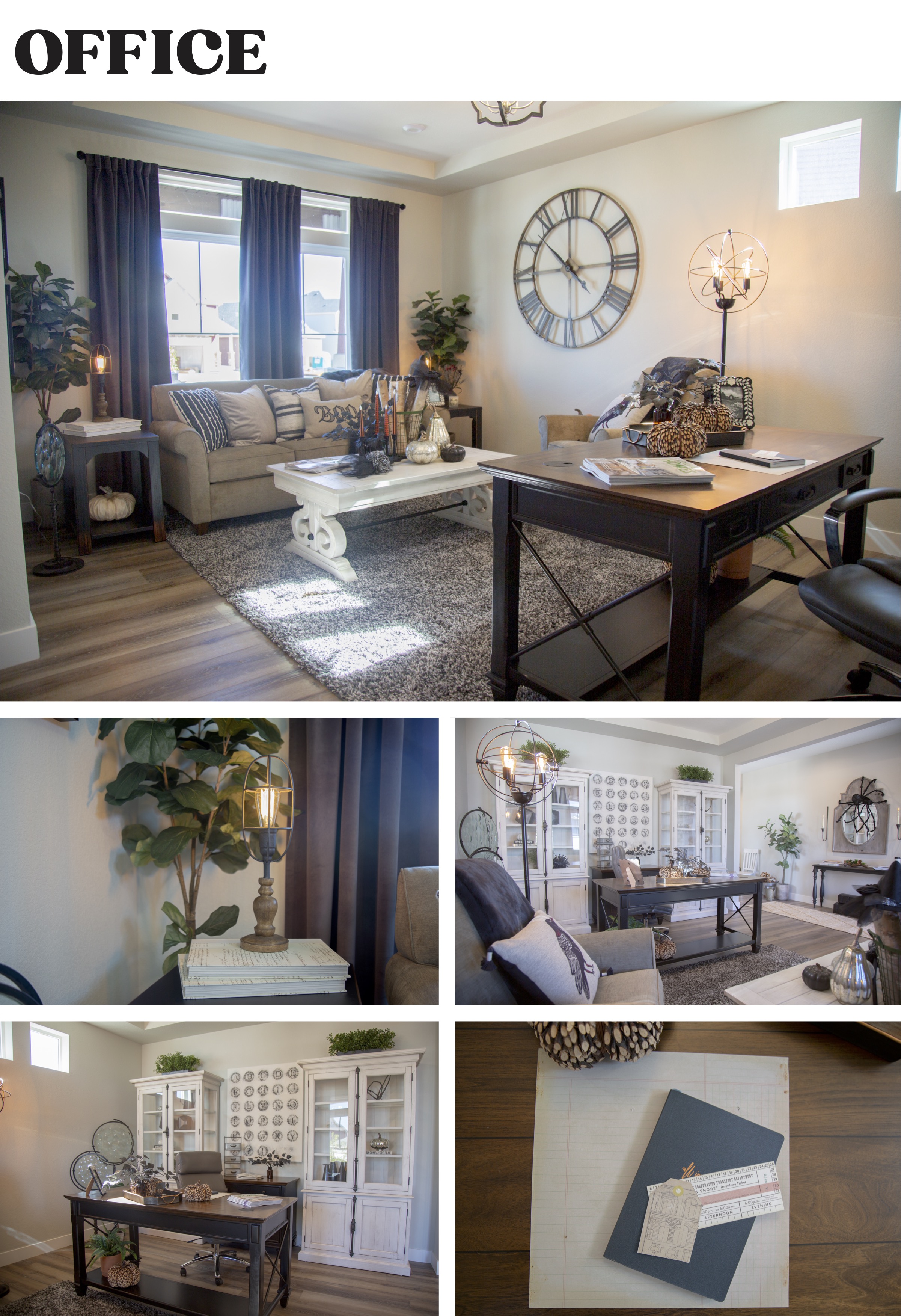 ---

The Semi-Permanent Fixtures & Finishes
As the Oakwood Home's Interior Designer, Hannah McKenner made all the final decisions relating to the semi-permanent fixtures and finishes of this year's Dream Home. If you're new to interior design, the term "fixtures and finishes'' refers to the design elements that are physically attached to the home. These can include the types of flooring, counter tops, as well as the tiles used in the kitchen and bathrooms; and they include the colors of paint used on the walls, ceilings, as well as the type of hardware that adorns the sinks, cabinets, and doors. 
Here's what Hannah had to say about her thought process: This year's Dream Home is contemporary, spacious, and it offers some of the best views of any Dream Home in recent memory. I envisioned it being loved by everyday families, so I wanted it to be inviting, livable, but also with an elevated sense of style to set it apart from the rest. Because it is a gorgeous new home with beautiful views of the great outdoors, I decided to try and create an aesthetic that combined the natural tones and textures found in rustic or farmhouse designs with touches of modern sophistication and glamor. To achieve this, I decided to go with a color palette that paired deep greens and natural wooden tones with bright whites, glossy surface materials, and splashes of matte black hardware for contrast. Throughout the home you'll find aspects of this palette playing out in different ways, and, because it's so spacious, we were also able to include plenty of unique light fixtures to bring it all together. 
Before we get into the individual rooms, let's first talk about the design elements that can be found throughout the Dream Home's interior. Hannah evoked a sense of the outdoors by painting the walls of the home a light sage green color, and she painted the ceilings a brilliant white to ensure a measure of contemporary appeal. The bedrooms of the home feature neutral-toned carpeting, but every other room features flooring made from planks of vinyl that offer the authentic texture of timeworn, knotty wood to deliver a sense of rustic character. According to Hannah, "the flooring is a luxury vinyl flooring, and I just love the look of it. It has that beat-up look and graining that gives it a very rustic feel, but it's also very durable, scratch-resistant, and easy-to-clean." 
The main floor of the Dream Home consists of a charming entryway with a full bathroom, a cozy dining room attached to a chef's kitchen with a roomy central island, a large great room with spectacular views, a small reading room, and a gorgeous home office space. Each room features hardwood floors and the aforementioned painted color scheme, but the kitchen, living room, and dining room all feature unique design elements that serve to elevate the home's distinctive aesthetic. 

Like in many homes, some of the most impactful fixtures and finishes are located in the kitchen. In a nod to the color palette found on the walls and ceilings, the lower kitchen cabinets are painted a deep forest green while the upper cabinets are finished in a bright Sea Salt white. For the countertops, Hannah opted to use a crystalline white quartz because it is durable and easy to clean while still providing a hint of glamor. For the backsplash running behind the counter tops, Hannah went with natural stone tiles in an elegant lantern pattern, and finally, above the kitchen's roomy central island, she installed three large hanging pendants with Edison light bulbs surrounded by ornate glass globes to illuminate the space.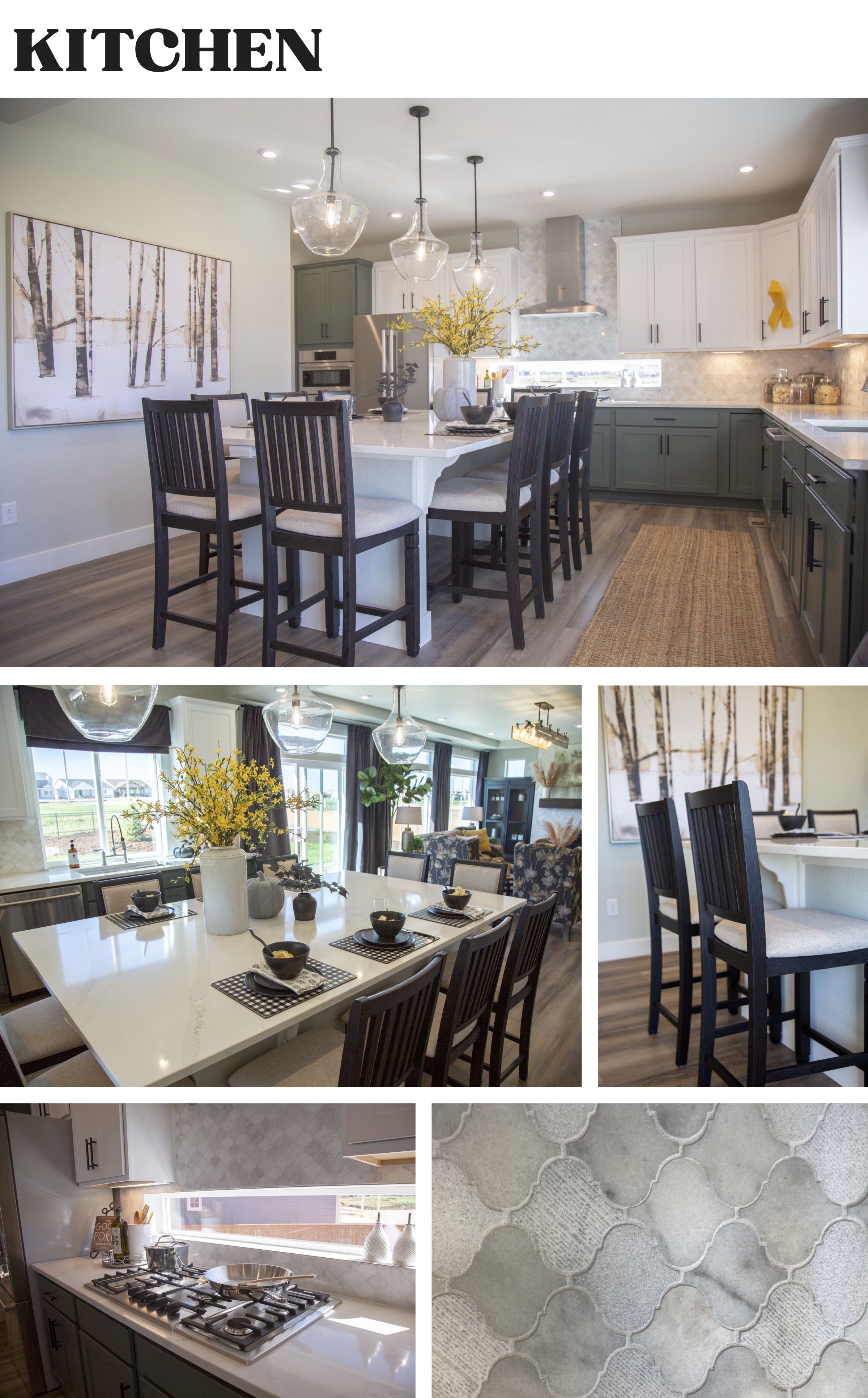 The living room's roomy footprint and large windows allow the wooden texture of the vinyl flooring to take center stage, giving the room a decidedly rustic feel. To offset this with a touch of modern appeal, Hannah decided to feature a contemporary black electric fireplace surrounded by classic white marble tiles in a sophisticated chevron pattern. 
The dining room was roomy enough to feature a large hanging chandelier full of rustic and even industrial appeal with its chain link accents and vintage bulbs, and the nearby guest bathroom pairs classic terra cotta floor tiles with posh white marble shower tiles to bring the look home.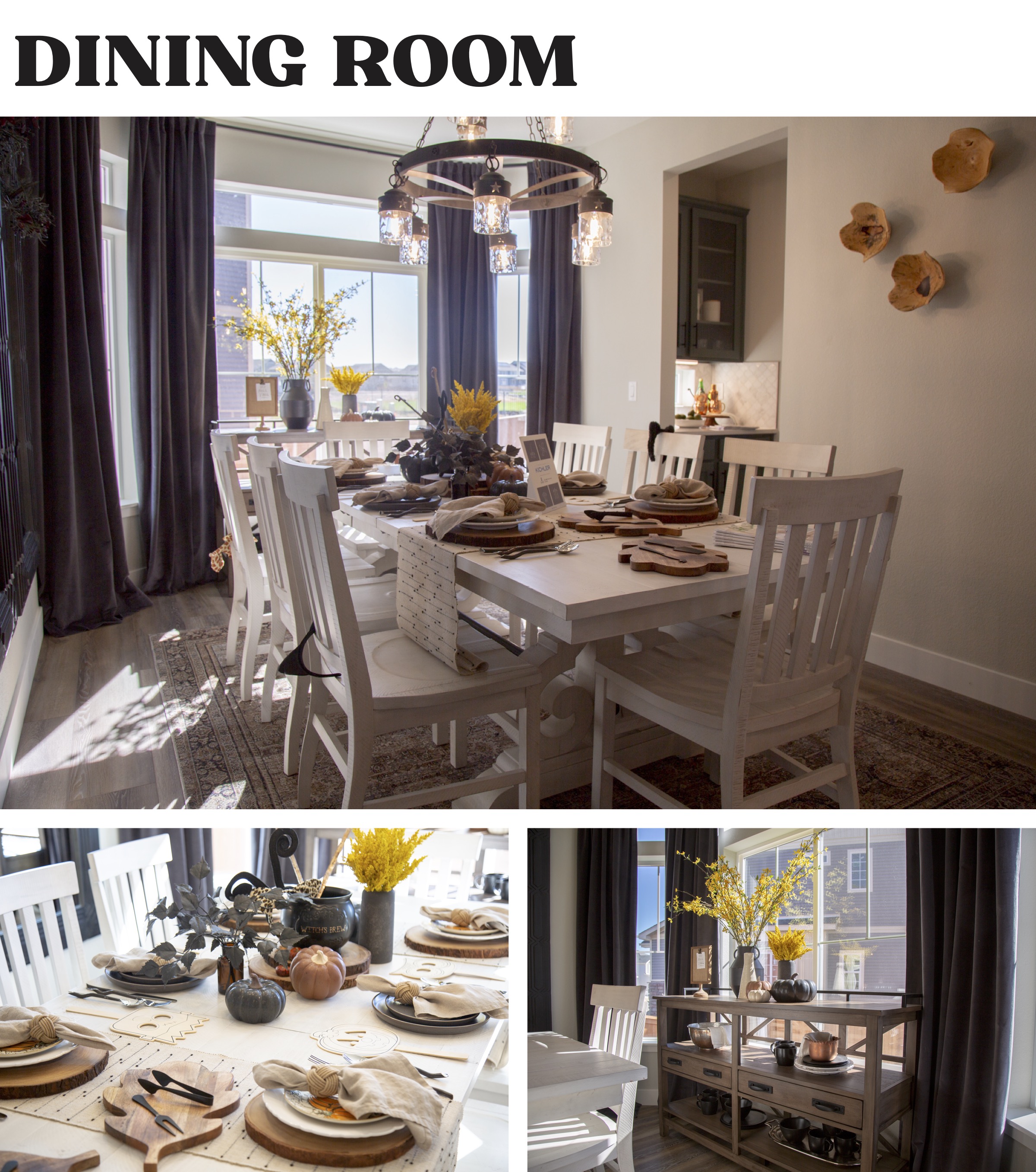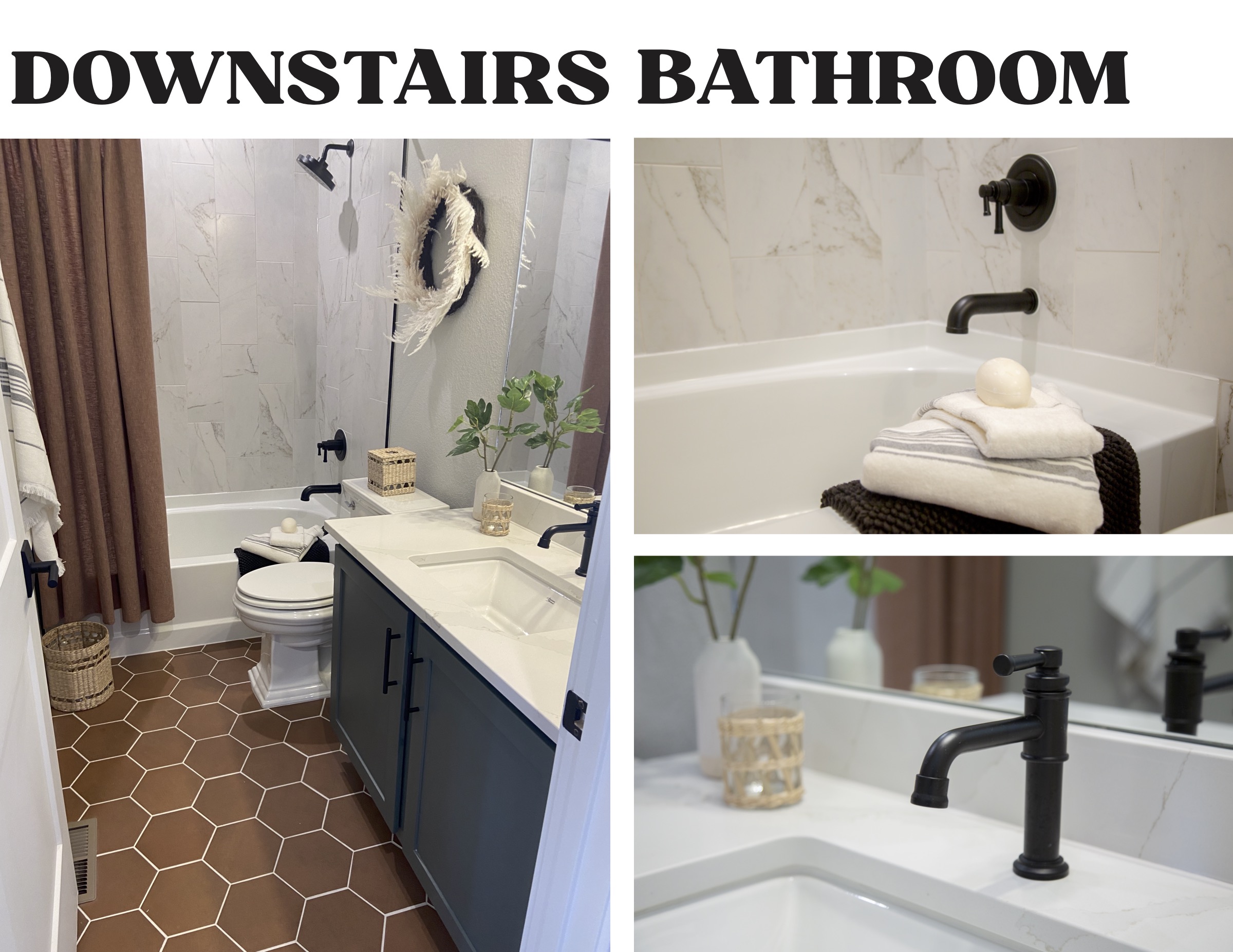 ---
The upstairs of the Dream Home consists of a living space, a guest bedroom, a girl-themed kids bedroom, a shared bathroom, a laundry room, and a large primary bedroom with an ensuite bathroom. 
The living space at the top of the stairs seamlessly continues the home's aesthetic and features a large ceiling fan with a spoked design that echoes that of the chandelier in the dining room.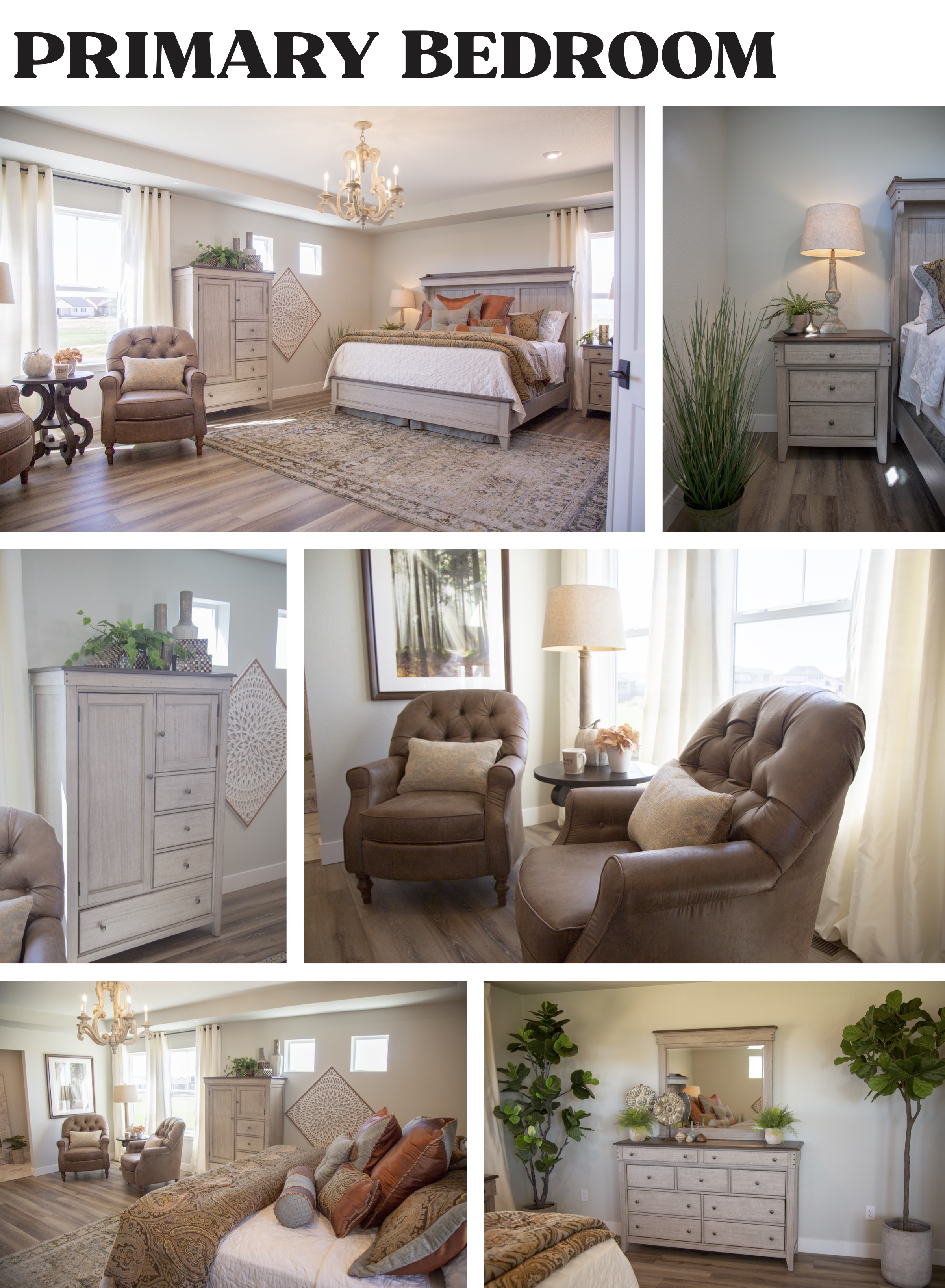 The tile choices in the two upstairs bathrooms also continue the aesthetic flawlessly. The shower in the shared bathroom upstairs combines vertical green tiles with natural stone tiles in a chevron pattern, and the primary bedroom features glossy white marble floor tiles which are then paired with stunningly-unique shower tiles that imitate the look of weathered wood.
Finally, Hannah used the laundry room to branch out a bit and make a unique statement. It features floor tiles with a wide variety of patterns, each different from its neighbor. According to Hannah, "Even though it can make some people nervous, I Iove the patterned tile in the laundry room. It's bold, it's unusual, and the laundry room is a perfect place for it because it's a personal space that can be shut off behind a closed door. We learned during COVID to try to find the joy in everyday home tasks, and a relatively daring design like this can really make chores like laundry much more enjoyable."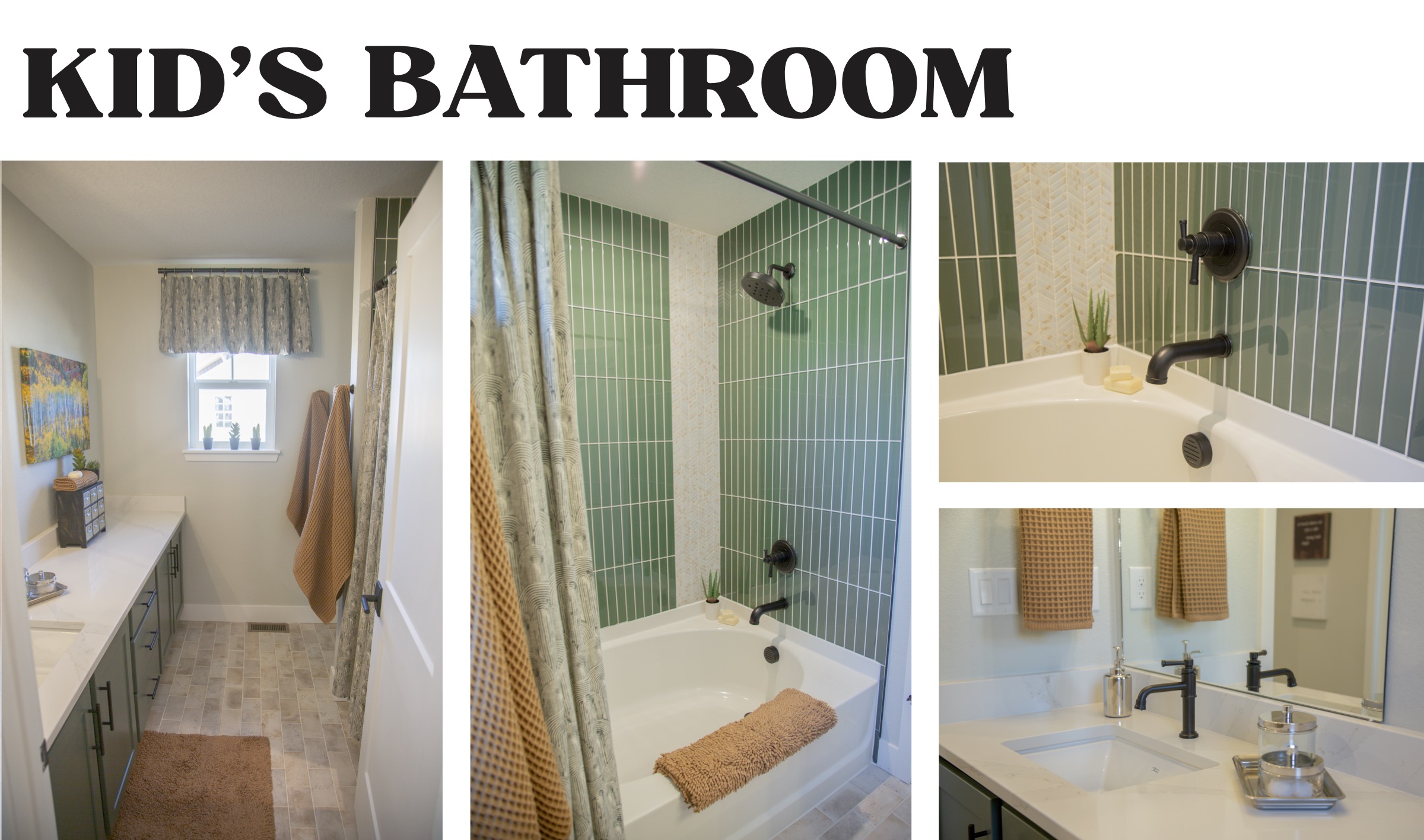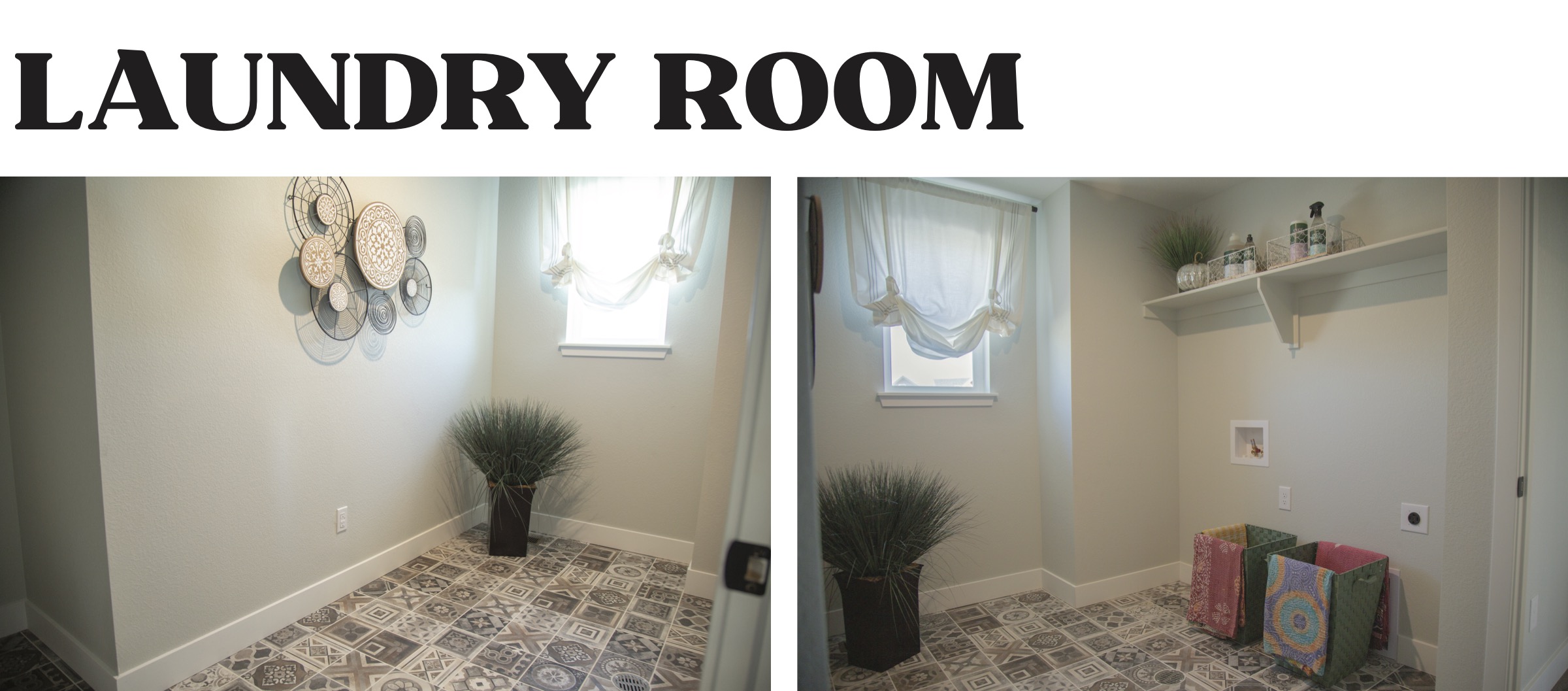 ---
The basement of the Dream Home features a large central living space, a bathroom, a boy-themed kids bunk bed room, a second guest room, and a third downstairs bedroom that's been converted into an office space.
The basement employs many of the same finishes and fixtures as the rest of the home, but there are some subtle touches in the bathroom that give it more of a "man-cave" feel. The shower is bedecked with glossy black tiles in a classic brick-house pattern, and the cabinets are painted  black to contrast the cosmopolitan white marble countertop.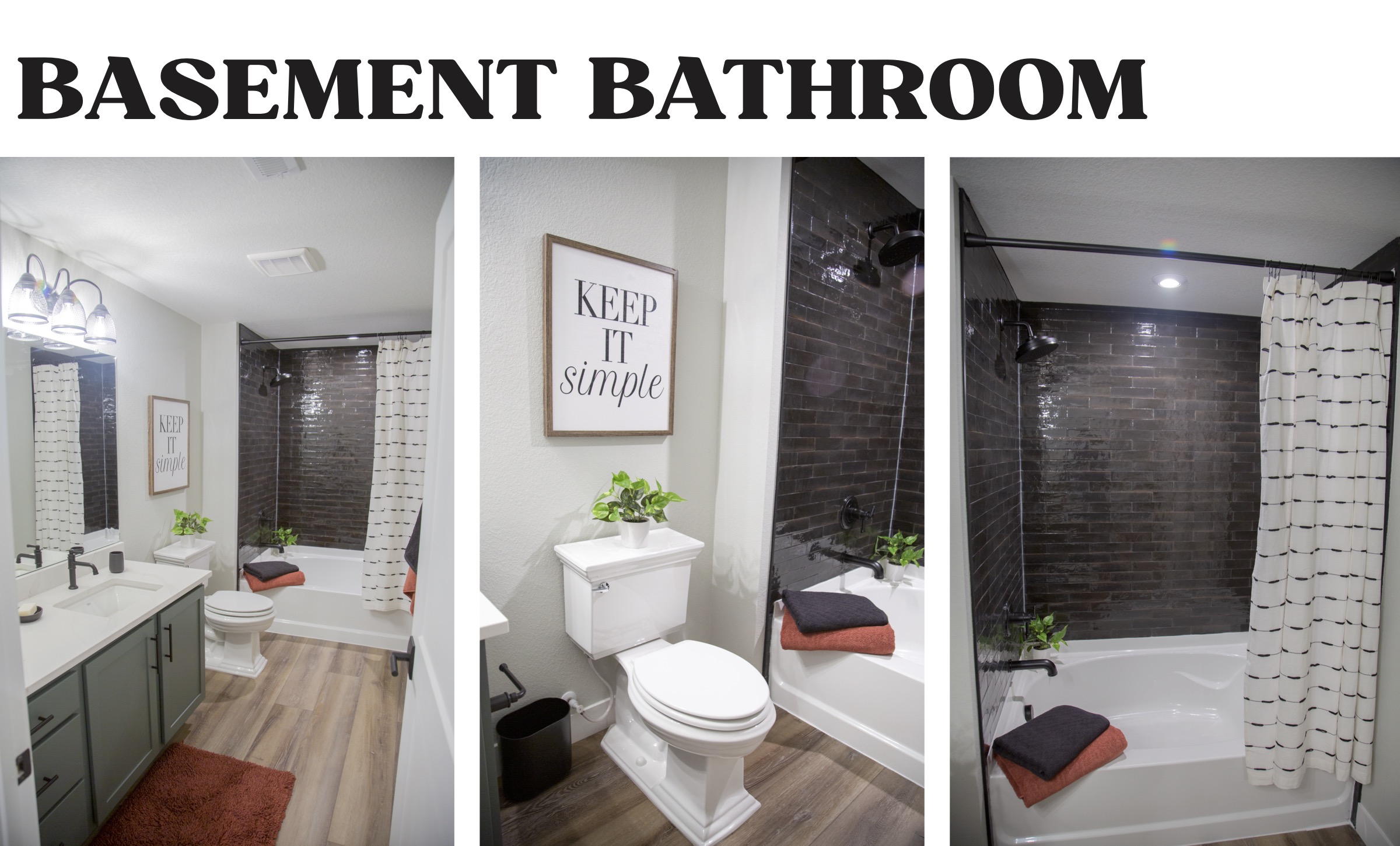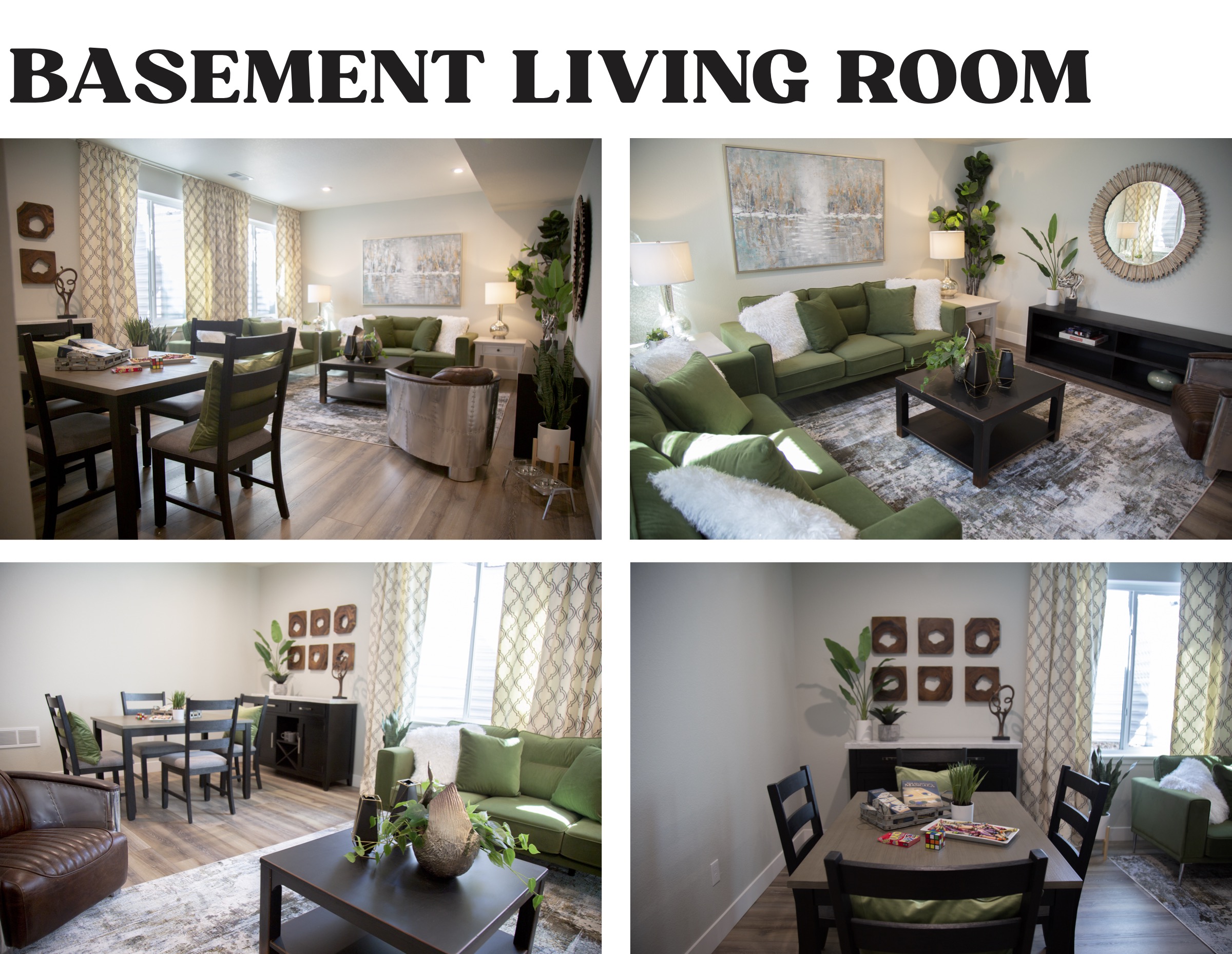 ---
The Furniture
Now that we have a good idea of what the Dream Home looked like before it was furnished, let's hear from Barb Chandler about how she decided to approach styling the interior.
I absolutely love the interior of this home! The natural green colors of the walls and kitchen cabinets as well as the combination of rustic light fixtures and weathered plank flooring give the home an organic feel, but there's also some very modern elements found throughout, like the countertops and a lot of the tiling. The combination of modern with rustic or organic is becoming more and more popular in the design world, and the fixtures and finishes of the home deliver this style in a really unique and exciting way. It was a joy to find furnishings to complement this distinctive space. 
As I always do when staging Dream Homes, I try to use pieces that are both new to Furniture Row and widely available at our stores. I want people to be able to see something they love while touring the home and find it at their local store. Luckily, because the rustic-contemporary look is becoming increasingly popular, there were a ton of new Furniture Row products for me to choose from! 
For the larger, foundational pieces in each room, I tried to use items that combine clean, contemporary lines with organic construction materials like wood and stone with simple finishes, or natural textiles like linen and leather. When it comes to accents and decor, I incorporated a large variety of charming rustic and farmhouse products as well as plenty of living plants in all shapes and sizes. For artwork I wanted to primarily use pieces that showcase natural scenes like landscapes and animals, and, lucky for me, some of the Designers from The Showroom @ Furniture Row were able to bring out some amazing paintings that really helped me continue the outdoor aesthetic from room to room. On top of that, I also included some artwork by local Vail artist Agostina Sampieri to tie in a bit of a Colorado theme here and there. 
Finally, because the home is being shown in the fall, I complemented the green color palette with bright golds and other spicy, warming colors, and I also tried to do a little nod to Halloween, but in a tasteful, upscale way with only a few holiday-themed items in the entryway and living room.  
Now that we know Barb's thought process, let's take another quick tour of each level of the Dream Home to see how she made the design such a success.
Main Floor
Barb's expert influence is felt as soon as you step into the central living room. Two Palatino Leather Sofas serve as the room's foundational pieces, each showcasing modern low-profile silhouettes, streamlined track arms, and genuine leather upholstery in a natural light brown color. Touches of traditional farmhouse style are added to the space with Schumacher II Accent Chair and the Braxton Coffee Table, and the room is rounded out with plenty of rustic accents, living plants, and artwork with an outdoor theme.
In the kitchen, Barb was able to complement the large central island with simple yet sophisticated Grammercy Park Barstools, and in the dining room she combined the Flagstaff 4 Pc. Dining Set with the Mahogany Farm Server to instill a sense of homespun character. Barb also decided to use curtains with a "soft black" color  in the dining room instead of gray or charcoal to offset the farmhouse look with a more moody, modern vibe.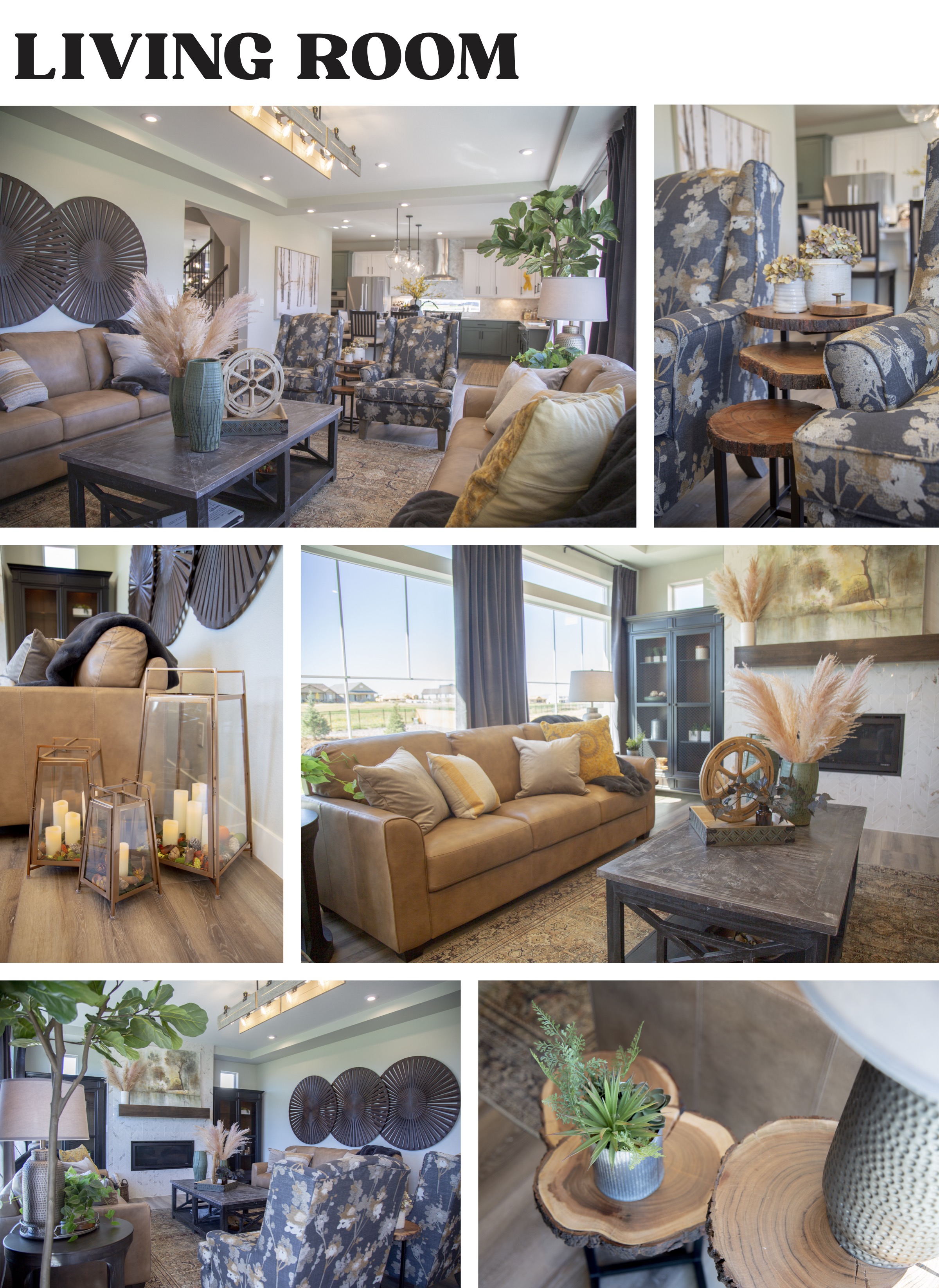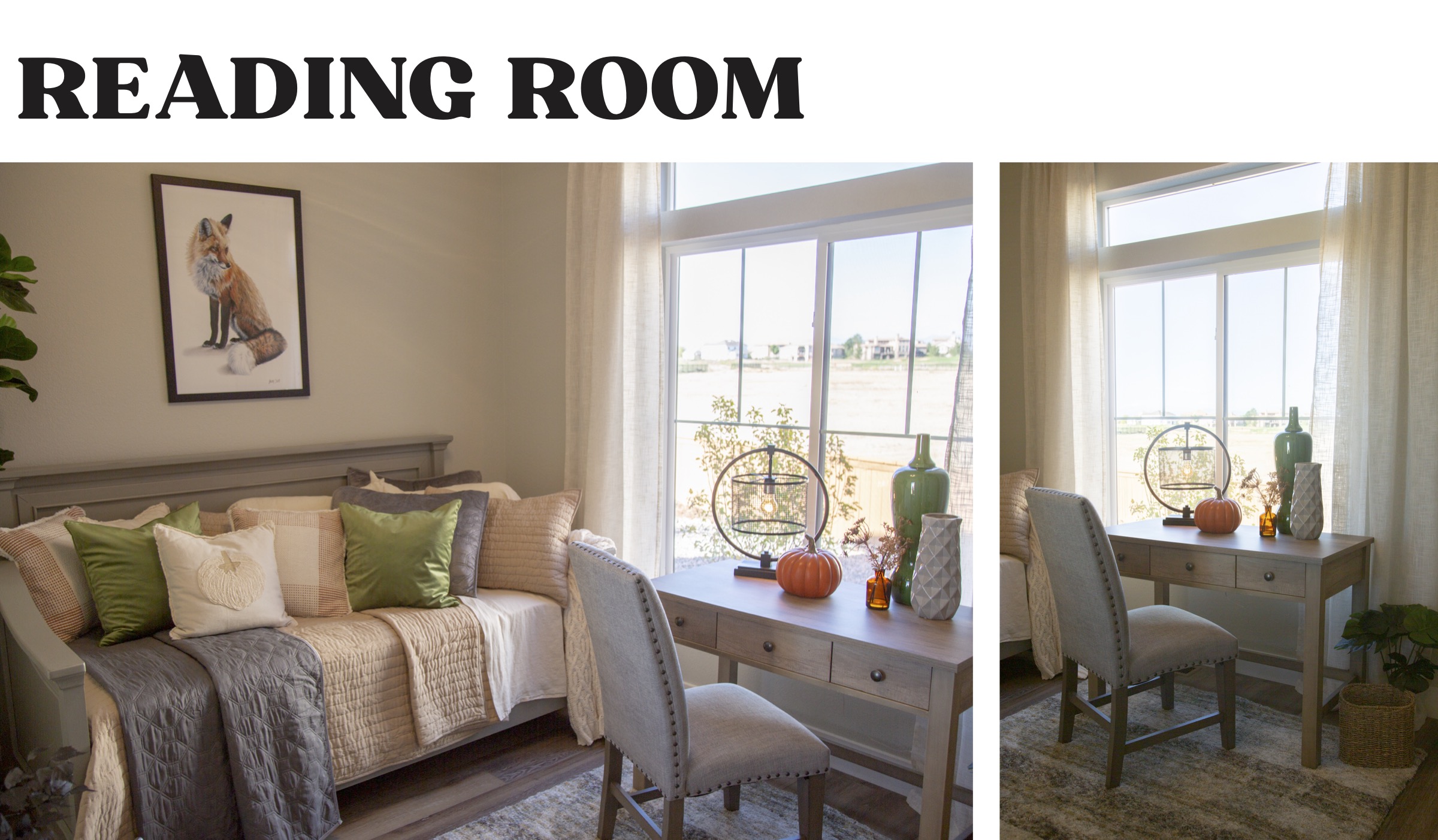 Upstairs
Like she did on the main floor, Barb styled the upstairs by starting with large-scale pieces that offer clean, contemporary lines and organic materials. In the upstairs living room, the Sumptuous 2 Pc. Sectional delivers a casual-contemporary design with a super–soft, fleecy upholstery, and the Gorman Accent Chair offers an updated take on mid-century modern style with cushions wrapped in warm brown leather. 
In the primary bedroom, Barb chose the farmhouse-inspired Tipton Bedroom Collection to serve as the main bedroom furnishings. The Tipton Mantle Bed delivers a charming mantle headboard with homespun planked detailing, all within a straight-lined frame; and the Tipton Dresser and Nightstand each offer plenty of storage along with timeless overhanging tops.
In the girl-themed kids rooms, Barb used the Picket Bedroom Collection as well as the Springtime Bedroom Collection to instill sense of inviting homespun charm, and in the guest bedroom she paired the contemporary Hermosa Upholstered Bed with the Mission-inspired Berlyn 10 Drawer Dresser. In all of the rooms upstairs, Barb decorated with a wide variety of natural and rustic accents like the Sedona Round Accent Table, the Turner Table Lamp, the Industrial Table Lamp, and plenty of artwork showcasing animals or other scenes from nature.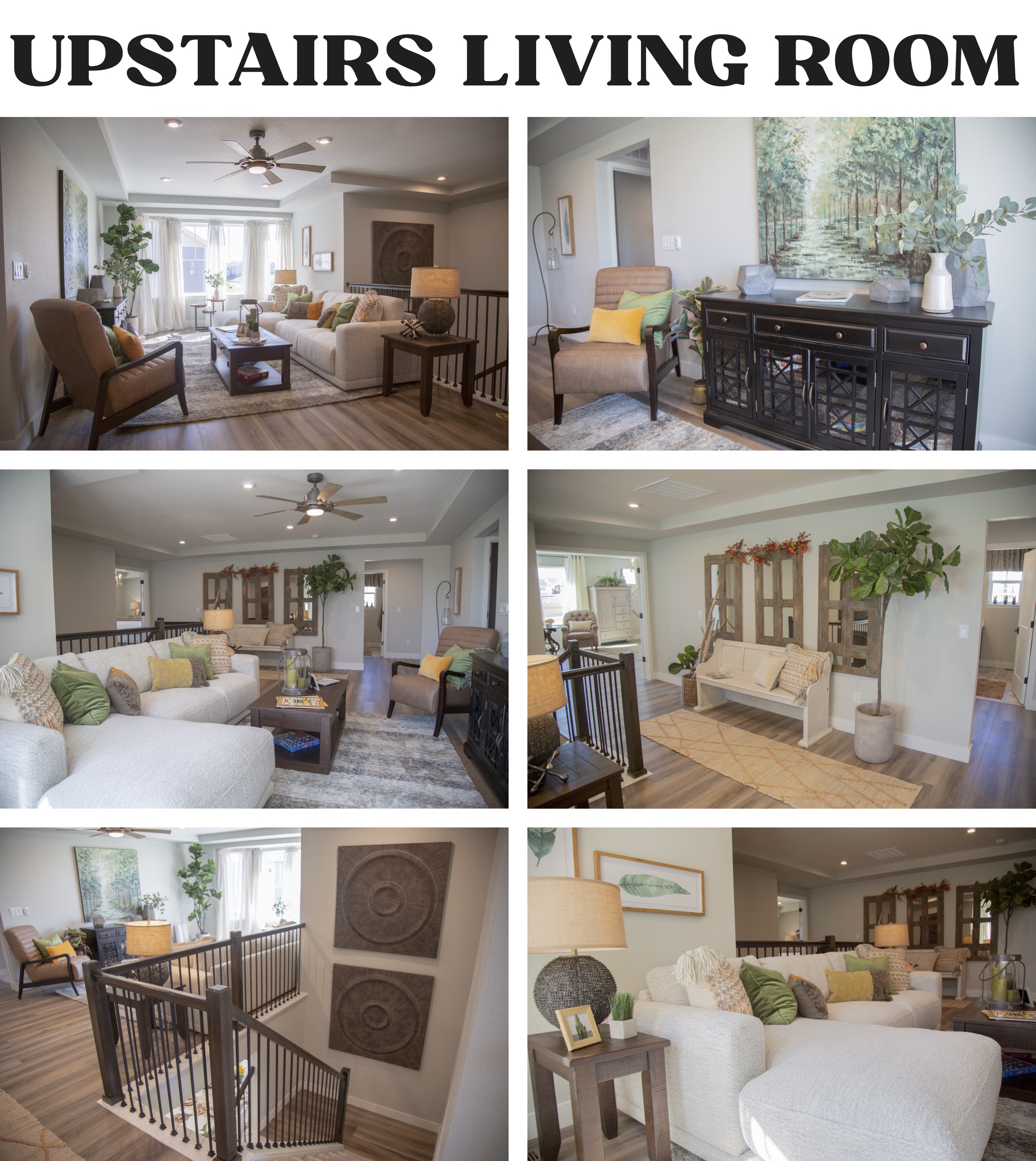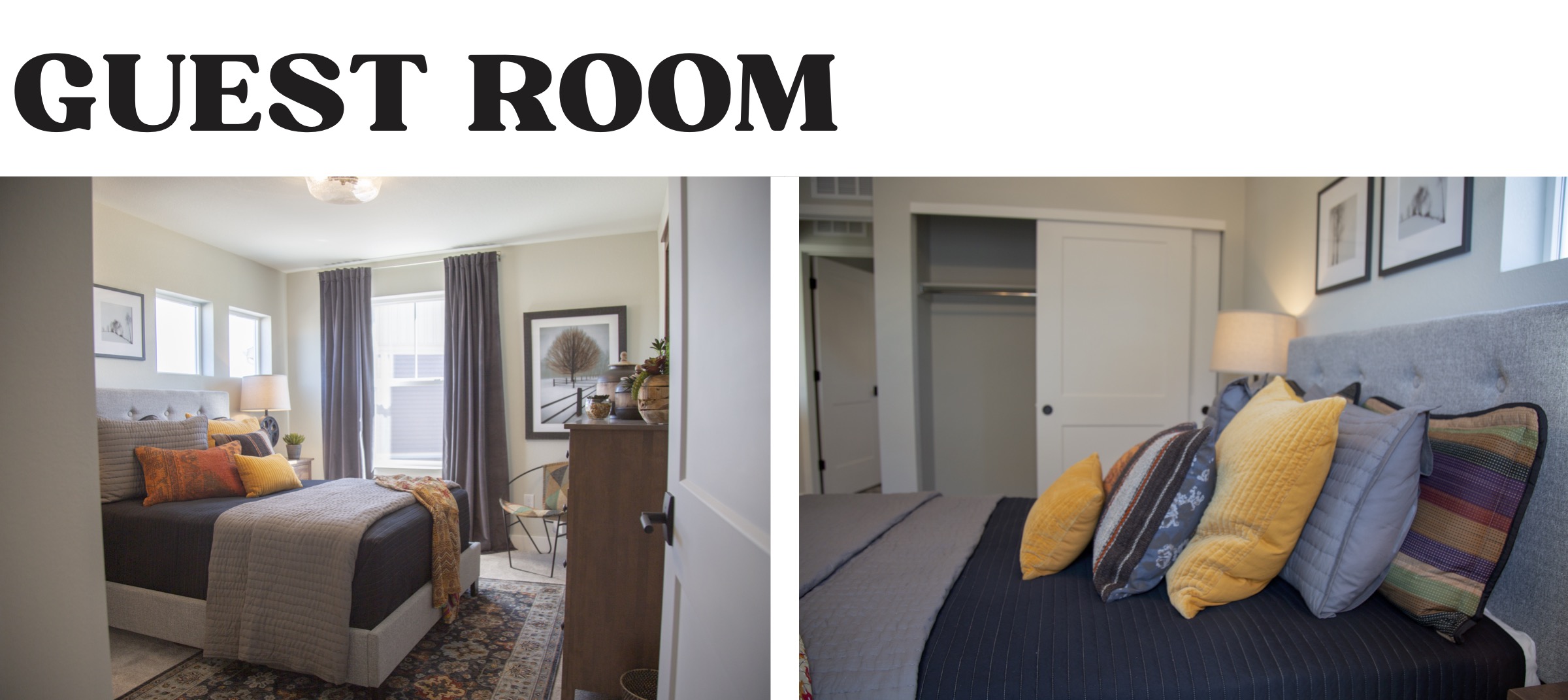 Basement
In the basement, Barb leaned a bit more into the contemporary side of things. In the basement living room she started with the mid-century Mika Sofa with rich forest green upholstery, and she paired it with the easy-going Martin 5 Piece Dining Set. The River Valley Coffee Table was a perfect addition with its all-wood exterior and clean-cut design, and the Aviation Leather Club Chair bridged the rustic gap with a touch of industrial and boho flair thanks to its aluminum sheet metal sides and rich top grain leather upholstery. 
The basement bedroom-turned-office features the Ivory Dining Table which offers a crisp, modern white marble top, and it pairs the casual-contemporary Centurion Loveseat with the transitional Concord Bookcase in a clean white finish. To bring the rustic or traditional feel to the basement, bedroom features pieces from the classically-minded Entrada Bedroom Collection as well as the Rockport Table Lamp for a touch of vintage nautical charm. Finally, Barb used a lighter touch when it came to rustic or farmhouse decor, and she found artwork that showcased outdoor activities to build upon the basement's man-cave aesthetic.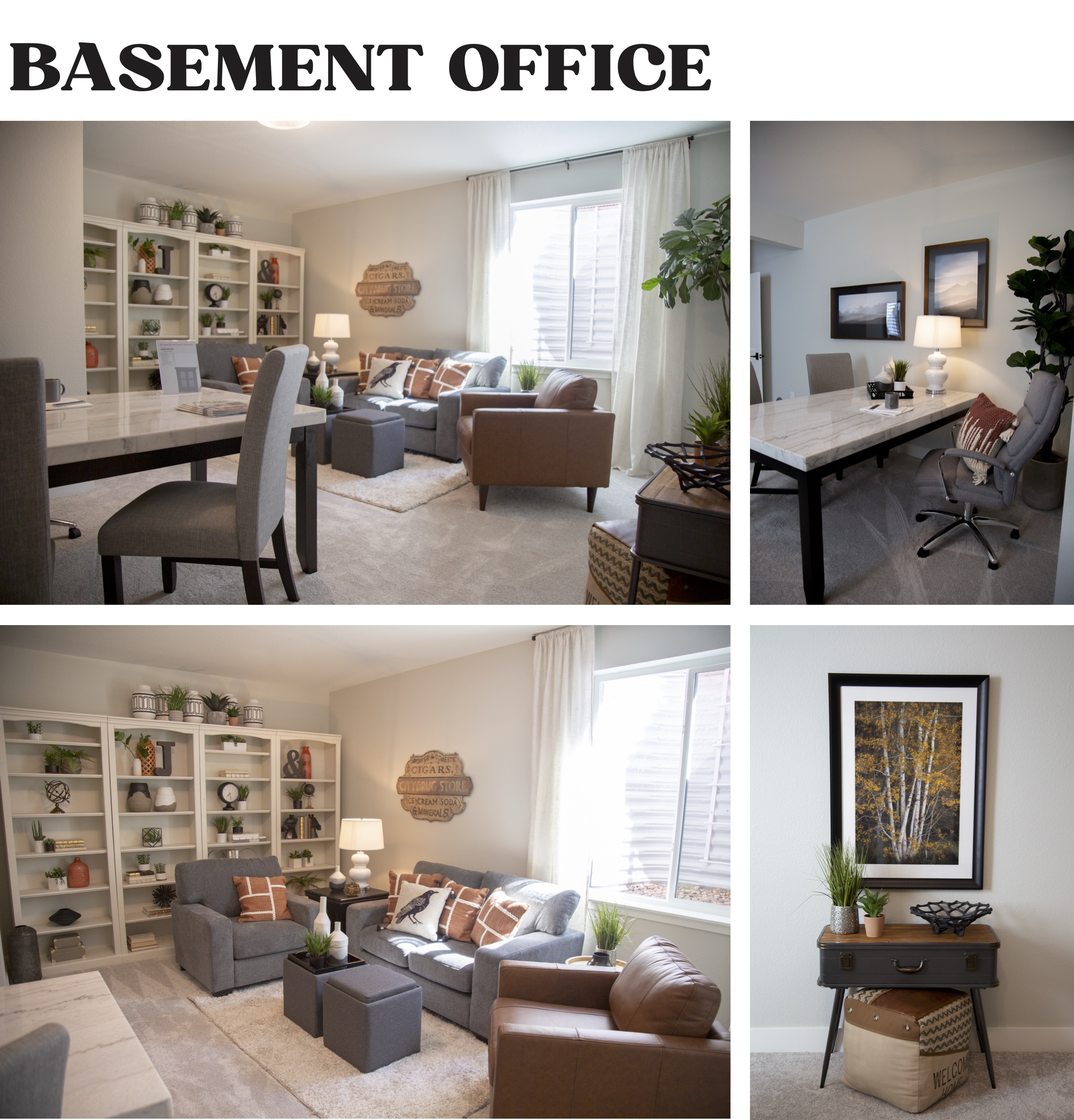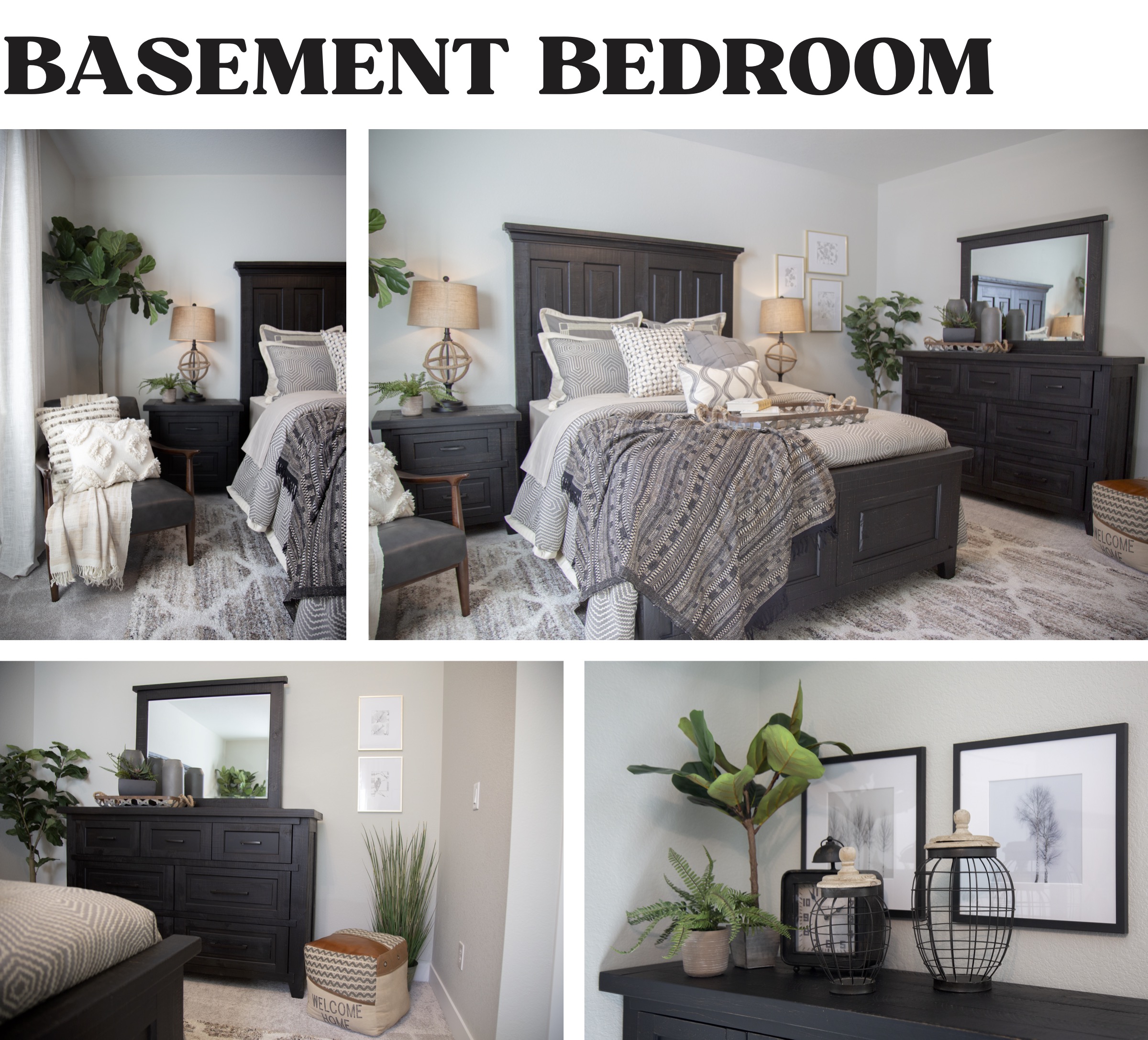 Come and see it for yourself!
We hope this virtual tour of the 2022 St. Jude Dream Home in Denver will help inspire anyone who's thinking of remodeling or restyling their home, and we're looking forward to seeing all of our readers during one of the free tours in the coming weeks! Don't forget, you can still come to the Shop the home event on Saturday, October 22nd, you can still enter for a chance to win the $10,000 Furniture Row Shopping Spree during any of the open house weekends, and you can always donate directly to St. Jude Children's Research Hospital or participate in a St. Jude Walk/Run to help support this incredible organization.