Interior Design Insights: The 2023 Denver St. Jude Dream Home
You probably already know about the St. Jude Dream Home Giveaway Contest in Denver, but did you know that this year's Dream Home is already completed and ready to tour? That's right, the 2023 Denver St. Jude Dream home has been constructed, furnished, and tickets to enter the event are already on sale! 
In case you haven't heard, the St. Jude Dream Home Giveaway is a raffle ticket contest that takes place annually in major cities across the country. All proceeds raised in each Giveaway Contest are used to make sure that the families and patients of St. Jude Children's Research Hospital never have to pay for their life-saving treatments. Here's how it works: Every year a local homebuilding company builds a brand new home and donates it to the event. Then, raffle tickets for the contest are sold throughout the community, and, once the contest reaches the final day, one lucky ticket holder is selected as the winner of a brand-new Dream Home. 
 
Click Here to Shop the Full Furniture Collection
The 2023 Denver Dream Home
This year's Dream Home, presented by Oakwood Homes, is located at 16091 E 111th Circle in the beautiful Commerce City, Colorado. With an estimated value of $735,000, this home is a true masterpiece with over 3,000 sq ft of interior space, 4 bedrooms, 3.5 bathrooms, and a spacious 3-car garage. In addition, the home features a chef's kitchen with Bosch stainless steel appliances and a large eat-in island, a fireplace in the living room, a spacious finished basement, and a covered rear deck patio. 
Don't miss your chance to tour this incredible Dream Home during the open house weekends, which run from September 16th to October 8th. During this time, the home will be open to the public for tours on Saturdays from 10:00am. to 5:00pm. and Sundays from noon to 5:00pm.
The tickets for the raffle contest have been selling out quickly, with a whopping $2.4 million raised so far, so make sure you get your ticket while you can! But, don't worry - there's still chances for you to win big even if you can't purchase a raffle ticket. You can enter for a chance to win a $10,000 Furniture Row Shopping Spree as you explore the Dream Home during the open house weekends, and you can come back to the home on October 21st for the Shop the Home Event from 9:00am. to 1:00pm., where you'll find exclusive discounts on all Furniture Row items staged throughout the Dream Home.
Stay tuned for the giveaway date on October 12th, which will be broadcasted on KDVR FOX 31. The anticipation is building, and one lucky winner will soon be the proud owner of this year's extraordinary Dream Home. So, make sure to get your tickets, visit the open house tours, and join us in supporting the life-saving work of St. Jude Children's Research Hospital.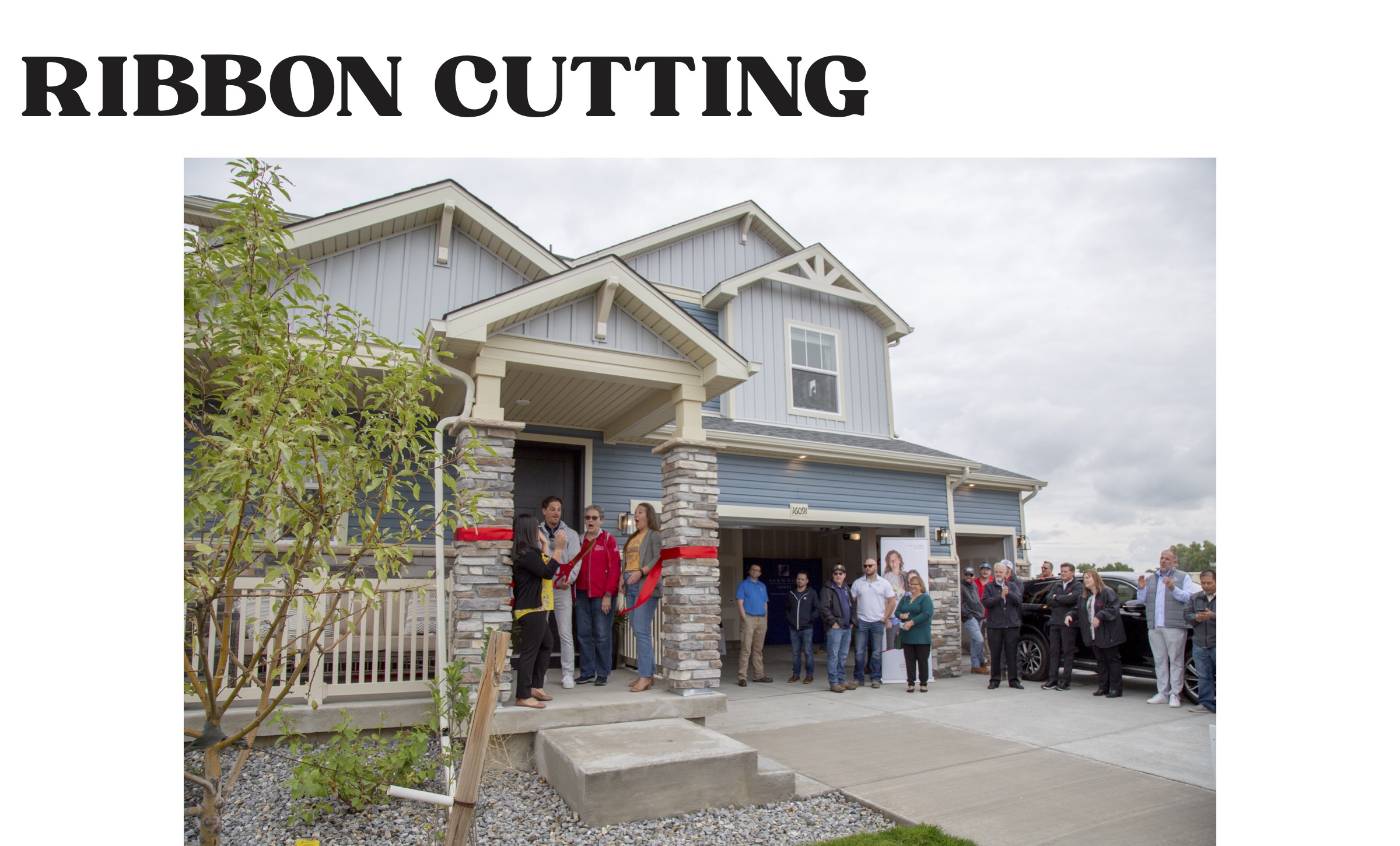 How We Styled the Space
Furniture Row has been a proud sponsor of the St. Jude Dream Home Giveaway since 2011. Every year we furnish the newly-completed Dream Home with some of our favorite new pieces, and we send in one of our interior designers to style the space so that it's ready to tour during the open house weekends. This year, the interior designer for the home was none other than Barb Chandler. 
Barb has taken the lead in designing most of the annual Dream Homes in Denver and Colorado Springs ever since Furniture Row first partnered with the St. Jude foundation. The homes she's designed have showcased a wide range of different styles over the years, and all have received rave reviews from everyone who's gotten a chance to tour them. 
According to Barb, Normally I like to try and stage each Dream Home so that it showcases a specific unique style, and that's what I did for this home too, but the style I've chosen for this year's home doesn't have the flashiest name - it's just full-on contemporary! 
Now, when people outside of the industry hear the name 'contemporary', they probably think of simple, minimalist furnishings in a sea of bland neutral colors. Luckily, this is no longer the case because the contemporary look has actually been going through a lot of really exciting changes recently. Today's contemporary look still primarily revolves around straight-lined foundational pieces, but now people are starting to spice things up with eye-catching accents that showcase completely different styles like rustic, vintage, or boho; and by using items made with organic curves and natural materials. The new contemporary look is less about interiors that feel clean and cool and much more about creating intrigue through bold contrasts, bright colors, and natural materials.  
Barb's Walkthrough of the Denver Dream Home
As is quickly becoming a tradition, Barb was kind enough to once again sit down with us and give a virtual tour of the home so we can see how a professional designer thinks through their styling process.
I'm always asked about how I come up with the style for each of the Dream Homes I design, and it's usually kind of a fluid process that comes to me when I get my first look at the home. A lot of people may not realize this, but newly-finished homes aren't exactly blank slates - they're full of semi-permanent design elements that give the home a certain feel long before I do my part. These semi-permanent elements, often called 'fixtures and finishes', include, light fixtures, countertops, flooring, tiling, and the color of paint used on the walls, ceilings, and trim. Because these elements are an integral part of the home, I always try to make sure my decor style will work well alongside them.
I should just say, here, that the folks at Oakwood always do such an amazing job in this department. You can tell they put a lot of thought into their fixtures and finishes because they always find a way to make each home feel unique. When I walked into this year's home,the three main elements I noticed were:
The countertops - The countertops in the kitchen are just drop dead gorgeous. They look like beautiful marble slabs with swirls of earthy tans, browns, and grays - but they're actually made of treated porcelain that's much more practical than traditional marble. This porcelain is used for the countertops, the top of the large central island, and it's used as the backsplash behind the countertops as well, which instantly gives the home a modern, high-end feel. 
 

The tiling - The use of tiling is probably the design feature that sets this year's Dream Home apart from any other, in my mind. In each of the primary bathrooms there are these beautiful patterned tiled motifs made from black and white porcelain that are just breathtaking. Oakwood's designer, Kayla, told me she paired these tiled motifs with other more natural-looking tiled elements to give the home a Spanish vibe, which I loved because they make the home feel both down-to-earth and effortlessly sophisticated. 
 


 
The light fixtures - The light fixtures in this year's Dream Home come in a surprising variety of styles and shapes. There's three large, black-and-white hanging pendants in the kitchen, a retro-industrial light fixture in the dining room, a big bold angular chandelier above the stairs, and there's even a beaded, boho-inspired fixture in the primary room. After looking at these, I knew the home's style had to be something that could handle a lot of different influences.
After my initial walkthrough, I started to think about what kinds of styles would best complement these key features of the home. With its high-end countertops, contrasting black-and-white motifs, and variety of lighting fixtures, it quickly became obvious that this was the perfect space to showcase today's more exciting contemporary look. Once I had the style in mind, I could then start thinking about how to tailor it to the space. Based on the existing design features, I wanted to try to combine contemporary foundational pieces with accents that have either rustic, traditional, or boho design influences; and I also wanted to focus on black-and-white color contrasts to complement the tiling patterns in the bathrooms. 
The Main Floor
Truly a contemporary home, the main floor of the 2023 Denver Dream Home is designed around an open floor plan with a well-proportioned chef's kitchen that leads into a roomy living space and flexible dining area. When walking us through this part of the home, Barb started in the living room.
I usually start all my designs in the living room. To set the tone for the home, I wanted to find a combination of sofas and occasional pieces that really exemplified the up-to-the-minute contemporary look. The first piece of furniture I chose was the Sawyer Leather Sofa because it's the epitome of a contemporary leather sofa, plus it's brand-new to Furniture Row. I used two Sawyers in the space and I paired them with pieces from the rustic Wade Occasional Group, like the Wade Coffee Table and the Wade End Table. Next, I added in the Dara Club Chair because it is thoroughly contemporary with subtle black-and-white coloring, and I finished the room with plenty of natural and eclectic accents like the Lighthouse Glass Table Lamp.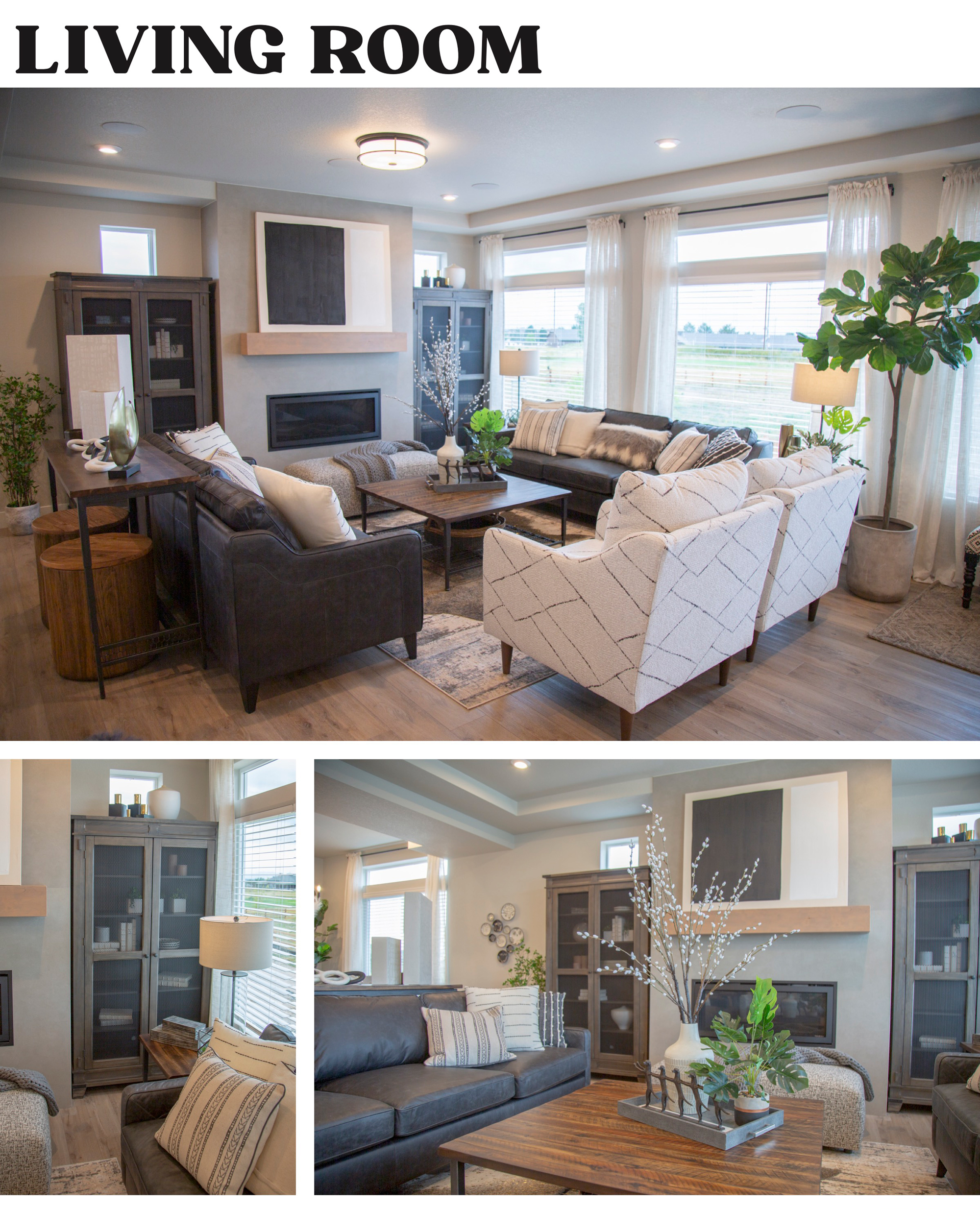 I continued to try and find contemporary style-pairings in the kitchen, so I wanted to find barstools that would bring in a different aesthetic while still looking great alongside those stunning countertops. I chose the Mesa Verde Barstools and the Mesa Verde Counter Height Bench because they blend clean, transitional lines with a light earthy color palette, and I finished the space with another type of juxtaposition: plants in simple stone vases combined with a few glamorous, gold-colored accents.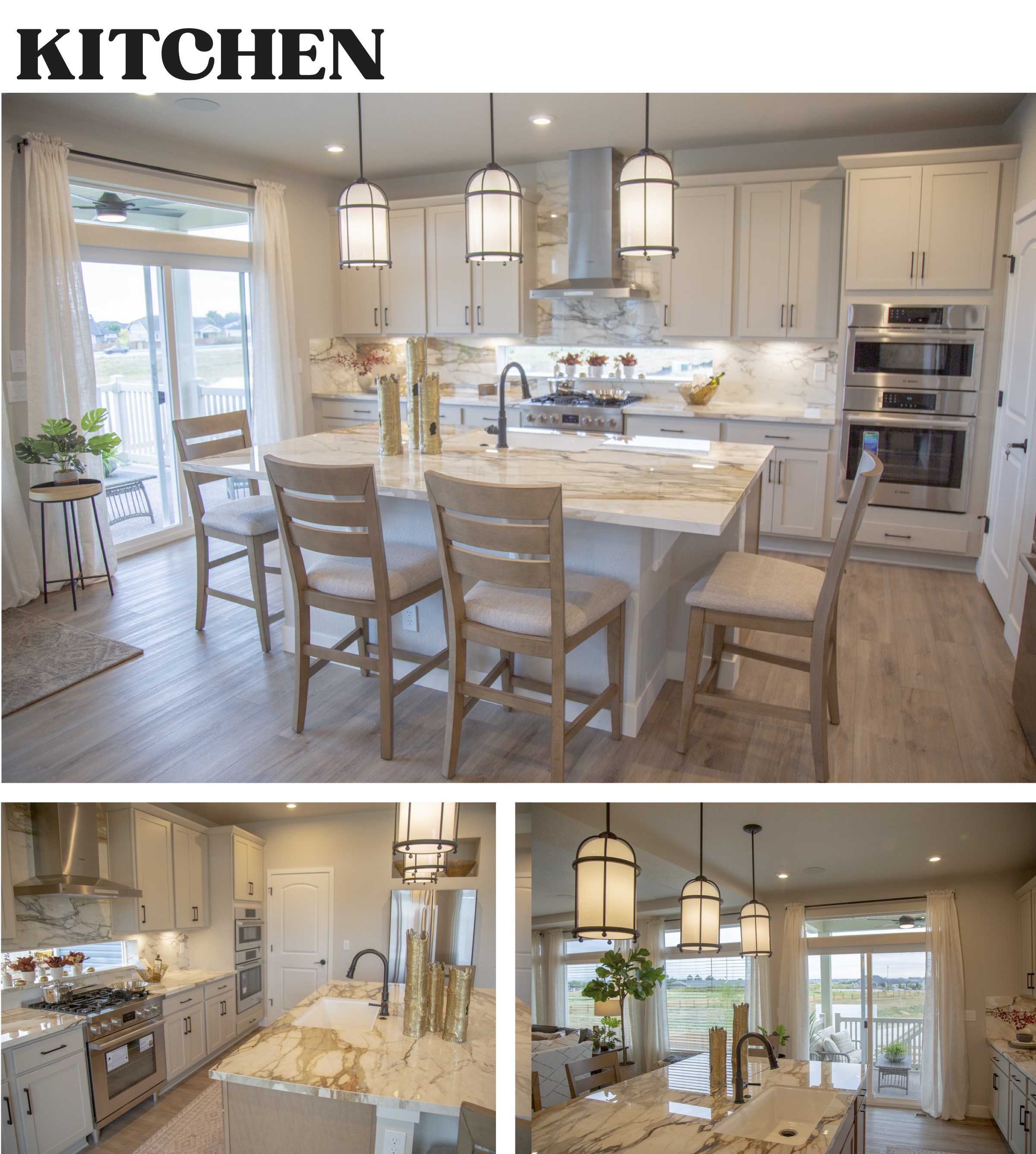 In the dining area I did a similar combination of rustic and contemporary as I did in the living room, but this time I wanted to add a splash of industrial style to complement the room's light fixture. I started with the District Dining Table because it has a simple, thick-cut rectangular top and a homespun cast-iron base - a fantastic combination of rustic and industrial. Next, instead of using matching chairs, I decided to go in the other direction and opted for four side chairs from the Blanco Peak Dining Collection because they are fun, modern, and they play perfectly into the black-and-white color theme. Finally, I finished the dining area with the ivory Georgia Rug (Coming soon to Furniture Row) because it's black-and-white and gives a touch of Boho flair.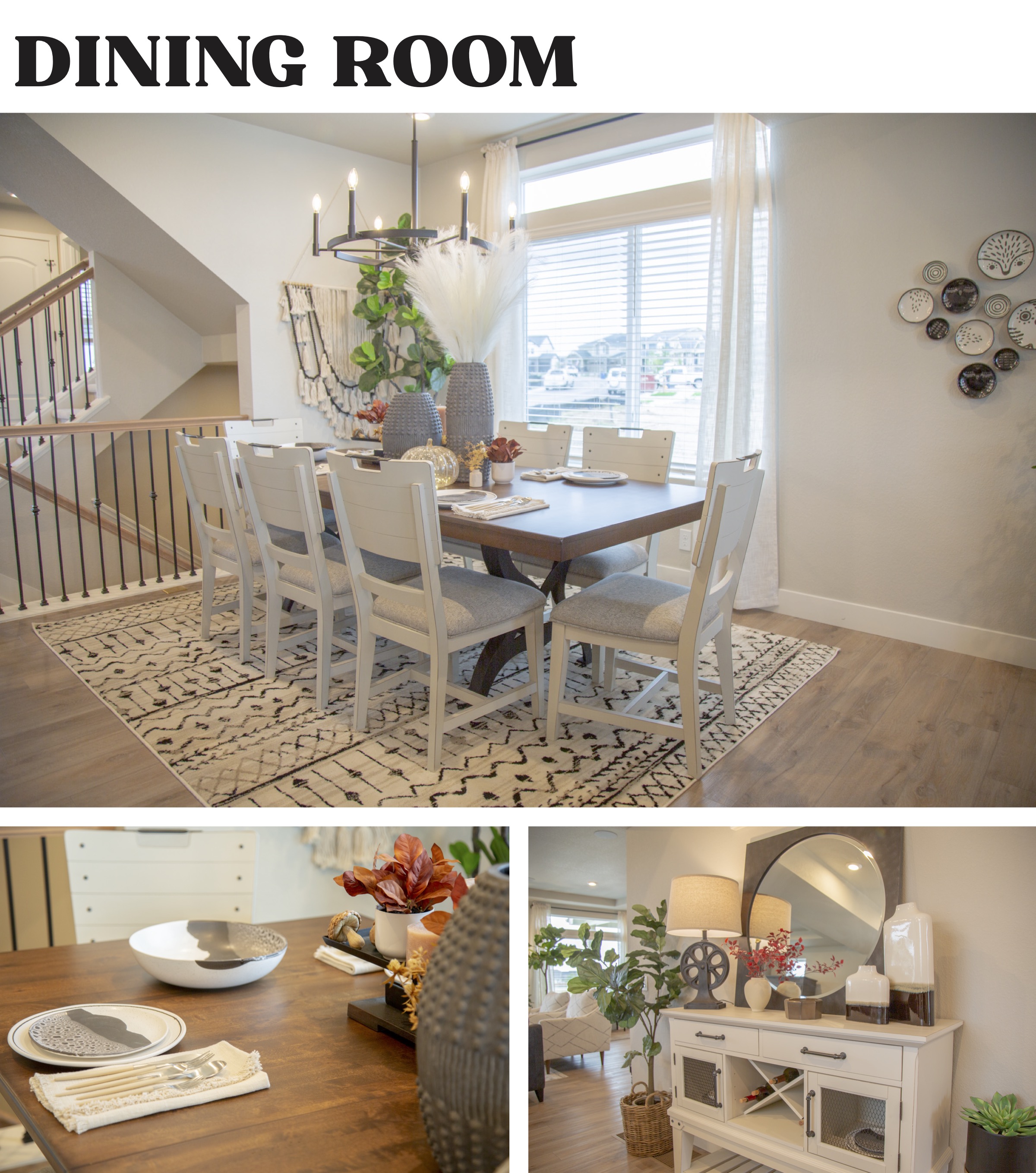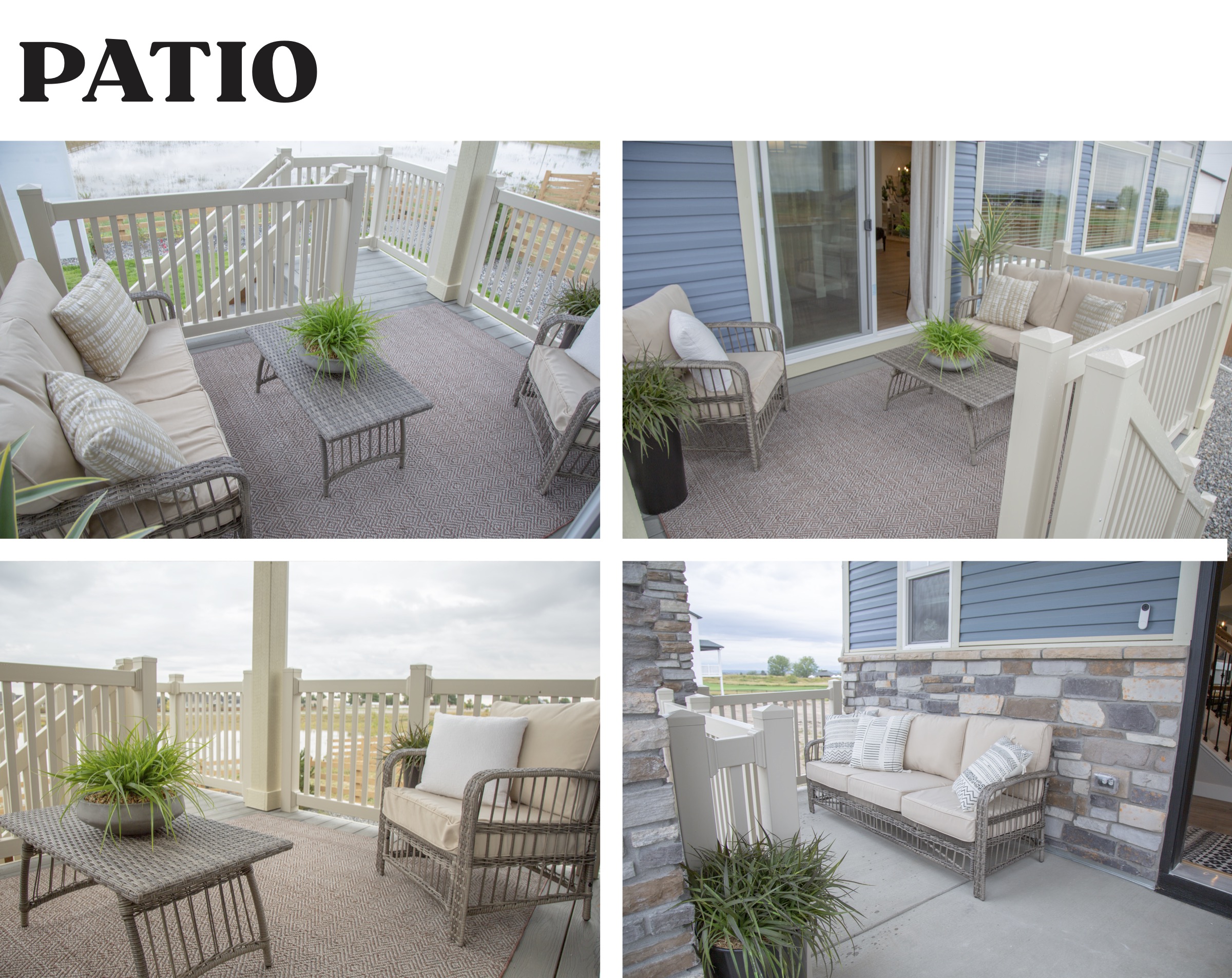 Upstairs
The upstairs of this year's Dream Home consists of a second living area, a primary bedroom, and two kids bedrooms styled for a girl and a boy. When designing the upstairs of St. Jude Dream Homes, Barb usually starts in the primary bedroom, and this year was no different.
Primary Bedroom
I started the design for the upstairs off in the primary bedroom with the Olympus Upholstered Bed. Upholstered beds are definitely very popular in today's contemporary interiors, and the Olympus is chic and sophisticated with its gracefully curved headboard and diamond button tufting. To continue the look, I next selected the Berlyn 10 Drawer Dresser, the Berlyn Drawer Chest , and other pieces from the Berlyn Bedroom Collection. The Berlyn Group offers great contrast to the bed because they are Amish-made case pieces and definitely have a more traditional or rustic look. Finally I finished the room with the marvelously modern Gio Arm Chair, and I put in two Seville Table Lamps for eclectic appeal.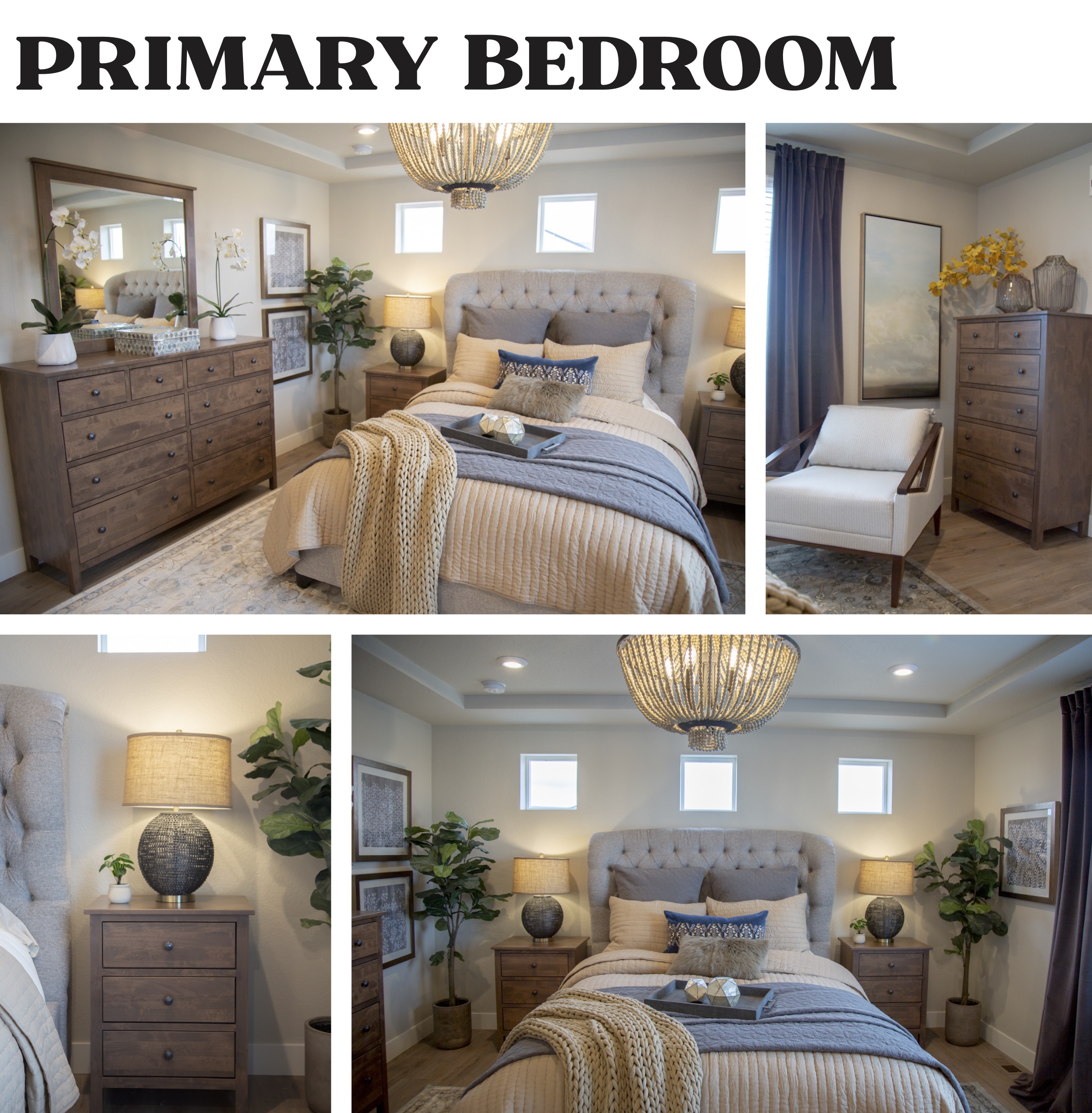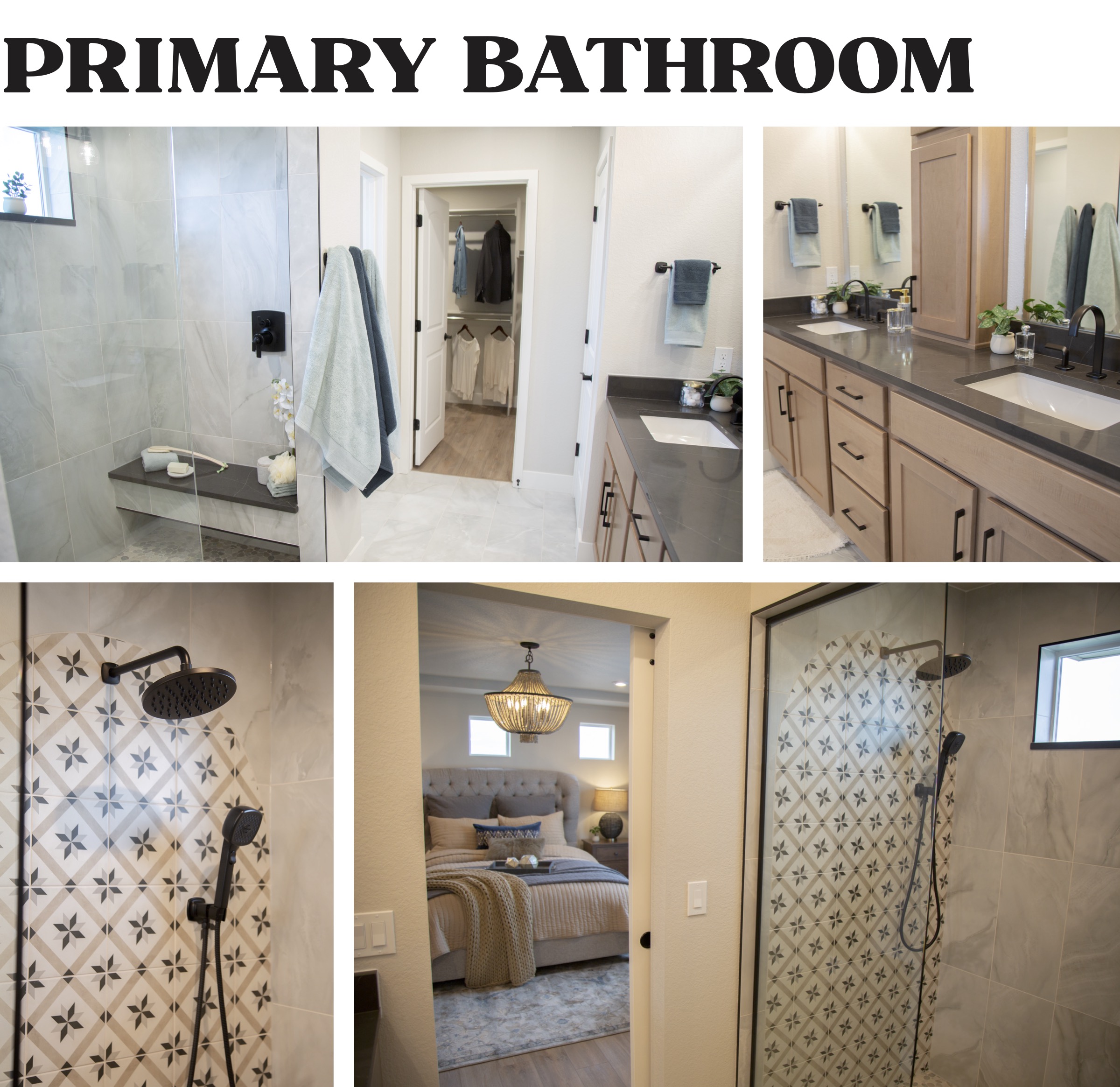 Upstairs Living Room
The next room I styled was the upstairs living room. The Nora Sofa and the Nora Chair were great pieces to start with because they're new to Furniture Row and they offer a kind of a different take on the contemporary look. I took a similar approach in this space as I did the downstairs living room, so I wanted to find some occasional pieces with rustic influences. TheTheodore TV Stand, the Theodore Sofa Table, and the Theodore Round End Table worked really well for this with their planked tops and natural brown finish; then I was able to round out the design with the versatile Square Storage Ottoman and other accents and decor like the Madelyn Table Lamp.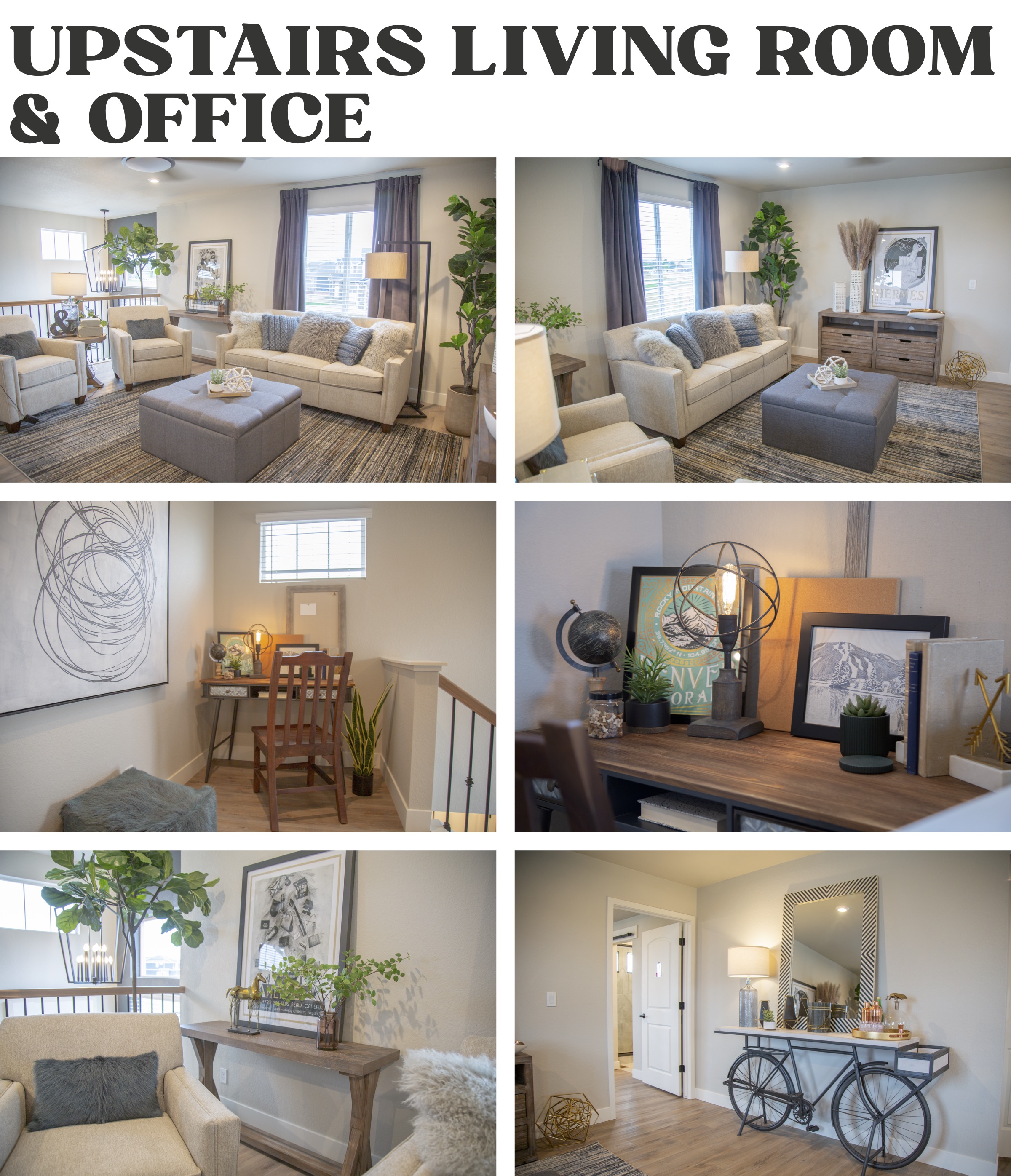 Kids Bedrooms
It was really easy to bring the contemporary look into the girls room. We have a brand-new kids group called the Aries Kids Bedroom Collection that's contemporary style personified - so I brought in almost every piece from the group and finished the room with the Aria Crystal Table Lamp and other decor items for a splash of kid-friendly color.
In the boys room I took almost the opposite approach. Here, I started with dark, traditional foundational pieces from the Voyages Kids Bedroom Collection to anchor the design, and then I found accents with much bolder, brighter colors to liven things up and keep things feeling young. The kids rooms both work well within the overall style, and they also work to kind of contrast each other in terms of foundational colors and styles, which I thought was fun to have in a home full of contrasts.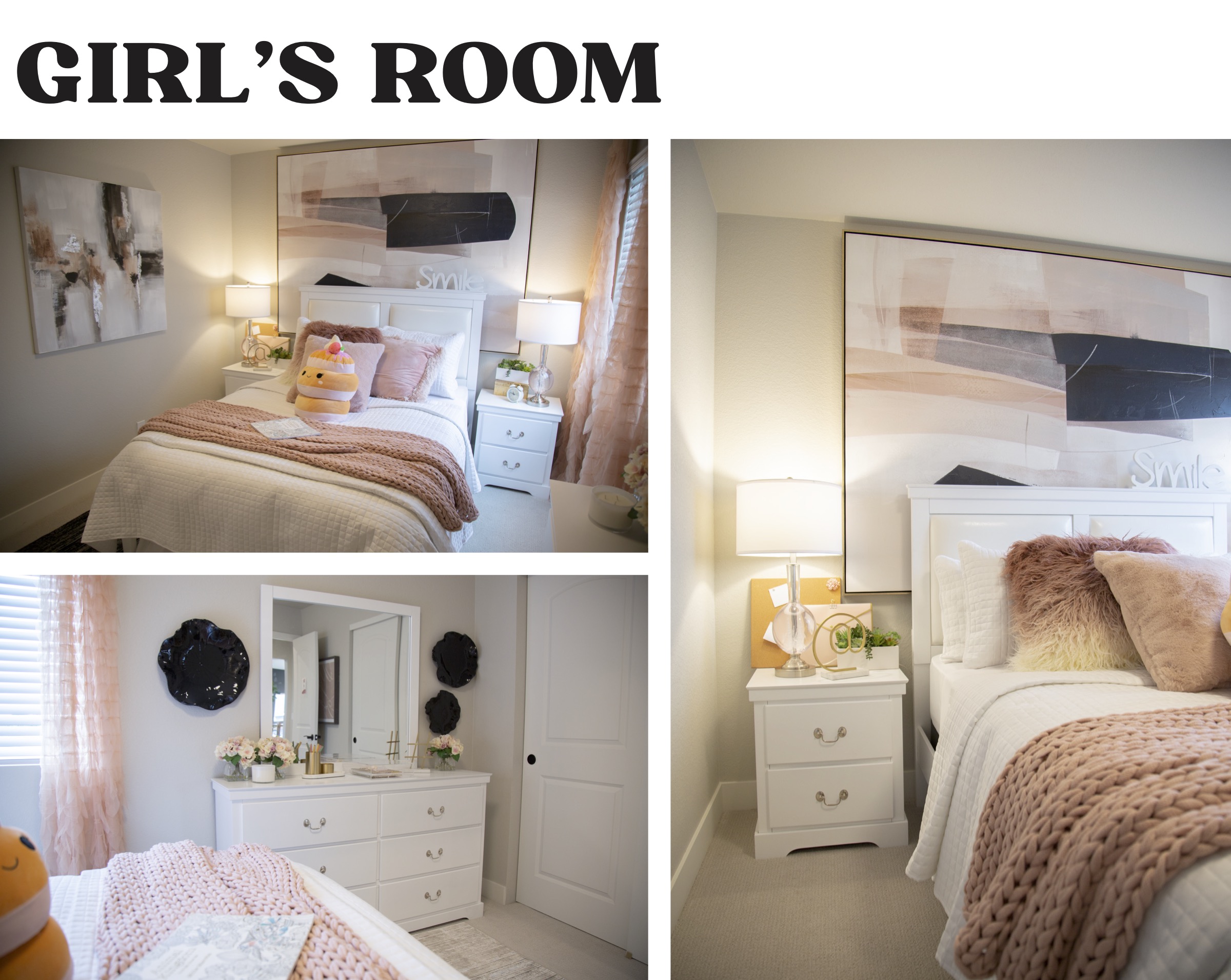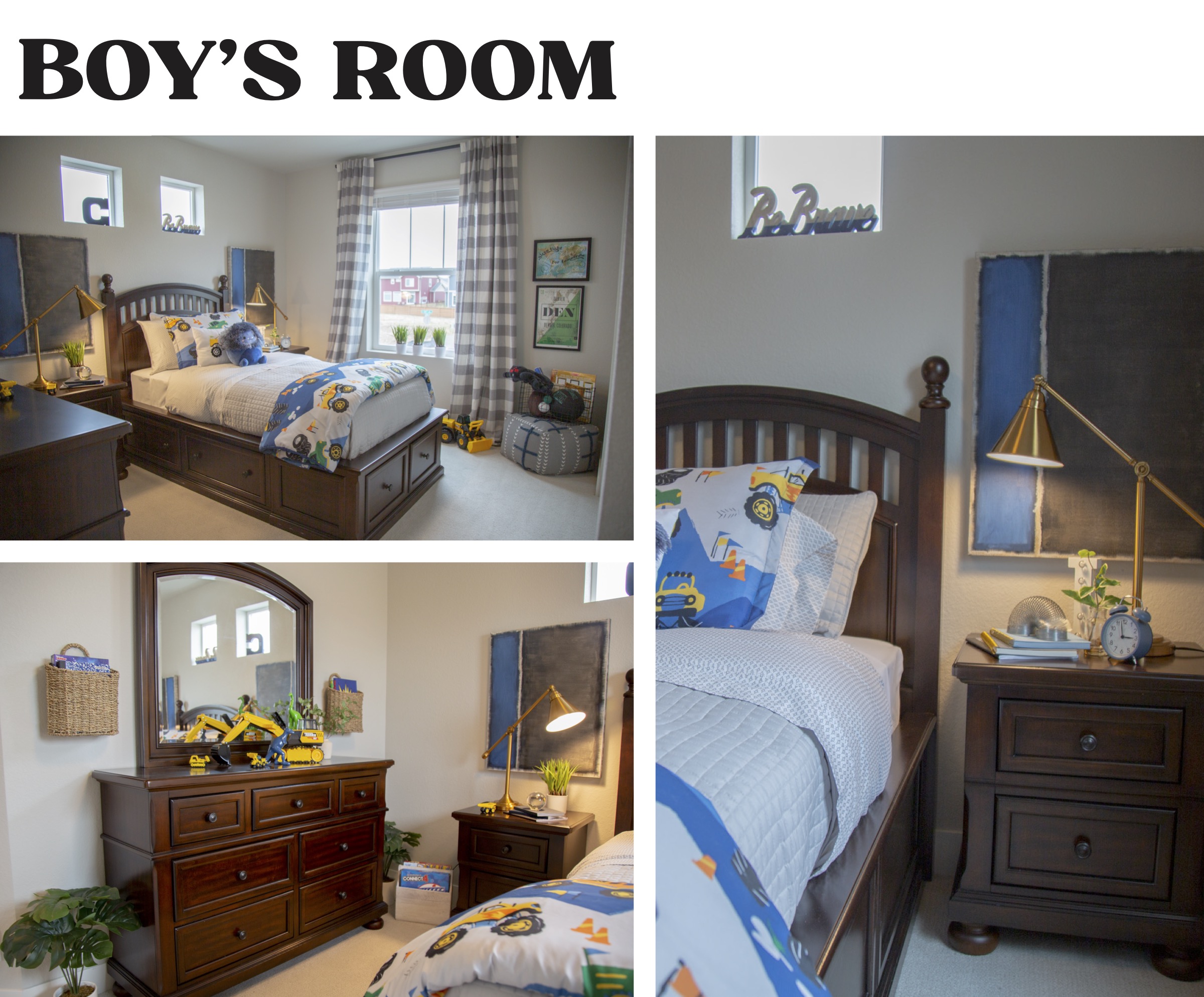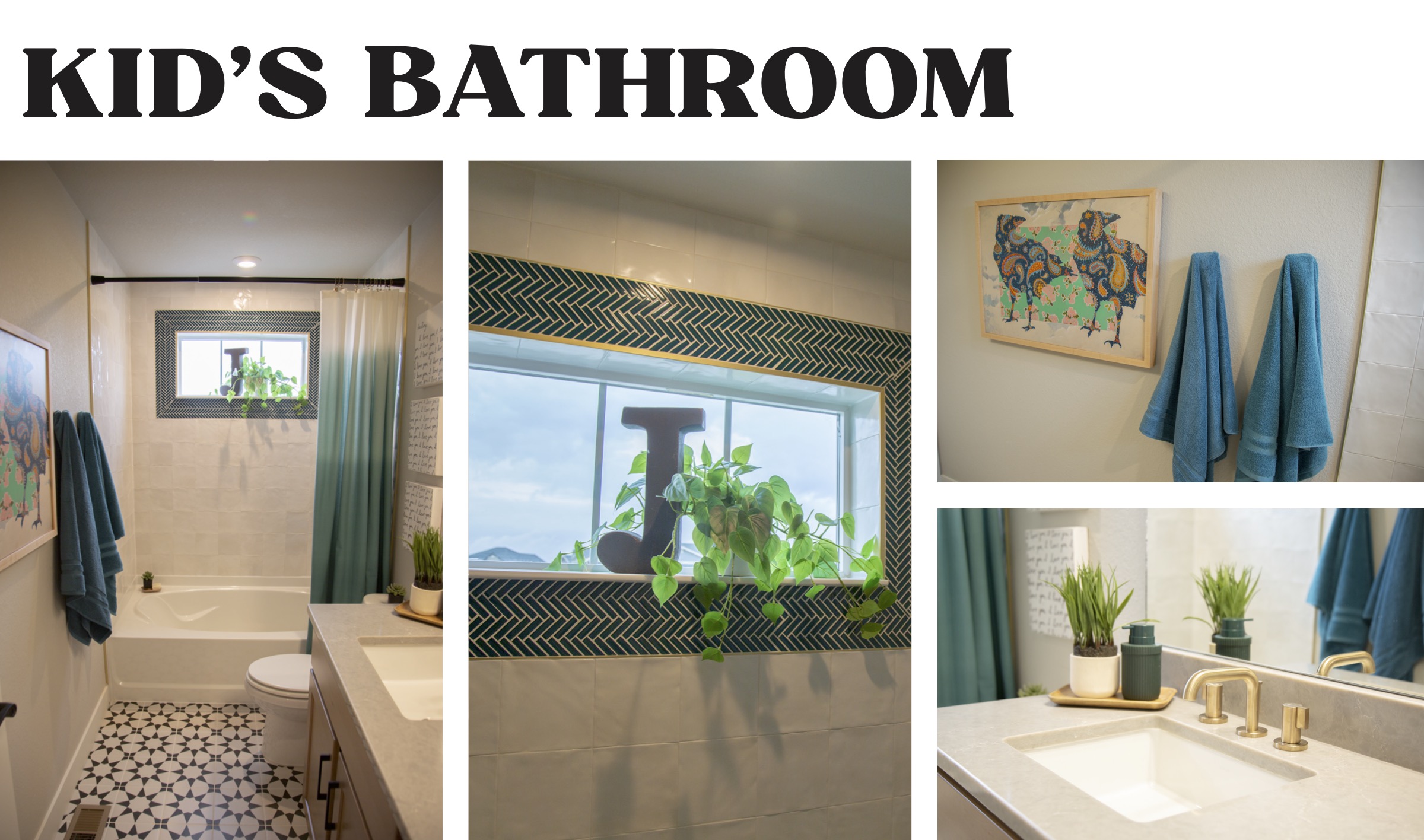 Basement
The basement of the Dream Home is surprisingly large, and it consists of a great room, a full bathroom, and a guest bedroom. Barb also explained how she brought the contemporary look to the basement, but with a few twists.
The basement in this home has high ceilings which really makes the space feel open, so I thought it was the perfect place to add in the new must-have addition to contemporary homes: a home office. 
The basement is finished with recessed lighting and neutral-toned walls and floors, which means it already has a contemporary feel to it. So, I started the basement home office design off by finding pieces that could offer contrast in terms of style and color. The Whisky River Executive Desk and Whisky River Credenza are amazing for this because they have this totally unique retro-industrial style that's almost medieval, and because they're finished in a dark gray color which contrasts the light neutral background. I also found a great office chair in the Emerson Office Chair.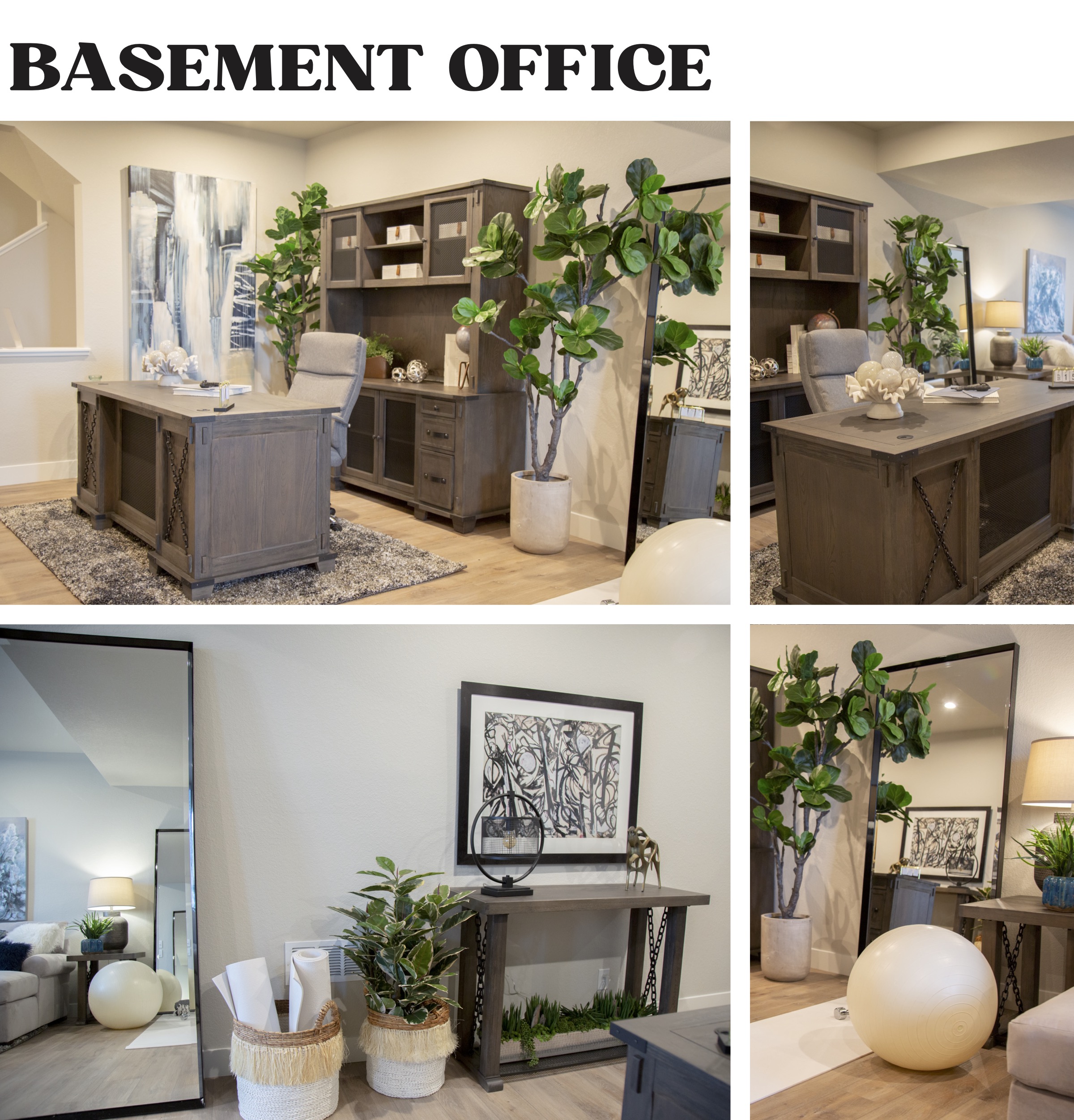 In the basement living space, I found a great contemporary sectional, the Jennifer 3 Pc. Sectional (Coming soon to Furniture Row), that was just the perfect size and shape for the space, and I added in occasional pieces from the Whiskey River Group to tie into the home office. Next I added in a wide variety of accents and decor, but I tried to blend styles a bit so I put some eclectic and contemporary pieces like the Bealle Table Lamp in the office space, and industrial pieces like the Industrial Desk Lamp in the living space.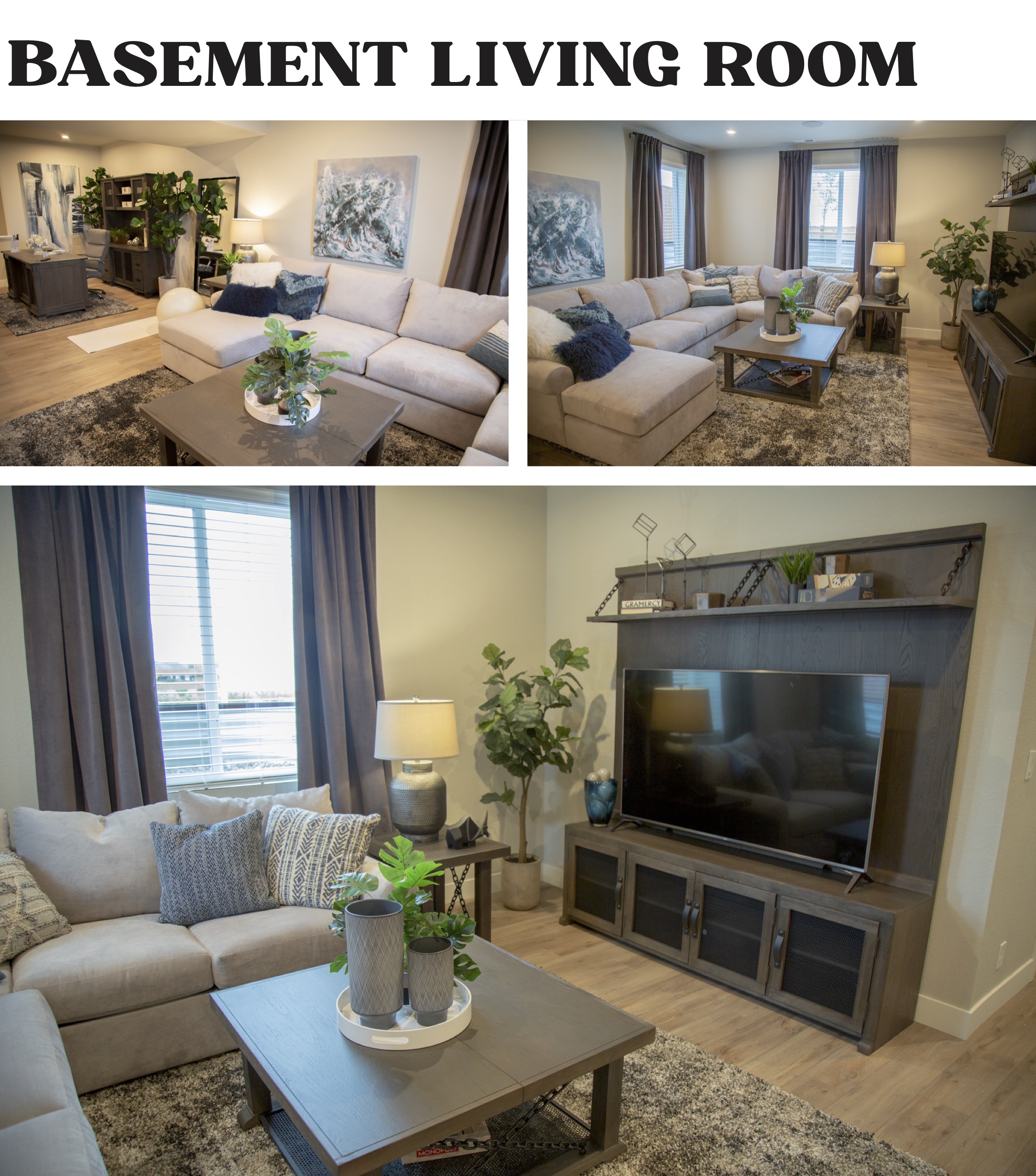 Because the basement has more of a contemporary foundation, I decided to tackle the guest bedroom differently than I had in the other bedrooms. Here I started with traditionally-minded foundational pieces that contrast the existing contemporary feel, then I spiced things up with boho accents and artwork. The Pleasant Hill Bedroom Set was perfect because it showcases a simple modern farmhouse aesthetic, and I also loved the Haven Clear Seeded Glass Table Lamp because it offers a natural glass base and a woven shade.
Click Here to Shop the Full Furniture Collection
We'll See You at the Dream Home!
That does it for Barb's walkthrough of the 2023 Denver Dream Home! We hope you enjoyed hearing about the styling process from a professional designer, and we can't wait for you to experience everything in-person during the upcoming open house weekends. See you there!