Why You Should Buy Amish-Made Furniture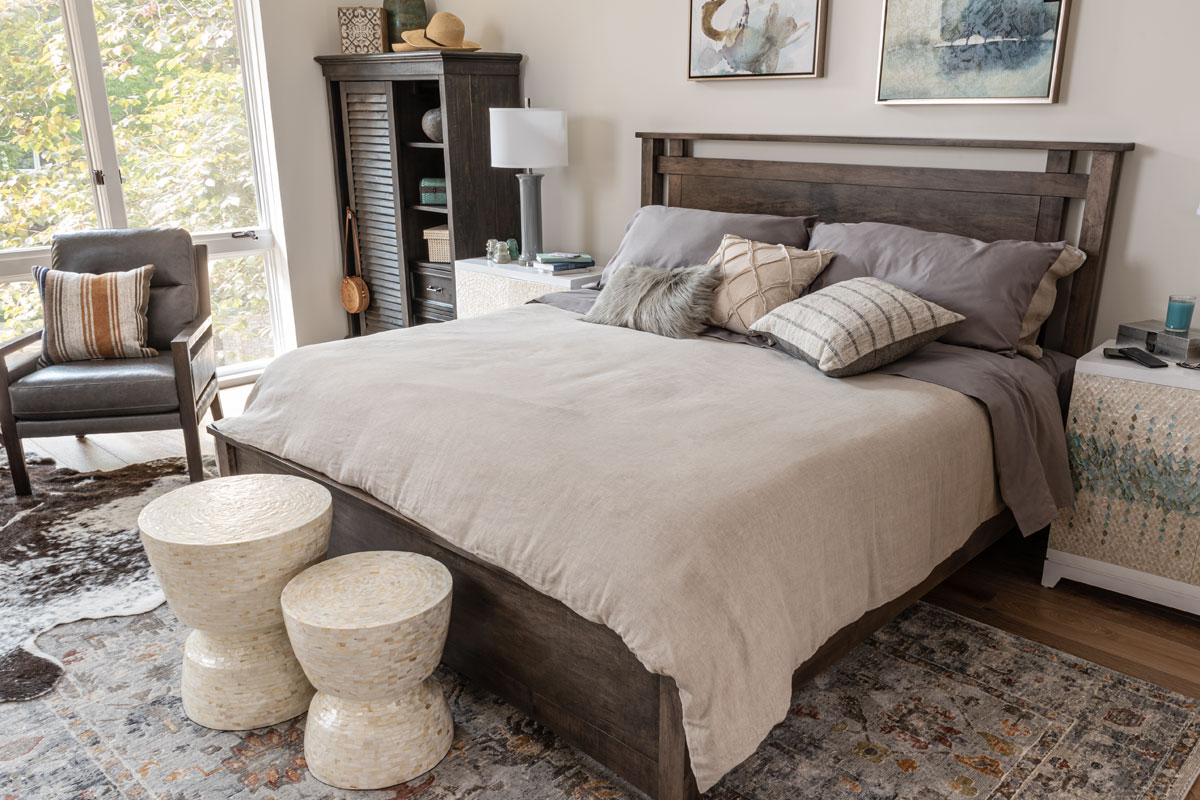 It's no secret that buying new furniture can be expensive. It's also common knowledge that many of today's mass-produced products only really last for a handful of years. If you're like most people, you want some peace of mind knowing that your hard-earned money is going towards a furnishing that will last a lifetime, not some poorly-made product that you'll have to replace sometime within the next decade. If this thought rings true for you, then you need to quit spending your time searching through the cheap offerings found in many of today's stores and instead turn to the unrivaled quality and enduring appeal of Amish furniture. 
What's So Great About Amish Furniture?
Amish furniture is renowned for its superior craftsmanship and attention to detail, and anyone who buys Amish-made furniture is sure to be impressed with both their superior functionality and longevity. Why exactly is Amish furniture so great? Here's a breakdown of methods typically used by Amish furniture makers across the country to create their high-quality products:
 Simple, Functional Design
One of the biggest reasons to buy Amish-made furniture comes down to the physical design of each individual piece. Amish furnishings are made to be practical and highly-functional, so they usually offer a relatively simple and straightforward design. Think of classic pieces like trestle tables, pedestal tables, thick-cut panel beds, and classic slatted side chairs. The Amish prefer creating furnishings like these, instead of products that are highly-complex and ornate, because they have been proven to stand up to years of heavy use. It takes a lot of time and effort to make a piece of furniture, so it makes sense that Amish craftsmen would want to make sure that each finished product can hold up as long as possible. And the best part is, many of these simple pieces can also be made to be exceptionally beautiful in the hands of an Amish master!
 Solid Wood Craftsmanship
Another reason Amish furniture is so robust is that Amish furniture makers tend to build their products using only high-quality solid hardwoods. Contemporary mass-produced wooden furnishings often have frames made of inexpensive hardwoods for support, but they are almost always covered with veneers of higher-quality wood in an attempt to showcase a more attractive color and grain. Furniture made using solid hardwood holds up better than furniture made from multiple types of wood because there's no need for any kind of binding agent to hold multiple pieces of wood together, so there are less places where splitting and warping can occur. 
Hand-crafted Using Time-Honored Techniques
The final ways in which Amish furniture makers distinguish themselves comes down to how they prepare and assemble their products. Unsurprisingly, Amish furniture is made without the use of machines. This means that each piece of wood that will be used in a piece of furniture is cut, sanded, and finished by hand, giving experienced Amish artisans plenty of time to uncover and alleviate any flaws or inconsistencies. Additionally, when joining these pieces of wood together to create a product, Amish furniture makers avoid using nails or screws and instead use traditional techniques such as rabbets, dovetails, and mortise-and-tenon joints. They do this because nails and screws can split the wood and often make the structure less sound whereas traditional techniques take advantage of wood's natural strength in ways that result in a sturdier final product. 
Now that you know the basics of Amish furniture, you might find yourself wondering where you can buy these finely made creations. Well, we're happy to say that you can find plenty of finely-made Amish furnishings right here at Furniture Row!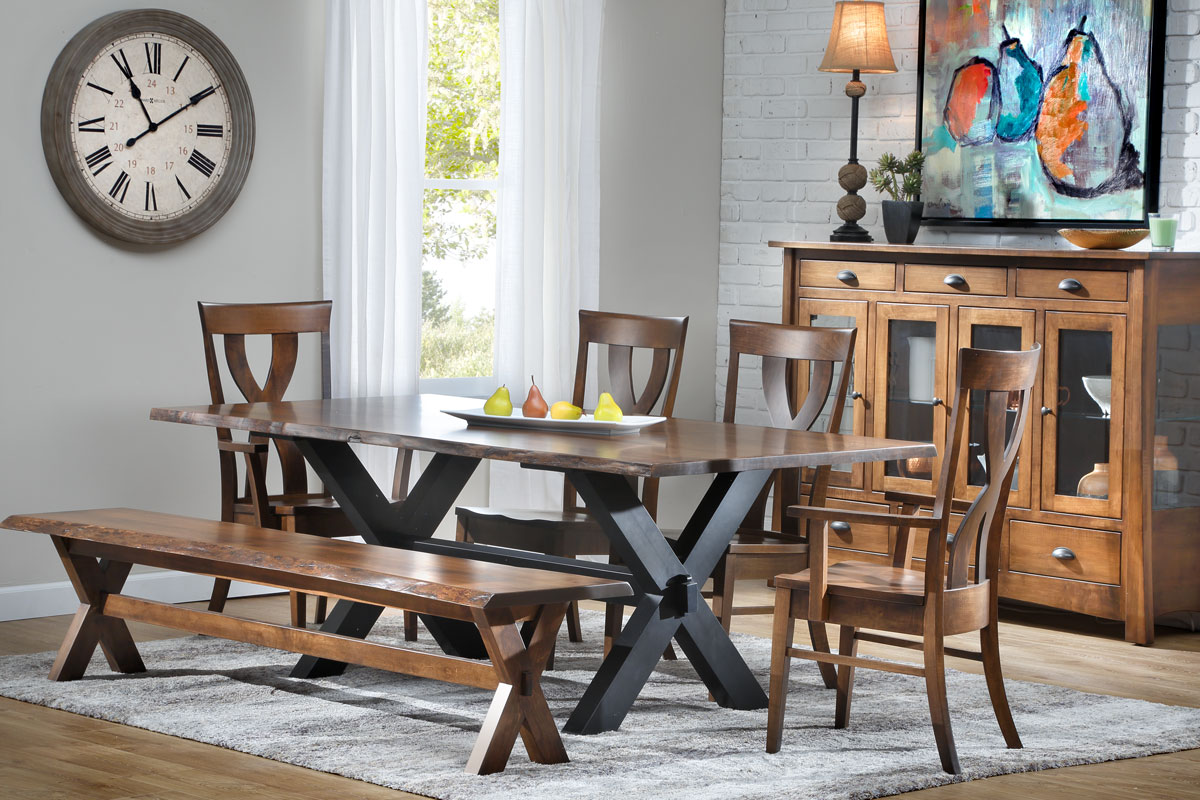 Why Buy Amish at Furniture Row?
The Amish furniture at Furniture Row is made by Amish craftsmen right here in the USA, so you can expect the same quality and attention to detail that you would find if you were purchasing directly from an Amish furniture maker. Our Amish-made products are made using solid hardwoods and traditional crafting techniques, so you can count on them being a part of your home for many decades to come. But, it's not only the quality of our Amish furniture that sets us apart from our competitors, it's also the unique styles of our signature collections.
Traditional Amish Furniture
Many people want Amish furniture not only because of its high-quality craftsmanship, but also because it is a perfect complement to their preferred interior aesthetic. As mentioned above, traditional Amish furniture often showcases a rustic or homespun look, so many pieces are a perfect fit within a cottage or farmhouse-inspired interior. If you are looking for well-built furniture with traditional appeal, then you'll just love our classically-minded Amish collections. 
The Caspian Amish 5 Pc. Dining Room Set is designed around a traditional trestle table with an extendable table top and sturdy pedestals, and it's accompanied by four timeless slat back side chairs. The Hayworth Amish Panel Bed is made from solid brown maple and combines a classic paneled headboard with a distinctive rounded silhouette, and Cedar Lakes Amish 4 Pc. Bedroom Set showcases charming panel bed with a barn door-style headboard to instill a sense of homespun charm.

Contemporary Amish Furniture 
But what about people who prefer a more modern look? Well, don't worry, because we have something for everyone! To ensure our customers can find furniture that suits their tastes, we've put a lot of time and effort into finding Amish furniture that's truly unique. In fact, many of our Amish pieces push the envelope by combining traditional Amish crafting techniques with contemporary design elements - and the result is simply breathtaking. 
The Xander Amish 5 Pc. Dining Room Set and the Farmville Amish 5 Pc. Dining Room Set are both centered around a traditional Amish trestle table, but each set features side chairs with a decidedly modern look to leave a lasting impression. This same combination of traditional craftsmanship and contemporary flare can be found in our Amish bedroom collections as well. The Victor Amish Panel Bed offers a simple, clean-lined design made of thick-cut planks of solid cherry wood, and the Sydney Amish 4 Pc. Bedroom Set  showcases contemporary stylized cut-outs above the headboard of the Sydney Panel Bed and Sydney Mirror. Finally, the Verona Amish 4 Pc. Bedroom Set also delivers premium Amish craftsmanship, but this striking set leans into the contemporary look even more by featuring pieces with clean-lined minimalist silhouettes, mitered corners, and tapered block; and, of course, via the modern planked design found on the bed's headboard and footboard.