Home Furniture Store in Aurora, CO 80014
1455.96 miles
Furniture Row® & Denver Mattress®
4258 S. Parker Rd.
Aurora, CO 80014
Mon-Sat 10am-8pm
Sun 12pm-6pm

Call your local store for pickup hours.
Directions
Parker & Quincy
Directions
Parker & Quincy
Living
4258 S. Parker Rd.
Aurora, CO 80014

---
Dining & Bedroom
4218 S. Parker Rd.
Aurora, CO 80014

---
4298 S. Parker Rd.
Aurora, CO 80014

Brands
Your Furniture Row® offers an unmatched selection of quality brands at unbeatable value. Your store is proud to sell product from brands you can trust to give you the most in style, selection, and value.
Services
Furniture Row® offer the unbeatable pricing and selection of specialty furniture stores in one convenient location, and we are dedicated to excellence in customer experience. Our knowledgeable, no-pressure sales staff is available to guide you through each step of the shopping process, from product selection and special orders to purchase financing and delivery. Whether you're shopping for your living room, kitchen, dining room, home office, bedroom, patio, or home décor, our expert salespeople are here to help.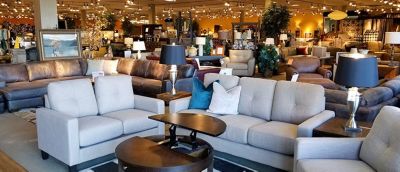 Your local Aurora, CO Furniture Row® has the affordable pricing and incredible selection of multiple specialty home furniture stores, and it is located in the shopping center on the corner of South Parker Road, and Quincy. To visit this store, exit Highway 225 at S. Parker Road. Take S. Parker Road South, and find the store on the left side of the shopping center.
At Furniture Row, we take pride in offering unique and stylish furniture pieces that can transform any space into a cozy and comfortable retreat. Our store in Aurora is no exception, featuring a vast array of furniture collections, including living room, dining room, bedroom, and outdoor furniture that suit any budget and style.
One of the unique features of our Aurora Furniture Row and Denver Mattress location is our impressive selection of mattresses and bedding products that are expertly crafted to provide comfort and support for a restful night's sleep. With popular products from America's top mattress brands and our own Denver Mattress brand mattresses, we make it easy to find the perfect mattress for needs, and our friendly, no-pressure sales staff is always standing by to answer any questions you may have.
Serving Communities in and near Aurora, CO
Aurora is a friendly town located in the heart of Colorado, known for its stunning natural beauty and vibrant cultural scene. The town boasts several notable attractions, such as the Aurora Reservoir and the Cherry Creek State Park, making it a great location for outdoor enthusiasts.
Our Aurora store serves several local communities, including Denver, Centennial, Bennett, Franktown, and Parker, making it a convenient location for those looking for high-quality furniture products. We are also in the vicinity of several college campuses, including Everest College, Platt College, and the Community College of Aurora; and we are proud to serve the families of nearby Buckley Air Force Base. We understand that every community is unique, and therefore, we strive to provide a personalized shopping experience that caters to the specific needs and preferences of each customer.