Home Furniture Store in Missoula, MT 59808
1907.20 miles
Furniture Row® & Denver Mattress®
3411 N. Reserve Street
Missoula, MT 59801
Mon-Sat 10am-8pm
Sun 12pm-6pm

Call your local store for pickup hours.
Directions
Reserve & Broadway, Across from Costco
Directions
Reserve & Broadway, Across from Costco
Brands
Your Furniture Row® offers an unmatched selection of quality brands at unbeatable value. Your store is proud to sell product from brands you can trust to give you the most in style, selection, and value.
Services
Furniture Row® offer the unbeatable pricing and selection of specialty furniture stores in one convenient location, and we are dedicated to excellence in customer experience. Our knowledgeable, no-pressure sales staff is available to guide you through each step of the shopping process, from product selection and special orders to purchase financing and delivery. Whether you're shopping for your living room, kitchen, dining room, home office, bedroom, patio, or home décor, our expert salespeople are here to help.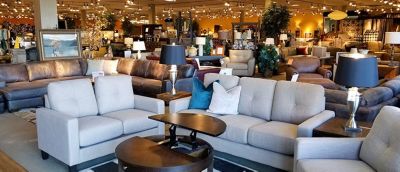 Known as the Garden City, the natural beauty of Missoula, Montana is inescapable. Here you'll find world-class fly fishing on its scenic waterways, hiking and biking along its extensive trail system as well as skiing, snowboarding, and snowmobiling during the winter months.
Of course, when it's time to head inside, Furniture Row® can help make every room in your home pretty spectacular too. Conveniently located at N Reserve and W Broadway, Furniture Row® sits just across from Costco, next to T.J. Maxx and REI.
Serving Communities in and near Missoula, MT
We first opened in Missoula in the winter of 2004 and it's been a pleasure to serve in the heart of Western Montana for all these years. Furniture Row® is located on the north side of Missoula, but customers come from all over town as well as communities throughout the Missoula Valley such as Hamilton, Frenchtown, Stevensville, and Florence.
Education is one of the city's leading industries. The state's second largest city, Missoula is also home to the University of Montana - the flagship campus of the state's public university system. Missoula is also known for its growth in the healthcare sector as well as a vibrant arts community.
Furniture Row® caters to the diverse tastes and unique styles of those who call Missoula home. Whether you're furnishing a mountain retreat, transitioning to a modern farmhouse look, or updating an urban loft, Furniture Row® is the one place you really need to shop. From living room to dining, from bedroom to patio, we've got you covered - inside and out.
Mattresses with wide-ranging options shouldn't get in your way to a restful night's sleep. Let us help you identify the right mattress by discovering what works best for you. Whether you're just starting your mattress research or know what you need, Denver Mattress® is here to help! We don't want you to just buy a mattress; we want you to bring the RIGHT mattress home for you.
From a customer service standpoint, the folks at your local Missoula Furniture Row understand just how important every interaction is with their customers. That means every conversation, every sale, every delivery, etc. creates an opportunity to surprise and delight each and every customer. That is our commitment and a promise.
The best way to experience Furniture Row® is to come on in for a visit. And since it seems everybody today "shops" online first, feel free to spend some time on our website. Also please signup to receive our in-home catalogs - they're about as big and beautiful as they come.